This is a guest post by Kristen @ Joyfully Thriving
Hello. My name is Kristen and I am a coupon-clipping, sale-watching, frugal-living kind of gal. My father is a pastor and my mother stayed at home with four children, so I came into this frugal lifestyle by necessity. I didn't know any different in my childhood years and it was good training for my adult ones. As I've grown older, started teaching, married and set up our own home, I've learned anew the value of frugality.
There are so many wonderful things about living frugally, and the plethora of frugal living blogs (such as this wonderful one by Ruth) are inspiring. However, I must admit that sometimes I feel lacking in comparison and I wonder why I am pinching pennies. Do you ever feel the same? I hope so. Let's pause and take a hard look at frugality because truthfully? Being frugal is hard work and it's not always fun, either.
I'm going to be honest and say what many of us think (at times), but few of us admit. If you've been living frugally for any length of time, I think (and hope) you'll relate with me. I'm going to lay it all honestly on the line for you, so here goes.
Some days, I don't want to clip any more coupons. Right now, I haven't even opened my paper with the coupons from the previous week, and I have expired coupons in my binder from three months ago. I haven't had time to sort through coupons in my busy week! Plus, the coupon policies continue to change which is frustrating. I regularly give my coupons to cashiers who are poorly educated about their own coupon policies. I'm tired of having to defend myself for properly using coupons because others don't.
Some days, I don't want to plan my meals and cook at home. It's nice to go out and have someone cook a meal for me at the drop of a hat. It saves me a round of dishes, too! It's a lot of work to sit down with the sale ads and plan a menu for the whole week at once. Besides, I may not want to eat on Thursday what I planned on Monday, so why bother?
Some days, I want to go out on a spontaneous date night with my husband where money isn't a constraint. I'm not talking a expensive night out on the town, but it would be nice to go out to dinner without checking to see if we have been given gift cards to make a date night possible.
Some days, I feel like I'm alone in this frugal journey. Frugality is a lonely road, especially if our spouse isn't as much of a saver as we would like him / her to be. It's also frustrating when we start comparing ourselves to others. It seems like everyone is making more and paying off their debt faster. She finds better deals or has her coupons more organized. Even more frustrating is when we feel there is no one else around who is living frugally. The isolation may be self-imposed but it is still felt deeply.
In the face of these frustrations and challenges, I wonder again why am I choosing to live a frugal life? Then, I remember. I live frugally because I have dreams and goals. It's not always black and white, but I do know this. My long-term plans are more important than the immediate gratification of (most) expensive choices now.
It's important to remember our dreams. Our dreams are what remind us why we live frugally today, planning for tomorrow. What do you want to do in the future? I want to travel. I want to max out our retirement plans. I want to pay off our debt. I want to have money in savings. I want to give gifts to our nieces and nephew. I want to fix up our house. I want to give generously to our church and those in need. And that brings me back full circle to the reason that I live frugally.
If I want to make these dreams of mine a reality, I need to make frugal choices now. That is why I clip coupons and meal plan. That is why I pinch pennies and plan for date nights with my husband. Living frugally means making difficult choices, but I believe that we can do so joyfully. We can do more than just survive this frugal journey. We can thrive along the way!
It might not always be easy, but the end results make living frugally worthwhile. Keep your eye fixed on the big picture and remember you are not alone. On the days when you get frustrated, take a step back and a deep breath. It's good to be honest about the ups and downs of frugal living. Take life one day – and one frugal choice – at a time.
Kristen writes about living frugally and joyfully on her website – Joyfully Thriving. When she's not busy finding good bargains, you might find her curled up with a good book or baking something chocolate. Kristen's husband is living this frugal journey with her.
Thank you Kristen! Are you interested in guest posting at LWSL? Please email me at ruth@livingwellspendingless.com for guest post guidelines.
* * *
Do you consider yourself to be 'frugal'? What to you is the hardest thing to cut back on? Is there anything you feel you miss out on by pinching pennies?
TAKE BACK CONTROL OF YOUR HOME LIFE
---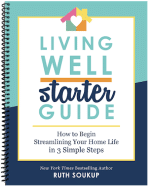 Ever feel like you just can't keep up? Our Living Well Starter Guide will show you how to start streamlining your life in just 3 simple steps. It's a game changer--get it free for a limited time!
If you love this resource, be sure to check out our digital library of helpful tools and resources for cleaning faster, taking control of your budget, organizing your schedule, and getting food on the table easier than ever before.