I know you've all been on pins and needles, anxiously awaiting this week's edition of my Beginner's Guide to Coupons series. Well my friends, the wait is over. Today's topic? Your first shopping list.
Trying to use coupons without a game plan is a little like taking a cross-country road trip without a map. You may get to your destination eventually, and you might even see a few interesting sites along the way, but you will certainly add a whole lot of time and excess frustration to your journey.
So it is with coupons. If you simply show up at the store with a pile of coupons and attempt to "wing it," you may eventually find a few good deals, but the amount of time you spend and frustration you incur may make you never want to see another coupon again.
Granted, there are a few people who swear by their haphazard "go-with-the-flow" method of couponing. I am not that person, and you won't find that advice here. Instead, I'll let you know what works for me, and if you check out my shopping results, you will see it works consistently, week after week.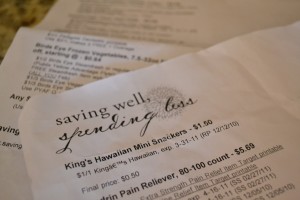 I explained in Part One that to save, really save, with coupons, you have to change your old way thinking. Instead of making a list for the things you need or want each week, and then buying them regardless of whether they are on sale or you have a coupon, you buy ONLY what's on sale (and lots of it.)
Once again, Extreme Couponing is a cumulative process, not an instant magic formula.
This week you are going to work on your first coupon shopping list. It is important to keep in mind that this list will be little more than a practice list intended to get your feet wet.
You will still end up with some great deals on food that you can either eat right away or use to start building your stockpile, but unless you already have a fridge and pantry full of groceries, you will still need to make a separate trip to the store. Remember, this is the non-overwhelming baby step program!
This is only week two, so unless you have been collecting newspaper inserts for some time, you won't have a large coupon supply built up yet. That's okay! If you followed last week's assignment, you should have at least one computer available to print coupons from. (If not, go back and complete last week's assignment before moving on!)
So grab yourself a glass of wine, have a seat, and let's get started!
Week Two Assignment:
1. Determine which stores are in your area to shop at.
Here in SW Florida, the main grocery stores are Publix and Winn-Dixie. When I lived in the Seattle area, I did most of my coupon shopping at Safeway & Albertsons, and occasionally Fred Meyer. I have a couponing friend in upstate New York who swears by PriceChopper. There are SuperTarget & Super WalMart stores almost everywhere.
The thing to remember with coupon shopping is that the stores that have the lowest overall prices don't usually have the best "loss leader" sales. They rely on their everyday low prices to entice shoppers.
The opposite is true of the stores with higher prices. They rely on their sales to entice shoppers, knowing that the vast majority will end up buying plenty of non-sale items as well.
Part of the trick to using coupons effectively is to beat the system by a.) stockpiling and b.) shopping at multiple stores.
2. Pick a coupon shopping website to help you make your list.
There are some amazing coupon resources available on the internet, and you will save yourself a lot of time and frustration by using them.
Here are my recommended coupon matchup sites:
These are only a few of the many, many coupon matchup blogs available. If you are looking for a particular store, just do a google search for "[your store] coupon matchups" and you should be able to find something.
Once you figure out which of these websites matches the stores in your area, bookmark it and then spend some time exploring the site to see where everything is. (For help with acronyms, use the Coupon Lingo Guide)
3. Find this week's post for your stores.
Once you've decided on your site, click on this week's ad for the store you would like to shop at.
Read through it completely. Make some mental notes:
Check the final price after coupons.
Are there any items that look like a great deal?
Are there any items that you or your family want/or need?
Which items require coupons from newspaper inserts?
Which ones match up with printable coupons?
Are there links to those printable coupons?
Repeat this exercise for one more store in your area. Which store has better deals this week? Which store has more items you would want to purchase?
4. Make your list.
Based on the exercise you just did, pick ONE of your two stores to make a list from. For the sake of this exercise, pick NO MORE than 3 items. Remember, this is the non- overwhelming baby-steps method of learning how to use coupons!
At some point you will easily head to the grocery store with a list of 30 items and 50 coupons in your hand. But for now, let's take it slow. Trust me, you will thank me when you get to the checkout line!
If you are using a site with a printable list option (all the ones listed above have this), simply click on the 3 items that you choose and then print your list. If you are writing out your list by hand, be sure to include the exact brand and size of the item, the sale price, and the coupon you will be using.
Finally, choose items that fit ALL of the following criteria:
After coupons, it is more than a 60% savings off the regular price?
(For example, if Hamburger Helper is normally $1.99 a box, and they are on sale for Buy 1, Get 1 Free, that will make them 50% off. That's not good enough. However, if there is also a $1 off 2 boxes coupon available, your final price will be $0.50 a box, a savings of 75%. That is good enough to make the list!)
2. The coupon required for the savings is a printable coupon that is still available.
(To find out if the printable coupon is still available just click the link and try to print. If you get a message that says "no more prints available" or "you have already printed this coupon the max amount of times," there are no prints left.)
3. The item is something you or your family would use.
(It doesn't have to be something you always buy, just something that you might like to try or something that you think your family might like if they tried it. Part of the fun of coupon shopping is that you get to expand your horizons and try new things!)
4. Gather your coupons.
Using the links provided on the site you are using, print as many coupons as allowed. (Usually 2 per computer.) If the coupon happens to be a PDF file (rare, but it does happen occasionally), it is helpful to save the coupon on your computer rather than print immediately to use again at a future date.
If you have more than one computer, use it to print additional copies of your coupons.
Once you have printed (then trimmed) all the coupons for the 3 items on your list, determine how many of each item you will be able to buy.
Remember, if an item is on sale for Buy 1, Get 1 Free, you will be able to use 2 coupons, one for the paid item and one for the free item.
On your list, note how many of each item you will buy based on how many coupons you have.
5. Go shopping!
Isn't this exciting? Your first trip to the store. Be sure to buy ONLY what is on your list. (Make a separate trip for other items–the goal is to focus and learn without getting overwhelmed or distracted.)
Before you get to the checkout, double check your coupons to make sure the quantities are correct.
When you get to the checkout line, be sure to tell the cashier that you have several coupons, and ask whether he/she would prefer them ahead of time or with the items.
Be friendly and courteous and confident, and pay close attention to the coupons as they are scanned to make sure that none get skipped or forgotten (easier to do when you are only purchasing a few items.) I promise any apprehension you may feel will disappear the moment you see your receipt!
And that's it for this week. Just to review: Decide which stores are available in your area, go to a coupon matchup site to help you make your list, then review the weekly ad posts for your top 2 stores. Pick one store and choose no more than 3 items to put on your list, based on the criteria above.
Once you've gathered your coupons, head to the store for your first extreme couponing adventure. Once again, it might not seem like much, and after your first trip to the store, you might be eager to grab some more bargains. If so feel free to repeat the list-making process for another store (or even the same store), but be sure to keep your list down to only a few items.
TAKE BACK CONTROL OF YOUR HOME LIFE
---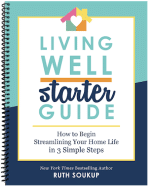 Ever feel like you just can't keep up? Our Living Well Starter Guide will show you how to start streamlining your life in just 3 simple steps. It's a game changer--get it free for a limited time!
If you love this resource, be sure to check out our digital library of helpful tools and resources for cleaning faster, taking control of your budget, organizing your schedule, and getting food on the table easier than ever before.