As you probably know, I live in Florida. We have a lot of great things here in the Sunshine State–beaches, palm trees, flamingos, alligators, Walt Disney World….but there is one big thing that we lack: Rite-Aid. That means I am probably not the best person to try to teach you the ins and outs of Rite-Aid shopping, much as I'd like to try.
Luckily for me and even more so for you, there are many talented coupon experts around the blogosphere. Today I am thrilled to introduce you to Jessica of Living Chic on the Cheap. Her fabulous blog is full of awesome deals, couponing information, and frugal living advice, and is one of my personal favorites. I am very excited and honored that she has agreed to guest lead this week's Beginner's Guide to Coupons lesson.
(If there is no Rite-Aid in your area, don't think you are off the hook this week! Be sure to complete the the non-Rite-Aid related part of the assignment below.
Here is what Jessica had to say:
Rite Aid is a great place to get some terrific deals. They have several great ways to really help you cut your out- of-pocket cost on your everyday essential items. It can get a little complicated, but if you take the time to understand and use their programs, you will be astonished at how much money you can truly save.

Single Check Rebate

The Single Check Rebate Program allows you to get an actual check back from items you purchase every week that qualify. You can find the qualifying products in the weekly ad or on-line. There is also a booklet featuring the monthly SCR at the front of the store next to the weekly ad.

The amount of the rebate varies per item(s), but it will always let you know the amount it the ad or booklet. After you purchase these products, hold on to your receipt. You will need to enter in to the system (on-line) to get credit.

These rebate offers tend to run monthly- but do not necessary line up with the calendar month. So like with any rebate- make sure you know the exact date the offer begins and ends.

You will first need to set up an account at https://riteaid.rebateplus.com/. It is free and easy. Once you set up your account you then just follow the online prompts and enter in the requested information from the receipt. The great thing is that the system checks the entire receipt(s) and you may have rebates that you were unaware existed.

Here is the catch- you can only request ONE Single Check Rebate Check per month- so you can enter your receipts as you go, but make sure that you do not actually click on the "Request Check" button until you are sure you will have no other receipts to enter for that time period.

The cool thing about this program, unlike Walgreens Register Rewards or CVS Extra Care Bucks that are only good for redemption at the given store, Rite-Aid actually sends you a check that you can cash/ deposit at your bank.

ALSO: I want to mention that Rite Aid does impose limits on products that qualify for the Single Check Rebate . For example if Huggies Diapers are on Single Check Rebate (limit 1)- it means that you will only get reimbursed for one pack even if you buy more. The weekly ad will tell you what the limit is for any given product
Another cool thing that Rite Aid is their Video Values or AdPerks Program (aka Rite Aid Video Values). You watch short videos (usually a minute or under) and then when the video is over you have to enter the special code given within 20 seconds. For every video you watch, you will earn a Rite Aid store coupon for the that product (featured in the video) PLUS you will earn credits towards a $5/$20 Rite Aid store coupon. You can create an account and start earning your coupons HERE.

The great thing about the coupons you earn, is that- since they are store coupons, you can combine them with manufacturer coupons for extra savings.

Rite Aid $/$ Coupons

It seems that Rite Aid is always releasing a $/$ coupon on-line. (for example $5/$20). Always keep an eye out for these!

Rite Aid: Gift Card for Pharmacy Transfer

Always check your Rite Aid weekly-ad. More often than not, you will find coupons for transferring your prescriptions, unlike most places that only allow you to transfer one per customer- Rite Aid allows you to transfer 2. So you can earn TWO $25 Gift Cards or $50.

Rite Aid Weekly Ad

Make sure you also check the weekly ad for in-store coupons. These flyers come in your Sunday Paper or can be picked up at the front of the store, unlike Walgreen's, you can not access and print these coupons on-line. Since they are Store Coupons you can stack them with manufacturer coupons for extra savings.

Rite Aid Wellness+ Program If you haven't joined already, enroll online now to start saving money and earning points towards bigger rewards. If you already have your card, you just need to activate your wellness+ online account to fully enjoy all the benefits of wellness+, starting with a coupon good for $5 off your next purchase of $25 (while available) Plus you earn points every time you shop- even on non-prescription purchases (like cosmetics, diapers, pet care, etc) and you earn 25 points for every prescription you purchase. You collect these points to redeem for rewards like a member discounts, shopping passes, free health screenings and more.

PLUS, ENJOY EVERYDAY BENEFITS, INCLUDING:

Members-only sale pricing throughout the store

10% off Rite Aid Brand products every day

24/7 exclusive access to a pharmacist when you call

It is free to sign up HERE.


Up+ Rewards Program

The Up+ Rewards are similar to the Walgreen's Register Rewards Program. Every week select products can earn Rewards. Typically it is one per customer unless otherwise stated.

Once you purchase the eligible product(s), the reward(s) will print out on the bottom of your receipt. You can use these rewards on a future purchase.

In order to qualify for the Up+ Rewards you will need to have a Wellness Card and present it before making the purchase. The great part about this program as there is currently no limited to the number of Up+Rewards you can redeem in a purchase so long as pre-tax total is greater the the redeemable reward amount.

You can not retain any left over value…so for example if your total purchase is $1.75 and you use a $2 Up+ Reward, you will not be able to retain the $.25. Also, the are not transferable and they do expire.

Getting the Most Savings

Personally, I think that the Rite Aid programs can probably wind up saving you the MOST amount of money, especially on things like diapers and formula. Diapers are often on Single Check Rebate and Formula is a high priced item that will get you up to the $20 or $25 mark quickly so you can use those $/$ Coupons.

For example: If Similac Formula is priced at $23.49 a can, you can use a $5/20 Rite Coupon, along with a $5 Similac Rebate Check and you have saved $10 on your formula cost.

Here is another example. Let's say that Prilosec OTC is priced at $25.00 this week and has a SCR amount of $6.00. Let's say there is also a $3/1 Manufacturer Coupon available and you have a $5/$20 Rite Aid Store Coupon. Total Initial OOP $17, but then you submit for the $6 SCR and your Actual OOP is $11! You paid $11 for a $25 Medication! That is over half off.

Also, to make the most of your $/$ you will have to do multiple transactions. Usually, stores do not have a problem with this as long as you aren't doing a dozen different transactions and they are not busy. Just simply ask if it will be a problem to do multiple transactions before you get started.

Now you will have to set down and really map out your deals, but with a little strategic thinking you can really save big at Rite Aid. Good Luck and Happy Shopping!
1. Make your list, gather your coupons, and go grocery shopping according to the guidelines from week three.
By now your stockpile should be getting fuller. You can still feel free to stock up on any item that you use regularly, so long as it is on sale for at least 50% off, but you may want to start getting a little more selective with your shopping, focus only on the very best deals or the things you really need.
If you feel very motivated, you can repeat this process for multiple stores. Again, the more stores you shop at, the faster you will build up your stockpile since different stores have different sale cycles.
2. Keep your stockpile organized.
You worked so hard to get your stockpile set up; reward yourself this week by taking care to maintain your system when you put your groceries away. A little effort each week can save you a lot of hassle and a big mess later on.
3. Check out Rite-Aid.com.
Create an account, learn to navigate the site, and start earning video values rewards.
4. Go on a field trip to Rite-Aid.
Consider it a dry run. Go to whichever store you plan to shop at most often, and pop in for a quick visit and tour, and to sign up for a Rite-Aid card, if you don't have one already.
It may sound silly, but trust me, it helps (a lot!) to know where things are. There is a lot to keep track of on a high-savings shopping trip–your shopping list, your coupons, unplanned for in-store coupons, unadvertised specials & clearance items (not to mention your kids, if you are forced to drag them along!)–and you will save yourself a lot of aggravation and time by knowing where to find things.
Make a mental note of the food section, the baby aisle, the supplement, shaving, eye care, oral care, & hair care areas, which are all sections you will probably need to find frequently.
5. Make your list
Here are some guidelines to go by:
Check ALL items that are free or less than free after Video Values, SCRs & UpRewards.
Check any other items that you want or need. Look for savings of 70% or more after coupons and ECBs.
Print your list.
6. Create your Transaction Scenarios.
Rite-Aid has even more variables to saving than either Walgreens or CVS, so for your first week, I wouldn't recommend doing more than about 2 or 3 items or more than 1 or 2 transactions.
Once you have printed your list, play with the different items to come up with a way to spend the least amount of OOP money.
7. Go shopping.
Again, I try to always do my drugstore shopping on Sundays, the day the sale starts. Some weeks it doesn't matter, but when there is a really hot deal going on the stores can sell out quickly and it is frustrating to spend a lot of time creating your scenario, only to have it all fall apart because one of the items you've planned for is gone.
Can you believe there's only one week left?
* * *
Stay tuned for next week's assignment and, as always, please post any questions or comments you may have below. I do read all my comments, and I make an effort to respond and answer questions as best I can. If you have a specific Rite-Aid question, I will try to find the answer for you, or perhaps another reader will be able to help as well.
TAKE BACK CONTROL OF YOUR HOME LIFE
---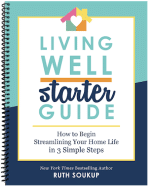 Ever feel like you just can't keep up? Our Living Well Starter Guide will show you how to start streamlining your life in just 3 simple steps. It's a game changer--get it free for a limited time!
If you love this resource, be sure to check out our digital library of helpful tools and resources for cleaning faster, taking control of your budget, organizing your schedule, and getting food on the table easier than ever before.