Feeling tired and exhausted all the time? Don't miss these simple tricks to help you boost your energy and feel more rested!
As both a family practice physician and a busy mom of 5 kids & step-kids, it's safe to say I struggle with energy. Between the 45-minute commute to work and restless nights with my toddler, sometimes I feel like I'll never actually catch up on the sleep I need.
Looking back, I think I've actually been tired for the majority of the past 16 years. I had my daughter right after my first semester of medical school and the "tired twitches" began. My eyelids, forearms, and legs would twitch at random from fatigue and stress. In residency, I worked 30-hour shifts at the hospital and then went home to take care of a 4-year-old. The twitches stopped but were replaced by equally awful headaches.
At the time, energy was vital, and limiting my schedule was not an option so I started looking into energy boosters. And I found a few flops in the process. Energy drinks made my heart race, vitamin B made little difference, and moving to a deserted island unfortunately wasn't an option. I had my thyroid levels checked, narrowly escaped a heart monitor for low heart rate, and even completed (barely) a sprint triathlon for motivated exercise.
Better Ways to Boost Your Energy (Even When You've Tried it All)
In my quest to be Wonder Woman, I have found a few tricks that do work to boost my energy on those rough days. Here's my biggest medically-relevant simple tricks from both my doctor and mom friends who have managed kids, career, and completely unrealistic expectations of ourselves:
1. Go ahead, drink more coffee (really, it's okay)
Think of your limit as one cup of coffee per child per day. And I will count step-children, pets, and husbands (if need be) into that number. Of course, that would take my total to 7 and that may be a bit excessive. In all reality, studies are showing more and more benefits and less risk from coffee consumption. And coffee is less likely to cause that post-consumption crash when you need a quick pick-me-up than sugar. A recent study did show an increased risk for migraine headaches if you consume more than 2 cups of coffee a day, though, so limit to 2 cups a day if migraines are an issue for you.
2. Ice your eyelids
Just think of those relaxing spa days where you soak in the hot tub with a chilled washcloth and cucumber slices over your eyes. Instead, apply an ice cube over each eye while your children run around you screaming names at each other. It's practically the same thing. For a bonus, throw spa music like Deuter Radio on Pandora and add aromatherapy through peppermint oils. The ice will help with eyelid swelling and heaviness from exhaustion and the rest will help with your mood.
3. Shake it off, shake it off
As a physician, my daytime exhaustion comes from 2 sources: my schedule and a few isolated patients. You know the kind of people who you just can't get out of a conversation with despite multiple social cues? Imagine those people in an exam room. I love them for their humanity but I just can't fix all of their personal problems in a 15-minute diabetes visit. Too many of these patients back to back and my energy is gone.
I learned a fun technique from a co-worker a few years back and it has made a huge difference. When I walk out of the room with these patients, I "shake it off." I literally shake my hands up and down and sing the Taylor Swift lyrics to myself. Just picture the video but insert a middle-aged woman in the hallway of a Doctor's office. It may sound funny but give it a try after a stressful encounter – it gives you a moment to pull back and reset your mind. And a break to start new without the negative energy following you around all day.
Movement helps with energy in general. In fact, one of the strongest treatment options for chronic fatigue is exercise therapy. Studies have shown that amongst patients with over a 3-month history of fatigue, 60% responded to exercise treatment alone. Exercise therapy is defined as 30 minutes of light exercise 5 times per week with a goal of increasing. Walking outside seems to be especially beneficial if the weather permits.
Yes, it is the fad right now but it does help significantly with energy. Don't get me wrong, the first few days stink. As you adjust, those energy levels will plummet. But after that, you will definitely have more energy than you did before. Not to mention the many health benefits of limiting carbohydrates. It helps with decreasing insulin resistance and decreases the risk of diabetes. It is a win, win. My husband and I started this a few months ago and I have had MANY comments about my increased energy level. We recently took a break from our low-carb diet for a destination wedding and felt exhausted from the increased carbs. You won't regret this decision.
5. Make the cut
We are so good at doing this with our children but struggle ourselves. What do you do when your child is exhausted, overscheduled, and grumpy all of the time? You pawn them off on your parents. Just kidding. Sort of. You cut back their unnecessary activities. If you are exhausted, I'm challenging you to do the hard part for yourself as well – cut back 2 activities that you just don't like THAT much. And if you need an excuse for doing it, blame your husband. I do it all of the time. Actually, I struggle with this so much that my husband now requires me to run anything I am thinking about adding on by him before I automatically say, "Yes, I would love to."
As parents, we often tell ourselves that this time of exhaustion will pass when our children are grown. It is just a short time in our lives. BUT this short time is also our example for our children on how to live their lives, especially our daughters. It is our cherished time with them and our time to teach them how to "be adults" and learn to value themselves. Don't waste it on some club that you hate anyway just because you couldn't say no to the head of the PTO. Cut those 2 activities and spend that time just watching your kids or with ice cubes over your eyes pretending you are at a spa.
6. Take a 10-minute challenge
When dealing with low energy, it makes little sense to suggest you add something to your day. So this is the only place I'm going to do that. Add a 10-minute meditation challenge to your schedule. Just 10 minutes a day. Meditation decreases cortisol levels, induces endorphins (And is quicker, less sweaty, and less smelly than exercise at doing it!), and boosts melatonin to help with restful sleep. This is a time when you shouldn't just close your eyes with a bunch of wild kids running around you, though. Not exactly conducive to meditation. Either give yourself 10 minutes at the beginning or end of the day or consider it over your lunch break or in the car after work. Just don't do it while you are driving. Sometimes I even fake meditate to get my husband to stop talking – it's an added benefit once you get into the groove. Calm and Mindfulness are two apps that come with free trials to get you started in the practice of mindfulness meditation and Abide is a Christian-guided meditation app if that fits your lifestyle.
7. If all else fails, it's time to see your doctor.
In all seriousness, there are many medical diagnoses associated with excessive tiredness. I recommend starting with a yearly physical. Low thyroid levels, anemia, blood sugar levels, vitamin deficiencies, cancer screenings, depression, autoimmune disease, and sleep apnea to name a few can all be screened for with your yearly physical. Rarer diagnoses such as chronic fatigue syndrome and idiopathic chronic fatigue are more difficult to treat but treatment options do exist. If you would like to take a fatigue handout with you to help you and your Doctor streamline the conversation, check out my post on common causes of fatigue here.
To recap, here are Better Ways to Boost Your Energy (Even When You've Tried it All):
1. Go ahead, drink more coffee (really, it's okay)
2. Ice your eyelids
3. Shake it off, shake it off
4. Go low-carb
5. Make the cut
6. Take a 10-minute challenge
7. If all else fails, it's time to see your doctor.
Other helpful resources:
PIN FOR LATER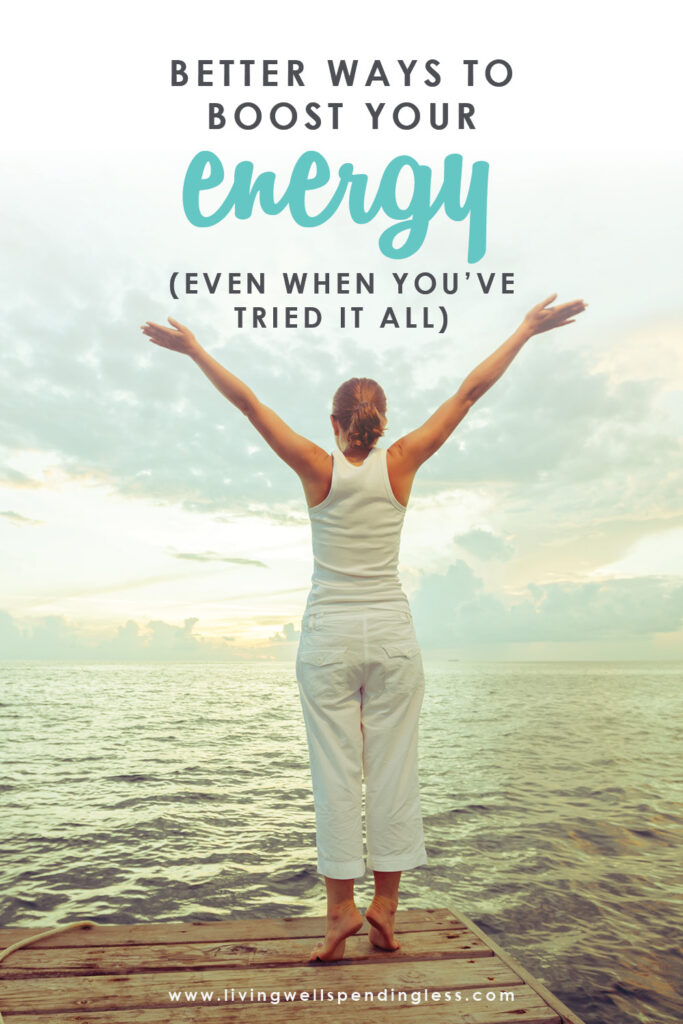 TAKE BACK CONTROL OF YOUR HOME LIFE
---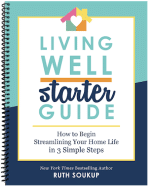 Ever feel like you just can't keep up? Our Living Well Starter Guide will show you how to start streamlining your life in just 3 simple steps. It's a game changer--get it free for a limited time!
If you love this resource, be sure to check out our digital library of helpful tools and resources for cleaning faster, taking control of your budget, organizing your schedule, and getting food on the table easier than ever before.