Over the years, I've had to learn the hard way that more cleaning supplies will not necessarily result in a cleaner house. Even so, there are definitely a few essentials that every home needs in order to get things truly spic and span. Thus, before we get started on the "how" of tackling every surface, we are going to first spend some time gathering our "what"—the must-have cleaning products and cleaning tools to get the job done.
Cleaning Products
The sheer number of cleaning products on the market can be pretty overwhelming, but the truth is that just a few basic cleaners are really all you need to get the job done right. Here is a breakdown of the different types of cleaners you should keep on hand and what they clean: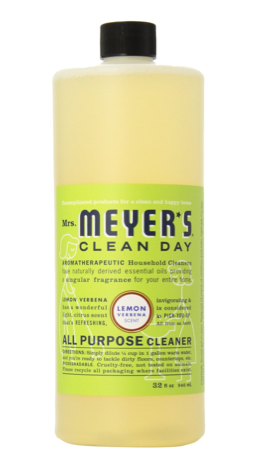 1. All Purpose Cleaner. A good all-purpose cleaner can clean and sanitize everything from your kitchen counters, sink, & appliances to your bathroom shower, tub, and toilet. It can also be used to spot clean tile backsplash, floors, or walls and linoleum.
Try these: Clorox Clean-Up or Mrs. Meyers All Purpose Cleaner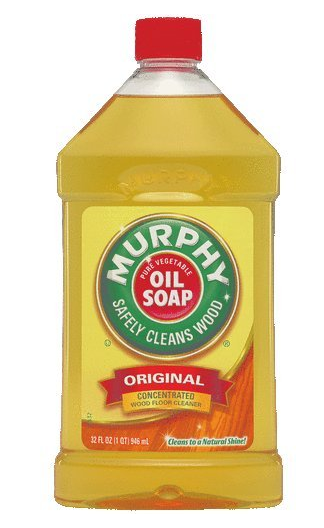 2. Furniture Cleaner & Polish: A good oil-based furniture cleaner & polish will make your surfaces shine and can keep your wood furniture in great condition for years to come. Be careful to avoid products that will cause buildup on furniture, especially aerosol dusting sprays! This should be used on all wood furniture, including dressers, tables, chairs, and desks. A concentrated version can also make a great mop solution for cleaning hardwood floors.
Try these: Murphy's Oil Soap or Method Good for Wood Cleaner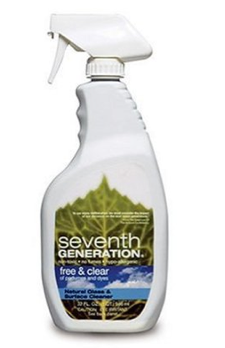 3. Glass Cleaner: A good glass & surface cleaner will not only make your mirrors and windows sparkle, but is also great for polishing bath & kitchen fixtures and for making countertops shine. I also use it for my glass-topped range. Use with a squeegee, lint-free cloth, or old newspaper rather than paper towels for a streak-free shine.
Try these: Glass Plus or 7th Generation Free & Clear Glass Cleaner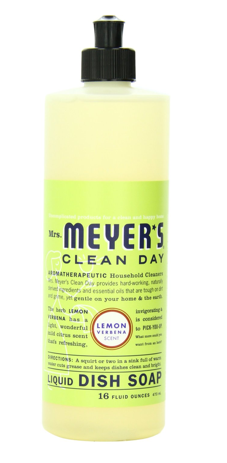 4. Liquid Dish Soap: Liquid dish soap is the secret weapon of your cleaning closet and its many uses go far beyond scrubbing your pots and pans. Use it in concentrated form to remove stains in clothing, or use a mild warm soapy water solution for everything from mopping floors to washing dirty lampshades.
Try these: Dawn Ultra or Mrs. Meyers Clean Day Dish Soap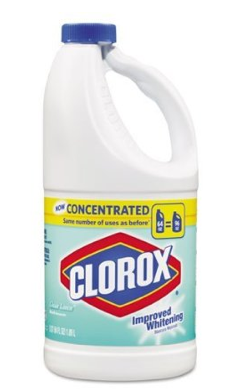 5. Bleach: Another powerful and versatile cleaning aid, bleach goes the distance when it comes to cleaning and disinfecting. Use it in every single load of whites to prevent dinginess and graying of clothing, sheets, and towels. Add it to your soapy water solution to provide disinfecting power, pour it directly in your toilet brush holder to disinfect the brush between cleanings, and use it directly on grout and tile to combat mold.
Try this: Clorox Concentrated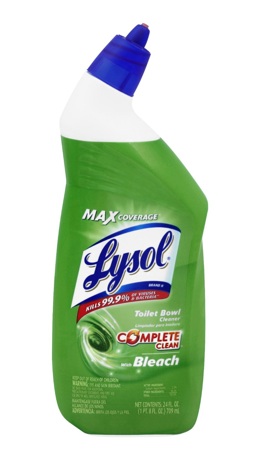 6. Toilet Bowl Cleaner: A thick gel will cling to the rim for extra cleaning power, and added bleach helps keep things nice and white.
Try this: Lysol Max with Bleach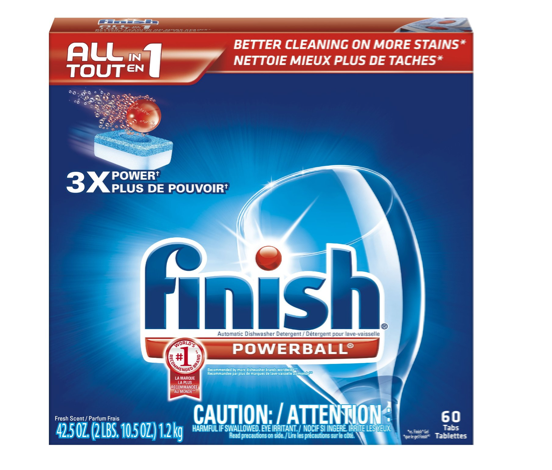 7. Dishwasher Detergent: I haven't yet discovered any secret secondary uses for dishwasher detergent, but it is one of those products that doesn't have a great substitute either (unless you make your own). However, if you use a dishwasher, it is worth your time to find a detergent that does the job well. I personally love the easy-to-use tablets.
Try these: Finish Powerball Tablets or Cascade Actionpacs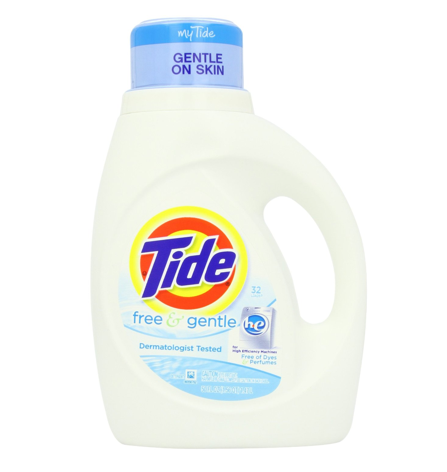 8. Laundry Detergent: A good laundry detergent will not only get your clothes clean, but keep them looking newer longer by not fading colors. I prefer making my own powder detergent, but my husband—now the main laundry person in our house—prefers commercial liquid detergent. Because of my daughter's skin sensitivities, we normally buy the dye & scent-free version, which is gentle enough for baby clothes as well!
Try these: Tide Free & Gentle or All Free & Clear Mighty Pacs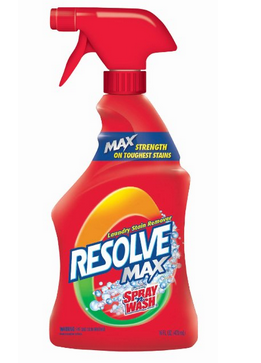 9. Stain Remover: Not all stains are created equal, but a powerful concentrated stain remover will tackle most of them
Try these: Resolve Max or Shout Advanced Gel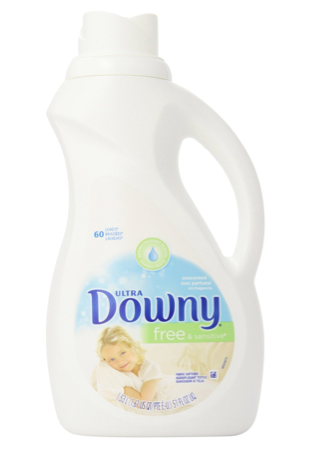 10. Fabric Softener: I grew up thinking fabric softener only came in the form of super smelly dryer sheets. As an adult I discovered liquid fabric softener and have never looked back—it does the job so much better! If you have a front loader you can pour the softener in at the beginning; a top loader requires waiting for the rinse cycle or opting for sheets in the dryer. Again, we prefer the dye & scent-free versions to get the softening power without all the heavy perfumes.
Try these: Downy Free & Clear or Bounce Free Sheets
Homemade Cleaning Products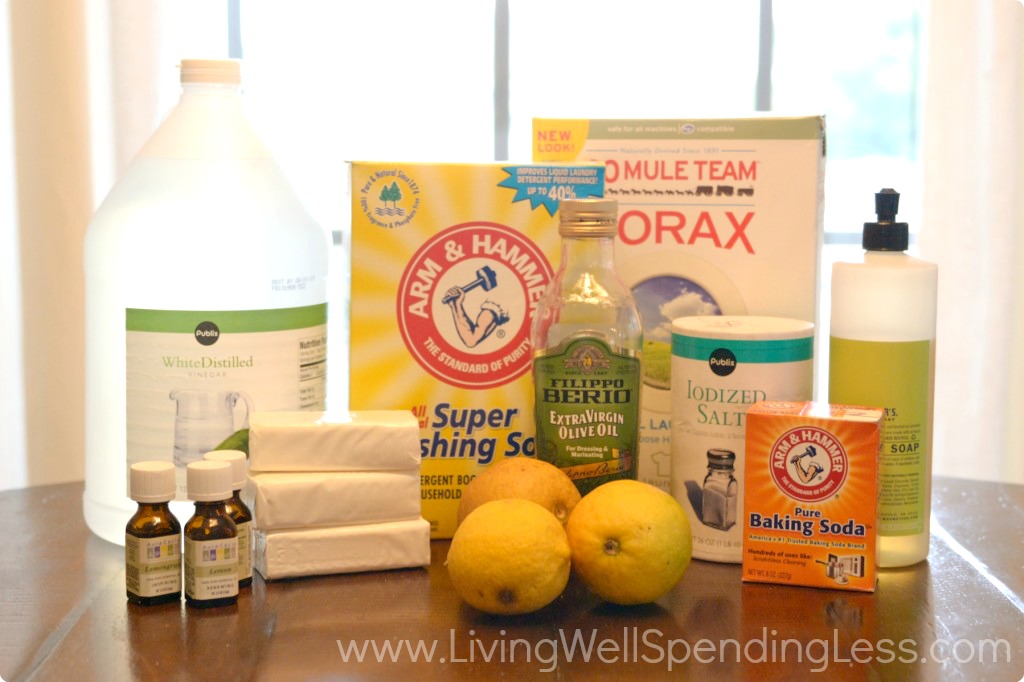 While I've listed some of my favorite commercial cleaning products in the list above, please don't think you need to run out and buy a whole cupboard full of cleaners to get the job done. Making your own homemade cleaners is not only cheaper than buying commercial products, it is also better for the environment. And surprisingly enough, just 10 common household products are pretty much all you really need to make ten different cleaners that can clean every surface in your home.
Cleaning Tools
In addition to the cleaning products listed above, there are also a few essential house cleaning tools that will make your job a whole lot easier.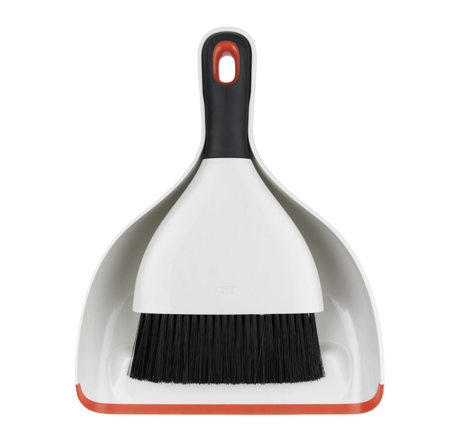 11. Broom & Dustpan: A must-have for every home, make sure your broom's bristles are in good shape. If they are broken, worn, or jagged, consider trading it in for a new one—you will be amazed at how much more dust and debris it will catch. Choose a dustpan with a rubberized edge and comfortable handle.
Try these: Libman Precision Angle Broom and OXO Good Grips Dustpan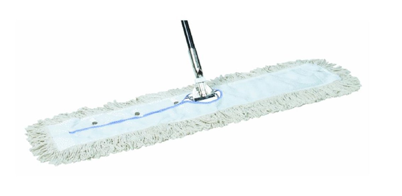 12. Dust Mop: If your home is mostly hardwood or tile, a large commercial dust mop is essential. Use this daily to pick up dust and keep floors looking clean in between mopping sessions.
Try this: O Cedar Commercial Dust Mop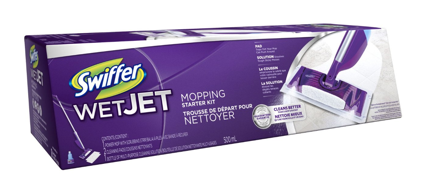 13. Wet Mop: I personally have not owned a "real" mop in years, preferring instead to use a Swiffer Wet Jet—it is just so much more convenient! Even so, heavily trafficked floors that get extra dirty might benefit more from a traditional wet mop that can be used with a warm soapy water solution.
Try these: Swiffer Wet Jet or O Cedar Mop & Easy Wring Bucket System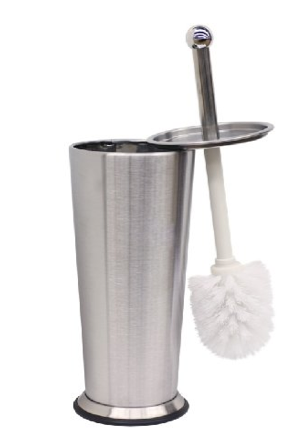 14. Toilet Brush & Holder: Find a toilet brush with a holder that can hold bleach so that your brush can be sanitized between cleanings. Be sure to replace the bleach regularly–at least every 2 weeks.
Try this: Home Basics Stainless Steel Toilet Brush and Holder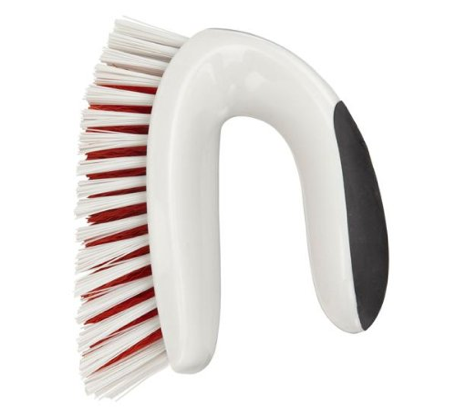 15. Scrub Brush: A good scrubber is key for cleaning tiles & grout—just be careful when scrubbing bathtubs or shower surfaces, as some scrub brushes will scratch acrylic or porcelain. In that case, opt for a wet rag instead!
Try this: OXO Good Grips Household Scrub Brush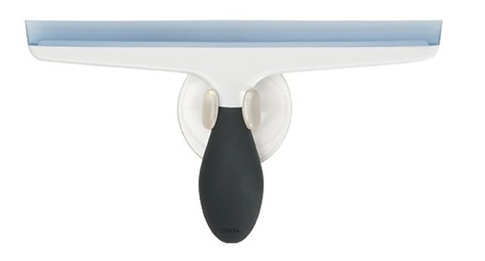 16. Squeegee: A good squeegee makes cleaning large glass surfaces a breeze—just spray on your glass cleaner and move the squeegee back and forth across the glass until it shines, wiping the blade with a rag in between strokes.
Try these: OXO Good Grips All Purpose Squeegee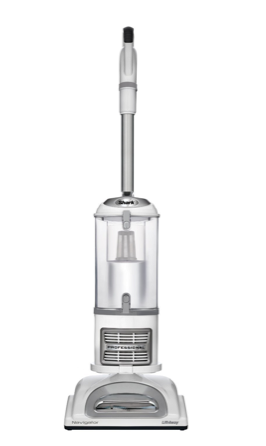 17. Vacuum: The amount of carpet in your home, as well as other factors such as pets and stairs should determine how much you are willing to invest into a high-quality vacuum. Take the time to read the reviews to find a vacuum that works well, sucks up dirt, and is easy to clean.
Try these: Shark Navigator or Dyson Animal Complete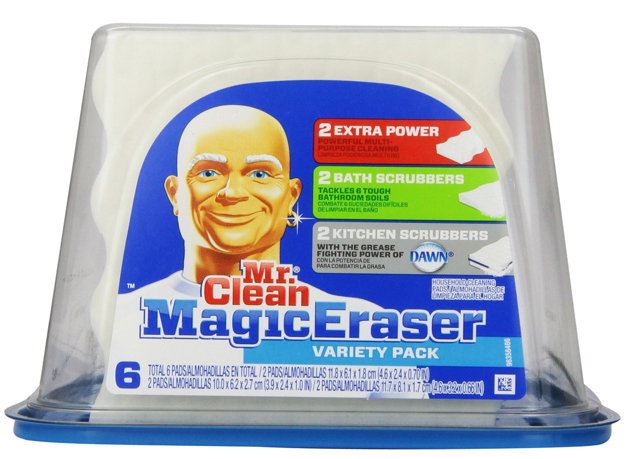 18. Magic Eraser: These little magic sponges are the best tool I've found for removing fingerprints from dirty doors and cabinets. They also do a great job of removing spots from tile floors and errant crayon or marker marks from tables and walls.
Try this: Magic Eraser Variety Pack

19. Duster: A duster is a great tool for cleaning bookshelves, window blinds, the tops of pictures and mirrors, ceiling fans, and any other areas where knick-knacks prevent a full wipe-down. I personally love the disposable Swiffer Dusters, but a washable duster can work great too.
Try these: Swiffer Dusters or OXO Good Grips Microfiber Duster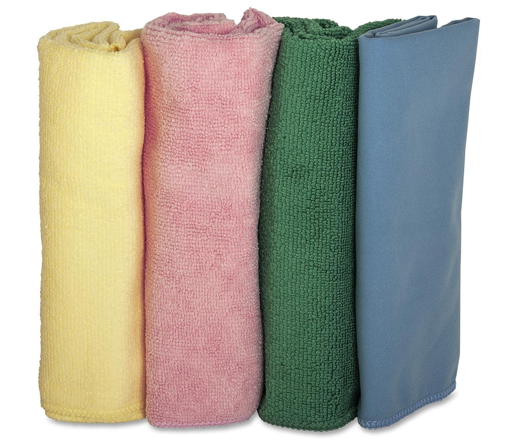 20. Lint-Free Cloth: A lint-free cloth is an invaluable tool for cleaning windows and mirrors without leaving little specks of lint behind. Old newspapers can make a great substitute for this, just make sure you use newspapers that are at least three weeks old to allow the ink time to set. Otherwise you may end up with very black hands!
Try this: Genuine Joe Microfiber Cleaning Cloth 4-Pack
21. Rags: Every cleaning closet needs a good supply of rags that can be used for everything from cleaning the bathroom to wiping down the floor to polishing furniture. Old towels in a variety of sizes are perfect for this, just make sure they don't have holes or strings that can get in the way.
What You Don't Need:
You don't need separate cleaners for each room (kitchen vs. bathroom cleaners, etc.) A good all-purpose cleaner can tackle all those areas. Also avoid aerosol dusting sprays, as they can cause build-up on furnitures, and skip extras and frills such as scented laundry boosters or countertop spray.
Part Two Assignment
Just to review, here is your second assignment:
Gather all your cleaning products and tools for a major purging session. Throw out any cleaners that haven't worked or that you don't like. There is no point in keeping something you know you won't use. Inspect your broom, mop, and other supplies to make sure they are all in good shape, and get rid of anything that doesn't make the grade.
Clear a space in your laundry or utility room to store your cleaning supplies so that they are all in one convenient place, then arrange them so they are neat and organized.
Once you've sorted the supplies you have on hand, make note of any supplies you still need. Make or purchase any necessary items.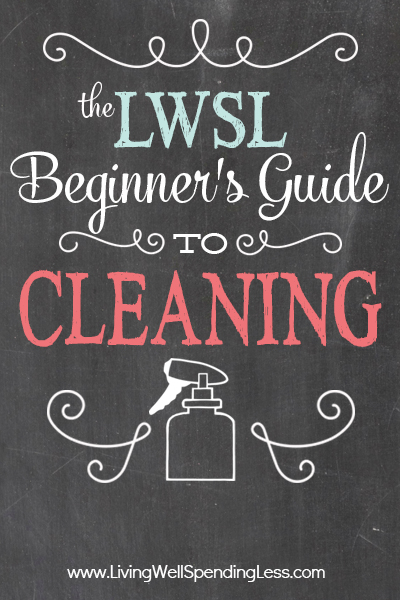 * * *
The LWSL Beginner's Guide to Cleaning:
Part 1:
Getting Started
Part 2: Cleaning Supply 101
Part 3:
How to Clean Your Living Space
Part 4
:
How to Clean Your Kitchen
Part 5
:
How to Clean Your Bathroom
Part 6
:
How to Clean Your Bedroom
Part 7
:
Laundry 101
Part 8
:
Home Maintenance & Seasonal Cleaning
TAKE BACK CONTROL OF YOUR HOME LIFE
---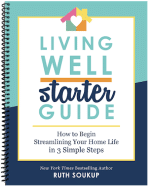 Ever feel like you just can't keep up? Our Living Well Starter Guide will show you how to start streamlining your life in just 3 simple steps. It's a game changer--get it free for a limited time!
If you love this resource, be sure to check out our digital library of helpful tools and resources for cleaning faster, taking control of your budget, organizing your schedule, and getting food on the table easier than ever before.