By now most of us know that using coupons is a great way to save money on groceries. Shows like Extreme Couponing showed us just how dramatic those savings can be. And who wouldn't want to get all their family's food for practically free? The problem is that those dramatic savings often go hand-in-hand with excessive amounts of time spent clipping & sorting coupons and searching for the very best deals.
Quite frankly, who has time for that?
When it comes to coupons, the complaint I hear most frequently is this: "I just don't have time!"
Sound familiar?
The good news is that it IS possible to save big money with coupons without spending all your time on it. Like anything in life, you have to find the right balance. That balance won't be exactly the same for everyone. In fact, depending on my current season of life, there are definitely times I don't always use coupons. Of course when I do use coupons, these are my 5 strategies for saving as much time & becoming as efficient a coupon-user as possible:
Stop clipping
It isn't necessary to clip every single coupon that comes your way. It far much more efficient to organize your Sunday coupon inserts by date in a hanging file folder, then keep a binder or envelope handy to sort and file any printable or loose coupons you have lying around. Every coupon matchup site I've been to lists the name and date of the insert that a particular coupon was found in. If your coupons are already sorted this way, it makes gathering your coupons for a shopping trip very simple, and you will save hours of clipping and sorting each week.
You'll still need a way of organizing your loose & printable coupons, (when I first started couponing, I used a product called the Couponizer, which is currently out of print. I really liked it, but eventually I switched to the Qubie binder because it was a little bigger and had more room for for larger quantities of printable coupons), but the bulk of your coupon stash will never need clipping. The Krafty Coupon Organizer is also a handy way to keep track of those loose coupons.
For more details (and an instructional video), check out this post on quick and easy coupon organization.
Take advantage of online resources
There is no reason to spend all YOUR precious time trying to figure out what coupons match to what store sales, where the best deals are, and what new coupons are available to print online when there is almost an endless supply of blogs available who do it for you for FREE.
There are literally hundreds of wonderful coupon matchup sites that can help you find the very best deals for your exact region and store every single week. Here in Florida, I usually use Southern Savers, I Go BOGO, and I Heart Publix to find the best Publix deals. Some of my other favorite coupon matchup & deal sites include Money Saving Mom, Surviving the Stores, & My Litter. I also think Freebies 4 Mom has some of the best (and most legitimate) freebie offers.
Of course if you are starting from scratch & just need to learn the basics of how to coupon, be sure to check out my Beginner's Guide to Coupons, an 8-week step-by-step guide to couponing.
Stick to a schedule & shop only at one store
It is easy to become consumed with trying to maximize your coupon savings by visiting multiple stores and going shopping several times a week. Resist that temptation! Decide on one day to shop and one or two stores to shop at, and then stick to the schedule.
Give yourself permission to miss out
There is no shortage of great deals available online and in-stores, and the simple facts are that a.) even a "good deal" still costs money and b.) there will always be more bargains. Don't beat yourself up if you miss one (or twenty). Commit to saving when you can on what you can, but don't be afraid to give yourself grace when needed. Avoiding coupon burnout is also key for maintaining long term savings. If your pantry is full, feel free to skip a week–or even a month–of shopping and simply use what you have before buying more.
Decide what it is you want to save on.
A lot of people think that they can't save money with coupons because they eat mostly fresh produce or cook primarily from scratch or prefer organic or require gluten free food or, well, you get the idea. While it is harder to find coupons for meat, produce, and special dietary items, it doesn't mean you can't utilize the same techniques. Buy things when they are on sale, then stockpile as much as you can. As I've explained before, saving big money on groceries is not really about the coupons, it is about changing the way you shop.
Don't forget that everyone–even picky eaters or those on a special diet–can use coupons for non-food items like toiletries, medications, paper goods, & diapers. It doesn't have to be all or nothing–any savings is better than none! Commit to saving where you can so you have a little more leeway when it comes to the things you really want or need.
Or do you need a more in-depth tutorial to saving? Enter Grocery University: a 2 hour, 19 minute audio course that will teach you everything you need to know about making the most of your grocery budget, regardless of whether you're new to bargain shopping or have been a super-shopper for years.
* * *
Do you feel like you are pretty efficient when it comes to couponing? How do you cut down on your time spent looking for deals and clipping coupons?
TAKE BACK CONTROL OF YOUR HOME LIFE
---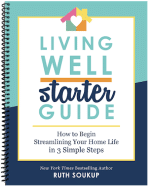 Ever feel like you just can't keep up? Our Living Well Starter Guide will show you how to start streamlining your life in just 3 simple steps. It's a game changer--get it free for a limited time!
If you love this resource, be sure to check out our digital library of helpful tools and resources for cleaning faster, taking control of your budget, organizing your schedule, and getting food on the table easier than ever before.