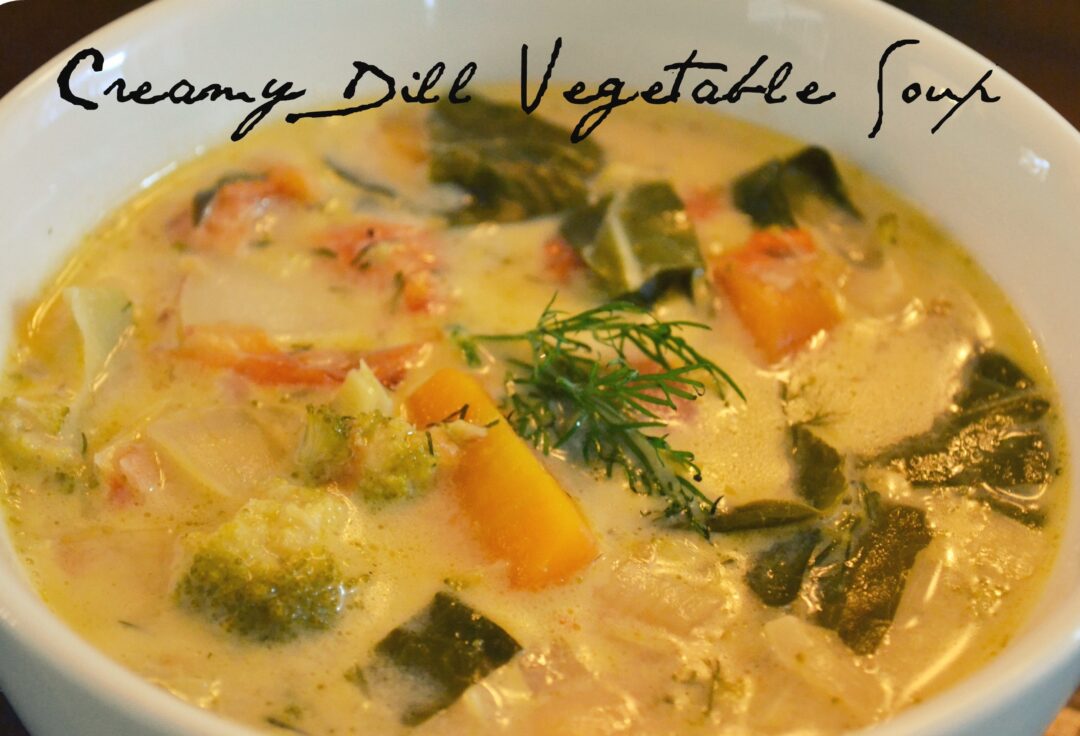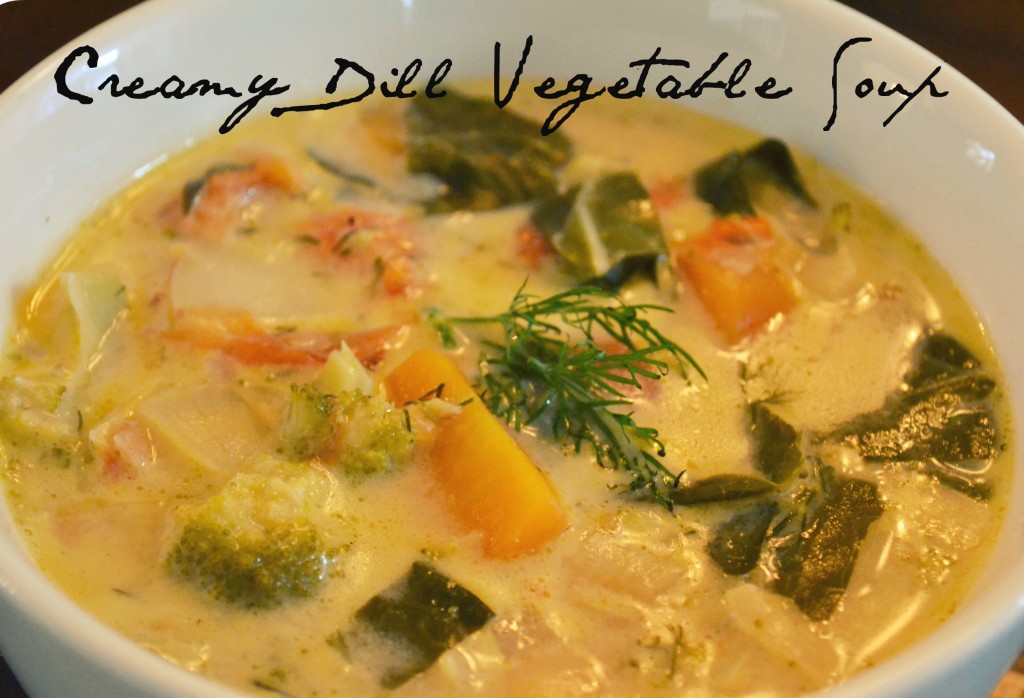 There is something about soup that is just good for the soul. I made this soup last week Sunday after a very rough mommy day. I don't even remember now what I was all atwitter about, but I was stressed and crabby, with too much to do and not enough time to get it done, and in-general, not very fun to be around. Husband spent the day playing with the girls and I did my own thing, finally realizing that I had been a jerk.
DIG DEEPER
---
Stockpiling can save us a bundle. Simply amass a small stockpile of items when they're at "rock bottom" prices or when you find a great sale.
Find out more by opting-in below to have the Stockpile Printable sent straight to your inbox!

This soup, and a nice family dinner to go with it, was my peace offering. Luckily for me my family is very forgiving.
But the soup was pretty darn tasty, so I think that helped.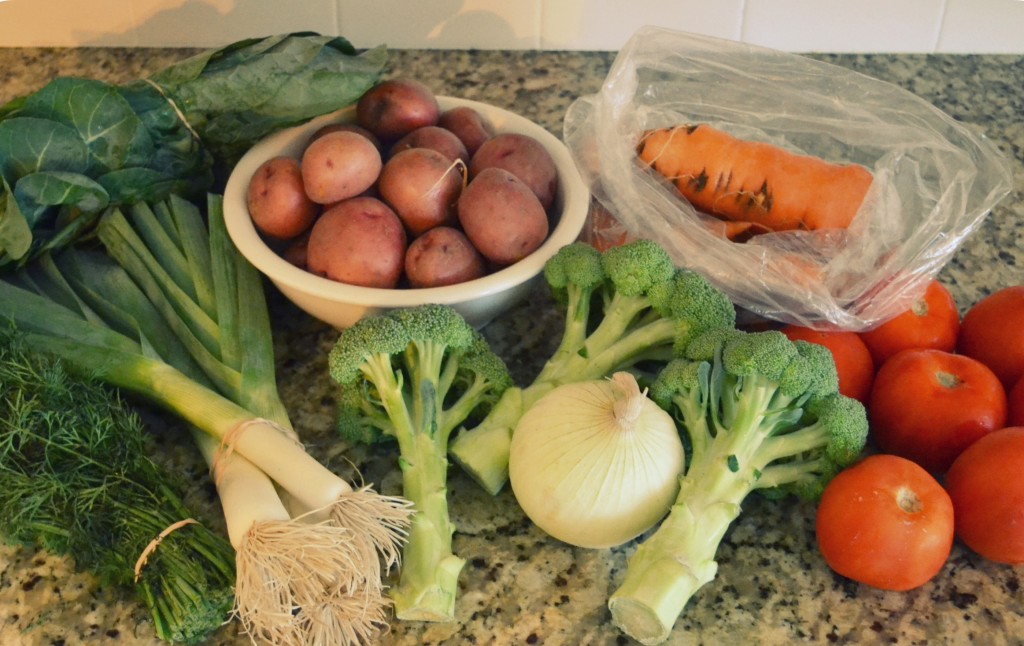 We are still receiving our weekly box of vegetables from Worden Farm and I just love having such a huge variety of veggies on hand at any given time. It is so inspiring!
Creamy Dill Vegetable Soup
6 tomatoes, chopped  olive oil 7 tablespoons butter, divided 1 onion, chopped 3 leeks, thinly sliced 1 teaspoon minced garlic 10 red potatoes, cut into bite-sized chunks 4 large carrots, sliced 3 small crowns broccoli, or 1 large head 1 bunch collard greens, stems removed & chopped 1 bunch fresh dill 8 cups vegetable broth or water 2 cans white kidney beans, rinsed & drained 1 1/2 teaspoons salt 1/2 teaspoon pepper 3 tablespoons flour 4 cups whole milk or half & half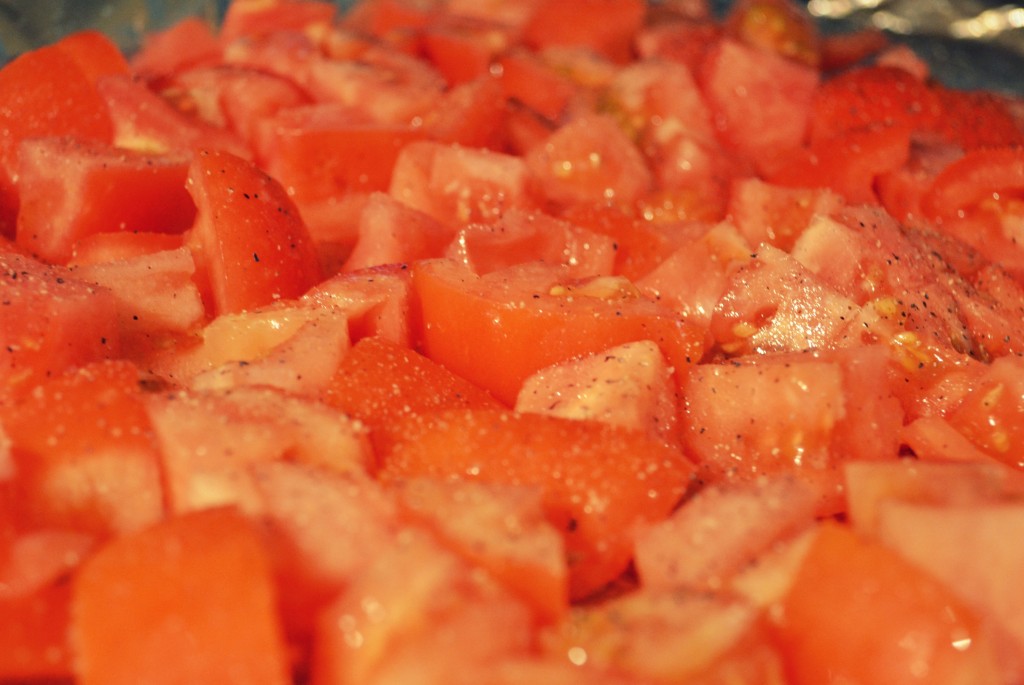 Step 1: Line cookie sheet with foil; brush foil with olive oil. Spread tomatoes over pan & brush with oil; sprinkle with salt & pepper. Roast tomatoes at 400 degrees for 30 minutes; set aside.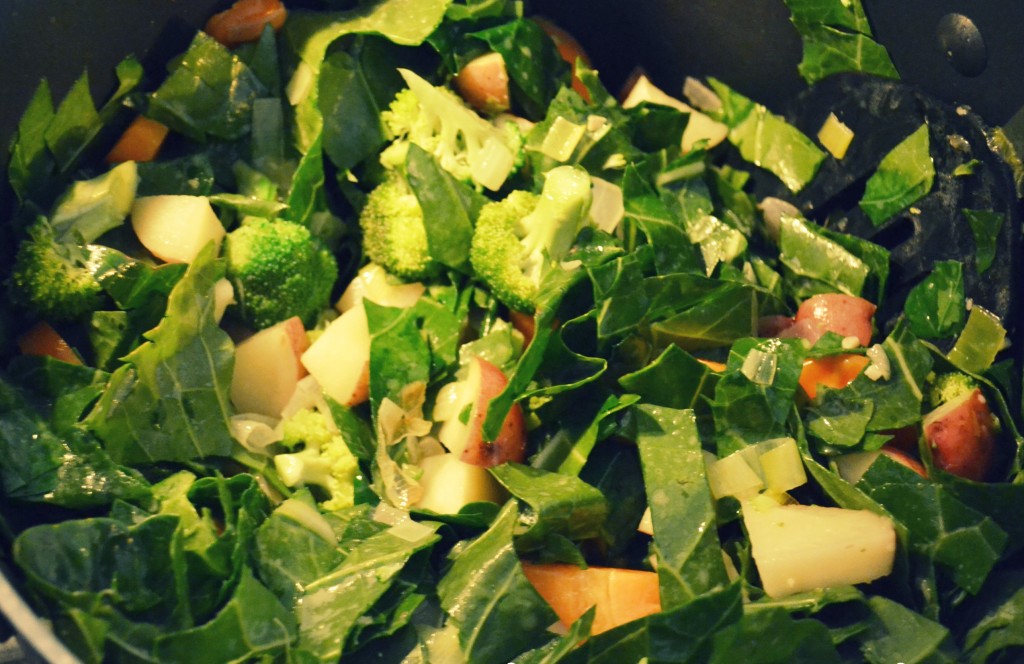 Step 2:  Melt 4 tablespoons butter in large stock pot over medium-high heat. Saute onions & leeks until tender, about 5 minutes. Add remaining vegetables; sauté additional 10 minutes over medium heat. Add more butter or olive oil if necessary.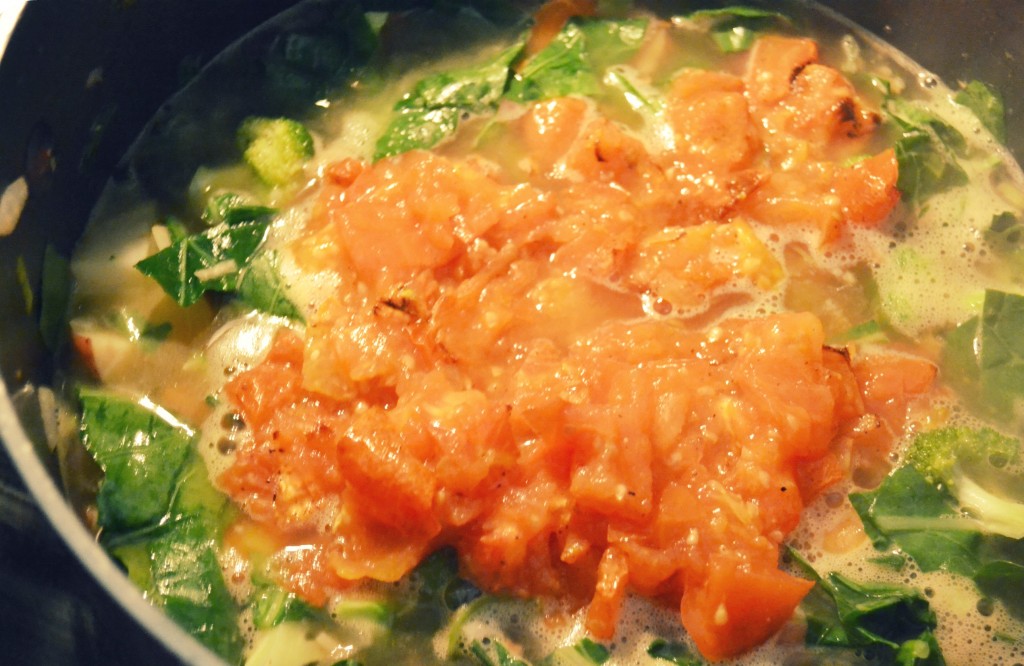 Step 3:  Add broth to vegetables; stir in roasted tomatoes and white beans. Bring to boil; reduce heat and simmer 30 minutes.
Step 4:  Melt remaining 3 tablespoons butter in medium saucepan over medium heat. Whisk in flour to create roux; add milk & whisk continuously until milk begins to bubble and thicken. Reduce heat to low; stir in dill. Remove from heat. Add milk mixture to soup; bring just to boiling then reduce heat and simmer 15 minutes.
My kids are not normally big fans of veggies but apparently the trick to making them happy is to just put them all into soup form–they LOVED it and couldn't get enough, even though it was packed full of weird-looking vegetables.