Ever avoid entertaining because you're worried your home isn't quite "good enough" for guests? Here's how to create an inviting home in 6 simple steps!
Do you ever crave having friends over, but feel your home isn't "ready" for guests?
Maybe at some point, you felt your home was "together." But now, the space feels stale. You've flipped the couch pillows one too many times. The ottoman is worn and the décor dated.
With all of the kid's activities, the counter looks more like a dumping ground than an inviting island.
Oh, and don't even get me started on the dust bunnies or the kid's bathroom. Maybe once you felt on top of it, but now, most days you don't. And, it paralyzes you. You choose to stay at home by yourself instead of having others over.
Here's the good news…creating a more inviting home is easier (and less expensive) than you think!
PERFECTION IS THE ENEMY
Let's clarify something up front, you do not need a perfect home to invite people over. That's is not the goal here. Welcoming friends and family into your home is a way to create the community you crave and need. If you feel like you need to have a perfect house, then the chance of creating community in your home is highly unlikely!
6 Ways to Create a More Inviting Home
"Research shows that playing cards once a week or meeting friends every Wednesday night at Starbucks adds as many years to our lives as taking beta blockers or quitting a pack-a-day smoking habit."― Brené Brown, Braving the Wilderness: The Quest for True Belonging and the Courage to Stand Alone
So, these simple steps are easy things that you can do that don't need perfection. But they do help you make your home more welcoming so that you can connect with others!
TIDY UP
The first and least expensive thing you can do to make your home cozy is to declutter and organize your space. A cluttered space leads to a cluttered mind. It's often hard to feel comfortable in your own home if there's too much stuff around.
Three of the most visible clutter traps in homes are kitchen counters, mud rooms / entryways, and kids gear in the family room. If you only have 30 minutes, tackle your most visible spaces.
Sort, file, or discard any mail, school papers, or receipts that are on your kitchen counter. Pick up shoes, coats, or gear that clutter the mud room or entryway. Grab a basket and gather any kid's things that remain in the family room.
If you have a little more time, you can identify your most common clutter traps. Determine the reason for the clutter? Often, clutter accumulates because items were never assigned a home, they have outgrown their home, or family members need retraining on where things should go. Once you figure out the problem you can fix it!
Again, don't feel like you need a perfectly clean home. Just deal with the piles so that both you and your guests can enjoy your space without being distracted by your surroundings.
Check out more decluttering tips here.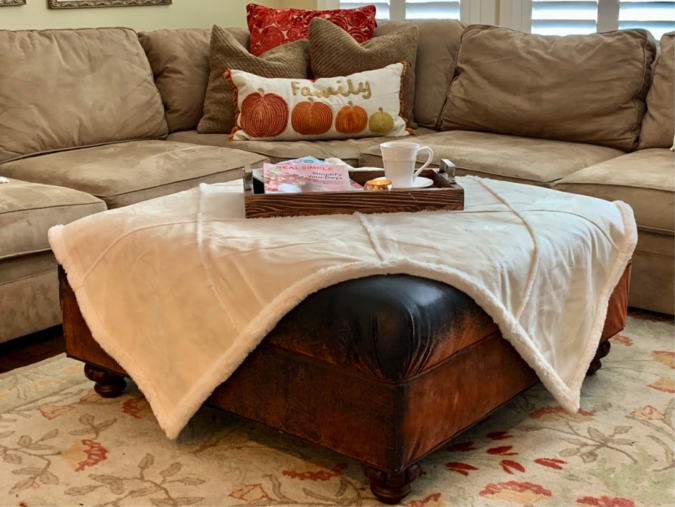 COVER UP
Next, tip for creating a more inviting home (on a budget)…cover up worn out furniture. Many years ago, I bought a custom-made leather ottoman. The suede, a warm rusty brown with dark undertones. It was a stunning piece I was proud to own.
A cross-country move and two kids later, that ottoman still sits in our living room. But, you can hardly see the brown…it looks completely black! There are white stains from years of baby bottles, unknown kids spills, and a few tufted buttons that have popped off. You get the picture, it's not so much of a beauty these days.
Recently, I couldn't take this eyesore anymore. But, I also didn't want to spend money on new furniture. The easy fix, a new textured neutral throw. It's laid diagonally across the square ottoman. A wooden tray sits on top of it with coasters and remote controls. From worn and tattered to fresh and clean.
This $50 fix gave the ottoman a new lease on life. Covering up works on upholstered furniture like an ottoman or a couch, but it also works for tables big and small.
When my parents first got married, they didn't have enough money to buy a night-stand. They took a new trash-can and used the inside to store blankets. Then, they placed a round piece of plywood on top and covered it with an old curtain made into a tablecloth.
Covering up can make a trash can look like a fancy table or hide a beat up kitchen table. It's an easy and inexpensive fix that you can do on any budget!
BRIGHTEN UP
Another easy and inexpensive way to warm any space…accent pillows! You don't have to buy expensive furniture to make your home welcoming. Accent pillows bring texture and color into a room. They can give a dated couch a fresh look, accentuate a season, and help you feel excited about an old space.
Fresh flowers can also brighten a space. Fresh flowers from your garden are the most budget friendly option, but even grocery-store variety can last for up to 3 weeks. Zinnias last 3+ weeks, Lilies last 2 weeks, and Sunflowers and Peonies last 1-2 weeks.
Lastly, you can brighten up a space with art work. Recently I've fallen in love with ordering digital download prints from ETSY. We decorated my son's "big boy" room with a brightly colored collection of "things that go" including a blue and orange airplane, yellow and grey digger, and red canoe. I purchased inexpensive ready-made frames and printed the digital downloads at Staples. The new brightly colored pictures totally transformed the space.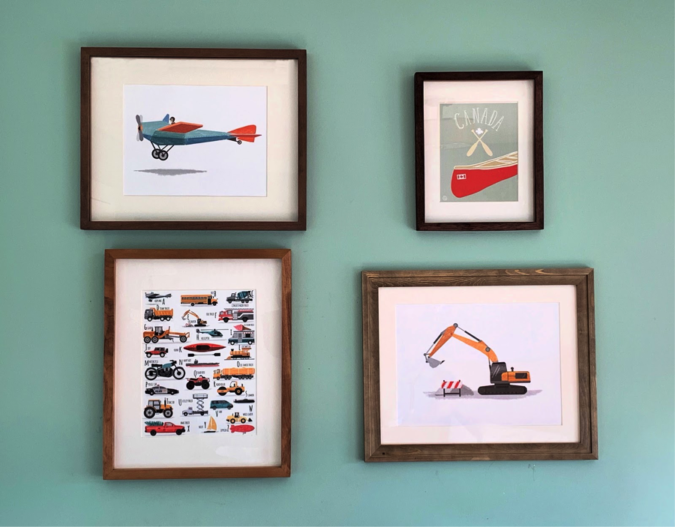 LIGHTEN UP
Have you ever seen string lights outside? We have them in our backyard and I love it when they are on. Just seeing them on against a dark night sky takes me away from the daily grind and gives me the sense of being on vacation.
Lighting is such an important element for setting the tone of any space. Consider it the accessory of a room. It can add sparkle, highlight an area of focus, or add natural warmth to create a welcoming home.
Lamps can make a space feel cozier than bright overhead lights. Edison bulbs are great for creating a warm glow through a clear glass fixture. Small table lamps create a quaint vignette bringing a personal touch to a space.
Don't underestimate the power a flicker of a candle or the glow of a fireplace has in creating an inviting space.
FRESHEN UP
Scents are the fifth way you can make your home a welcoming place. Candles, essential oils, or the wafting aroma of baked goods add to your welcoming environment.
It's proven that scents can have a positive impact on the way people feel. Lavender, for example, helps people to feel relaxed. Vanilla increases feelings of joy and relaxation. Cinnamon is a cozy scent known for boosting brain power.
The other great thing, scents are typically very affordable and can be applied quickly. So, if you're tight on money or time, this is a super easy go-to for making your home more inviting!
SERVE IT UP
So far, we've covered five steps to creating a cozy and welcoming home: Tidy Up, Cover Up, Brighten Up, Lighten Up, and Freshen Up. Last, but not least, Serve it Up!
There are easy ways to be prepared as a hostess to make your guests feel at home.
Even if unannounced guests pop in, you can easily be prepared in advance. Having food and drinks on hand to share with your guests makes them feel invited and cared for.
Hack #1 – Any time you have old bananas, make a batch of banana bread. After it's baked, slice and wrap individually in plastic wrap, then freeze it. You never have to be worried about having something to serve for spur-of-the-moment guests.
Hack #2 – Grab a tray and make a Coffee / Tea bar. Add a variety of tea bags, a bowl for sugar and sweeteners, a few coffee cups and stir spoons. It doesn't take up much space, is easy to put together, and sends the message "You're welcome to stay for a while."
Hack # 3 – A more modern twist on making people feel welcome is to have your wi-fi name and password available for visitors to see and use. It conveys the message "Mi Casa Su Casa" and like Starbucks, it encourages people to make themselves at home.
While our homes don't need to be perfect, there is a correlation between how we feel about our homes and our willingness to invite others over.
MAKE YOUR HOME INVITING AGAIN
You don't have to do a major overhaul to make your home a welcoming space. Most of us don't have the time for that anyways. There are easy ways to be prepared as a hostess. You can have the connection you crave!
Decluttering is the first thing to tackle to make your home more inviting. You can cover up by using throws, old curtains or table cloths to freshen up old furniture. New pillows, fresh flowers, and art work will brighten up any space. Changing the lamps or type of bulbs can lighten up a space. Using scents help freshen up and make your home smell welcoming. Lastly, frozen banana bread or a tea bar help you be prepared for any occasion.
With these six easy tips:
Tidy Up
Cover Up
Brighten Up
Lighten Up
Freshen Up
Serve It Up
You'll no longer hesitate inviting others over!
Other helpful resources: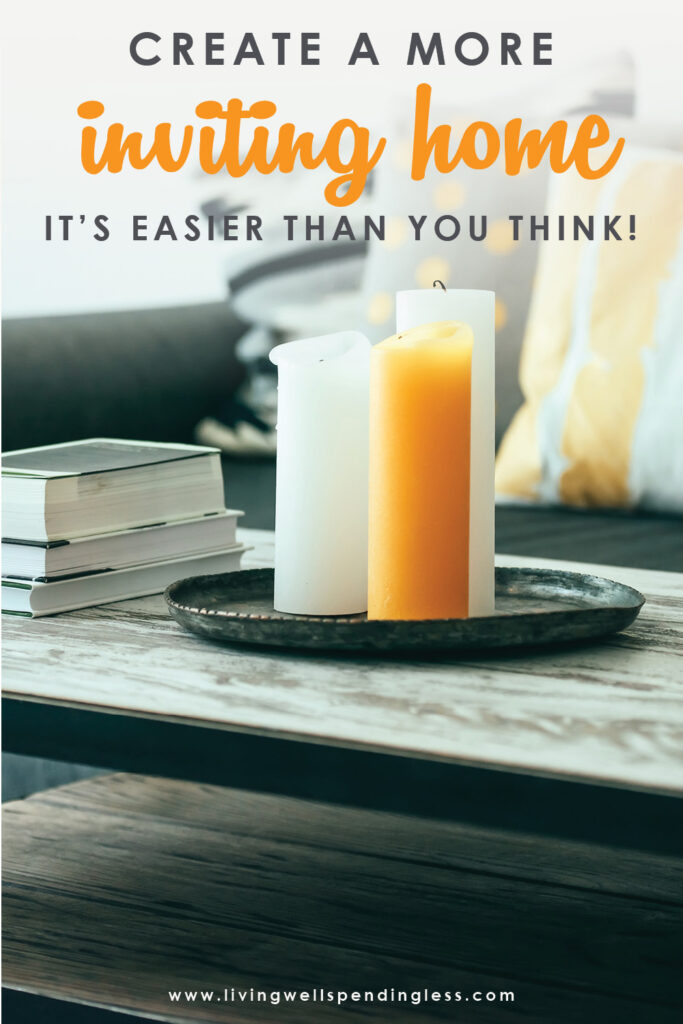 TAKE BACK CONTROL OF YOUR HOME LIFE
---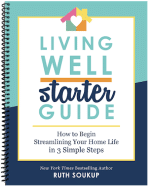 Ever feel like you just can't keep up? Our Living Well Starter Guide will show you how to start streamlining your life in just 3 simple steps. It's a game changer--get it free for a limited time!
If you love this resource, be sure to check out our digital library of helpful tools and resources for cleaning faster, taking control of your budget, organizing your schedule, and getting food on the table easier than ever before.