This is the tenth day of our 31 Days of Living Well & Spending Zero challenge. Start with Day One here.
 *   *   *
Before we go on, I want to add a little word of advice. It seems as though at this point in the challenge people sometimes start becoming overwhelmed. So let me just reassure you that it's going to be okay!
I promise.
Cleaning the house can be a rewarding and wonderful way to get a handle on what you have and to keep you cognizant of the many blessings in your life. Mentally, it marks a fresh start and adds a tangible way to show that you're committing to a new lifestyle and gaining control over spending and excess (the very reason for starting our zero-spend challenge).
However, if it takes longer than one day to clean your house or if life just gets in the way, please, please, please don't abandon the challenge! The real objective is to spend 31 Days of Spending Zero. The rest is to simply help you on the way. So if your house isn't 100 percent clean at this point, don't beat yourself up. Keep going and move forward. Look at how far you've come in just ten days! We're nearly one-third of the way through the challenge, and you're doing great!
So Let's Keep Going!
Today we're going to get a handle on the room or rooms occupied by some of our biggest mess makers … our kiddos. I don't know about the rest of you, but if it weren't for my darling children, my house would be clean all the time. Okay, maybe not all the time, but almost all the time. How can two such seemingly sweet and innocent girls be such incredible mess makers? I'm betting your kids are the same way.
Some of you may be familiar with that now infamous post "Why I Took My Kids' Toys Away"–about a day I had finally had enough of the mess, and cleared their entire room in one fell swoop.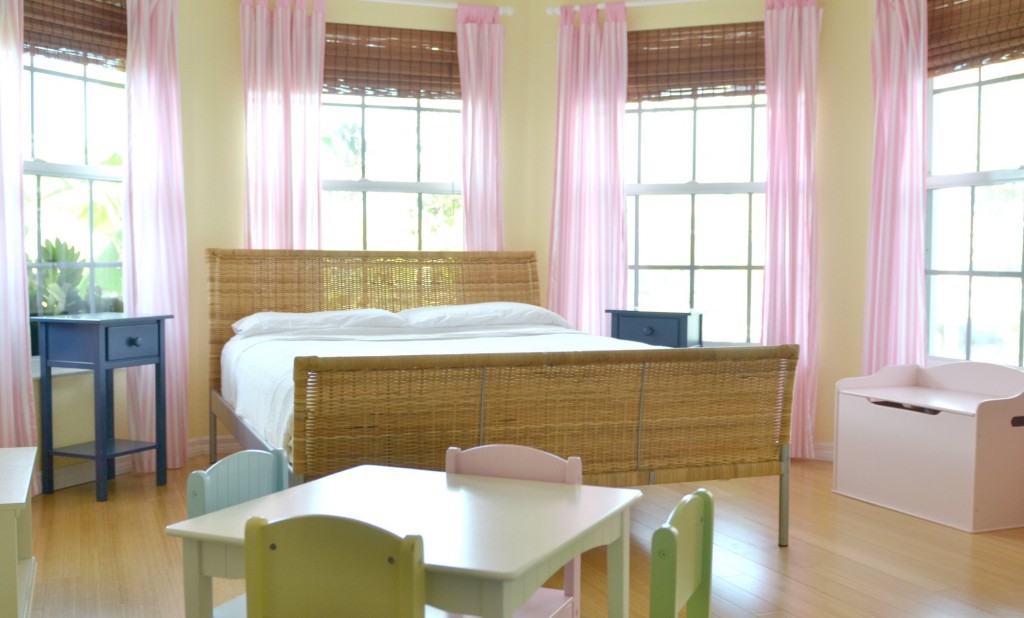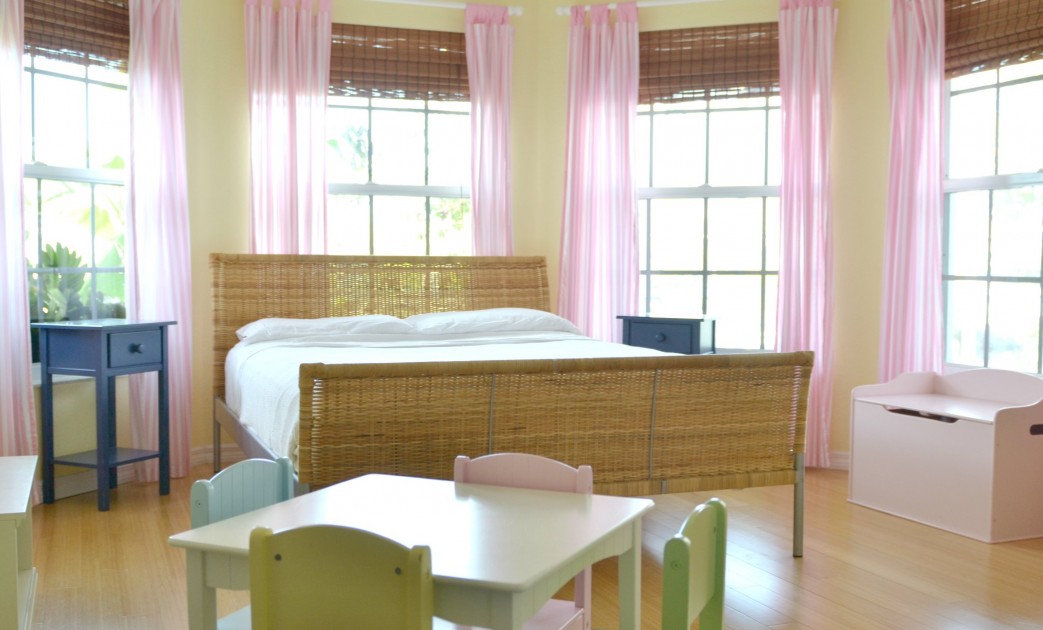 It has been a few years since I first wrote that post, and while I'd love to report that my kids' room is never a mess … I'd be lying. Their room looks nothing like that today. In fact, they've moved into a different room altogether.
We still struggle with keeping things in check, separating needs from wants, and cutting back on excess. We've grown leaps and bounds since "the great purge," but we still have to take the time to clean and organize regularly.
And so today, together, we conquer the kids' rooms. If your kids are old enough to help, today is also the day to enlist their help and get them on board with the challenge. Cleaning their room together with you offers a great opportunity for feedback and learning, as they take an active role in your new family lifestyle. You may also learn a few things about what's important to them.
I did it today! How exciting! Well, maybe exciting is the wrong word. Liberating is a better word. I have three girls and three bedrooms. It took me a total of six hours. I got a thirty-gallon bag of garbage and a thirty-gallon bag of donations from each girl's room, plus two bags of hand-me-downs for my nieces. That's a lot of stuff I no longer have to wade through and sort and put away again! Thank you for the motivation! —Hillary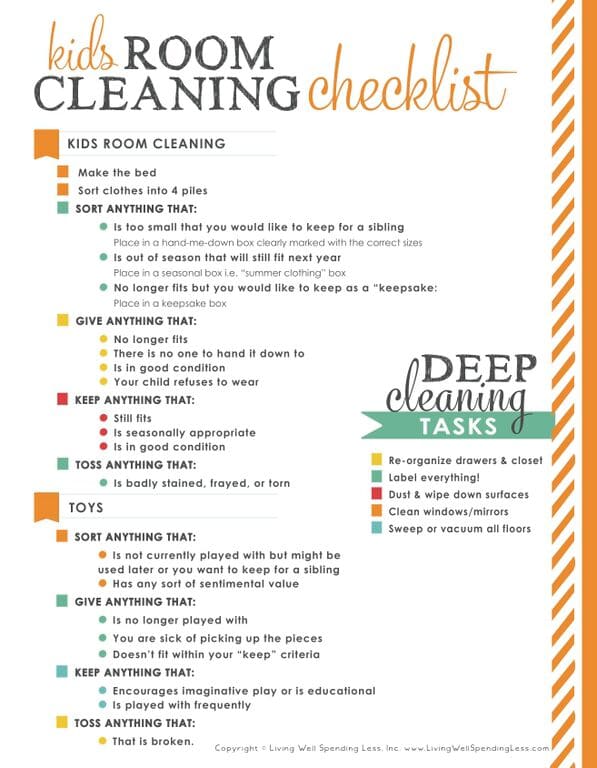 Get your printable kids room cleaning checklist here.
I've included the above checklist as a guide, but please feel free to modify it to suit your own needs. I do recommend that you start by making the bed, and then work on tackling the stuff.
Beginning with clothing, sort all the items into four piles—Store, Give, Keep, and Toss. Then tackle the toys and do the same. Once you've sorted your items, it's time to organize them into the drawers and closet. Label storage as you go, and dust and clean all the now-cleared-off surfaces. Finish off the room with a good wipe down of all mirrors, windows, and touch points, and vacuum the floors.
The sorting is the toughest part, so once you've got a handle on that, the rest is easy-peasy. Resist the urge to run out and purchase storage containers, boxes, and bags. Instead, make do with what you have on hand. (We're spending zero, remember?) Consider items that can be traded for things you might need (save them for Day 25), sold on eBay or Craigslist (save them for Day 22), or handed down to someone else. Don't be afraid to get creative!
My girls donated many of their old toys and games to our church nursery, where they could "revisit" the items occasionally and see them put to good use. They were even proud to give their items away and share them with their friends!
My husband and I take at least one full day about every two to three months to sit down with each one of our children to help them clean and purge items. Between clothes, shoes, toys, and school items, they each usually donate two bags of items and one bag of garbage. I have found that by doing this regularly, my children are very good at deciding for themselves what toys they do not play with anymore and are more than happy to give to another child. I believe this will help them in the long run to not want or even purchase items that they do not need. —Stacie
For some reason, kids' rooms can feel like the literal eye of the storm, so once that area is tamed, you might be amazed at how much better life becomes. Suddenly entertainment is easier to come by (you'll rediscover all those books and games that were forgotten!), and your children will learn important lessons about appreciating what they have on hand.
For more inspiration, visit my one-year follow-up post to Why I Took My Kids' Toys Away .
*   *   *
Throughout this challenge, there will be many different worksheets and printables for you to use. I suggest you print them out and organize them together in a binder or folder so you can journal as you go. Remember, I will be broadcasting LIVE each day on Periscope (usually between 10am and 11am EST). You can find and follow me there at @RuthSoukup. Be sure to also share your photos on Instagram for a chance to win daily prizes. (Get the contest details HERE.)  Finally, be sure to check out our BLOG TOUR page, where you can find all sorts of additional ideas and inspiration from other bloggers who are taking the #31dayLWSZ challenge this month too!