This is the eleventh day of our 31 Days of Living Well & Spending Zero challenge. Start with Day One here.
 *   *   *
It's now the middle of Week 2 and one-third of the way through our challenge, and by now you should be feeling pretty good about all you've achieved so far—your meals are organized and you have a handle on your food, your living areas and kids' rooms are clean, and things are coming right along.
Best of all you've been saving money—you've managed to achieve all of this without spending a dime! Don't forget to take the time to pat yourself on the back. You're doing great!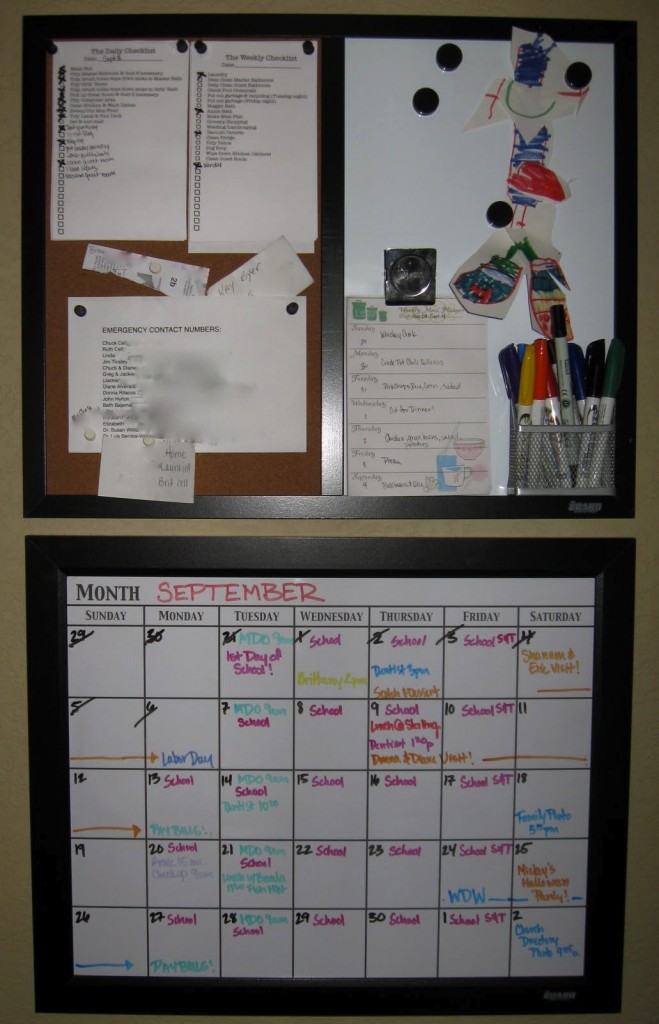 Organize Your Family Command Center
Today it's time to get a handle on our paperwork. Many of us have a home office area or a central "hub." This Family Command Center is an essential place where we store bills, paperwork, cards, and more. If you're a crafter, this might be your studio. If you work from home, you probably consider this area your office. Whether it's a corner in your kitchen or an entire room, all of us have some place where we stash all our important paperwork. And if you don't have one, you probably need one.
Today is the day we revamp that critical space and get back in control!
I try to keep my home neat and tidy most of the time, but this is definitely one area where I struggle. The daily tasks are so motivating! —Susan
Whenever I tackle my desk, I'm always sort of amazed. As hard as I try to stay on top of it (and these days, I really do, for the most part), I always manage to find at least something that I've forgotten. It might be a gift card, a bill, a thank-you card that I haven't mailed … something. Whatever it is, I always walk away from the desk feeling like I've been on a bit of a treasure hunt. (Okay, maybe not when I find a forgotten bill, but it could be worse.)
Oh, my goodness, my desk is such a disaster area, and my inbox looks like a "Before" picture. I always think that I should do something about it, and then it just seems too overwhelming so I put it off another day. I love the checklists—they make it so manageable! Thanks again, Ruth! —Denise
For today's challenge, I've created another printable list (below) to help you plan and keep you on task. Before you start, you're going to want to get out a trash bin, a recycle bin, and a shredder, in addition to a few boxes or bins to help you get organized.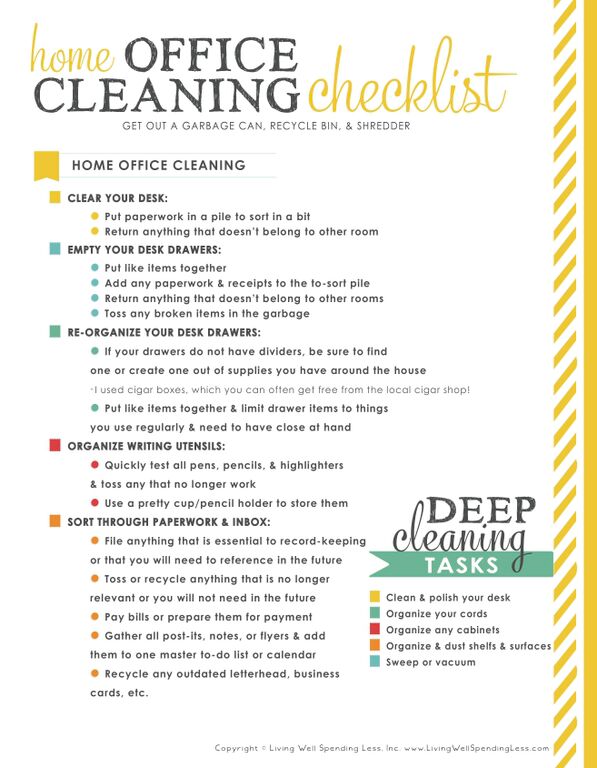 Get your printable home office cleaning checklist here.
Don't be afraid to get creative! The first time I did this challenge, I found a whole stack of cigar boxes in the garage that were left over from our cigar-themed wedding (cigar stores will often give these away for free), and I ended up using them as drawer organizers. They worked perfectly, and I still use them to this day! You could also cover a can or shoebox with some pretty paint or washi tape. It really is amazing how innovative we can be when forced to improvise!
A home office doesn't need to be expensive, but since we're spending nothing right now, simply use what you have on hand and repurpose items as you go!
I like to use food boxes to organize my drawers. I usually go to my pantry and see what's about empty and cut the boxes to fit in the drawer. Cheez-its, fruit snacks, granola bars … those boxes fit perfectly with no need to go out and buy something new or waste the gas going to a store to ask for free boxes! —Jen
After that, it's just a matter of sorting papers and organizing drawers. Empty all the drawers and wipe out the nooks and crannies. Organize your cords and wipe down your keyboard and tools to keep them free of crumbs and dust. Toss out anything that's outdated or past its prime. I tend to keep clippings from articles and things I intend to read, but if they're over a month old, file or recycle! Test out your pencils and pens and keep the items that work and are clean. Toss anything that's leaky, broken, or no longer useful.
Once you're organized, simply dust and vacuum the space and wipe off handles and surfaces.
And now you're all set and ready to tackle anything that comes across your work surface! Don't you feel motivated?
*   *   *
Throughout this challenge, there will be many different worksheets and printables for you to use. I suggest you print them out and organize them together in a binder or folder so you can journal as you go.