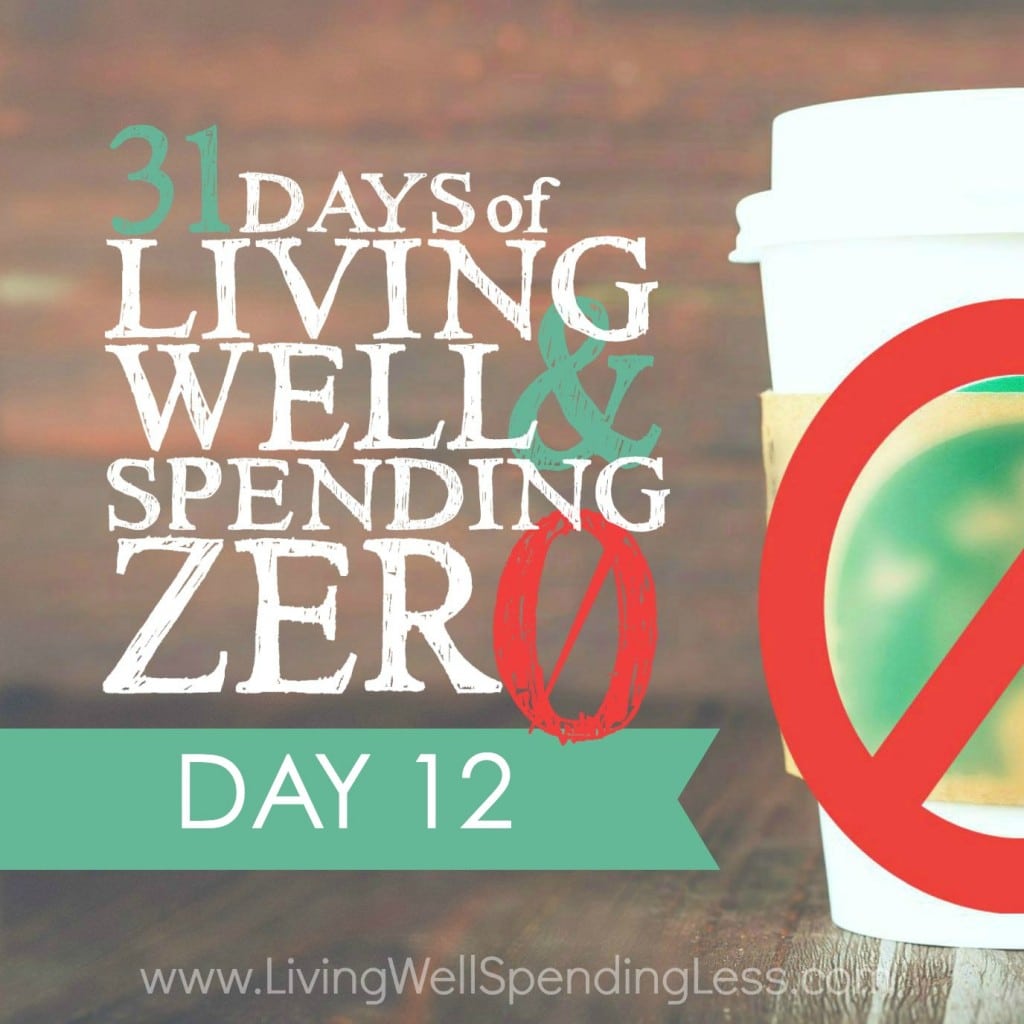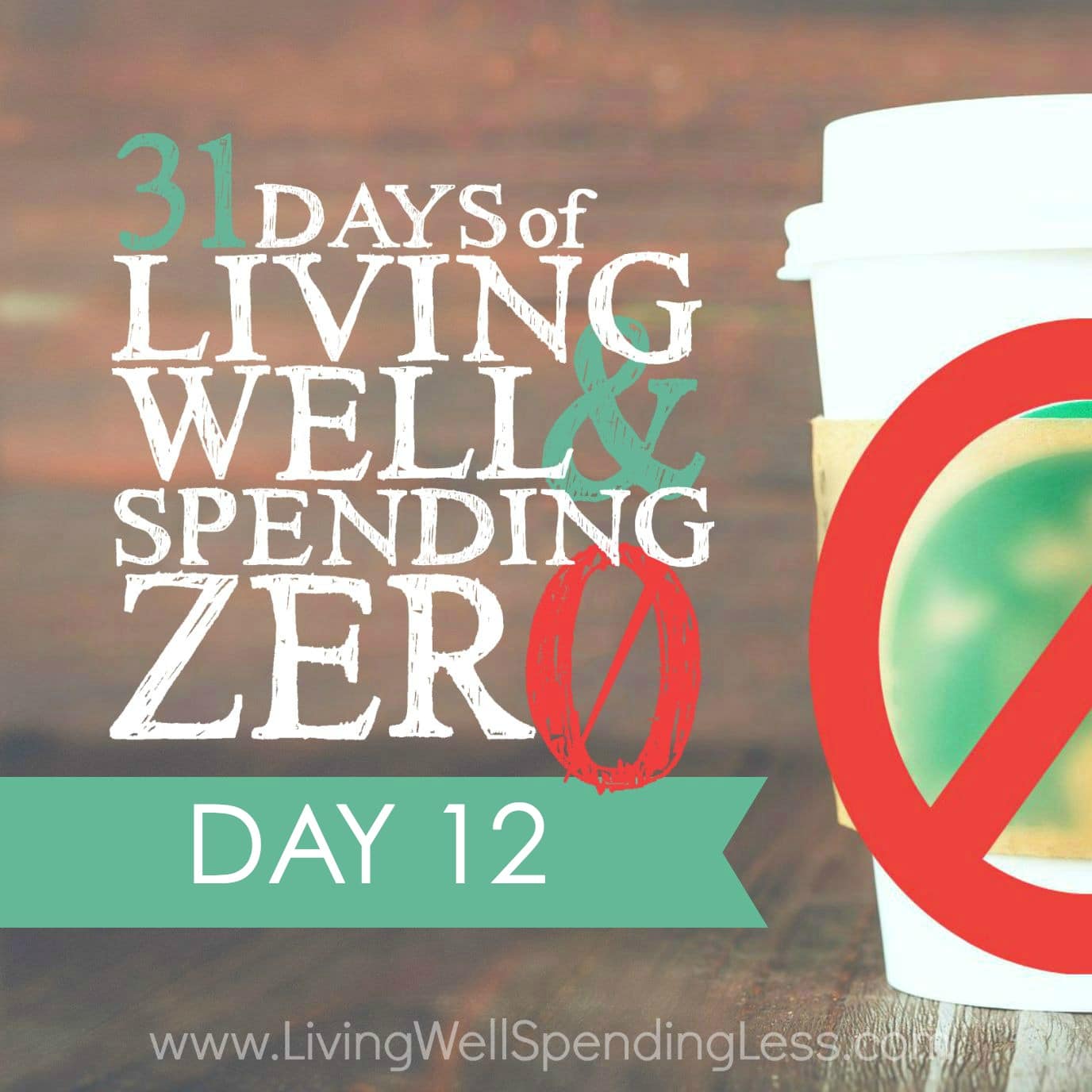 This is the twelfth day of our 31 Days of Living Well & Spending Zero challenge. Start with Day One here.
 *   *   *
Day 12! We're almost through Week 2, and if you've been keeping up, you should be feeling a little more orderly and in control of your space.
Before we dive into today's task, let me recommend that you take a little time to speed clean each day. This will help you maintain momentum and feel in control of your space. Taking just a few minutes each day to tidy the house will help you continue with the good habits you've established during the course of the challenge.
And while we're on a path to changing our mentality and our daily lives, you may also want to take this opportunity to start adopting some new good habits that can change your life for the better. Get tips and ideas for forming new habits here.
So guess what? Today, to reward ourselves for all our hard work, we're going to go shopping!
Wait—what?
Not real shopping, silly! We're on a zero-spending challenge, remember? But that doesn't mean we can't reward ourselves with a chance to look fabulous. It's time to dive into what we have and get creative. Let's see what we can spruce up and simplify.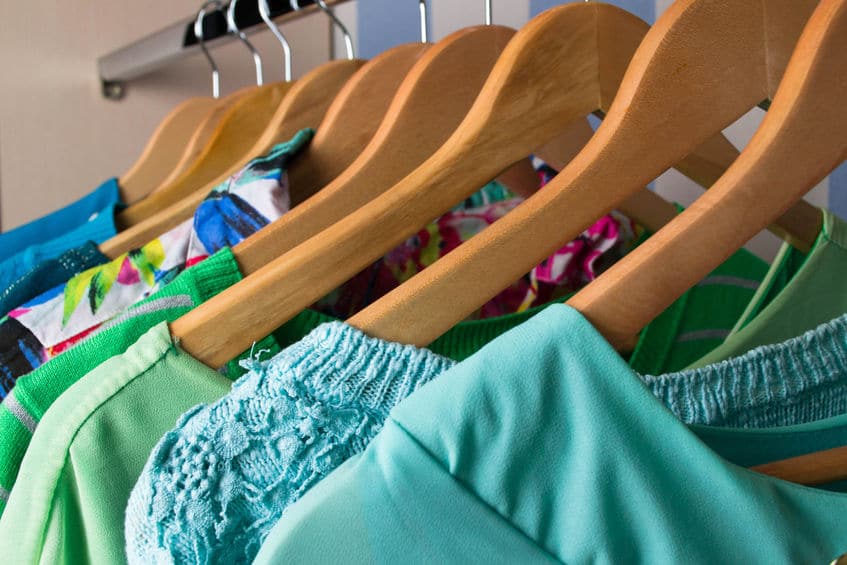 Shop Your Closet
If you're anything like me, you have a closet full of clothes—and yet you always feel like you have nothing to wear. Every outfit feels like you're just one accessory or one blouse away from getting that "perfect" look. You probably have a pair or two of jeans that don't quite fit since you had your last baby, or a few shirts that still have the tags on them that you bought because they were such a great deal, but either didn't fit quite right from the get-go, didn't go with anything else you owned, or didn't really fit your tastes.
Today it's time to get a handle on this stuff! So often we buy clothing, shoes, and accessories to fill some sort of void. (And yes, I am talking about myself.) We feel like we need or deserve a treat, so we think this one "little" item will make all the difference for us.
Most of us, however, have almost everything we need, and it's already in our possession. Sometimes, when we take a moment to get a handle on what we have, we discover that we don't need anything new!
The 40 Hanger Closet
A few years ago, on a whim, I pared my jam-packed, overstuffed closet to just forty hangers. For me, this was a pretty drastic approach to organizing my wardrobe, but it also made a dramatic difference in both my attitude and my sanity. Although I got rid of three quarters of my clothes, my wardrobe actually felt much bigger!
Now, in my approach, one of the steps is to yes, go out and buy some really nice hangers. (I recommend hangers with velvet coating to keep your clothes from slipping off.) But you know what? For now you're going to make do with the hangers you already have on hand. You probably have plenty.
The advantage of the 40 Hanger Closet (or 35 or 50, whatever works best for you) is that it gives you a finite framework. You have to examine each piece of clothing in your closet under the context of:
Do I love it?
Does it fit?
Is it in good condition?
If it doesn't fit all three criteria, it doesn't make the cut.
Never again will you walk into your closet and proclaim, "I have nothing to wear!" You'll love and want to wear everything in your wardrobe. In the time since, I have maintained this 40-hanger philosophy, and it just makes life so much simpler! I haven't regretted it once. I actually feel like I have much more to wear, and I love everything I own. If I find an item to buy, I have to really love it to kick out a resident member of my closet—because for every item that goes in, one item goes out. And because I already like what I have, that also makes me much more picky about what comes in!
I gave myself three hours yesterday to work on your 40 hanger suggestion. While I didn't get that far, I did try on every piece of clothing in my closet. I laughed, I cried, I put items in piles for consignment, and though I still have way too much, it felt good to know that everything there fits—a lot of it didn't! In the end I came out with 97 empty hangers! —Jacqueline
The other advantage is that I can find everything! It's organized by color, and I can quickly see where my brown sweater or my green button-down is. I'm no longer rushed before going somewhere because I'm searching for a belt or a pair of shoes to match, plus my clothes stay wrinkle-free and neat because they aren't crammed into a closet or falling on the floor.
Organizing Your Closet
Here's my handy printable checklist to follow as you start to organize your closet.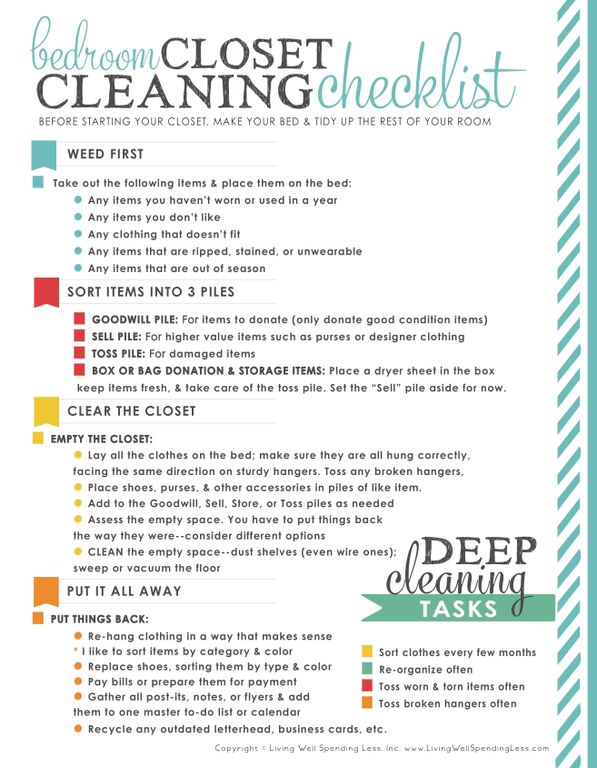 Get your printable bedroom closet organization checklist here.
Before you begin, take a few moments to spruce up your bedroom and make sure your work surface is clean. Make your bed and pick up items that are near the closet.
First you're going to weed through the items that are currently in your closet. Pull out anything that doesn't fit, that you don't like, or that you haven't worn in a year. Remove items that are ripped, stained, or unwearable. These items will be sorted into three categories—Goodwill/Sell, Toss, and Store for Later. Items that are specifically seasonal (your bathing suit in Minnesota or turtleneck sweaters in Texas) may need to be stored. My husband convinced me to store some items that I wasn't sure about purging. Revisit them in six months and it will be a much easier decision.
Now look through the remaining items and repeat the process one more time.
Make sure every item fits, is in good shape, and is loved.
Now, remove the items from your closet. Since you might not be upgrading your hangers this month, simply assess the hangers you have and toss anything that's broken. Count out the number of items you have remaining and make sure there are only 40 (or keep purging). I also like to set a number for shoes and handbags or accessories and stay within that number.
Assess your empty closet space—clean it, vacuum it, and get rid of any dust bunnies or dirt. If there are any items that belong elsewhere, it's time to move them to their home. Rehang your clothing and sort by category or color, whatever makes sense to you. Replace your shoes, organizing them in a shoe rack or in boxes. Try stuffing your boots with rolled-up magazines to help them hold their shape. Add in your accessories, purses, bags, and other items, then bask in the splendor of your organized closet!
Trust me, you're not the only one who just loves to stare at a freshly organized closet. I always leave my closet door open nonstop for a couple of days after I clean just to look at it! —Sophia
10 FREE WAYS TO ORGANIZE YOUR CLOSET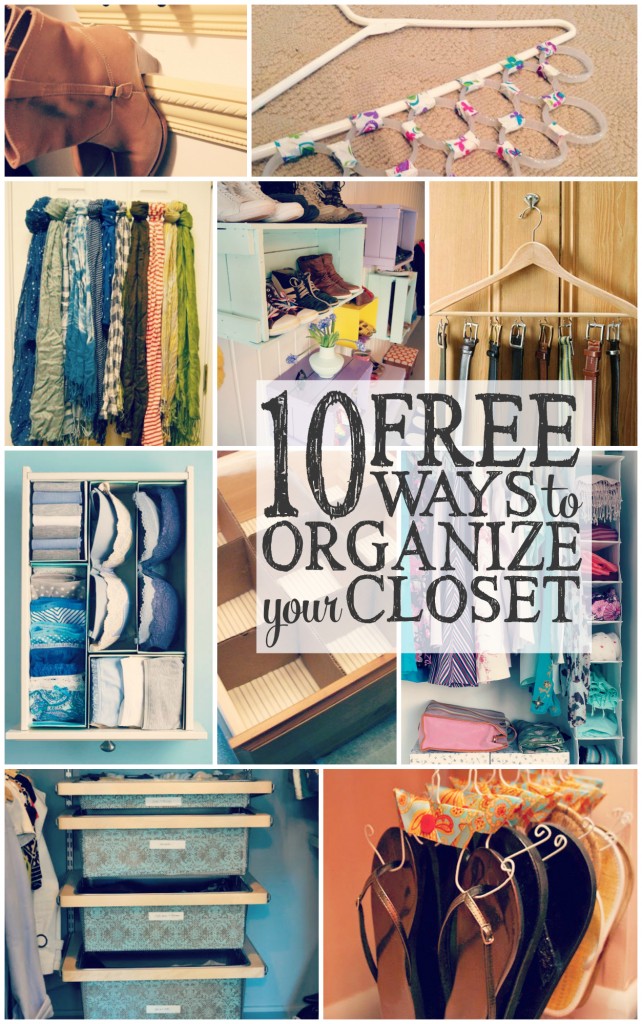 *   *   *