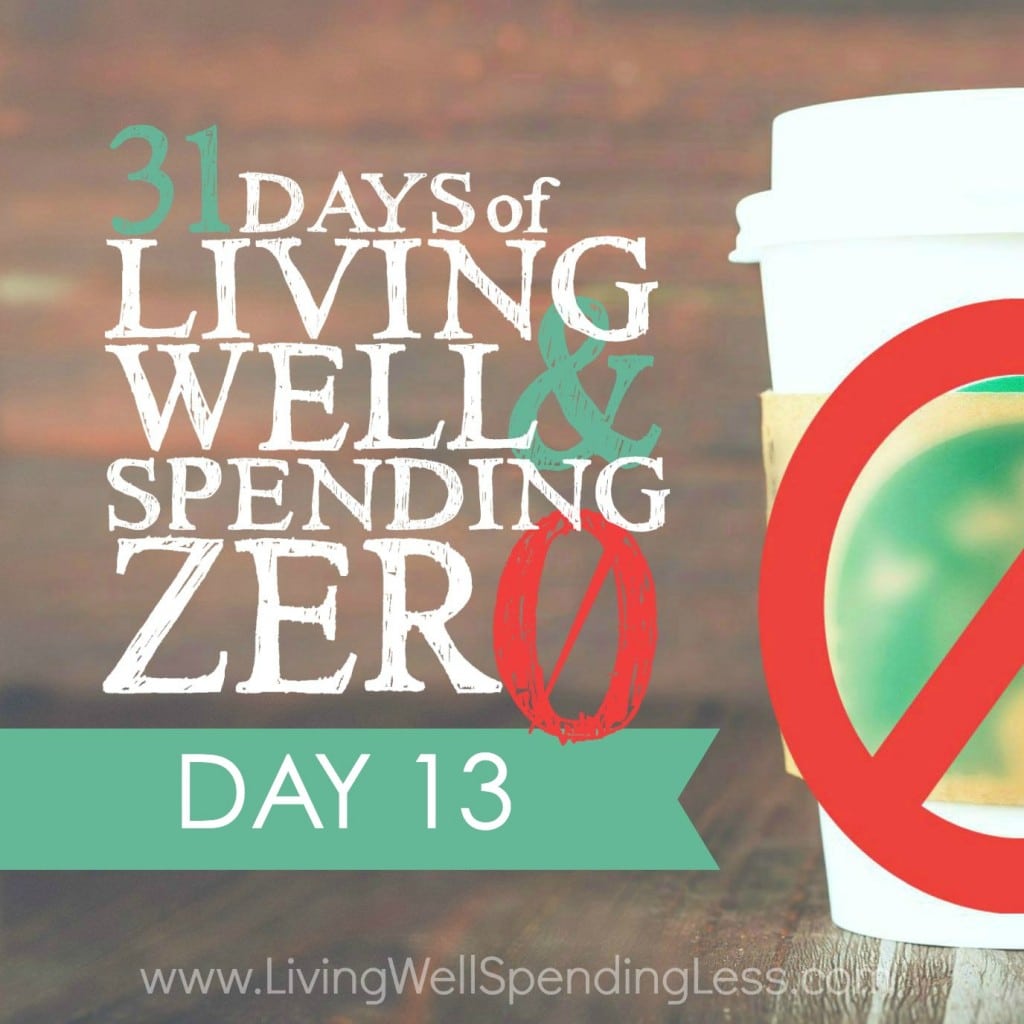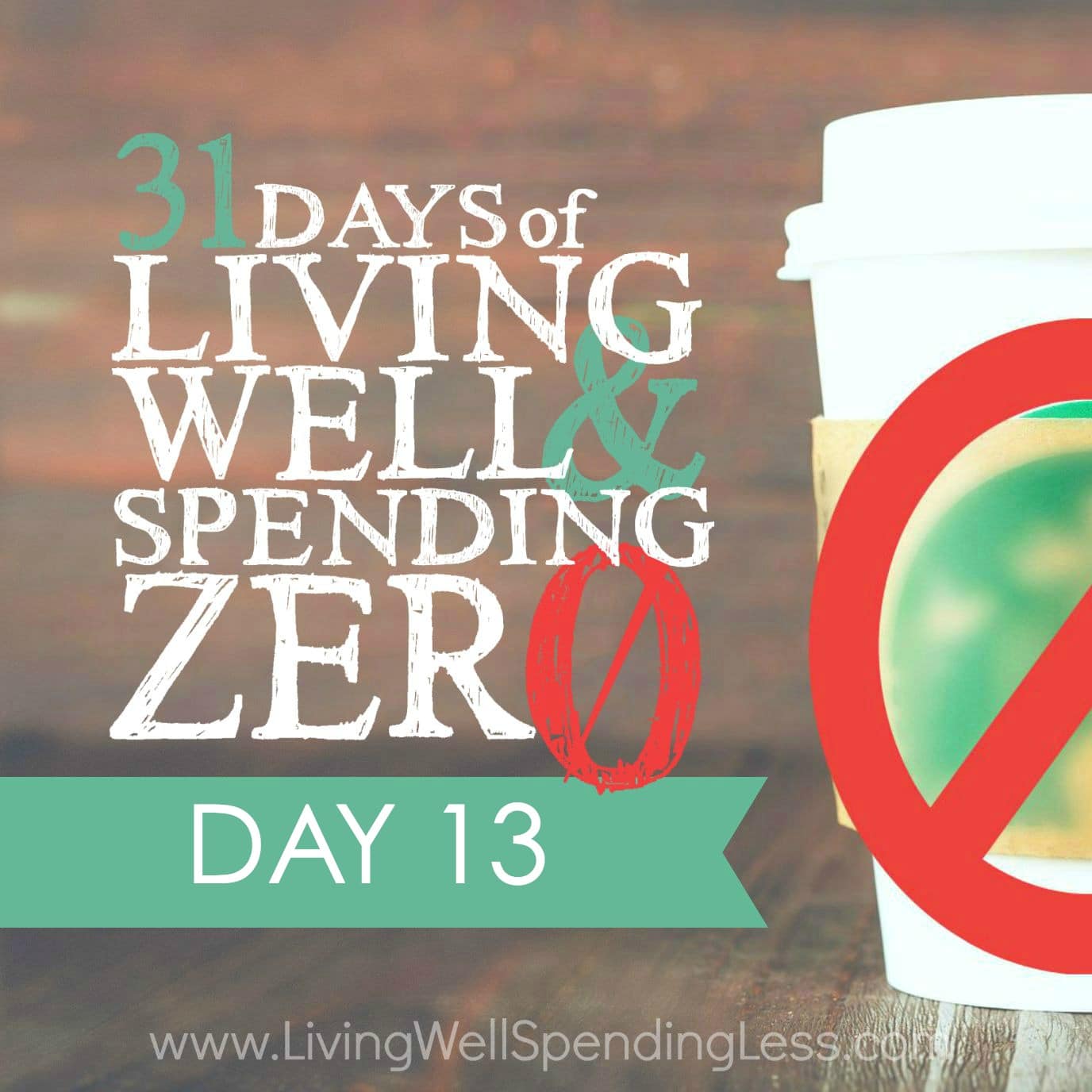 This is the thirteenth day of our 31 Days of Living Well & Spending Zero challenge. Start with Day One here.
 *   *   *
Bathrooms are funny places, aren't they? The room where you get all nice and clean can somehow end up being the most disorganized wreck of a room in the entire house! And I'm not talking about all the yucky scrubbing-the-toilet and soap scum stuff. (Hopefully you tackled that a few days ago when you cleaned and now you're maintaining it by speed cleaning each day!)
I know the bathroom is the easiest in the house to ignore, but I love when it's nice and organized! —Janett
No, what I really take issue with is not the cleaning, it's the keeping it organized. It is figuring out what to do with all those "bottles of crap," as my husband so lovingly refers to them, all the makeup and tubes of cream, all the hairspray and curling irons and flat irons (oh my!). It's the pile of towels and the extra toilet paper and the set of rollers that I've only used twice and the piles and piles and piles of ponytail holders and barrettes that seem to multiply while I sleep, and all those mini-samples from your last seven hotel stays.
So do you know what I do?
I completely ignore my bathroom.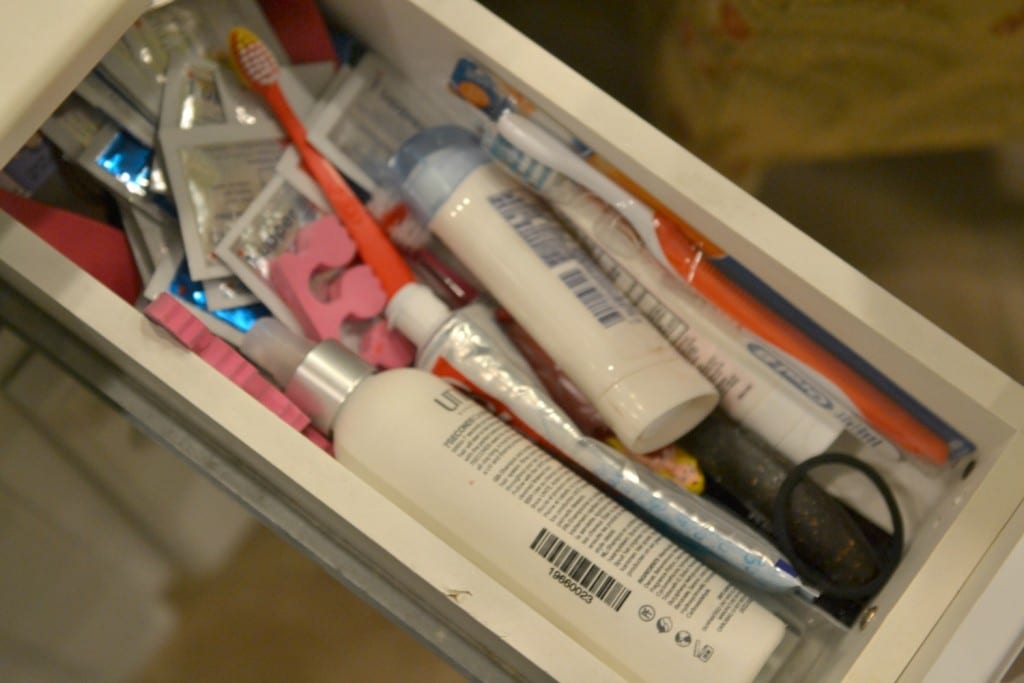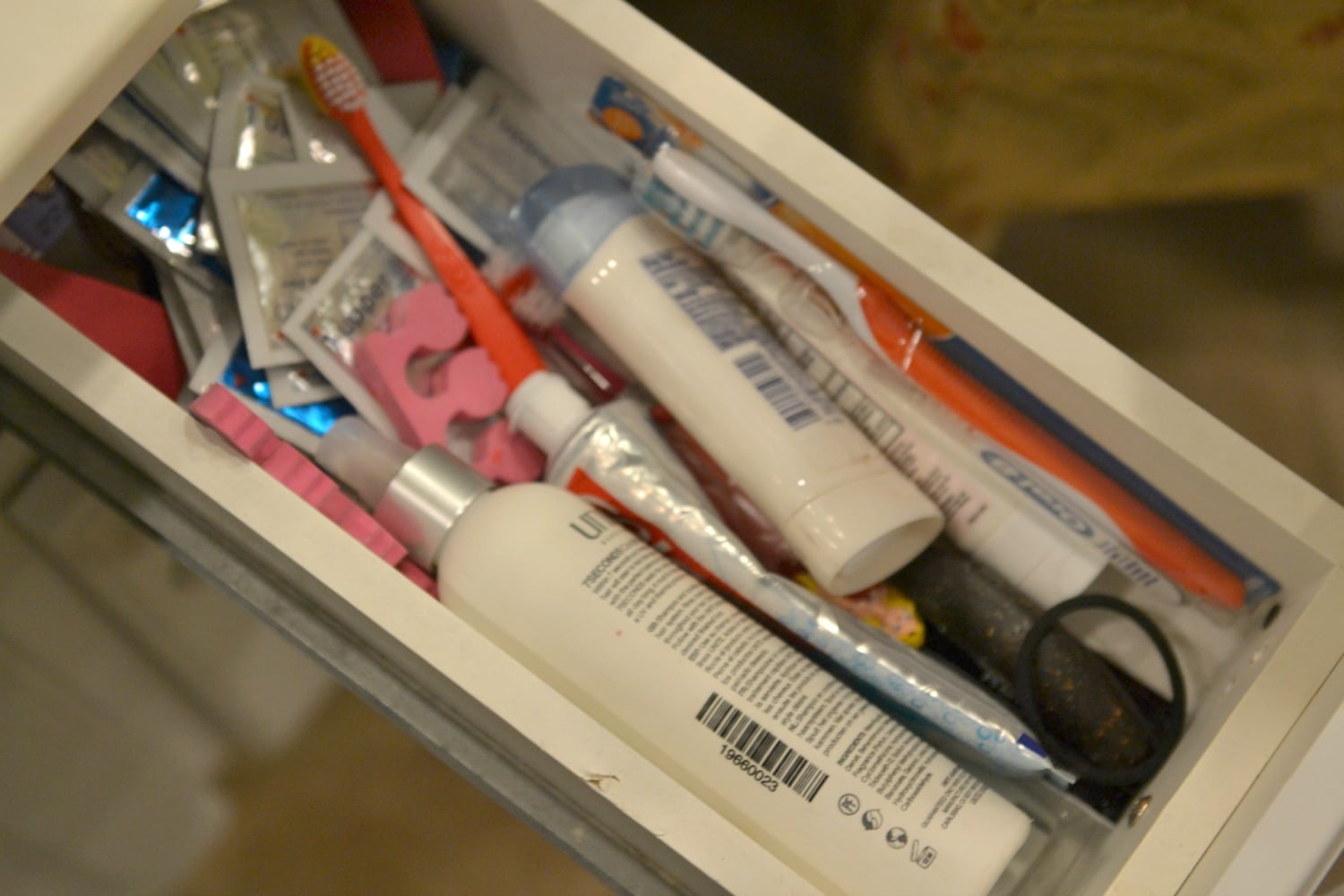 I clear the counters by throwing everything into a drawer or bin under the sink, then wipe it down and forget it. Until the next time I need a hair brush or tube of cream and have to face, once again, the disaster area that is my bathroom.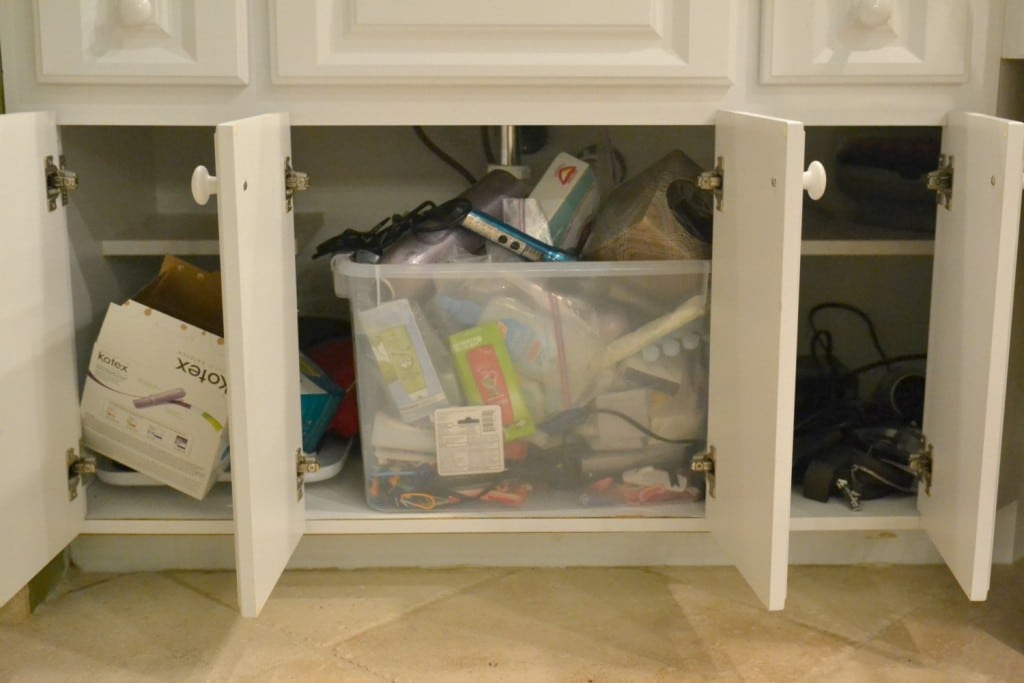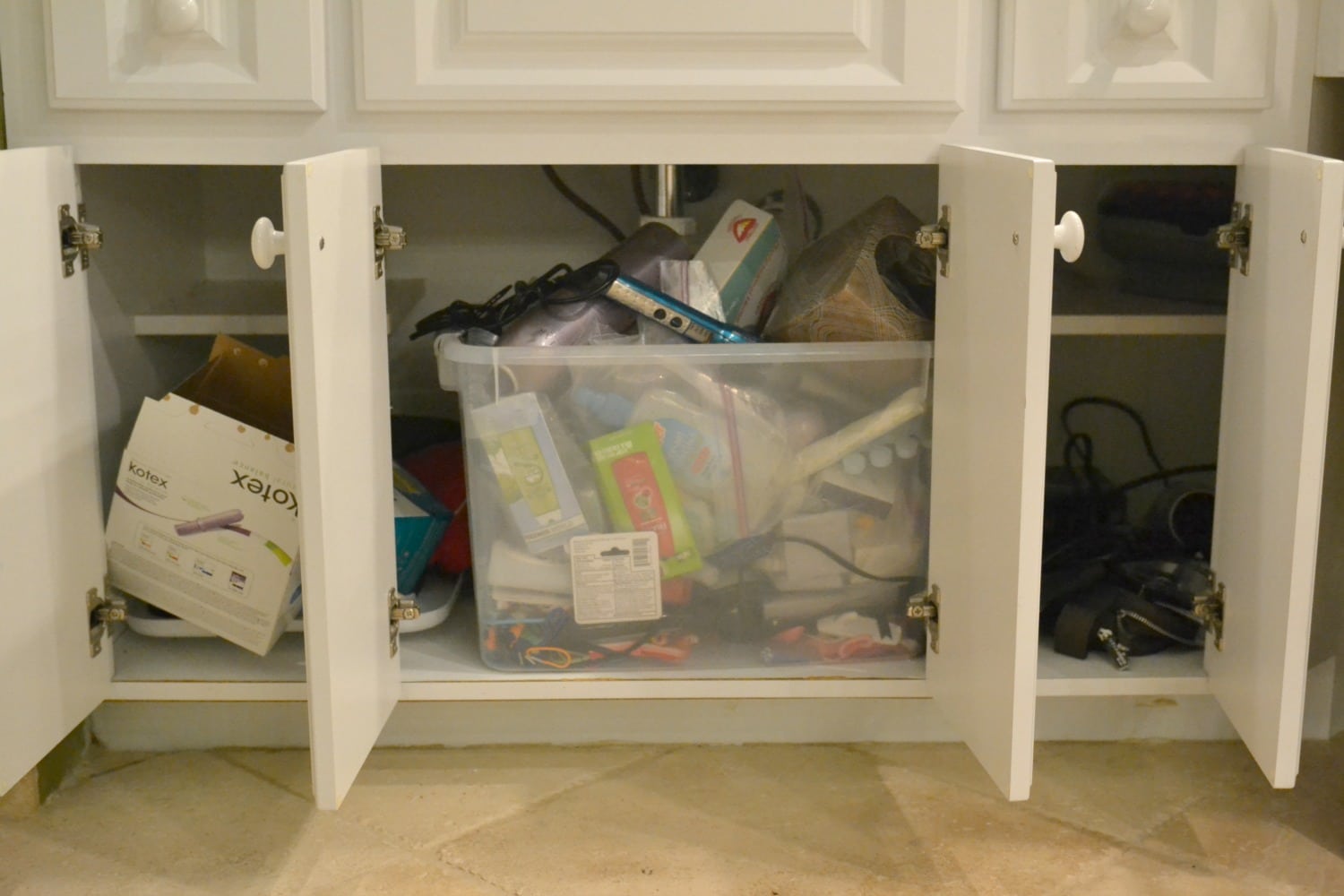 But this month is all about being brave and tackling our vices and learning to love what we have, which means that taking control of this bathroom space is crucial, so today our assignment is to conquer ours. Today we are going to organize our bathrooms!
The first time I did this challenge, I discovered that once I finally forced myself to get started, it really wasn't that bad. I started by emptying all the drawers and cupboards in order to figure out exactly what I had. I made piles of like items, and as I went, threw away garbage, expired items, and stuff I knew I'd never use.
Once everything was empty, I wiped down all the drawers and cabinets, then cut some pretty scrapbook paper to line the inside of my drawers, which were all stained and water-damaged. I couldn't believe what a difference such a small (and easy) change made! They're so cute now! I used scrapbook paper because that was what I had, but you could just as easily use pretty wrapping paper instead.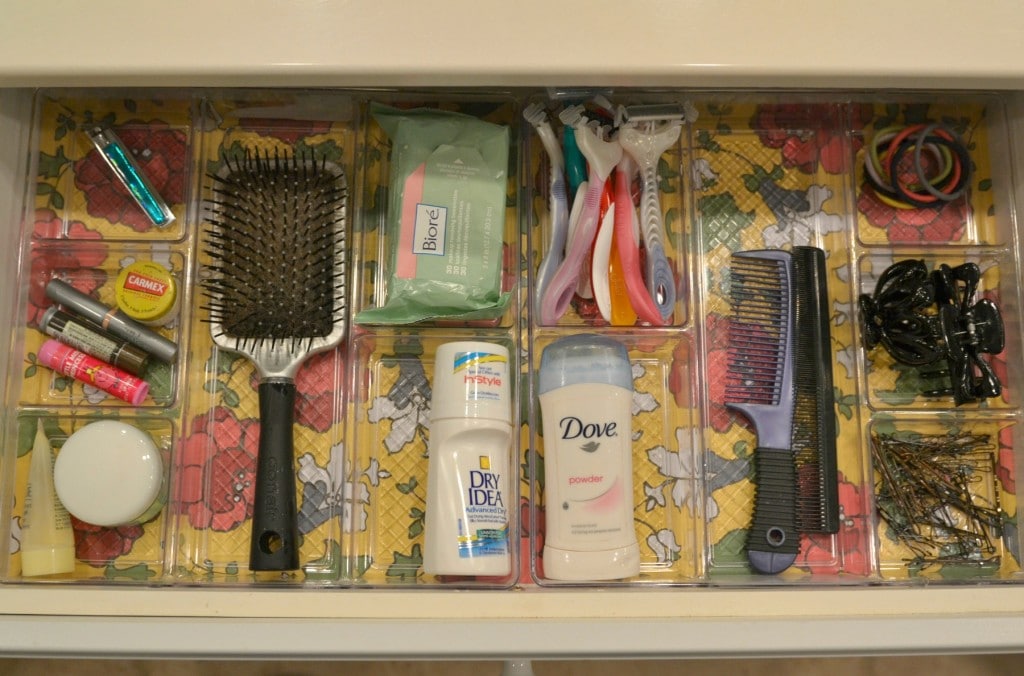 I then set about finding storage solutions for all my stuff. Items that I need but don't use that often—mani/pedi supplies, travel toiletries, sunscreen, and so on—went into gallon-size freezer bags, which I labeled clearly with a permanent marker then "filed" in a plastic storage bin I snagged from my pantry. You could just as easily use a box with the flaps cut off.
Bathrooms contain very oddly shaped items—like headbands and flat irons—which can be hard to store. Gooey gels, pastes, lotions, and hair accessories add to the general messiness of the situation. But don't worry—if I, a notorious bathroom organization avoider, can get a handle on it all, anyone can!
Even you!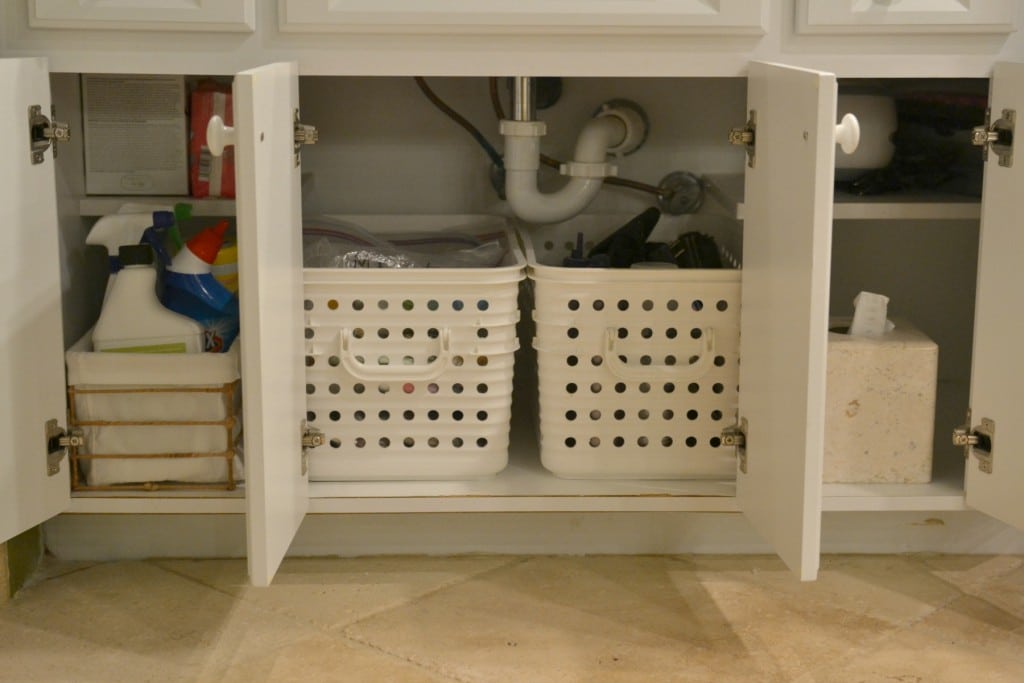 First of all, clean your toilet and wipe down the bathroom. Then get together a trashcan, some cleaner, and any small containers you think might help to organize drawers and under the sink. I found that vases, mason jars, and other containers work well, but you may prefer something else. The idea is to organize and see what you have on hand, so you can avoid buying yet another hairband (when you have 300 of them), tube of toothpaste (when you have three tubes in the back of the cupboard), or shampoo (even though you have seven mini-bottles that could get you through the whole month).
Here's my handy bathroom cleaning checklist, but feel free to customize it to your own needs and space.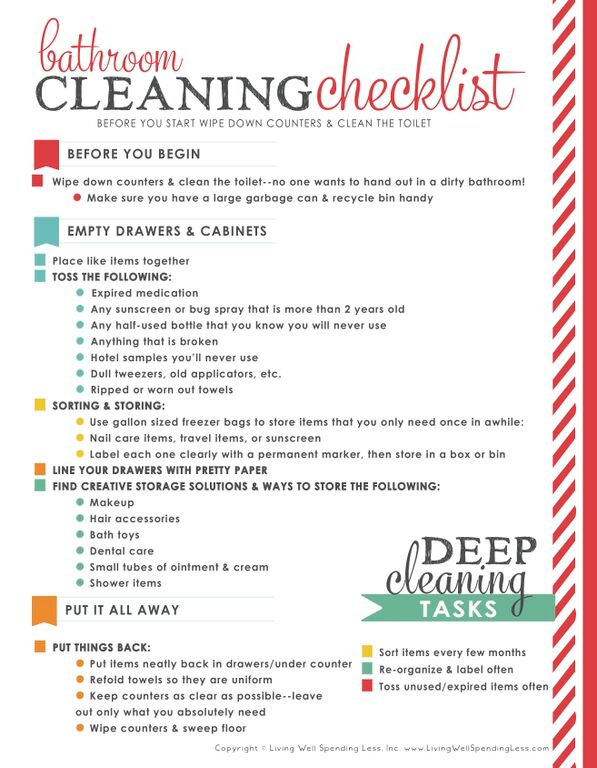 Get your printable bathroom organizing checklist here.
Get Creatively Organized
Once you have your tools assembled, get to work! Empty the drawers and cabinets, and pile items together by category. Toss out anything that's expired (watch sunscreen, bug spray, and makeup). Get rid of anything that you don't plan on using again, as well as anything that's broken or worn out.
Divide the lesser-used items by category (nail care, travel, etc.) and sort into containers. Label containers and store in a box or bin in the cabinet. Line your drawers or cabinet shelves and store frequently used items in accessible locations. Consider creative storage solutions such as jars, vases, and other containers, and be sure to wipe off any lids or open items, so they stay clean in storage. Fold and put away towels and washcloths, ensuring each edge is going in the same direction.
I'm just like you—I throw it all in the drawer, wipe down the counter, and forget about it until I'm desperate for floss or a bobby pin. I have those little baskets, but getting everyone in the house to keep things where they belong is maddening. I will try labels next to see if that helps everyone stay on board with the clutter! —Meghan
Once everything's in place, give the bathroom another once-over, then sweep up the floor and you're done!
Doesn't that feel amazing? Great job!
*   *   *
Don't forget that I will be broadcasting LIVE each day on Periscope (usually between 10am and 11am EST). You can find and follow me there at @RuthSoukup. Be sure to also share your photos on Instagram for a chance to win daily prizes. (Get the contest details HERE.)  Finally, be sure to check out our BLOG TOUR page, where you can find all sorts of additional ideas and inspiration from other bloggers who are taking the #31dayLWSZ challenge this month too!