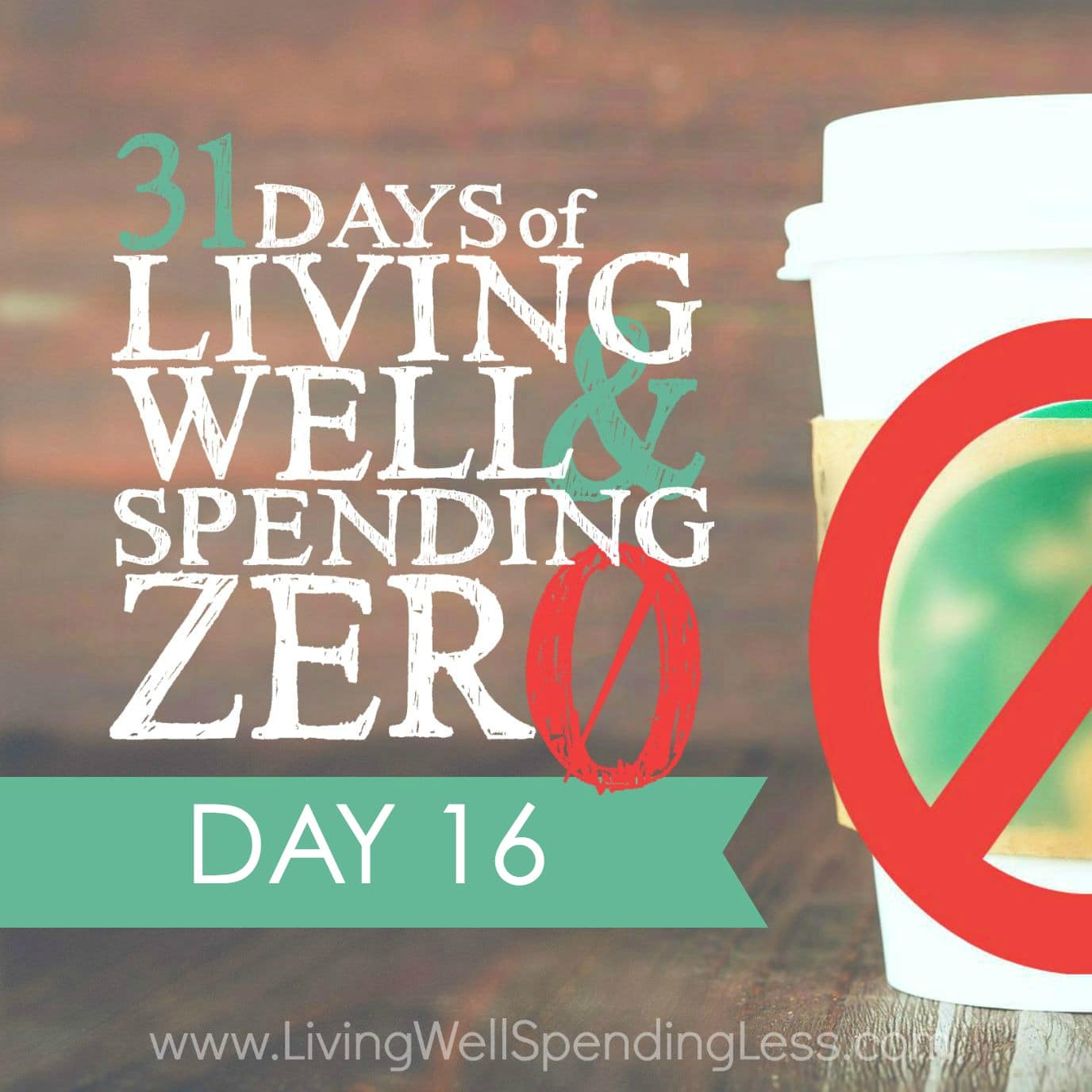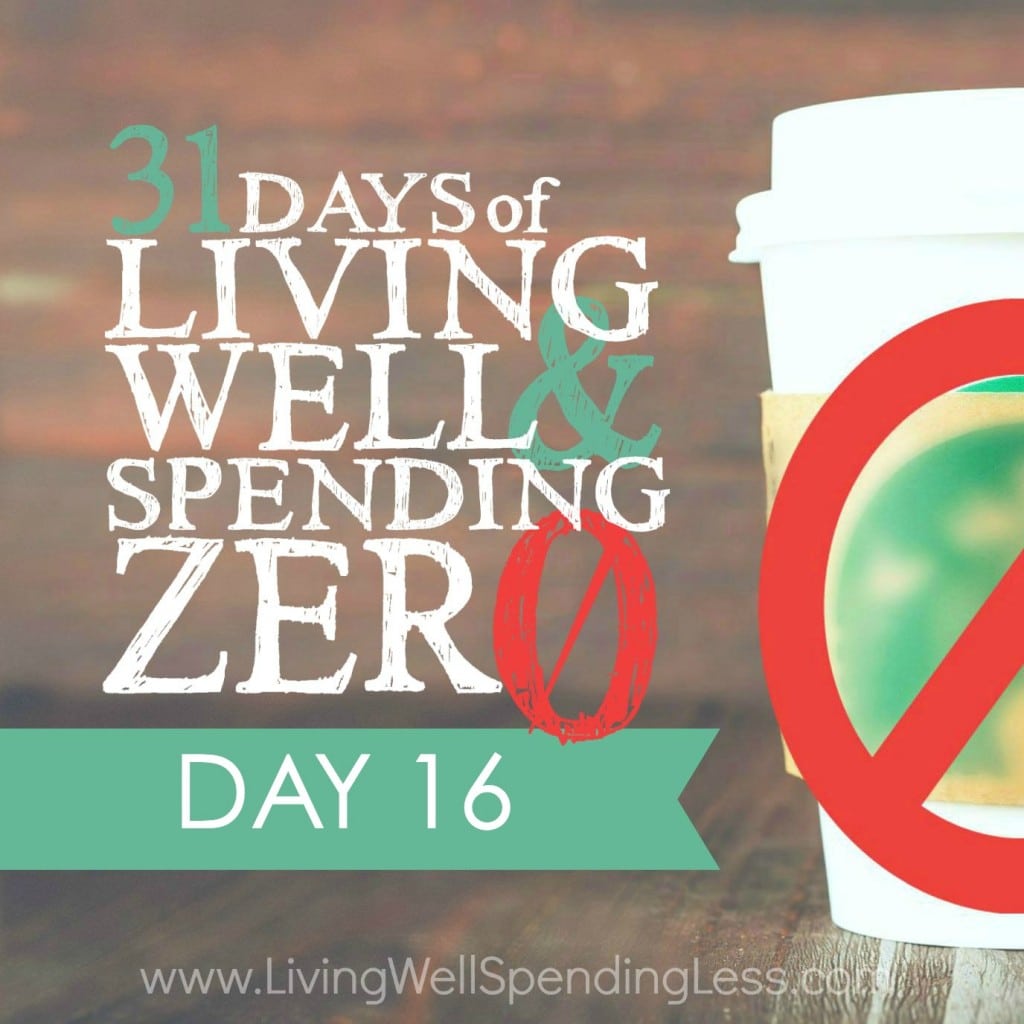 This is the sixteenth day of our 31 Days of Living Well & Spending Zero challenge. Start with Day One here.
 *   *   *
I have to admit—I'm a big fan of DIY. I love getting out the glue gun and paint and making something cute and creative. Nothing makes me happier than completely losing myself for an hour or two while I create something new. There is something about getting crafty that is just good for the soul.
But I'm going to let you in on a little secret: Not everything I make turns out wonderful. Not everything I make ends up on my blog or on Instagram or Pinterest. Most of the time I just don't show the world my failures!
One thing I've found in the blogosphere is that crafting can get more than just a little competitive. Oftentimes, people feel an immense amount of pressure to create something that turns out just like the picture. Listen, it's totally okay to create your own interpretation of any craft you see on a blog or online. Do your best and you'll be proud of the result!
Blogger Myquillen Smith's (aka "The Nester") motto for her home is "it doesn't have to be perfect to be beautiful," and I would like to point out that this truth also applies to DIY projects. It's okay to see a project you like on a craft blog or in a magazine and then modify it to work with the materials you happen to have on hand. Don't let the fear of it not looking exactly like the picture keep you from trying! Who knows? You might even like your version better!
The idea behind becoming fearlessly crafty is to create something out of the materials you have on hand. If we look back to our grandmothers' era when they'd decorate their homes using homemade quilts, braided rugs, or needlework, we see that most of the time, "DIY" evolved out of necessity and scarcity, not abundance. Their simple crafts added individual flair to a home and helped bridge the gap when purchased décor was something they'd have to forgo to make ends meet. With some simple yarn, fabric, or embroidery floss, they fashioned beautiful items to make a house a home. You can do the same!
When I was little, my neighbor taught me to crochet by cutting up bread bags and crocheting them into carpets. It takes dozens of bags, but they last forever and are very spongy and comfortable to stand on. This is my favorite up-cycling craft! —Jacqueline
When I took my girls' toys away, we discovered an inner creativity and imagination that had been sadly forgotten. I saw my kids learn how to play and pretend again. Creating something during your zero-spend month will help you get into that same mindset.
You might not have all the exact supplies you need to create a certain craft—so be sure to improvise, don't buy! It's time to get creative. Again, even if you feel like it won't turn out perfectly, that's okay—give yourself permission to try, and see what becomes of it. The objective is to be fearless and have fun!
Oh gosh, Ruth! This would require me to find my crafting supplies and glue gun—ha ha! We just haven't uncovered those boxes … yet. But we almost finished the dining room makeover last night, so this has inspired me to try and come up with something crafty for the arch over the dining table. I'm just not sure what it will be yet! —Claire
I've assembled a few craft projects below, all of which require only items that I had on hand (so no spending)! Assess what you have and check out this list. I'm sure you'll find something that can get your creative juices a-flowin'!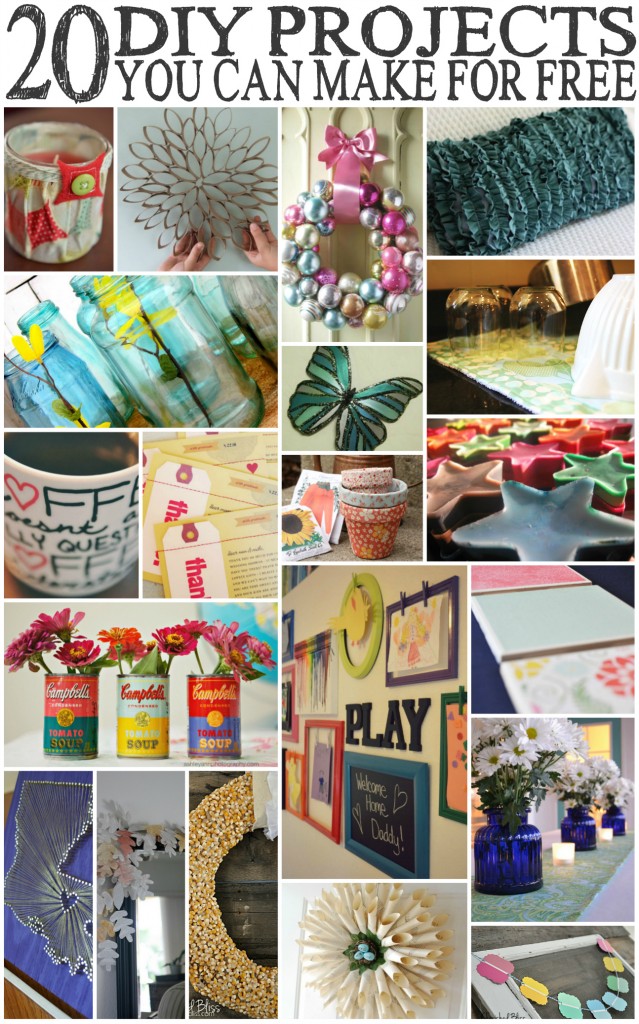 Ornament Wreath (from Eddie Ross Design)
Fabric-Covered Candle (from Living Well Spending Less)
Scrapbook Paper Tile Coasters (from The Love Nerds)
DIY Vintage Colored Glass (from Craftberry Bush)
Toilet Paper Roll Dahlia Art (from The Mayberry Home Journal)
I Heart [My State] Nail and String Art (from Our Mini Family)
Butterfly from Plastic Bottle (from Wonderful DIY)
Sewn Thank-You Cards (from Oh Hello Friend)
Children's Artwork Frames Gallery Wall (from Living Well Spending Less)
Book Page Wreath (from Creations by Kara)
Fabric-Covered Flower Pots (from Christine Chitnis)
Popcorn Kernel Wreath (from Cherished Bliss)
Towel Dish Mat (from Life in Grace)
Star-Shaped Crayons (from Living Well Spending Less)
Soup Can Vases (from Under the Sycamore)
Upcycled Ruffle Pillow (from Oh So Crafty)
Sharpie Mugs (from Living Well Spending Less)
Fall Book Page Garland (from Oh So Crafty)
Paint Chip Garland (from Cherished Bliss)
Simple Fabric Table Runner (from Living Well Spending Less)
This is a great list of DIY projects! I am starting the 31 Day Challenge today. With some of these projects I would need to get materials, but that is fine—they can be for future frugal projects! Some are definitely doable without stepping foot in the store, and I love all of your ideas. —Michelle
Today your assignment is to make something using only what you already have, to get fearlessly crafty and create something new just for the joy of the process.
 You can do it!
*   *   *