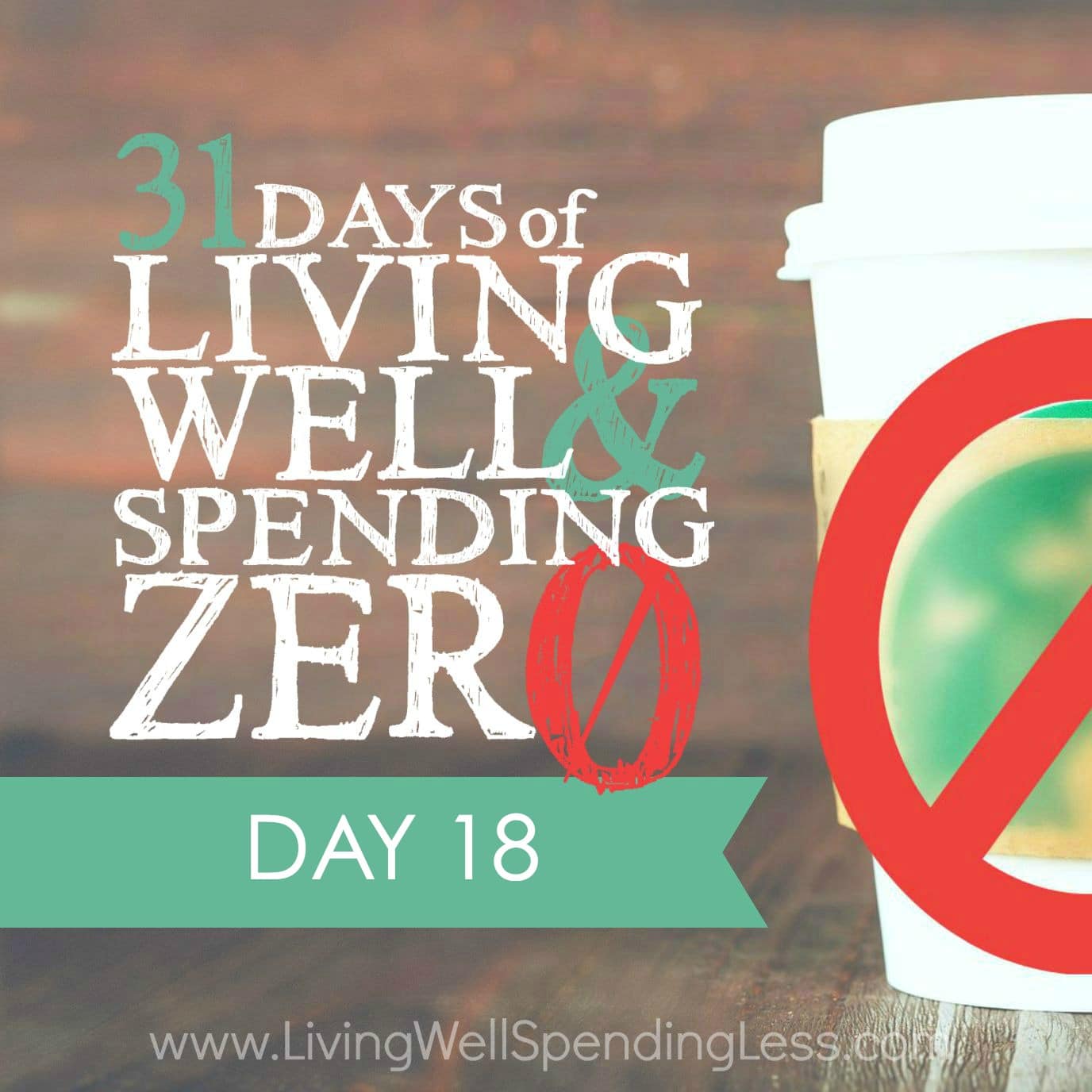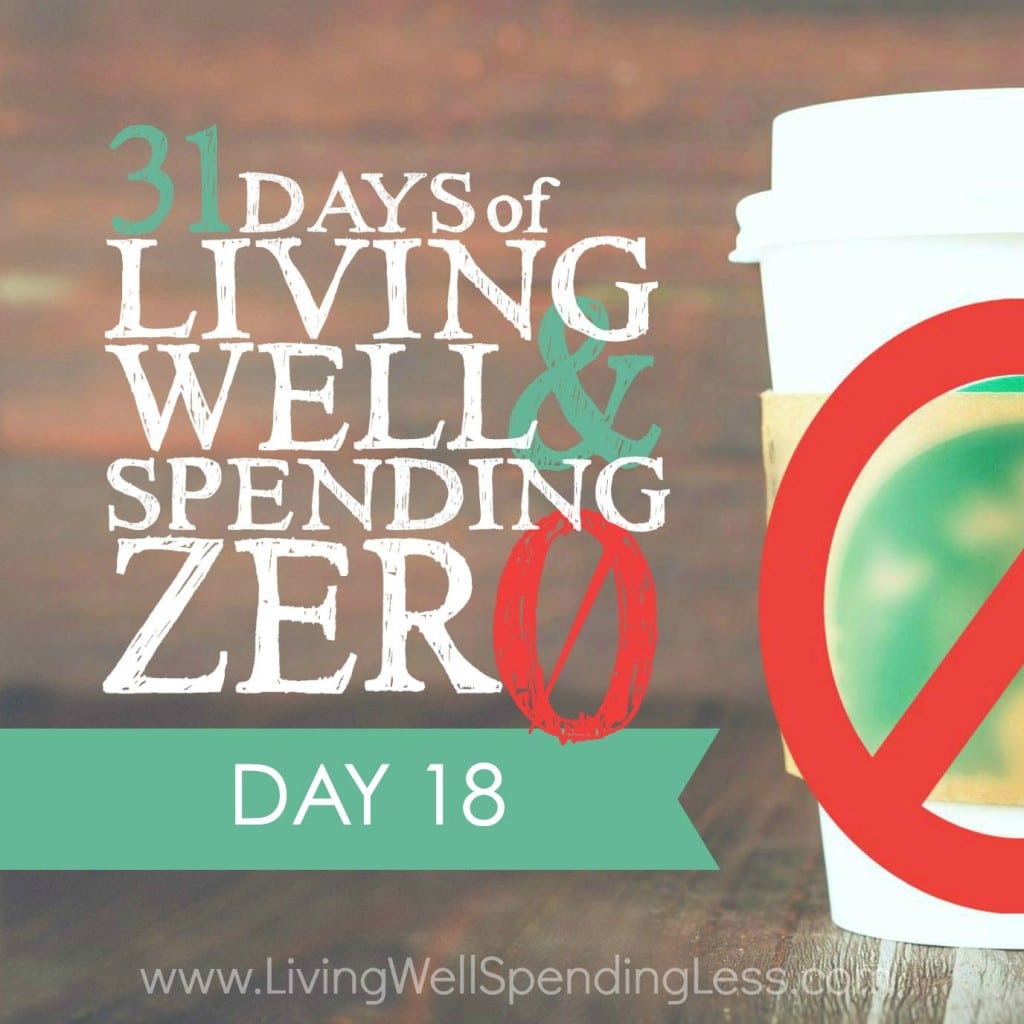 This is the eighteenth day of our 31 Days of Living Well & Spending Zero challenge. Start with Day One here.

 *   *   *
My goodness—can you believe we are already at Day 18? This week has been all about creatively using the things and resources we already have. So often we resort to running to the store for a solution or throwing out something before it's beyond its use.
Not only are these practices perpetuating the cycle of waste and causing environmental concerns, they're also perpetuating our own cycles of spending and consuming. Thinking outside the box and coming up with new uses for things we already have on hand helps us increase our appreciation and awareness for the labor and resources that go into the pieces of our day-to-day lives. It also helps us practice gratitude and break the cycle of mindlessly spending.
Many of us have taken on a zero-spending challenge out of necessity, not just as a way to engage in personal growth, but because, well, we're broke. We need to tighten our belts, pull up our bootstraps, and make ends meet. I realize that doing crafts, refashioning clothes, and watching YouTube videos aren't the answers to poverty or even overspending, but thinking creatively does help you become more mindful and deliberate in your actions.
Wouldn't it be nice to make a pretty tray, put some homemade cookies on it, and present that as a gift? —G
Take a moment to look around your home and ponder on the many things you have. If you're like me, your home is filled with comforts and items that reflect your family, their values and beliefs, and their likes and preferences. Consider something that you might not like anymore or that's no longer serving a purpose in its current state. This could be a clothing item, a kitchen item, or something else.
Is there a way that item could be re-purposed into something else? Something that might beautify your home in some way, fill a family need, or simply give that item new life?
I'm going to make patchwork cushions out of my clothes that are too pretty and groovy to throw away. It won't cost me a cent to add some new color to our existing spaces at home! Very excited to start this! —Nichole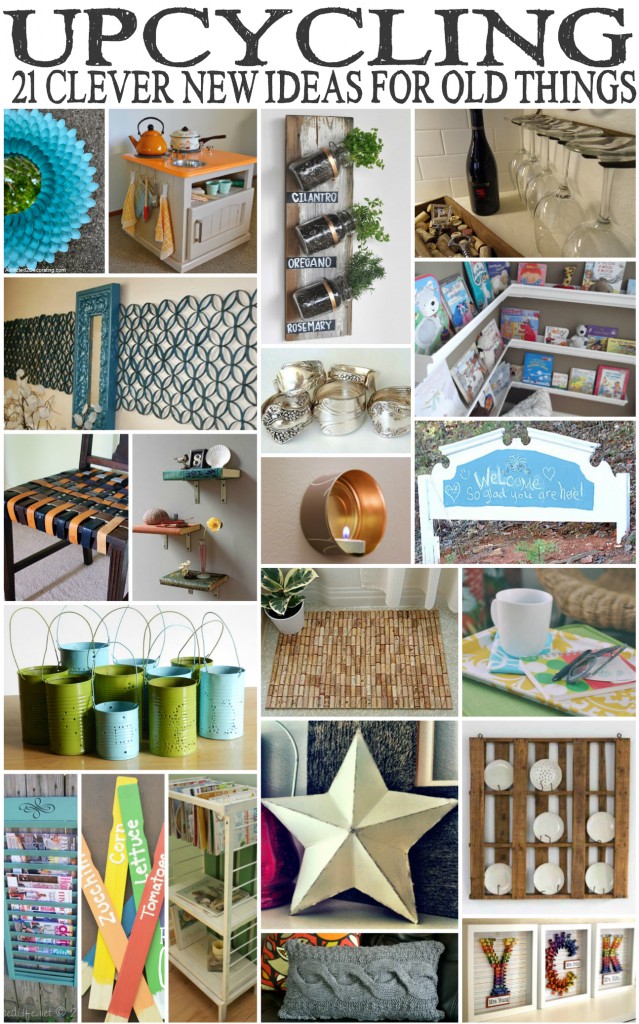 Upcycled Crib into Magazine Rack (from Tip Junkie)
Toilet Paper Roll Wall Art (from How-To Gal)
Rake Wine Glass Rack (from Tattered Style)
Tin Can Lanterns (from Grow Creative)
Cookie Sheet Serving Tray (from Living Well Spending Less)
Cereal Box 3D Cardboard Star (from Grey Luster Girl)
Upcycled Sweater Pillow (from Infarrantly Creative)
Broke Crayon Monogram Art (from Upcycle Us)
Tuna Can Tealight Holders (from Practically Functional)
Upcycled Nightstand into Kid's Island Play Kitchen (from Paint on the Ceiling)
Paint Stirrer Garden Markers (from Living Well Spending Less)
Upcycled Books into Shelves (from Real Simple)
Pallet Plate Rack (from Apartment Therapy)
Upcycled Headboard into Chalkboard Welcome Sign (from Balancing Beauty and Bedlam)
Shutter Magazine Rack (from My Repurposed Life)
Woven Leather Belt Chair (from Saved by Love Creations)
Rain Gutter Kids Bookshelves (from Sunshine on the Inside)
Plastic Spoon Chrysanthemum Mirror (from Addicted 2 Decorating)
Mason Jar Herb Garden (from Camille's Style)
Wine Cork Bathmat (from The Crafty Nest)
Upcycled Spoon Ring (from Through the Front Door)
I love the cookie sheet idea, and the pillow, and the monogram letters made of crayons (so going to be the teacher end-of-year gift this year!). Can't wait to try some of these ideas! —Claire
Your assignment for the day: Look around your house with a keen eye and choose one item to either repurpose or breathe new life into.
Try to really examine all the things you have and see them in a new way. Are there any items you were considering purchasing at the end of your no-spend month that you could create on your own with what you already have? Which one of these projects inspires you the most? Pick one and run with it!
 *   *   *