Ready to make your dreams a reality?
---
Our Doing it Scared® coaching program takes you by the hand and helps you first understand yourself and exactly what's holding you back, then helps you take clear and focused action towards achieving your biggest goals and dreams. Enrollment is open now for just five days only!

This is the fourth day of our 31 Days of Living Well & Spending Zero challenge. Start with Day One here.

 *   *   *
Now that we've worked on assessing our ingredients and planning out our meals, we have (hopefully) awakened our inner creative chefs and are now practically bursting with meal ideas! This means it is time to do a little proactive meal preparation. The fact is, it is both cheaper and easier to double, triple, or quadruple the same recipe than it is to make four different meals. We are going to take advantage of this fact!
DIG DEEPER
---
Meal planning eliminates dinnertime stress and overspending. Rather than navigating weeknight meals without a plan, go in with a plan and dinner is served. Simple!

Today your assignment is to call, text, email, or message friends and family and make a plan to swap meals this month.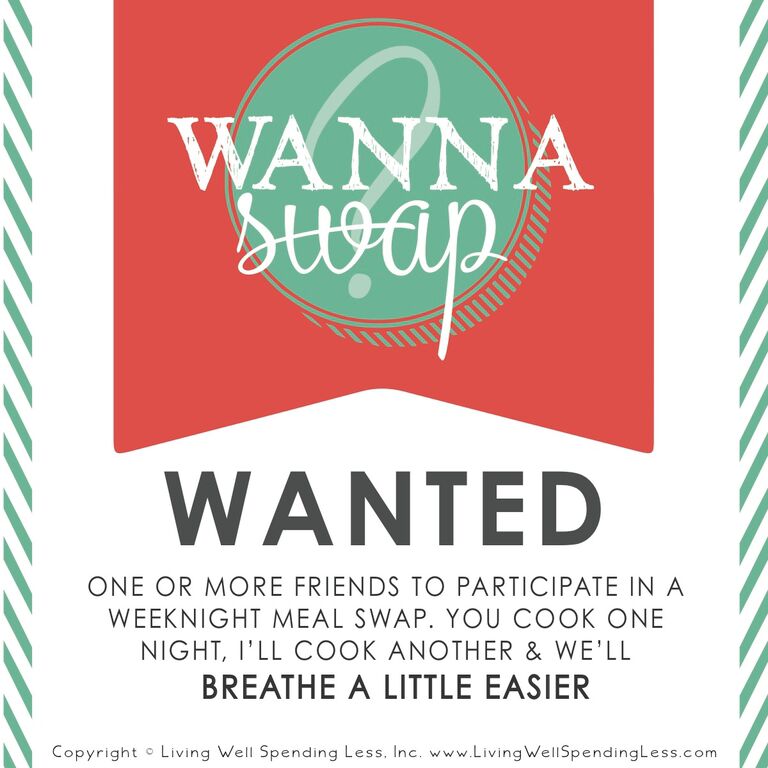 Get your printable meal swap invitation here.
Here's how it works: each of you makes multiples of a few easy, freezer-friendly meals, like taco casserole or veggie chili mentioned in Day 3. Send out an APB to your friends and family on Facebook or through email and see who's on board. Usually just a few friends are more than enough to get an exchange going. Be sure to mention any dietary restrictions or other concerns.
I had a great group of friends who got together to cook each month. We would make forty pizzas, and we each had ten 9″ x13″ pans for a variety of hot dishes for the freezer. It was awesome. We each came away with four or five pizzas and eight to ten pans ready for slapping into the oven. Great memories. Great food. Great friendships. — Carol
Once you've got some friends on board, you just whip up some freezer-friendly meals and swap! You can also agree to deliver meals on a specific day (if freezer meals aren't your thing), or you can even host a meal-making party with friends.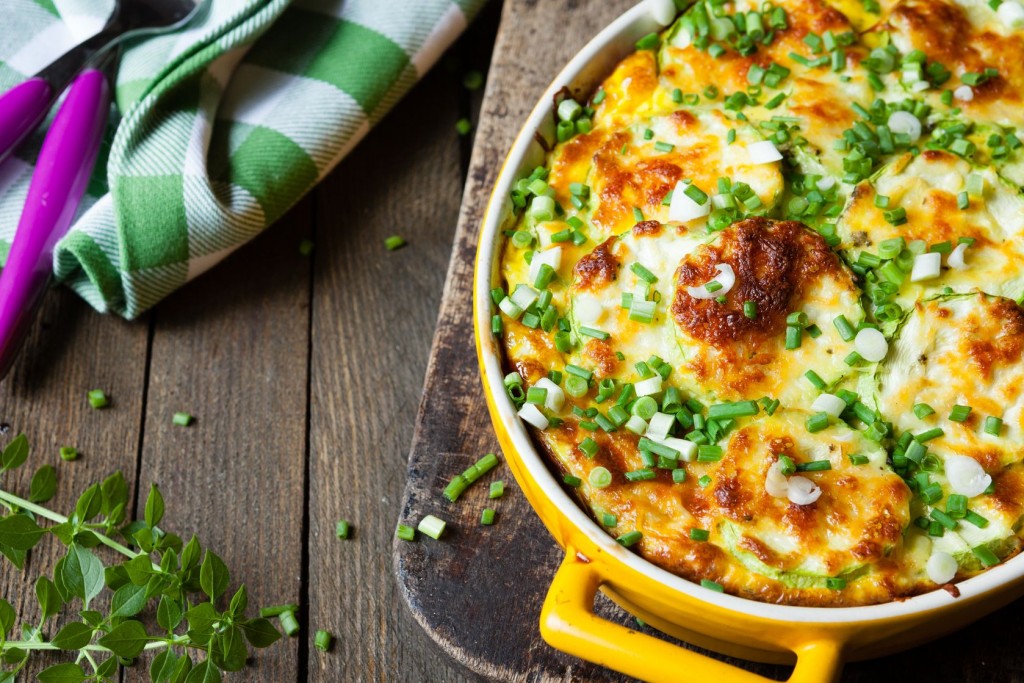 Meal swapping is a simple way to save yourself some nights of cooking, mix up your menu a little, and add variety to your meals. You may also end up expanding your repertoire and developing your family's tastes. Who knew your children liked curry? Or maybe you've never been one to cook mushrooms, but your husband loves them. It's exciting to try new dishes while at the same time giving yourself a break in the kitchen.
I have been doing this for over five years. My parents did it when I was a kid in the seventies. I cook a meal for my family plus two others once a week and deliver it hot to their door at dinnertime. Twice a week, a hot, home-cooked meal arrives at my door at dinnertime … so that covers three nights. Yes, it is wonderful. — Heidi
Consider whether your swap group wants to cook up only main dishes or if you would like to include sides or desserts. It's also nice to stipulate any of your family's dietary preferences or restrictions. The meal swap can be as simple or as complicated as your group sees fit. The idea is to mix things up and have some fun. For more tips and tricks on meal swapping, check out the resources below.
Our group participated in an ingredient swap towards the end of the month long spending freeze because we were all out of that "one" ingredient that would make the meal complete. It was a great way to swap out those canned vegetables or other items that you thought you would use (but didn't) before they expire and go to waste. —Sally

11 MEAL SWAP RESOURCES
If all else fails and you can't find anyone to swap with, try a "family cooking night" or get your husband on board for a "spouse job swap." Offer to do something that he doesn't love to do around the house, and in exchange let him work some kitchen magic. My kids love breakfast for dinner, and sometimes just changing out the order of things can help break up the monotony. Try a savory oatmeal bowl for breakfast or turn leftovers into a breakfast burrito. For lunch, use some dinner leftovers, and then have PB&J for dinnertime!
Mix things up, break out of the rut, and give yourself a break! Spending zero doesn't mean giving up enjoyment of meal times or creating more work for yourself. Get your friends and family on board and get creative!
 *   *   *
By the way, throughout this challenge, there will be many different worksheets and printables for you to use. I suggest you print them out and organize them together in a binder or folder so you can journal as you go. Be sure to follow @RuthSoukup on Instagram and post your own photos using hashtag #31daysLWSZ for a chance to win daily prizes. (Get more information about our Instagram giveaway HERE.)  Remember, I will be broadcasting LIVE each day on Periscope (usually between 10am and 11am EST). You can find and follow me at @RuthSoukup. Finally, be sure to check out our BLOG TOUR page, where you can find all sorts of additional ideas and inspiration from other bloggers who are taking the #31dayLWSZ challenge this month too!