This is the sixth day of our 31 Days of Living Well & Spending Zero challenge. Start with Day One here.
 *   *   *
It's no secret that I am a big fan of freezer cooking, especially easy-to-make "cheater" freezer meals. Not only are they great timesavers, they're also great money savers. Just imagine … you open your freezer to find an array of delicious options that are all ready to heat up. Unlike typical store-bought convenience meals, you know exactly what's in them. Why? Because you made them yourself!
If you're as busy as I am (which I'm sure you are!), you already know there are some nights when making dinner seems like an insurmountable task. For many of us, that means takeout, fast food, or less-than-healthy options. (Fish sticks and tater tots, anyone?) Freezer meals help you plan ahead and take the stress out of dinner on those busy weeknights.
It's so hard to find the time for cooking dinner between working from home, changing diapers, and housework. This is going to make meal planning so much easier! —Allison
The other advantage of freezer meals is that you can stretch your ingredients by using them in multiple recipes. Have you ever had a recipe call for half a can of something? What the heck can you do with half a can? Making freezer meals means you can use up the whole can and enjoy your favorite meals whenever you want.
Even though we're Living Well and Spending Zero, I always use the following criteria to ensure these meals make the cut.
In my house, each freezer meal must be:
Deemed delicious by both my kids and my husband (plus additional testers!)
Require no precooking (aside from browning ground beef)
Freezer friendly (needless to say!)
Easy to cook
Budget friendly: made with inexpensive ingredients and pantry staples (just one reason these recipes are perfect for the Living Well and Spending Zero challenge!)
Freezer Cooking 101
Freezer cooking uses the principle of mass assembly. Your kitchen becomes a production line, where a week's (or even a month's) worth of meals can be created from start to finish and assembled in just an afternoon. In fact, I've come up with several plans that contain go-to foolproof recipes that can be used to create ten freezer meals in about an hour (see recipes below).
If you're new to freezer cooking, you're going to want to take it slow and do a little planning. The good news is you're on a zero spending challenge right now, so most of your "shopping" should come from your own pantry, keeping your costs to the barest minimum. Don't be afraid to substitute ingredients or get creative when necessary!
Go through your list of ingredients from your pantry and freezer (from Day 2) and your list of meal and recipe ideas (from Day 3). Are there a few recipes on your list that can be made ahead and might freeze well? Pick four or five meal ideas to start, and double each recipe so you end up with about ten meals.
I've got seven kids, and I am right on the brink of my busy season with baseball x2, swim team x2, swimming lessons x2, and marching band x3, all of which happen over the dinner hour. This is the time of year when I stock my freezer with meals. Thanks for getting me off to a great start all in the same place! —Jennifer
Once you have your meal list ready, create a prep sheet and action plan for assembling your recipes. Include cooking instructions and times as well. Be sure your kitchen is ready to go: dishes should be clean and ready to cook. Pots, pans, and counter space should be at the ready.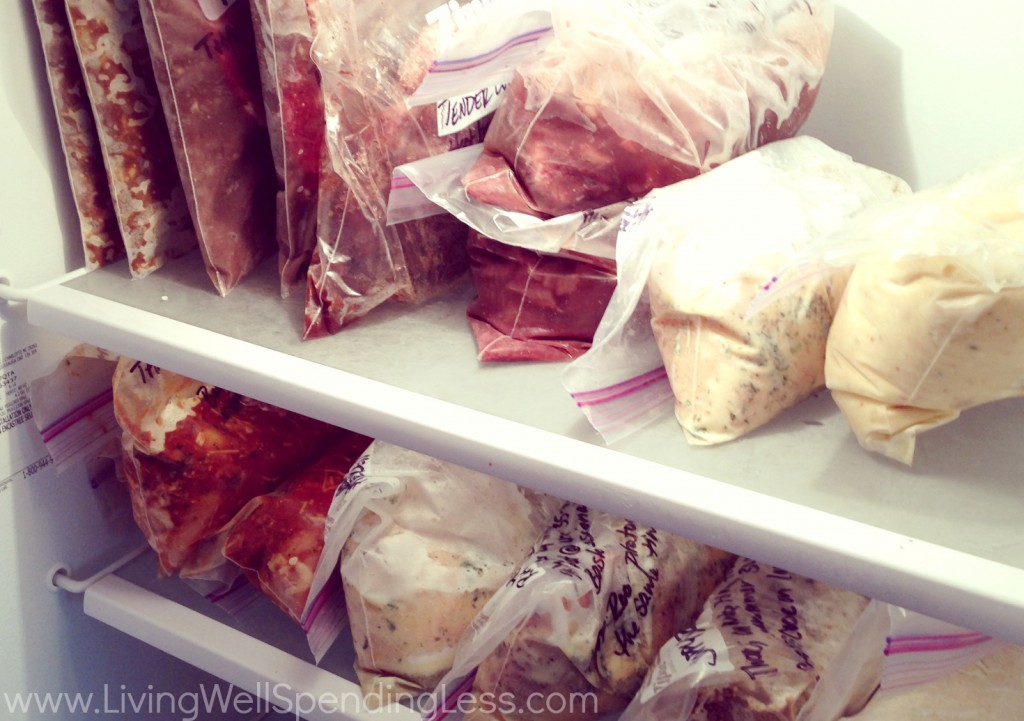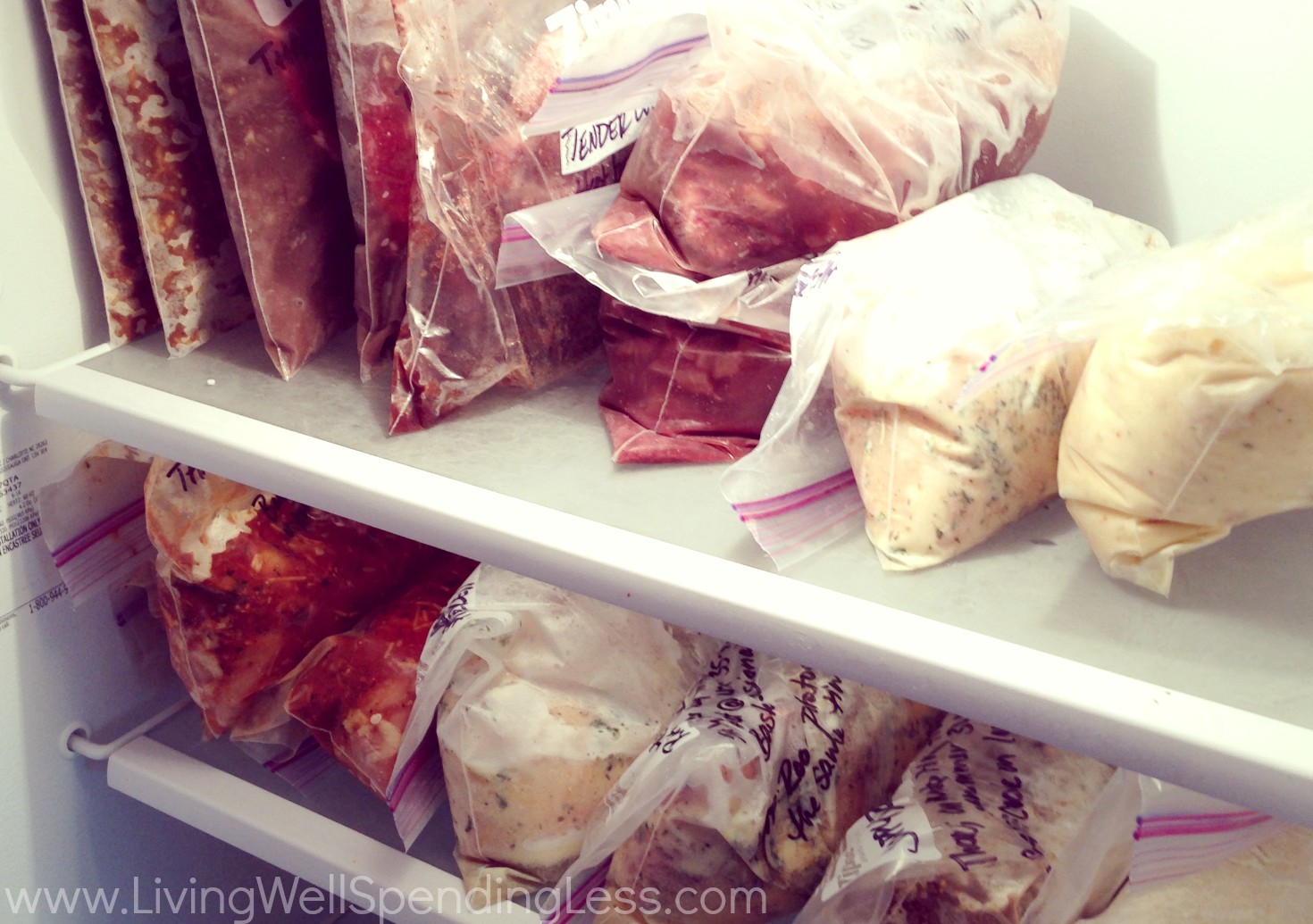 Always note common ingredients across multiple recipes and prepare them all at once. For example, if several recipes require chopped onions or browned ground beef, take care of all your chopping or browning in one fell swoop. Open all your cans and boxes at the same time, lay out all your ingredients, and go!
Most of the freezer recipes at LivingWellSpendingLess.com are "cheater" recipes—ones that require little to no cooking—so you can just toss all your ingredients in a Ziploc bag, slap on a label, and stick them in the freezer. Mix and match the recipes below or make them all, depending on what you have on hand. To cook, you simply dump your recipe of choice in the crockpot, heat, and eat. It is literally that simple.
If you're still nervous, check out our 7 Easy Tips for Freezer Cooking Like a Pro. You'll be freezer cooking like it's no sweat in no time!
I'm reading this, and it's all doable! No fancy ingredients, and yes, these are all pantry items I actually do have in my pantry! —Susie
35 FREEZER MEAL IDEAS
Tackle one set of freezer meals (choose one part to start), or use this list as a jumping-off point for your own freezer meal plan ideas. Each set of five recipes is designed so that you can assemble ten freezer meals in only one hour!
Part 1: The Original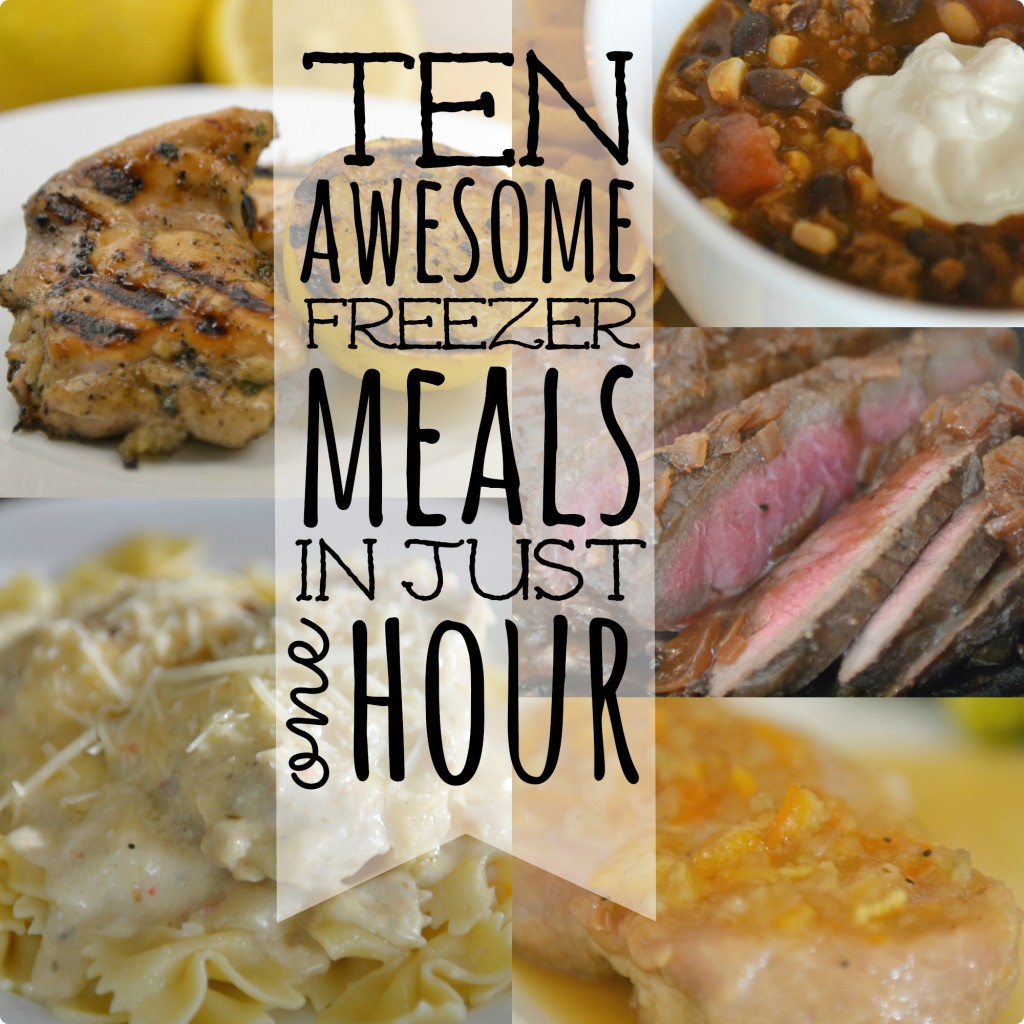 Get the complete Part 1 freezer cooking meal plan here.
Part 2: Summer Favorites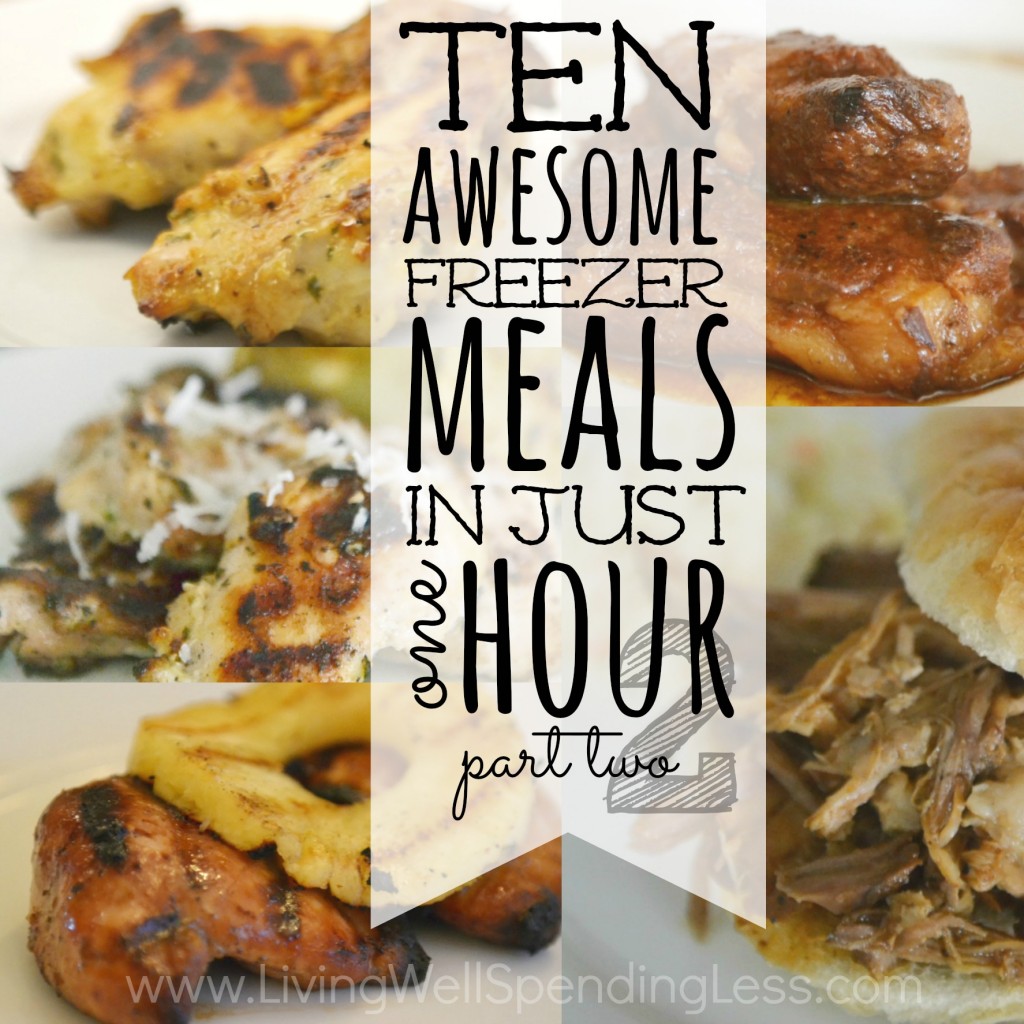 Get the complete Part 2 freezer cooking meal plan here.
Part 3: Easy Comfort Foods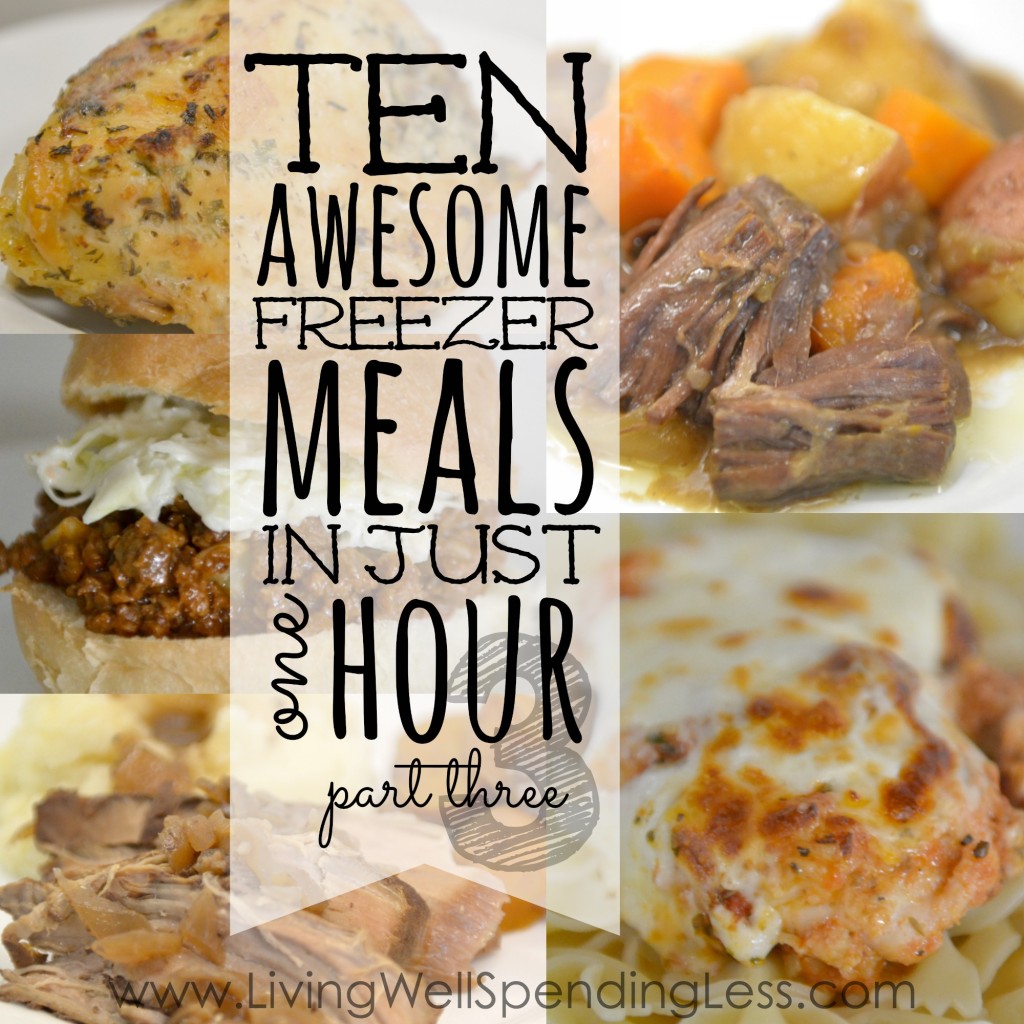 Get the complete Part 3 freezer cooking meal plan here.
Part 4: Easy Winter Classics
Cheesy Chicken and Rice Casserole
Easy Freezer Ham and Bean Soup
Sweet and Spicy Chinese Chicken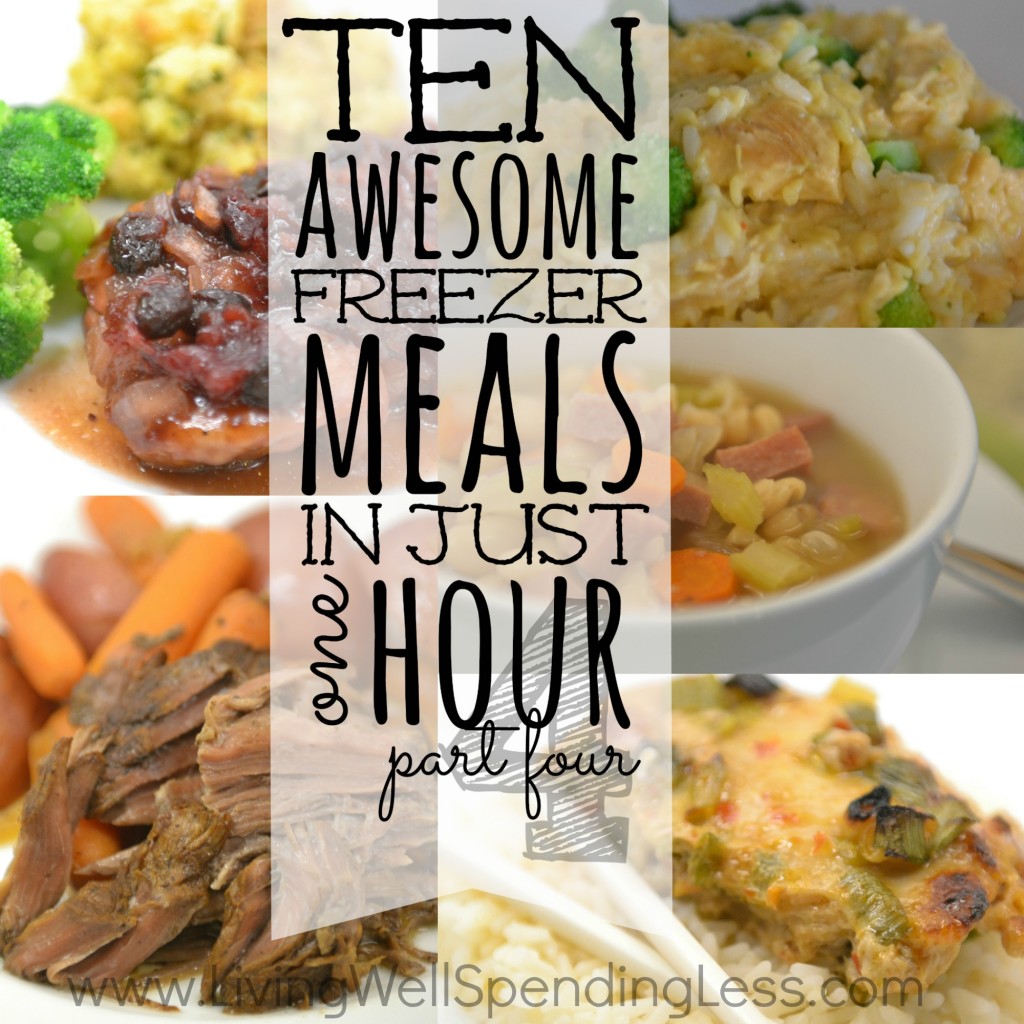 Get the complete Part 4 freezer cooking meal plan here.
Part 5: Flavorful Favorites
Freezer-to-Crockpot Chicken Fajitas
Kale and White Bean Soup with Sausage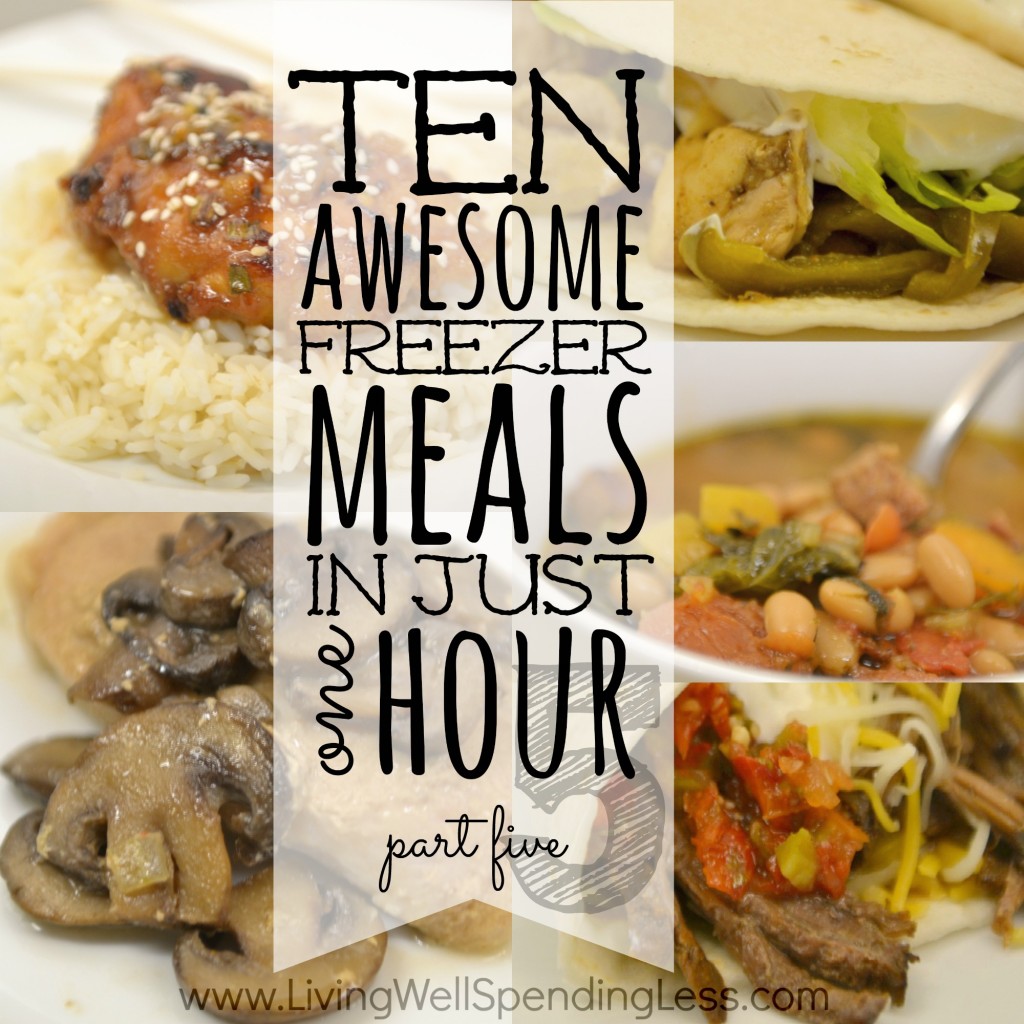 Get the complete Part 5 freezer cooking meal plan here.
Part 6: Global Flavors
Easy Freezer Bacon and Blue Cheese Burgers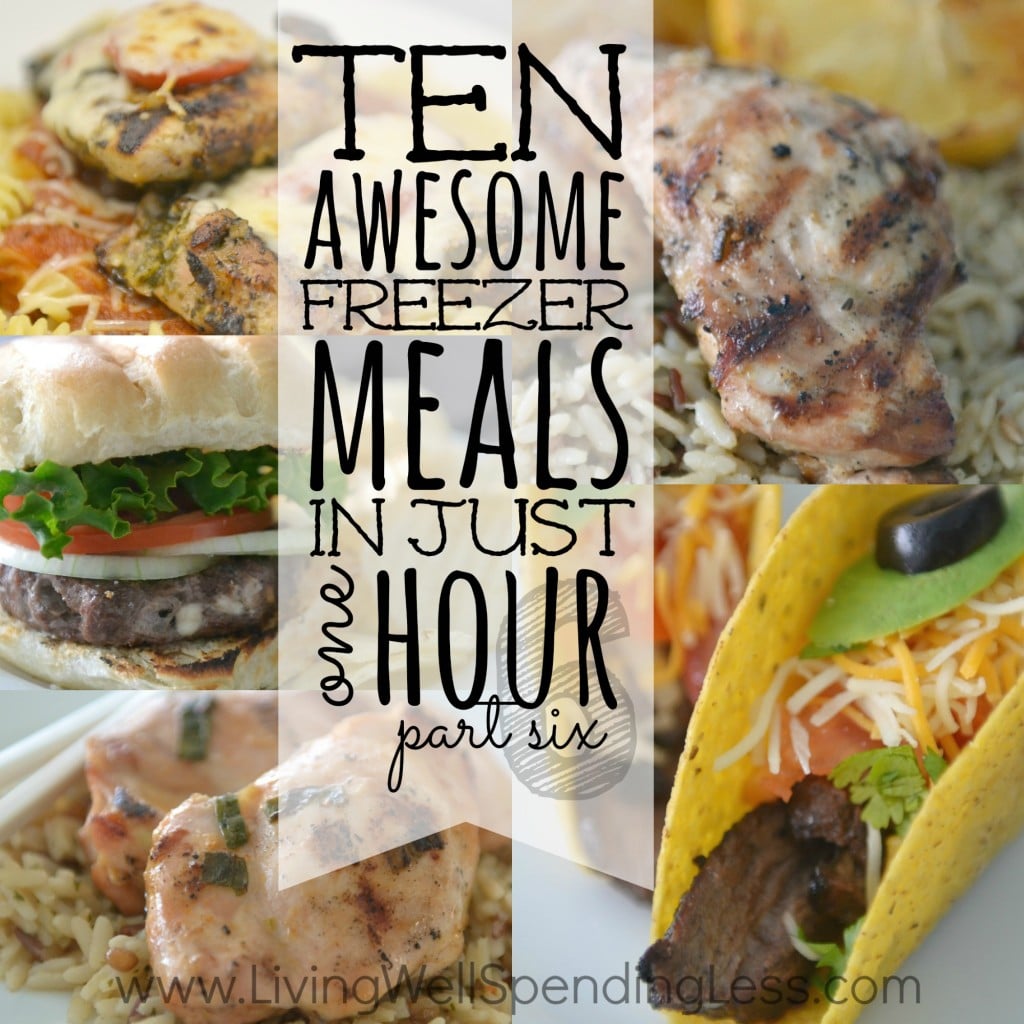 Get the complete Part 6 freezer cooking meal plan here.
Part 7: Fresh Flavors
Simple Summer Chicken Sandwich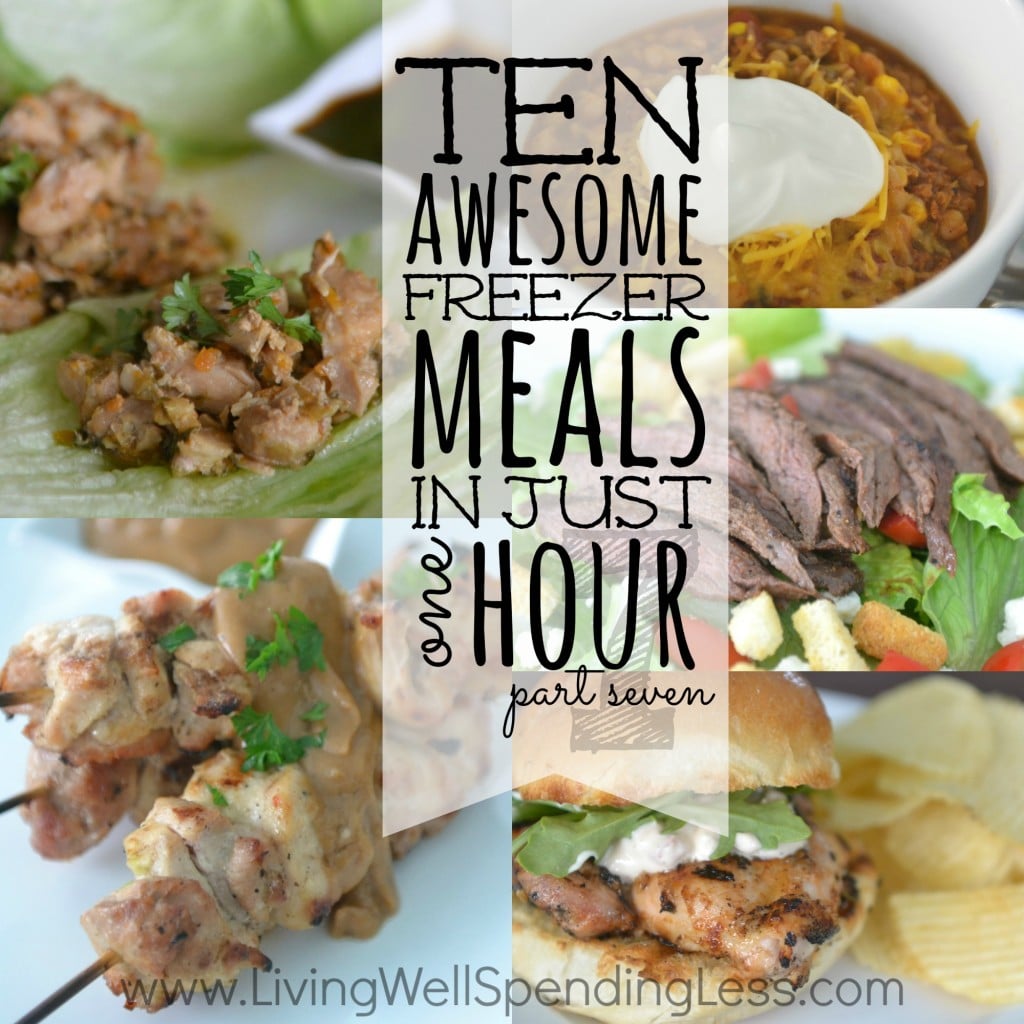 Get the complete Part 7 freezer cooking meal plan here.
Again, be sure to consider what you have on hand when you create your freezer meal menu for today's challenge. If you have meat on hand, try a few of my meat recipes.
Love these recipes and you give great steps to make it easier to follow along. Freezer meals have become a staple in my household, and I love finding new recipes. —Suzanne
Freezer cooking is a great way to save money, time, and sanity. After today's challenge, you'll feel like you have a handle on what to eat for the month, and you'll know exactly how to use up all those pantry ingredients you just discovered on Day 1. Freezer meals help you stretch your staples and keep your family happy and full!
 *   *   *
Throughout this challenge, there will be many different worksheets and printables for you to use. I suggest you print them out and organize them together in a binder or folder so you can journal as you go.