This is the eighth day of our 31 Days of Living Well & Spending Zero challenge. Start with Day One here.
 *   *   *
Welcome to Week 2!
Last week, we talked a lot about food and organizing what we eat. We discussed some ideas for freezer meals and for making restaurant meals at home. The purpose of our focus on food was due to the fact that we all make poor financial decisions when we're hungry!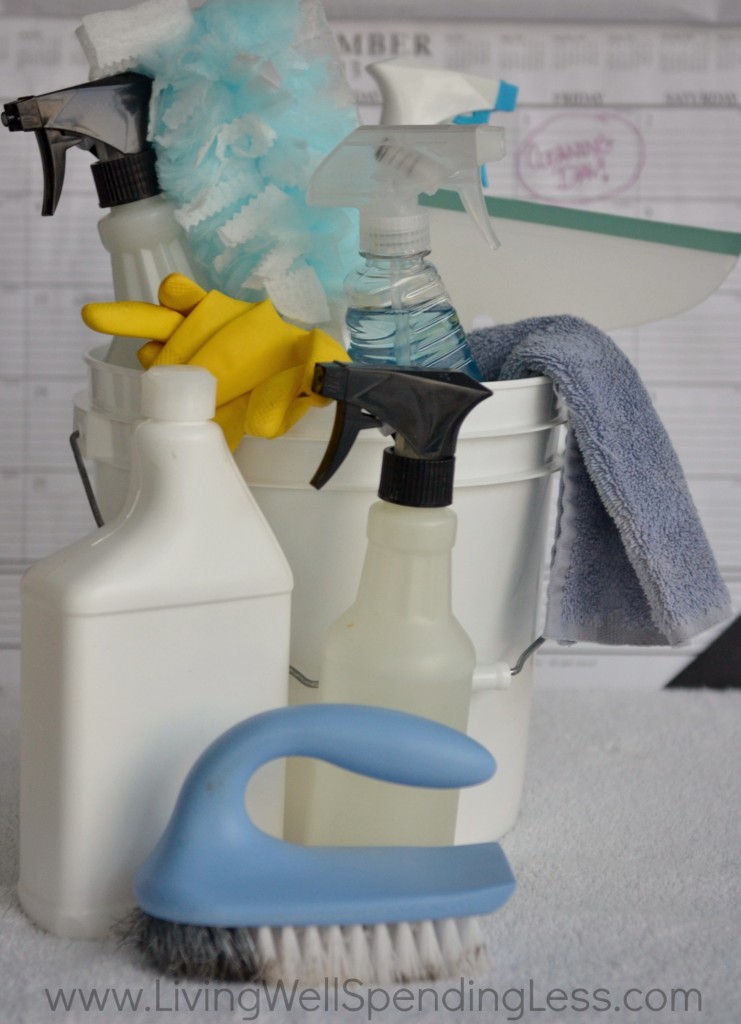 But other pitfalls can trip us up too. We let our homes get chaotic and cluttered and dirty and then foolishly think spending money is going to fix the problem. We buy ourselves new mops or cleaners or organizers, thinking they will make the mess waiting at home magically disappear. Sometimes we simply can't stand the thought of being trapped in the chaos so we choose going out—and spending money—over staying in.
This week we're going to roll up our sleeves and get the rest of the house in order! How many of us have purchased an item (batteries, candles, lightbulbs, toiletries, crafts, office supplies, etc.) only to come home and realize that we had that exact item stashed away somewhere and just forgot about it? I once realized I had eight tubes of super glue. Eight! We also seem to have that problem with ChapStick. (And yet, somehow I still can never seem to find a tube when I need some. What's up with that?)
This week we are going to tackle the chaos head on. We are going to scrub and dust and sort and purge and really, truly get our spaces clean. It doesn't matter who you are or where you live, whether you own or rent, have a professionally decorated home or a jumble of mismatched secondhand furniture: you will like your house better—and enjoy being home more—when it is clean.
There is no better way to truly appreciate what you have than to take care of it. If you're feeling like your house is a little shabby or your clothes are a little worn, then this is the perfect time to spruce things up. Cleaning and refreshing a few items around the house will give them new life and provide you with a sense of accomplishment.
But don't worry, we are going to take it slow. In fact, today your assignment is to simply get ready to clean. We are going to do a few things today that will make your big cleaning day easier, plus give you some time to get into the "gotta clean" mindset. By tomorrow you will be raring to go, I promise. Well, okay, maybe not raring to go, per se, but at the very least, resigned to the idea. And because I'm nice like that, I've even created a cute checklist to help you get ready. Now if that's not motivation, I don't know what is!
Buying/organizing/cleaning/decorating when the house is a mess is a mistake I make a lot! I spent several hours today organizing things and getting ready for cleaning day tomorrow, and the house already looks awesome—way better than it does most of the time. It's exciting! —Jenny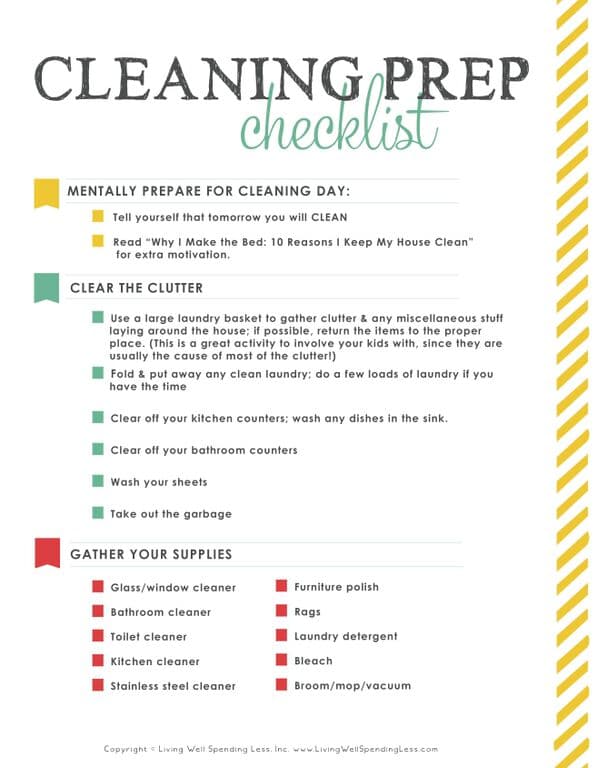 Get your printable cleaning prep checklist here.
Planning Ahead
The first thing you have to do today is tell yourself that tomorrow, no matter what, you are going to clean your house. Repeat it to yourself all day long.
If you need some inspiration, I highly recommend reading this post on "Why I Make the Bed: 10 Reasons I Keep My House Clean" or this post on "Speed Cleaning" . While you work on your cleaning list, think about the areas in your home that are probably going to need some extra attention.
The next thing you're going to want to do is take a few minutes to plan and assemble. Keep reminding yourself that tomorrow is going to be your day to clean! Mental preparation is key!
Take a few minutes to do some picking up. Set the timer for fifteen, thirty, or sixty minutes—the more time you can spare, the better—and make your way around the house, picking up the obvious clutter. I like to use a laundry basket—it's easy to carry—and just gather up any shoes, coats, bags, or toys that are lying around.
If you're a little behind on cleaning, get the dishes out of the sink and run a few loads of laundry. Clear and stash any cosmetics lying around in the bathroom, and clear out all that clutter that collects on your kitchen counters or in your entryway. The idea is to get things squared away so you can start the real cleaning tomorrow.
Finally, assemble your cleaning supplies. Are you out of anything? Freeze! Do not run to the store! There's probably a substitute right in your own cupboard.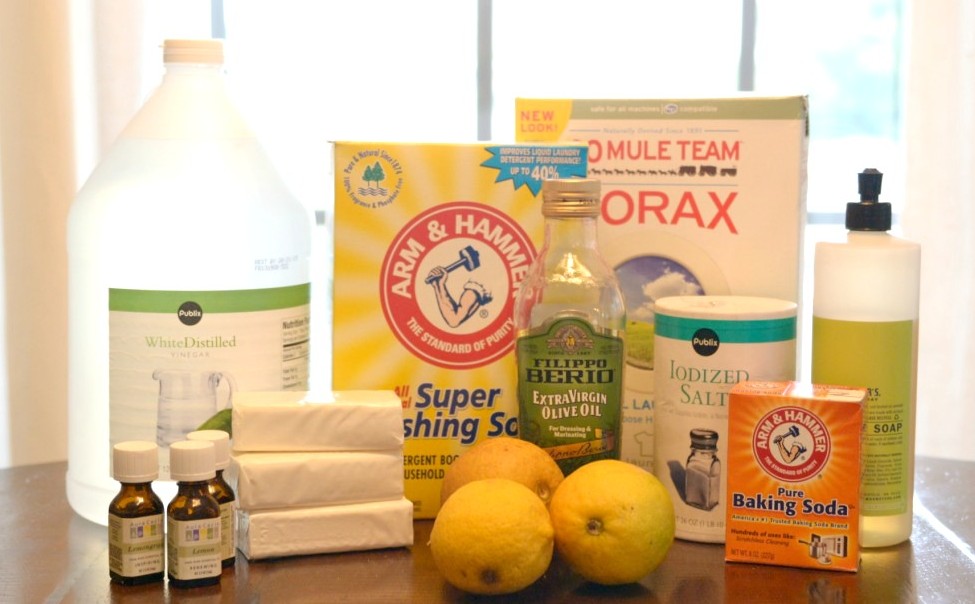 Check out our list of 10 Green and Thrifty Cleaning Products you can make right at home using just ten basic ingredients . Chances are you probably have everything you need already on hand!
I did a deep clean of my kitchen this weekend, and I'm amazed at how removing chaos has improved my mood. Thanks for reminding me that I can feel the same about the entire house. The cute checklist and a day to mentally prepare helped too! —Angie
For more ideas on cleaners and inspiration, you may want to check out Martha Stewart online, Real Simple, and Better Homes and Gardens, which all have plenty of great cleaning resources.
Now get a good night's rest, because tomorrow we clean!
It's so weird to me that I'm so excited to be cleaning my house, but it's true! I think that knowing that I'm not alone in doing this task makes it the most fun! Looking forward to tomorrow's challenge. It's really lighting the fire to get my home life more together! —Sam
 *   *   *
Throughout this challenge, there will be many different worksheets and printables for you to use. I suggest you print them out and organize them together in a binder or folder so you can journal as you go. Remember, I will be broadcasting LIVE each day on Periscope (usually between 10am and 11am EST). You can find and follow me there at @RuthSoukup. Be sure to also share your photos on Instagram for a chance to win daily prizes. (Get the contest details HERE.)  Finally, be sure to check out our BLOG TOUR page, where you can find all sorts of additional ideas and inspiration from other bloggers who are taking the #31dayLWSZ challenge this month too!