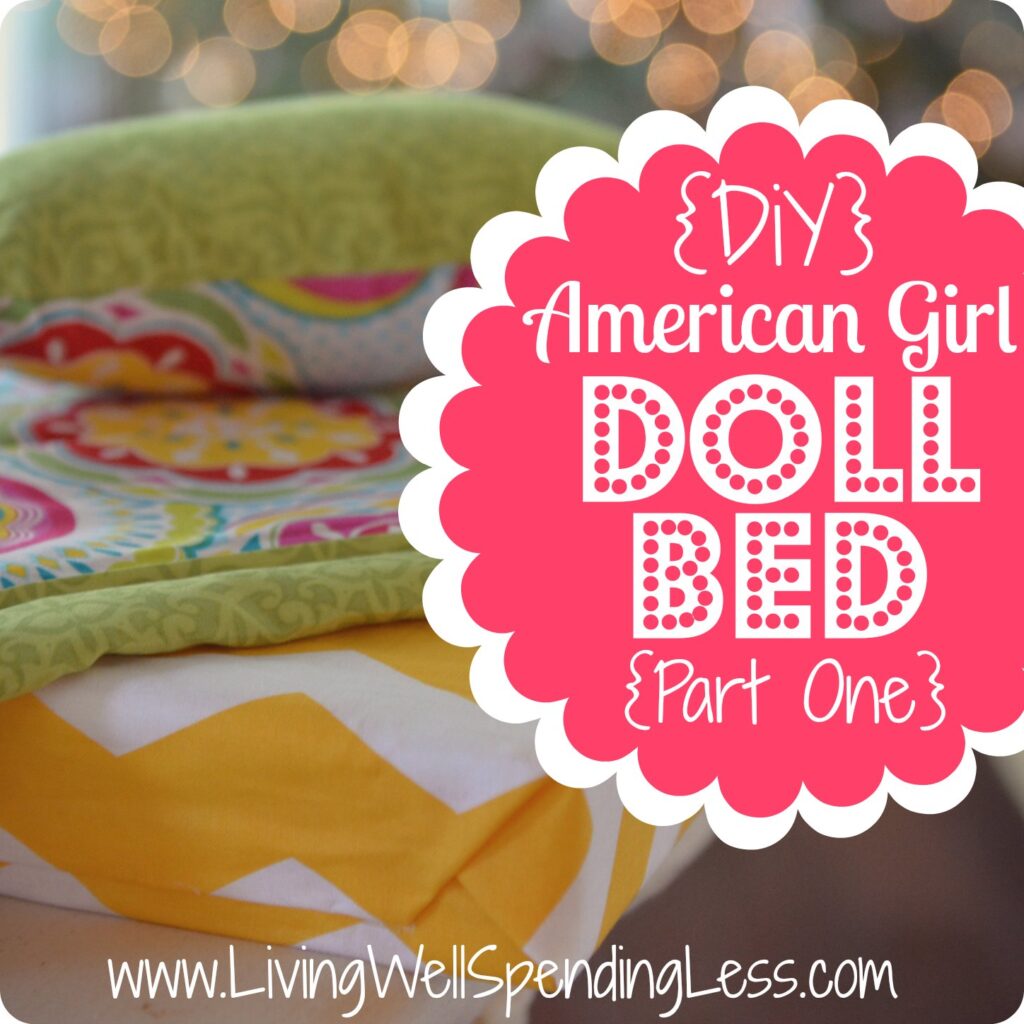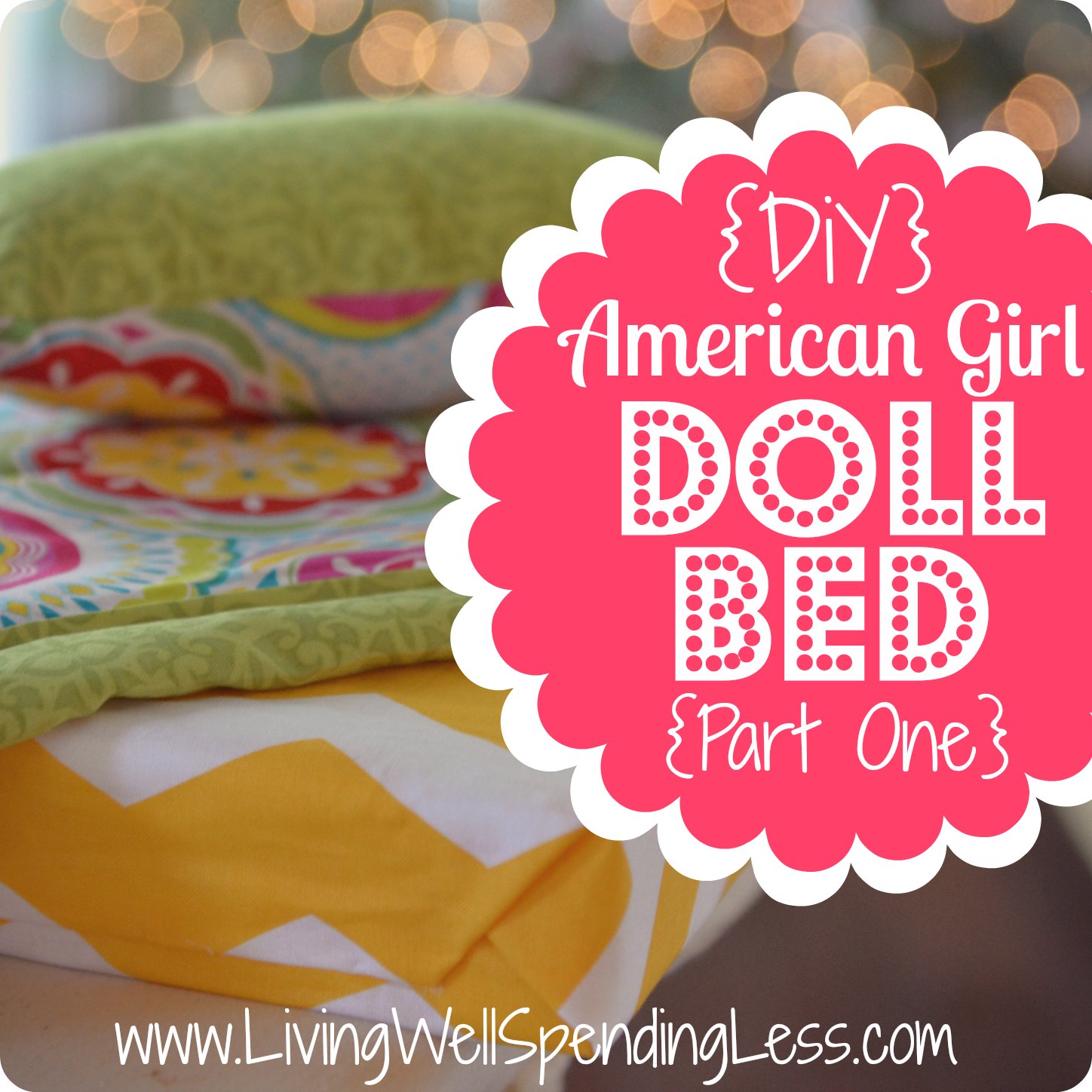 Can you keep a secret? I'm counting on the fact that my daughter Maggie doesn't read this blog, but I am so excited about her gift from Santa this year that I think I might explode if I try to keep it all bottled up. So shhhhhhhhhhhh!
Every family "does" Santa a little differently which definitely makes things a little interesting now that our kids are a little older and starting to compare notes with their friends. For instance, we do the Elf on the Shelf, a fun tradition we started last year, but yesterday at church I overheard Maggie discussing her elf with a few friends, some of whom have an elf and some who don't. She didn't seem to make anything of it, but I'm guessing that we don't have much time before she figures out all the inconsistencies. In the meantime, I am just trying to soak it all in, knowing this might be our last year with 2 true Believers.
In our house, on Christmas morning there is always one "big" gift from Santa–usually the thing they've asked for–along with a few stocking stuffers. Past Santa gifts have included their play kitchen, bicycle and tricycle, & a play table. Santa always brings each family member a special glass ornament in their stocking, usually related to an event or interest that year, and the highlight of the morning is seeing which ornament everyone got.
We haven't gone to see Santa yet because she is currently in utter agony over what to ask for. I have never seen a child quite so tormented. You see, this year she has discovered the joy of American Girl. My dad bought her a doll for Christmas a few years ago–something he has done for all his granddaughters–but she was a bit young and not that interested until this past August when we went to visit Edie and her sweet girls. She spent 3 days playing American Girl dolls with them and has never been the same.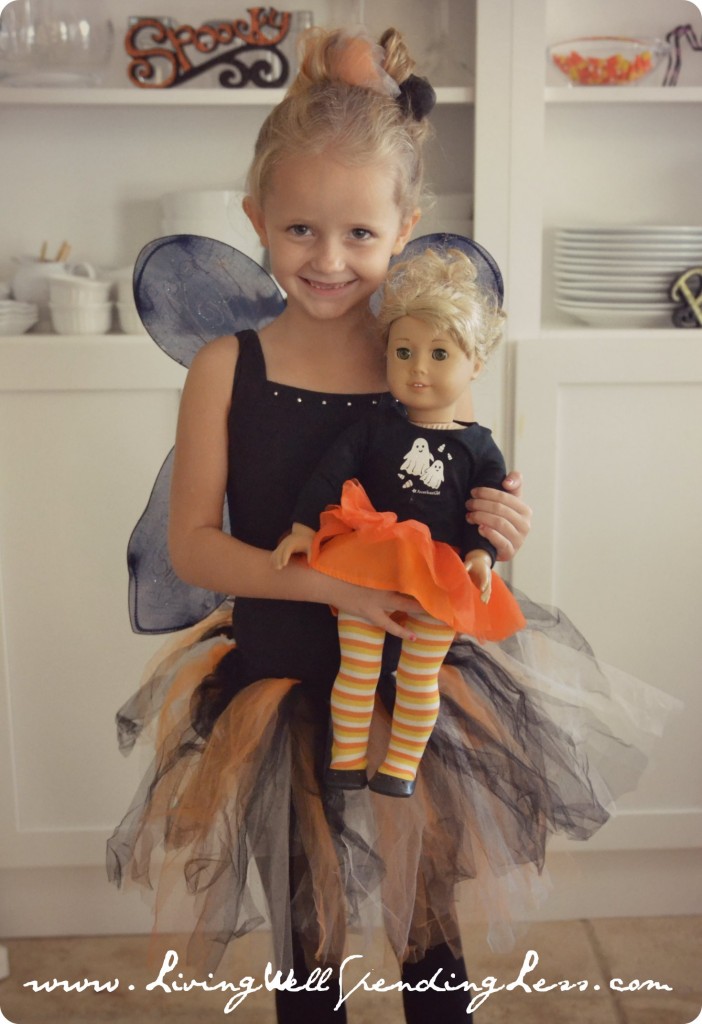 A few weeks later, my husband Chuck took Maggie on a trip to Chicago to visit family and he took her to the American Girl store. She came home with a new outfit for Lanie (her doll) and a catalog, which she has since spent countless hours poring over (and which we have since had to tape back together more than once.)  In her little 6-year-old brain, the biggest problem in her life right now is whether to ask Santa for a bed or a closet for her Lanie doll. She knows she can only ask for one thing but she just. can't. decide.
The dilemma for Chuck and I is slightly different, because whether she chooses the $225 doll bed (yes, she has managed to fall in love with the most expensive bed in the catalog) or the $349 closet (are you kidding me?!!), there is really no way we can justify spending that much money on a piece of doll furniture, regardless of her final decision. But after watching her pine over that catalog for months and talk about almost NOTHING but doll beds and closets, I also don't want to break her tender little still-believing-in-the-magic-of-Santa-Claus heart.
So what's a mom to do?
I was seriously stuck until last weekend, when I explained my dilemma to my friend Melissa. She promptly responded, "You're so crafty, why don't you just make her a bed?"
I am a little embarrassed to admit that despite all the craft projects I've taken on this year, it hadn't even occurred to me to make a doll bed. I mean, duh! But that conversation must've been a sign because the very next day I was at Michael's picking up supplies for a different craft and I stumbled upon the wood aisle, where lo and behold, they had both an unfinished bed AND wardrobe for 18″ dolls. Two 50% off coupons and $35 later, I had myself a top secret Santa project. I picked up some cute fabric, batting, and foam at Hobby Lobby, which with sale prices and coupons came to about $20.
I couldn't wait to get started but completing this project is definitely going to be a challenge, since there is very little time that Maggie is NOT around! However, Husband did take the girls out for a few hours this weekend, which gave me a chance to get started on the quilt, mattress, and pillow. Painting will come later, in Part 2!
Here is what you will need: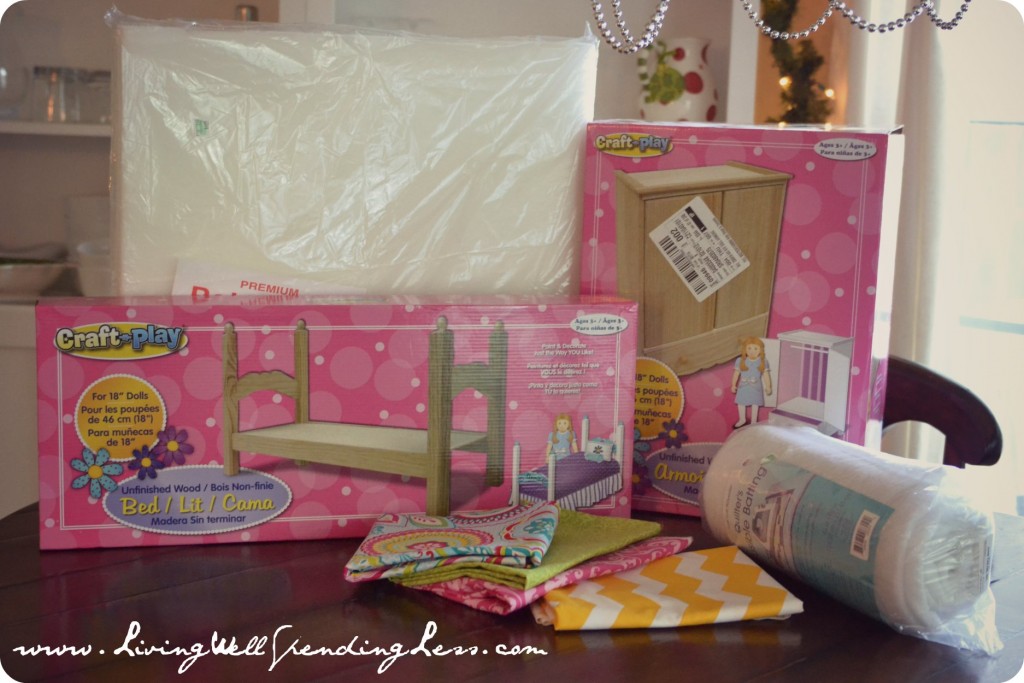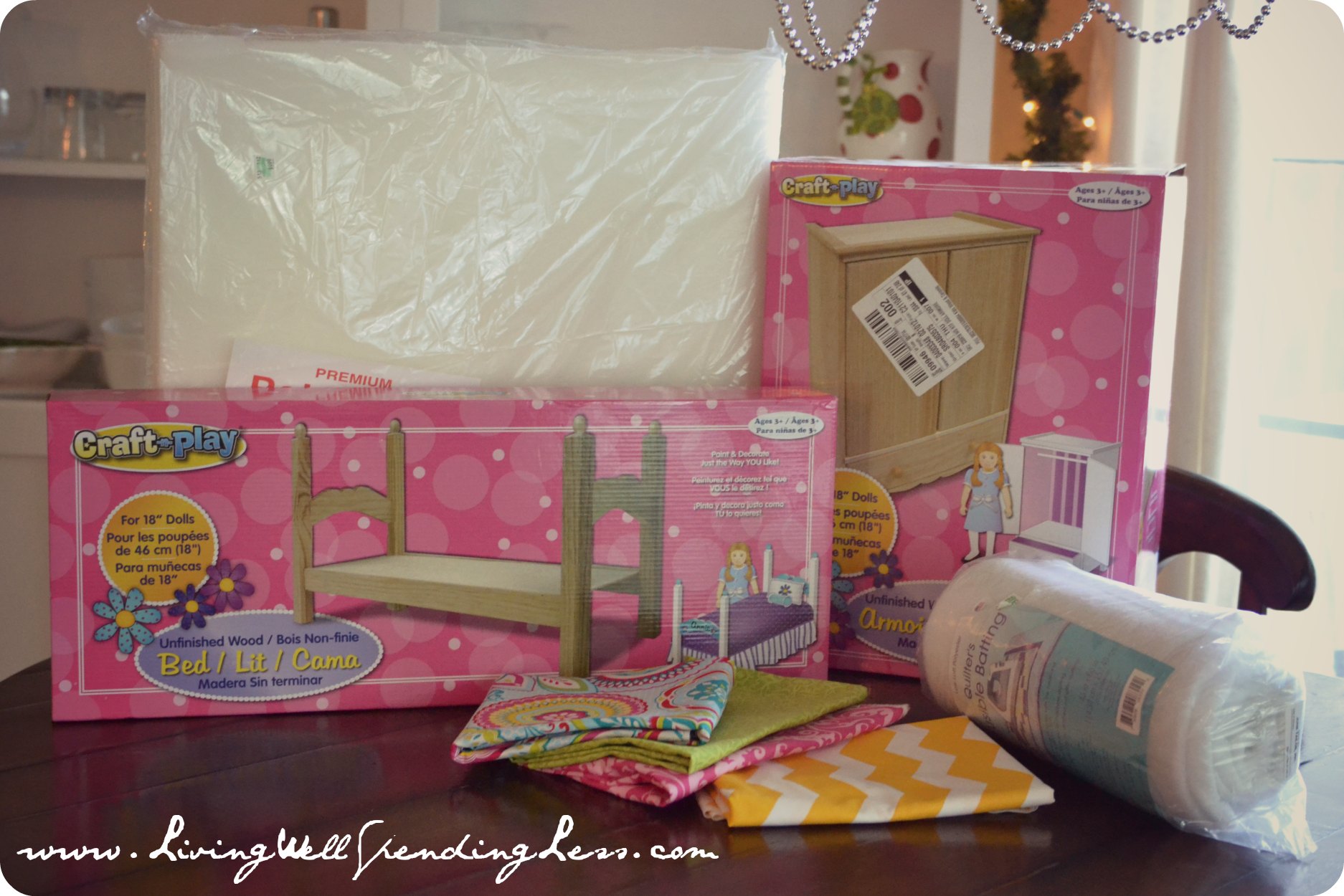 unfinished bed for 18″ dolls (available at Michael's–use a coupon!) sewing machine pinking shears fabric–1 yard of each of the 2 main patterns, 1/4 yard of the 2 coordinating patterns 2″  thick foam piece. The square I bought would make 2 mattresses (use a coupon!) quilt batting electric knife ruler or tape measurer glue gun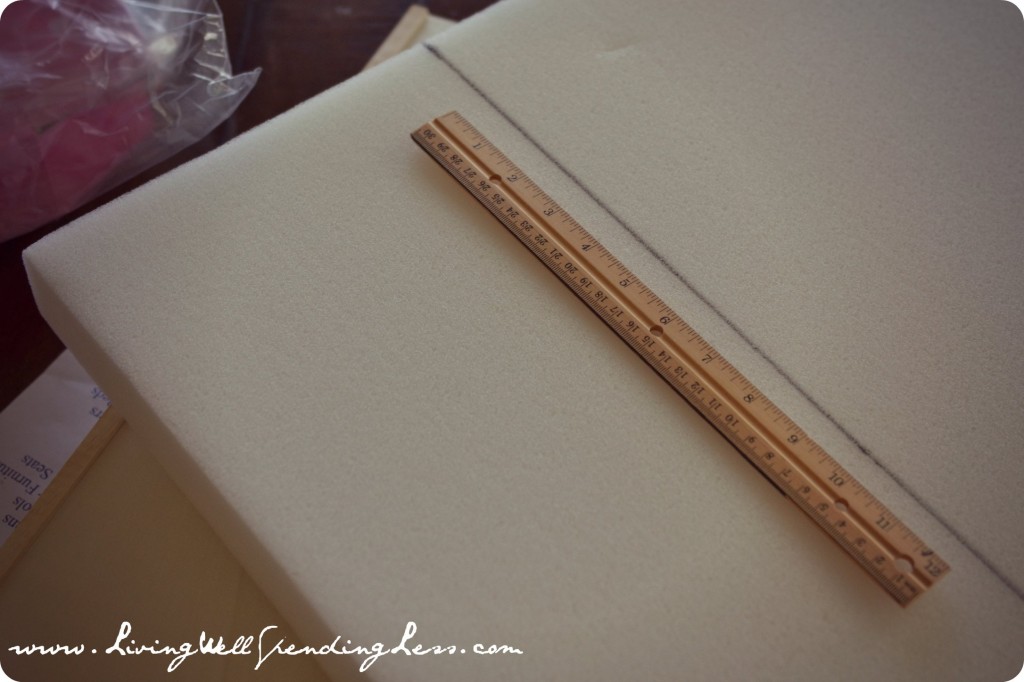 Start by measuring the foam for the mattress, since you will need the mattress to figure out the correct size for the quilt. I simply measured the bed, then marked the lines onto the foam with a Sharpie.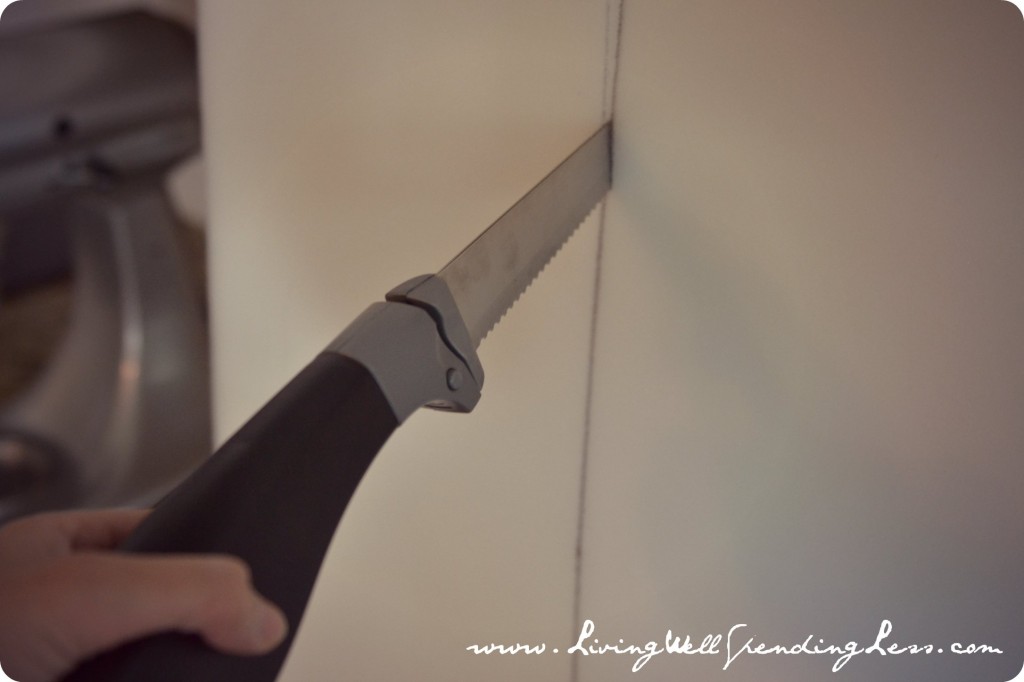 The easiest way to cut the foam is with an electric knife. I'm not sure what would work best if you don't have one. (If you have an idea, feel free to leave a comment below!)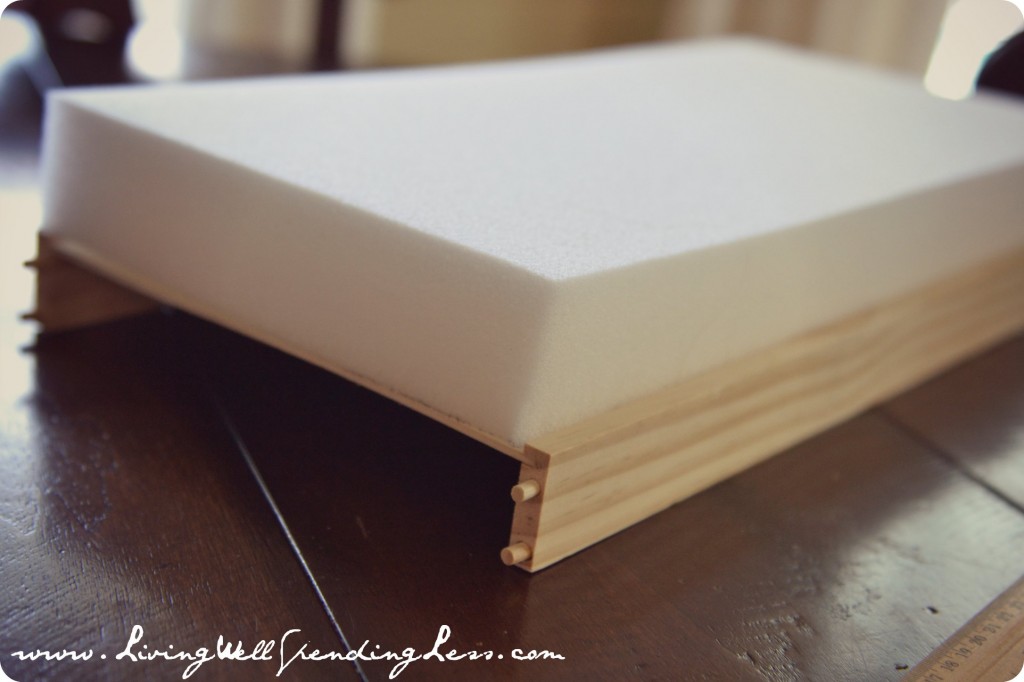 Check to make sure your mattress fits the doll bed base, then trim if necessary until it fits perfectly.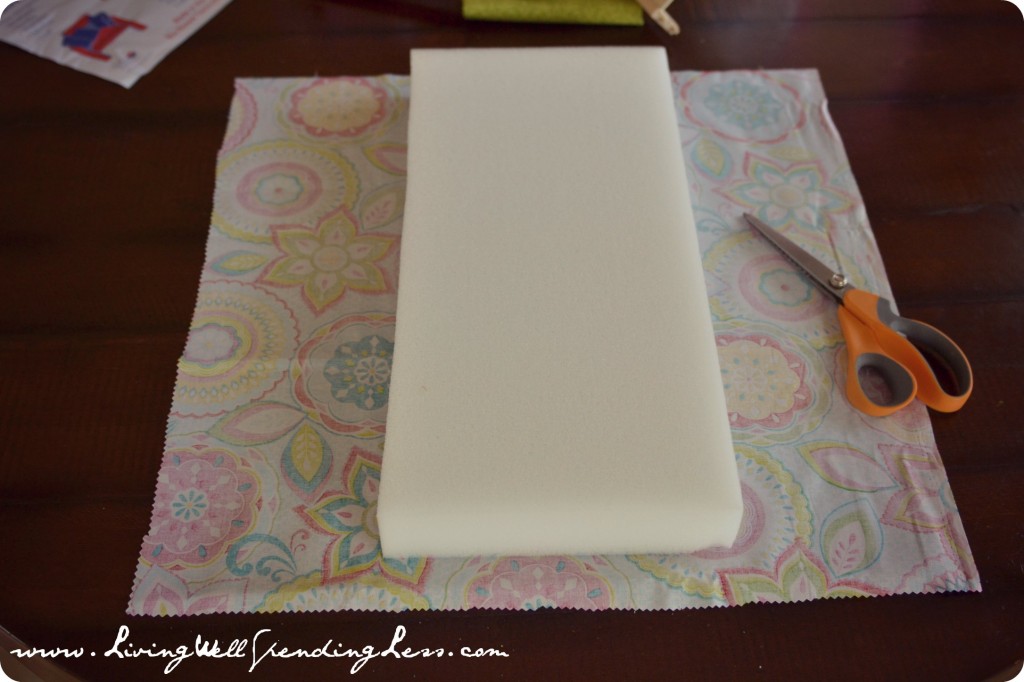 Next, using your mattress as a size guide, cut out a square of your main quilt fabric. Cut it slightly larger than you think you will need the quilt to be.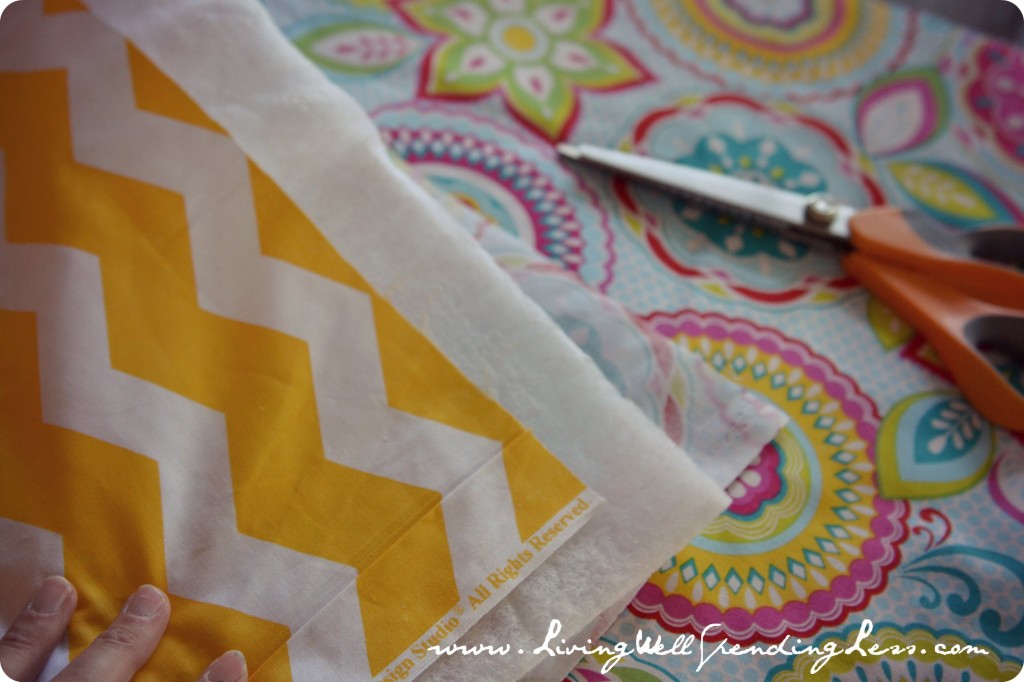 Using your first square as a guide, cut out a square of quilt batting and a square of your contrasting quilt fabric.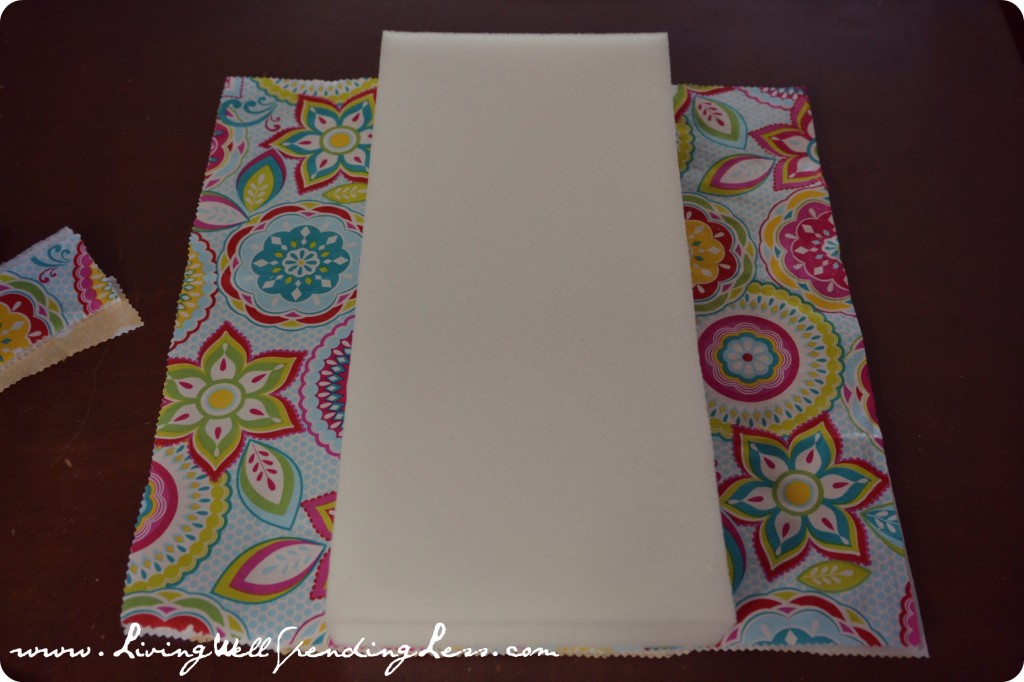 Place the 3 layers so that the 2 fabrics are facing out and the batting is in the center. Lay them flat on the table, then trim square so that the top and bottom are flush with the mattress and there is about 4-5″ on either side. This will be the size of your quilt.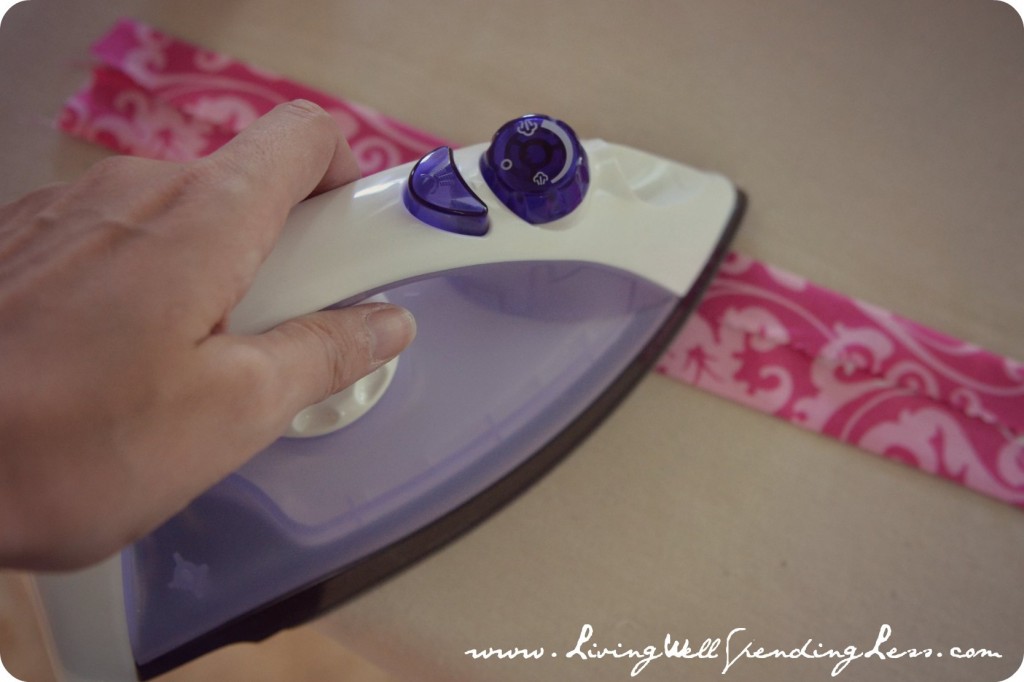 Next, cut 2 strips of your first contrasting accent fabric that are about 4″ wide and as long as the top and bottom edge of your square. Use an iron to fold the two edges in (as shown), then in half once more.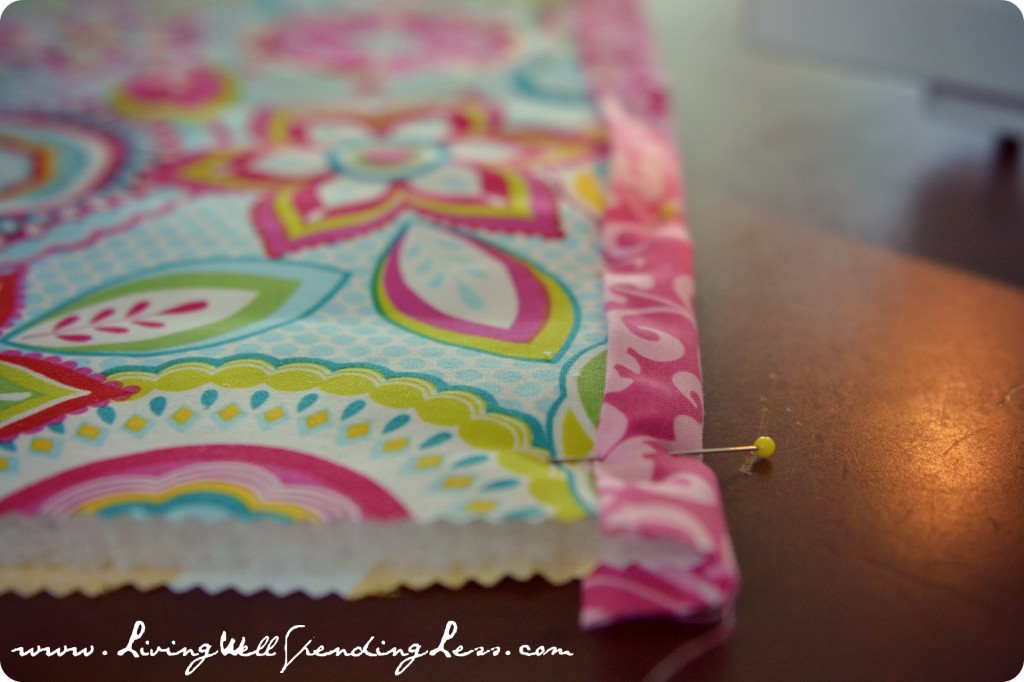 Pin these pieces in place over top and bottom edges of quilt, then stitch into place.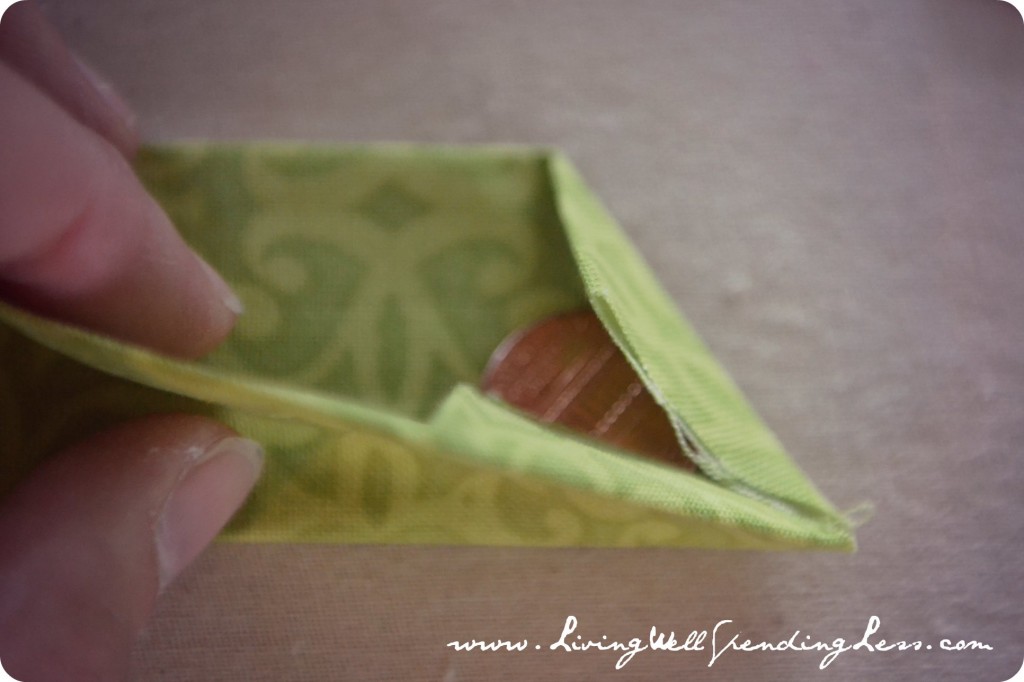 Repeat this step for the 2 side pieces, using your 2nd contrasting fabric, but this time fold in the ends to make an angled corner. I was worried that my quilt would be too stiff to hang down on the bed so I also inserted a penny into each corner.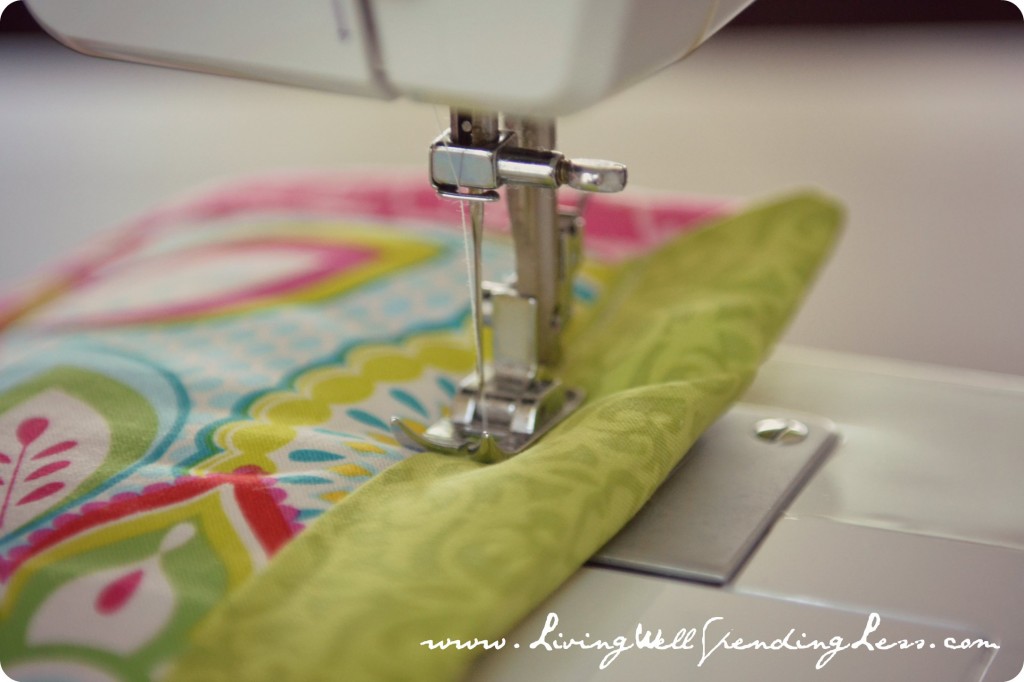 Stitch into place, then stitch corners down, being careful not to sew over pennies!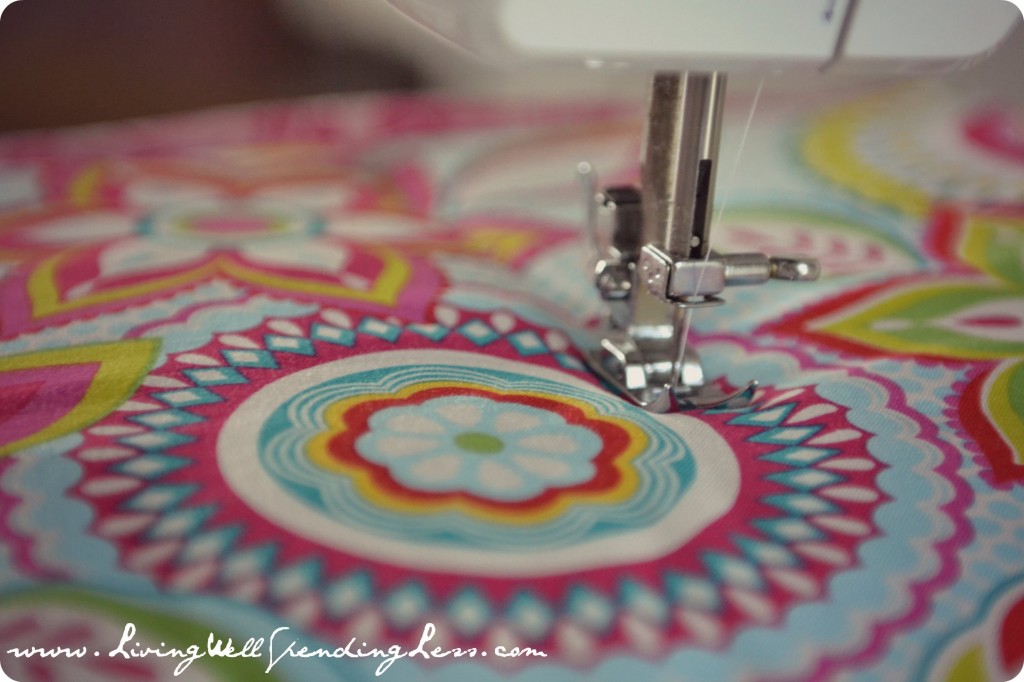 To help keep the batting in place and to help the quilt lay better on the mattress, mark with pins where the "fold" lines should be, then stitch along that line on both sides.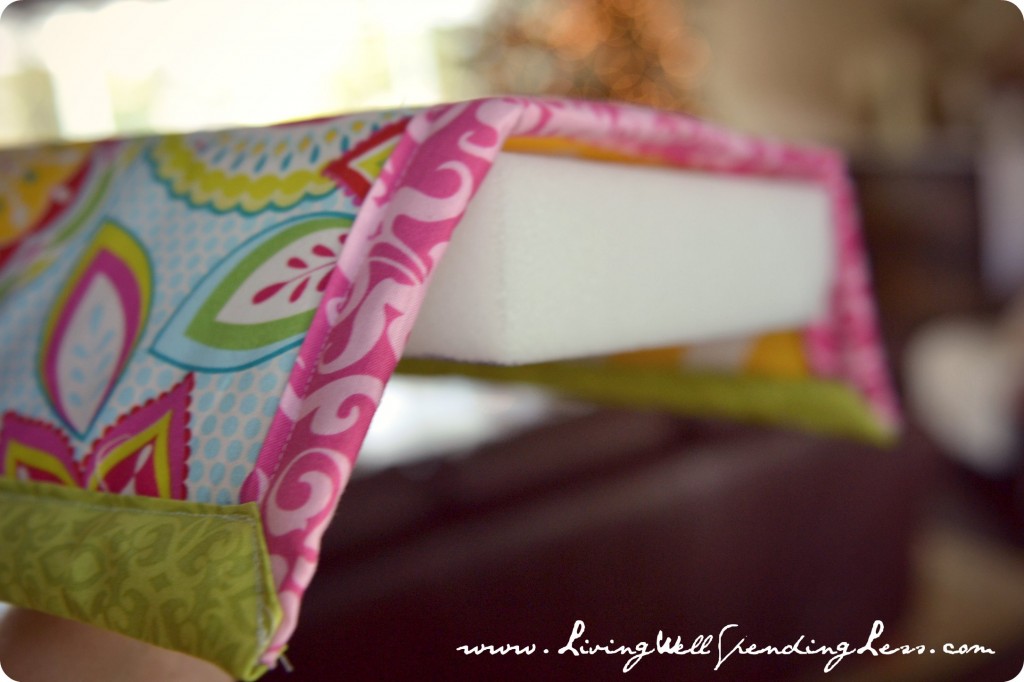 When it is finished, it should lay like this on the mattress.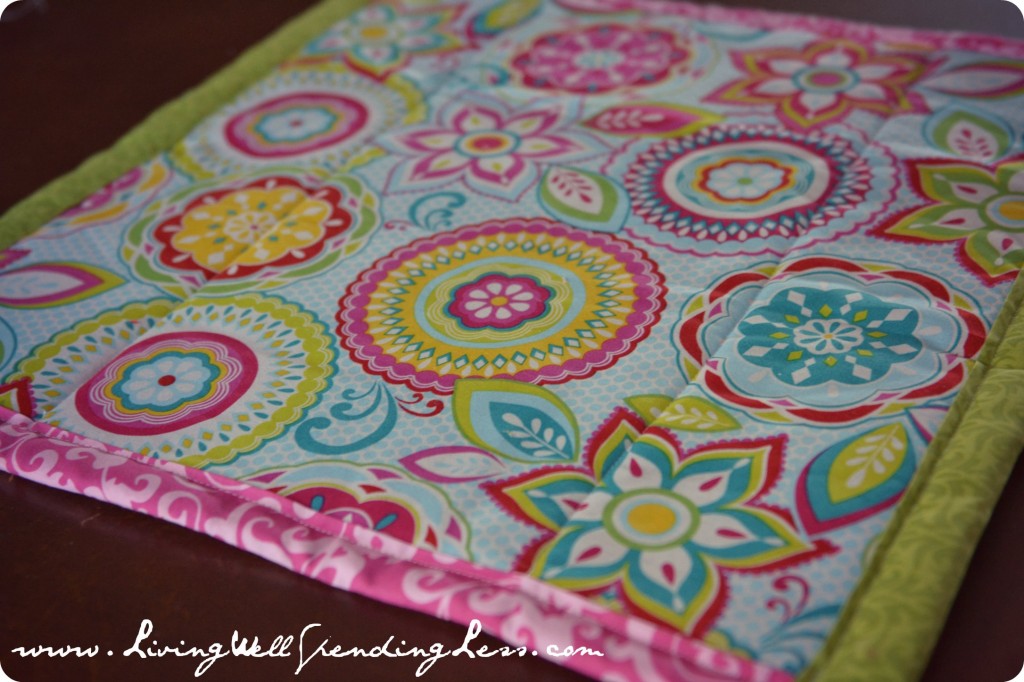 To cover the mattress, cut a piece of fabric that will fit all the way around the foam and hangs over about 3″ on either end. Fold in half with right sides together, then stitch ends together to form a long fabric tube. Squish foam into tube so that seam runs along one of the bottom corners. Use hot glue gun to finish off ends like you are wrapping a present–be sure to use plenty of hot glue!
For the pillow, just cut two small rectangles of fabric, place right sides together, and stitch all the way around edge, leaving one small 2″ opening. Turn right side out, stuff with pillow fluff, and stitch hole closed.
Voila! You now have a gorgeous doll quilt, mattress, and pillow just waiting for an extra special hand-painted bed to go with it.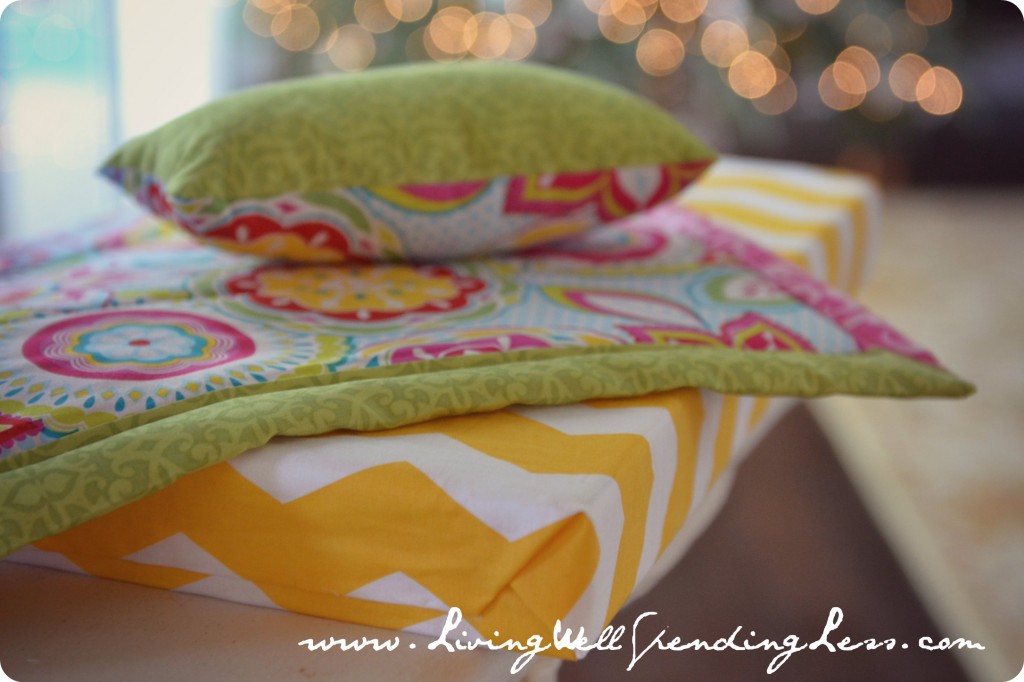 *   *   *
Do your kids still believe in Santa Claus? What are your family's Christmas gift traditions? If you have girls, have they joined the American Girl doll craze? How do you feel about it?