Want to learn how to make your very own custom etched glass? This easy DIY etched glass tutorial walks you through it in simple steps!
Hi everyone, I'm KC and today I've got a cute project to show you. It is a wine bottle craft that is easy and can add a bit of pizzazz to your kitchen sink or other area. You won't believe how quick and inexpensive it was to create! Let me show you how to make your own.
DIY Etched Wine Bottle Dish Soap Dispenser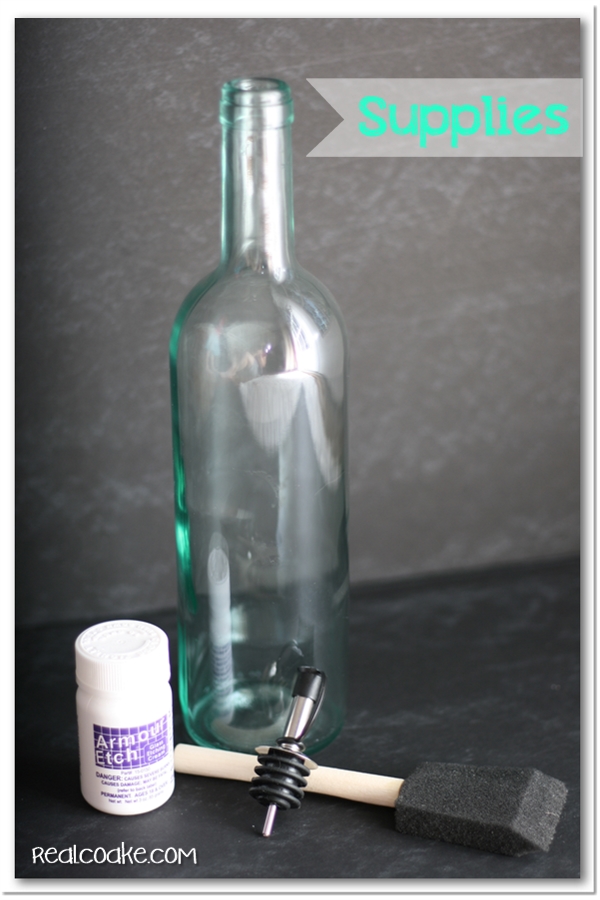 Here is what you need:
Empty wine bottle
Glass etching cream
Paint brush Bottle Pourer Stencil
Start with an empty wine bottle. I know I am really making you work hard for this craft, but someone has got to do it. So, why not you, right?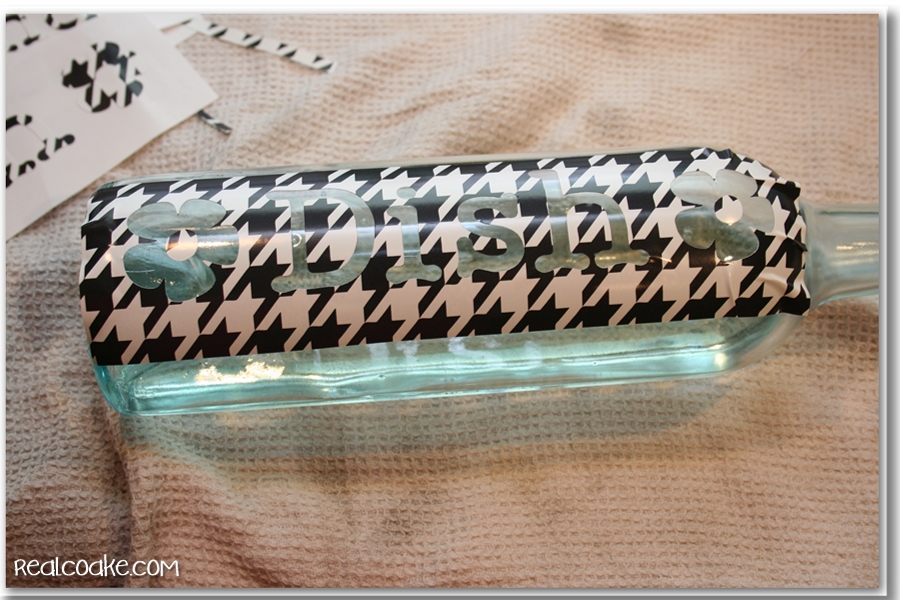 I made my stencil on my Cricut machine, so mine is exactly what I wanted. I have a tutorial on making your own stencil with a Cricut and vinyl or contact paper on my site, if you are interested in learning how to Make Your Own Stencils.
Use your stencil in the location you want to etch the glass. Make sure you leave the area you want etched unprotected. Anything that is not covered will be etched. You also need to make sure you really rub down the edges of the stencil so the cream doesn't leak underneath. If you are using a stencil from a craft store and it doesn't have much area around the edge, just use tape (blue painters tape works well) around the edges to make sure you don't get the etching cream in areas that don't need it. It is not hard at all, but it is best to take a little bit of time to get things set up correctly. That way you will have an end result you love.
Once you have your stencil on, pressed down, and taped off (if necessary), apply the etching cream.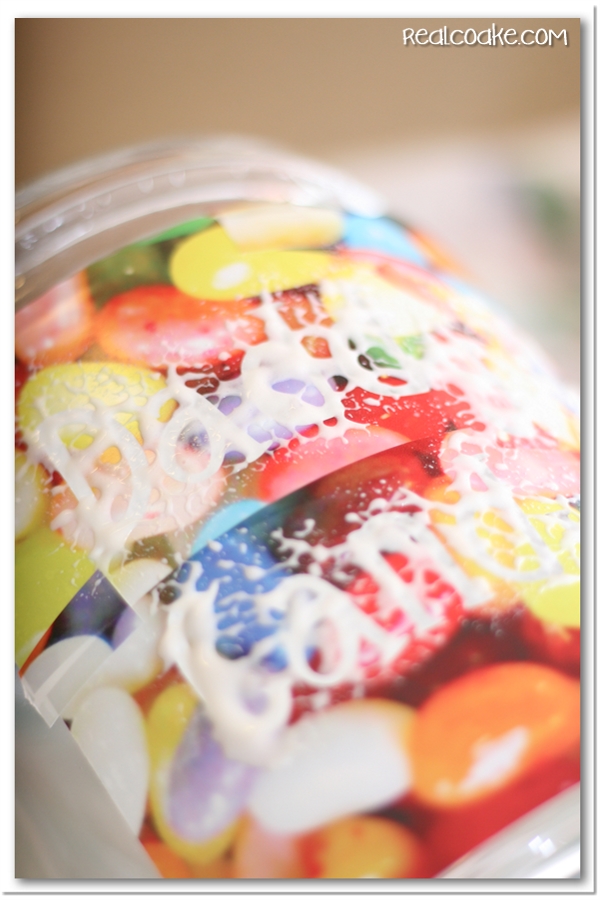 I like putting my etching cream on by kind of glopping it on to start. Wait about 5 minutes and smooth the etching cream out making sure it is covering all areas of your stencil.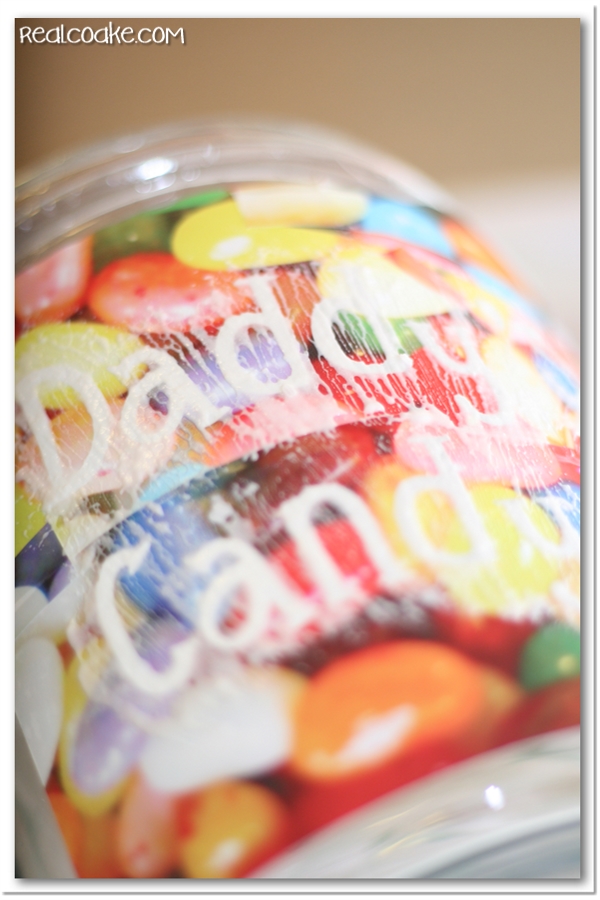 See how I smoothed it out here? I made sure it was filling all areas of the stencil. Leave the cream on for about 30 minutes. If you are like me and get involved in 15 other things and it is 2 hours later, it won't hurt anything. It just may take a little longer to wash the etching cream off. I usually rinse mine off gently with cool water by running it under my faucet.
Remove your stencil after you have washed the etching cream off your bottle. You can gently wash your bottle with soapy water now to get off any additional reside.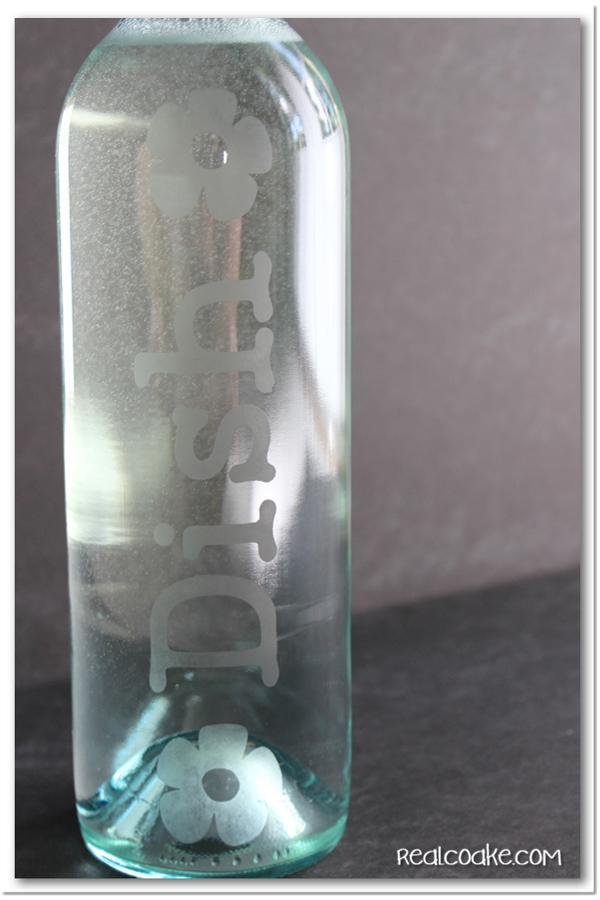 See how great that stencil and etching cream came out? Looks great and so clear and easy to see.
Now that you know how to etch glass, your possibilities are endless. The bottle of etching cream is expensive, in my opinion, at $10 for the small jar you saw that I was using. However, the number of projects you can get out of that one jar makes the cost worth it. I have made glass etched pans, beer glasses, this dish soap dispenser, candy jars, wine bottle centerpieces, and more all from this one bottle of cream. Making my own stencils makes the possibilities endless. If you are etching another type of surface, such as a glass baking pan, as long as the item you are etching is dishwasher safe, your etching is as well. It can go in the dishwasher and will remain intact.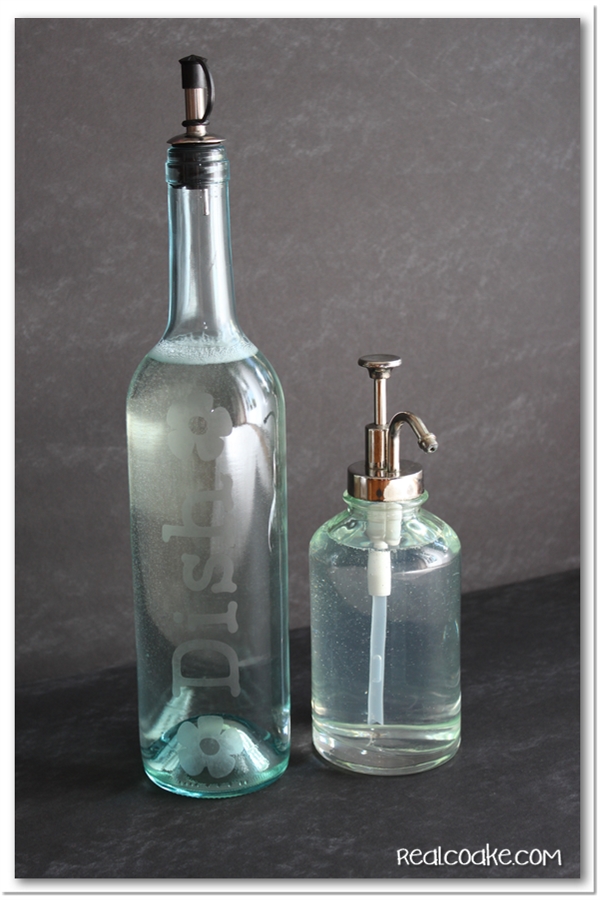 I will tell you that the etching cream does state that not all glass will react with the cream. Do you see the hand soap dispenser above? I used the etching cream on it with the flowers and the word hand at the same time I did the dish soap dispenser. Can you see that etched into the glass? Nope, me either. I can barely see it if I get it in the right light and the stars are aligned properly. 😉 This hand soap dispenser is the only thing I have tried that didn't work. I don't think it happens often, but I just wanted to make sure you know that not all glass will etch and I don't know how to tell what will work and what won't.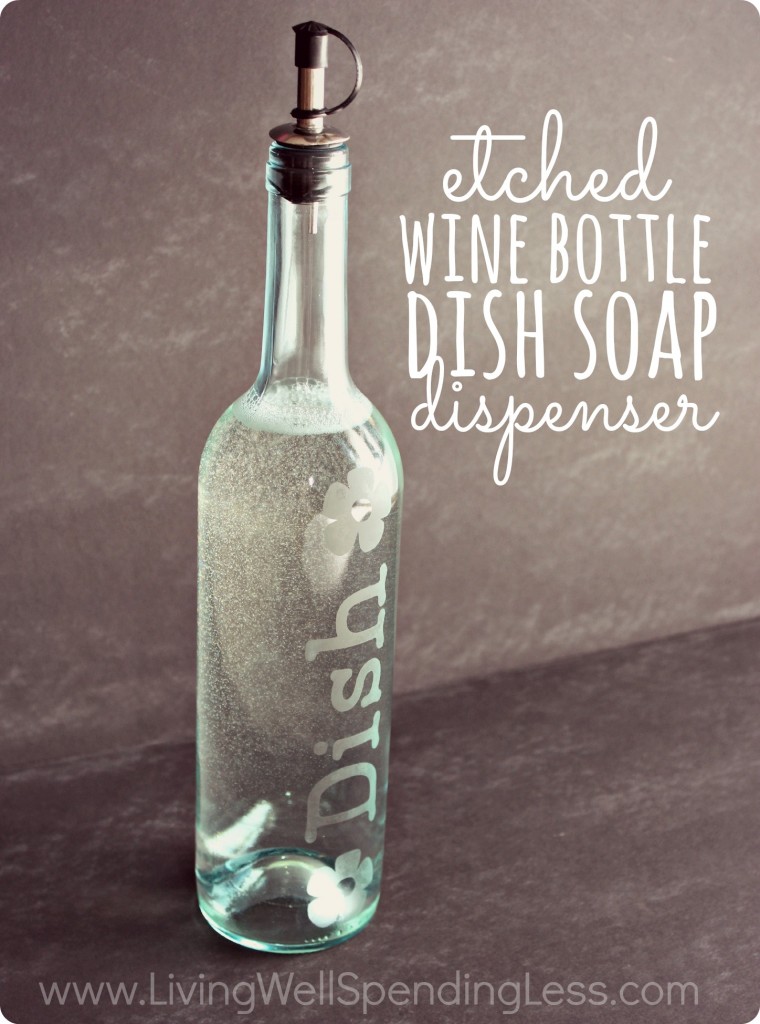 Your cute wine bottle soap dispenser is complete. Just fill it with dish soap, add your bottle pourer and you are in business. Enjoy your cute dish soap each time you are at the sink!
Want more DIY Projects? You'll love these!
Have you ever used glass etching cream? How did it turn out? Let us know in the comments below!
Pin for later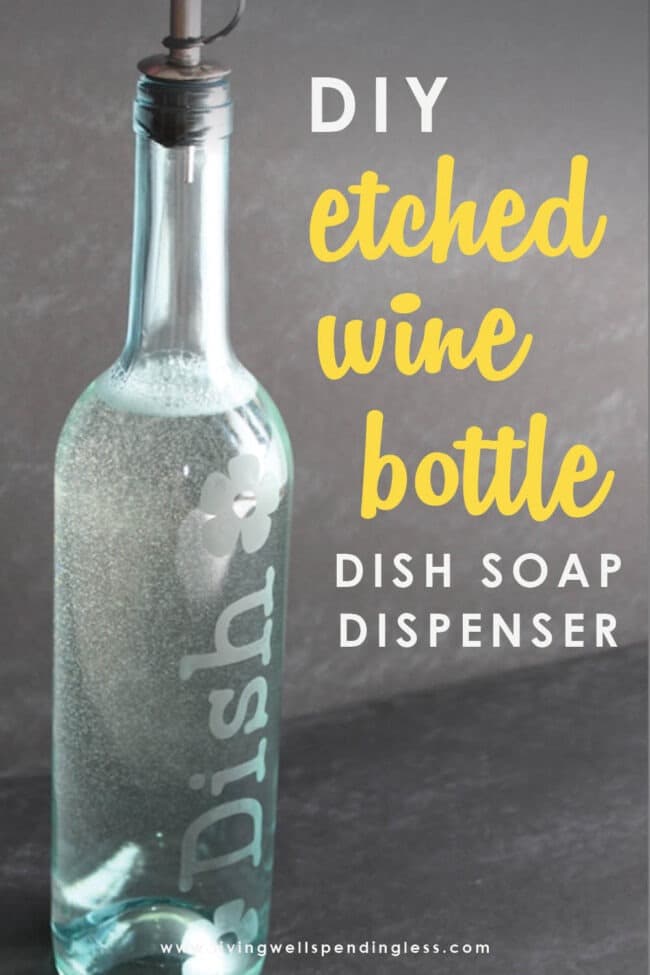 TAKE BACK CONTROL OF YOUR HOME LIFE
---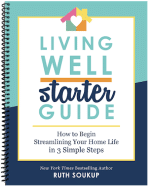 Ever feel like you just can't keep up? Our Living Well Starter Guide will show you how to start streamlining your life in just 3 simple steps. It's a game changer--get it free for a limited time!
If you love this resource, be sure to check out our digital library of helpful tools and resources for cleaning faster, taking control of your budget, organizing your schedule, and getting food on the table easier than ever before.