Looking for a fun project to keep the kids busy? This DIY newspaper kite is a classic childhood activity that your kids will love.
Hi there! I'm Kelly and I blog at View Along the Way, sharing tips and tutorials to beautify your home on a teensy little budget. My husband Andy and I have two deliciously crazy and sweet kiddos, so like you, we're always trying to find fun activities that keep them busy without breaking the bank.
I love this little activity, because it's the perfect combo of craft and physical exercise. It's educational and artsy, but then you get to run and play with it! You can buy kites at the dollar store, so while this is pretty much a free craft, it's not something you're doing to save money necessarily: it teaches the kiddos a little bit about physics and lets them make something that's fun and actually works.
My kiddos did this craft with my mom, who used to make these kites when she was growing up as one of ten kids with no extra money for toys and crafts! (So that's who you'll see throughout these photos helping the kids make theirs.)
DIY Newspaper Kite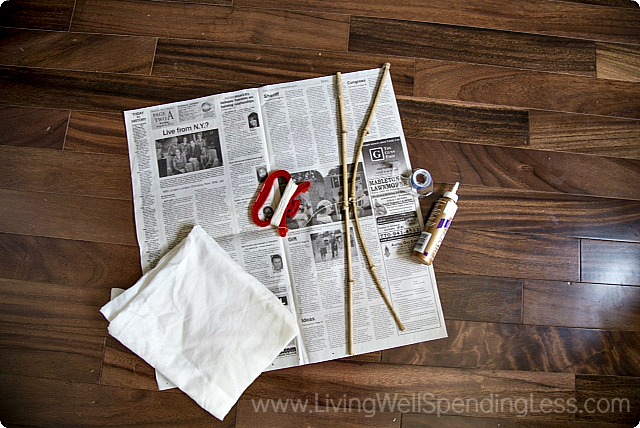 Here is what you need:
One sheet of newspaper (Make sure you get a large, full-size sheet. )
Kite string
Thin strips of an old sheet or scrap fabric Two thin sticks of
bamboo
. Clear packing tape or scotch tape Elmer's glue or craft glue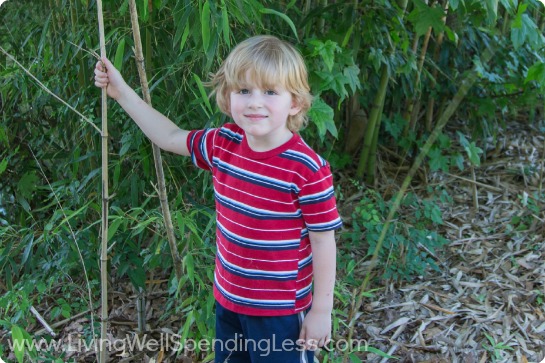 Step 1: Choose and prep your bamboo sticks. You'll want one stick that's pretty stiff that runs the width of your newspaper sheet, and one stick that's a little more bendy that's as the same length as your newspaper sheet. Part of the fun of this activity was taking my littles to the little bamboo forest to harvest our own!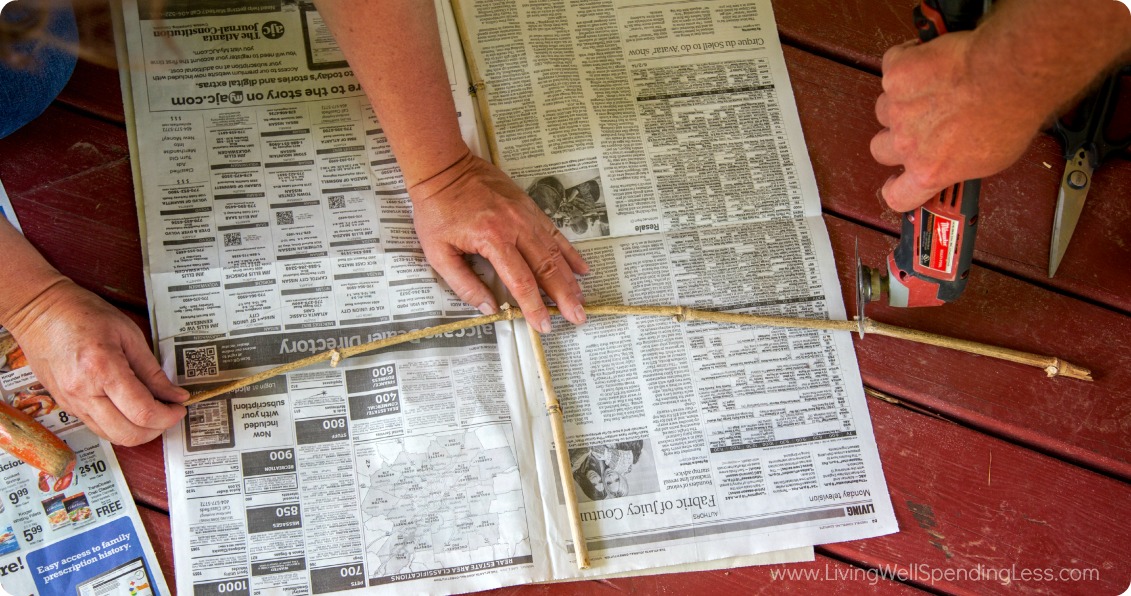 Step 2: Cut your stiffest piece to the length of the newspaper. And your bendiest (real word!) stick to the width of the newspaper. My kiddos did the craft with their grandparents this time, and my dad owns ALL THE POWER TOOLS, so he pulled out an actual power tool to do the cutting here, but plain garden shears will probably work just as well if you're not the kind of person who looks for every opportunity to wield a powerful saw.
Then use some of your kite string to wrap the two sticks together at the center, making a "t" shape.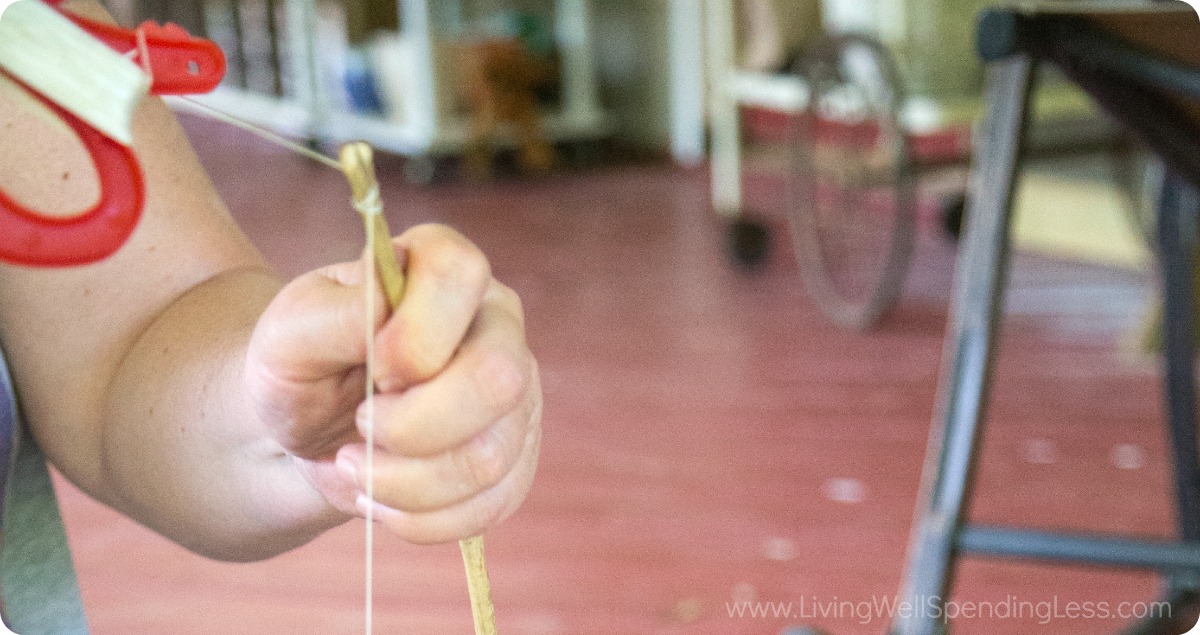 Step 3: Use a knife to cut a small slit in both ends of both sticks of bamboo. (The kite string will slide right in that little slot.) (This, I promise, is the hardest part, and it sounds so much more complicated than it is!) Insert the end of the kite string in that little slot on one side of the shorter, bendy stick, wrap it around the end of the stick a bunch of times, and knot it so it's attached to the end of the stick pretty sturdily. Then pull the string tight across the stick, making the stick bend a little bit, and slide the string through the slot on the other end of the stick. Tie it off and cut the string.
Woohoo! Almost done!
Now you just need one more piece of string that goes around the outside of the kite, from one end of the bamboo stick to the other, so it looks like this: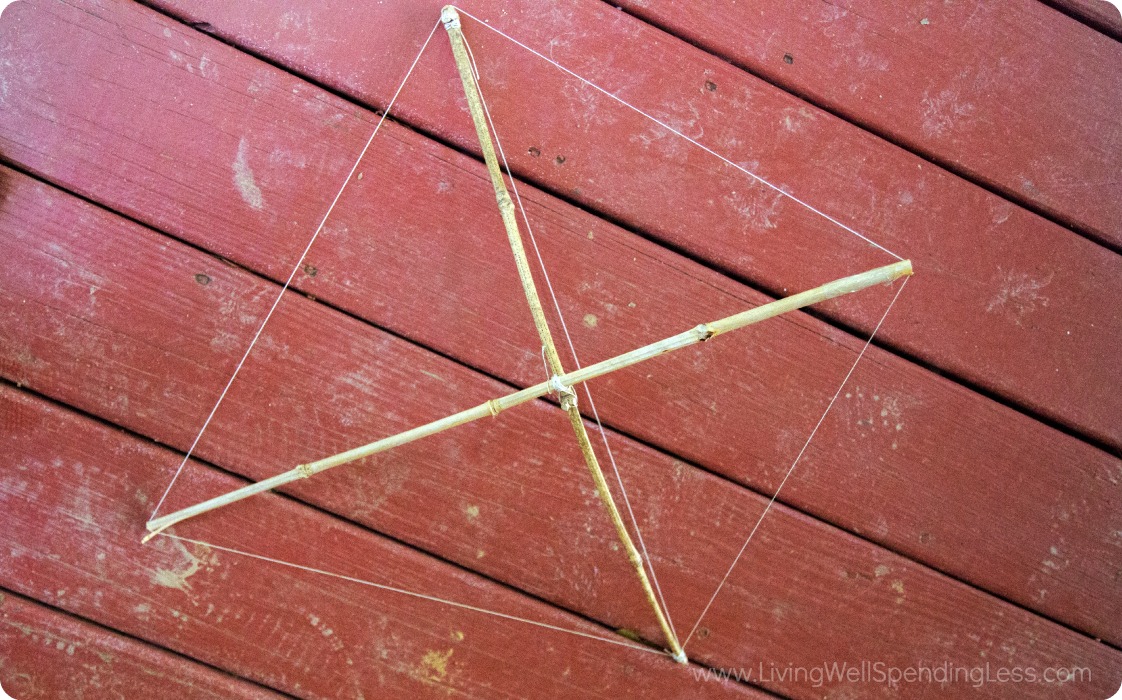 So starting on one end of one piece of bamboo, insert the string in the slot, wrap it around so it's sturdy, then wrap the string around to the next end, and all the way around the other ends of bamboo, then tie it off again.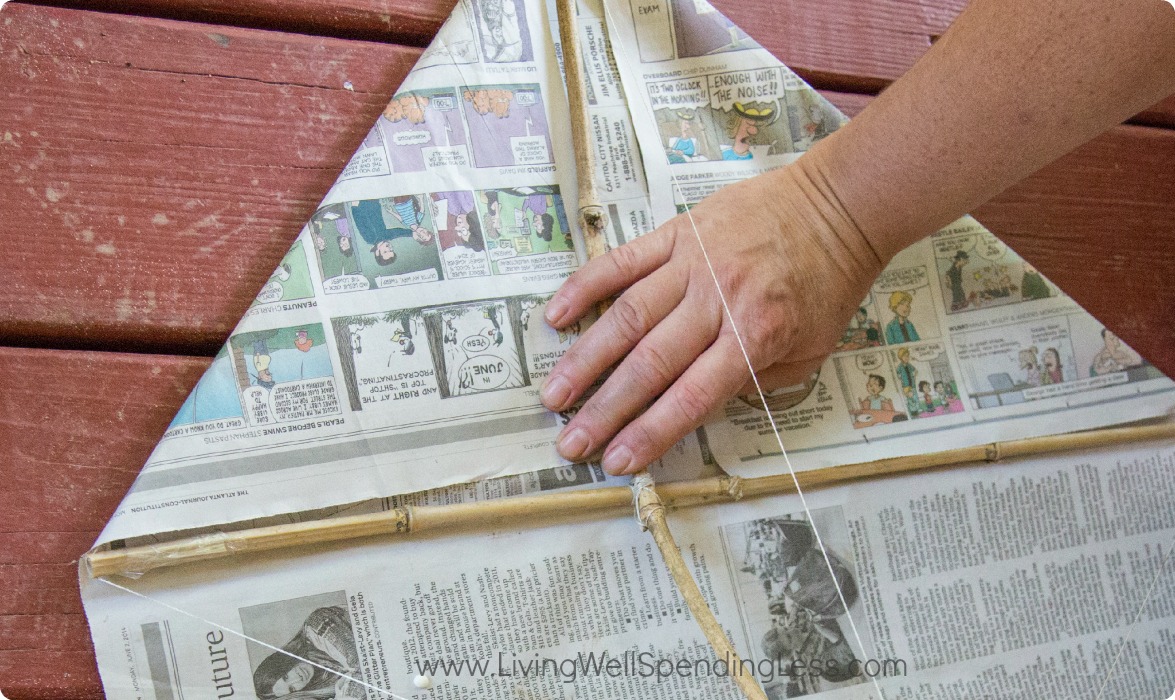 Step 4: Put your little kite skeleton on top of the newspaper, wrap the corners of the newspaper over the string and glue it to itself. It looks like a kite now, hooray! Look at you! You are rocking this parenting gig! *Totally optional, but you can whip out the finger paints right now and let your kids decorate the newspaper before you attach it now. Just one more way to keep 'em entertained!

Step 5: Tear an old sheet into long thin strips and tie the strip to the bamboo at the bottom of the kite for a tail. Warning: toddlers come out of the woodwork when they see you tearing fabric! My littlest loved "helping" with this part!
Now add the string so this baby can fly! Turn the kite over so you can't see the bamboo anymore. You'll need to make two holes in the newspaper to thread the kite string onto the bamboo stick behind it, but just to be safe, put two small pieces of clear tape on the newspaper to reinforce it so it doesn't tear. You're going to make one hole in the center of the kite about one-third of the way down, and another about two-thirds of the way down. Use a pair of scissors to poke a hole in the newspaper where you added the tape.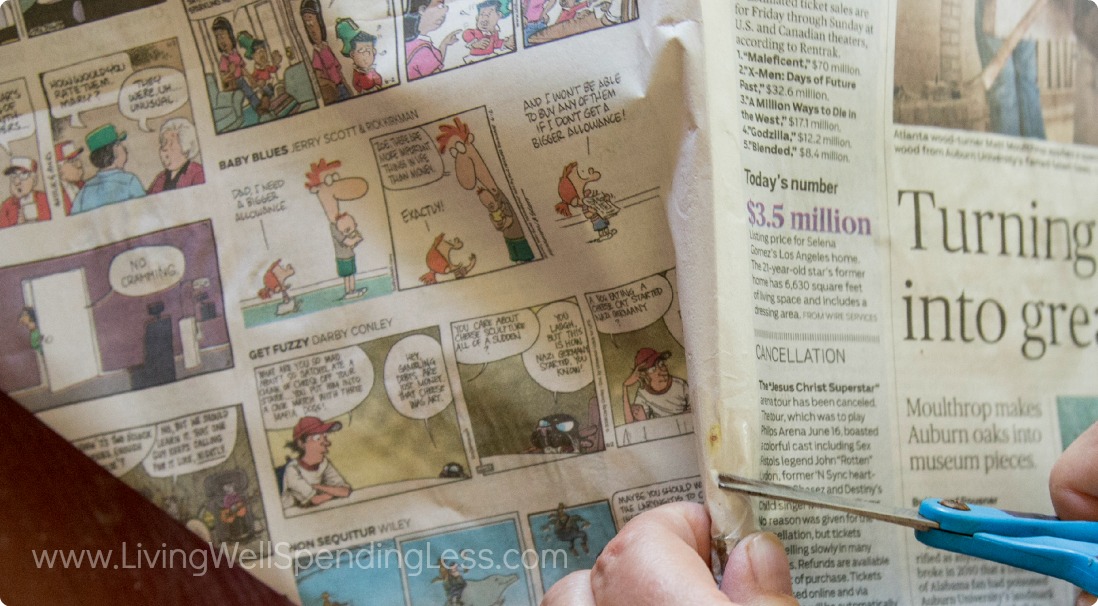 Now poke the string through that hole on the front, loop it around the bamboo stick behind it and knot it, then cut the end of the string so it's about 2 feet long, poke the other end of the string through the other hole you made, loop it around the bamboo stick there and tie it in a knot. Now tie the end of your whole spool of kite string to the center of that 2-foot loop. It should look like this. See the string coming out of the front like that?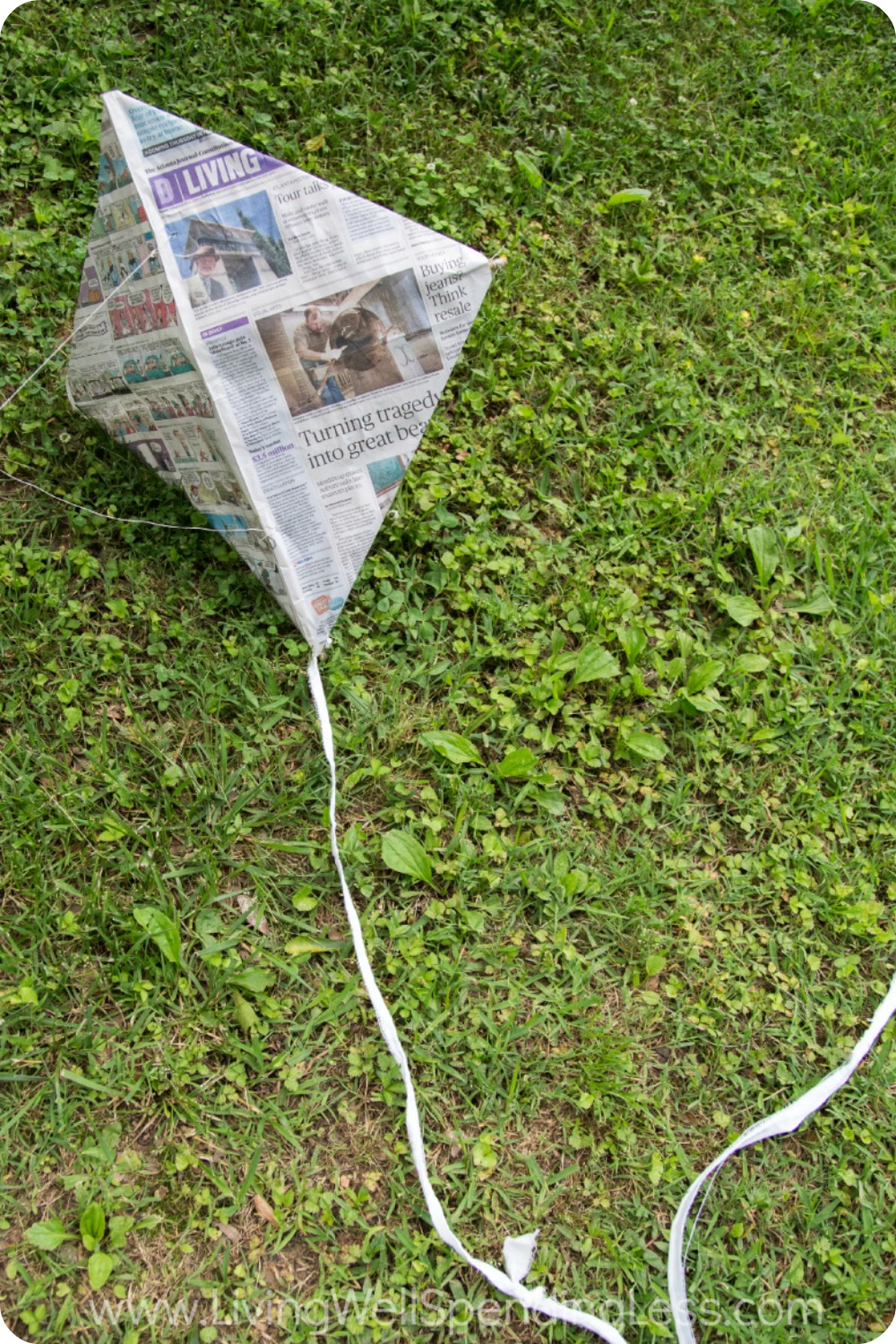 And you're done!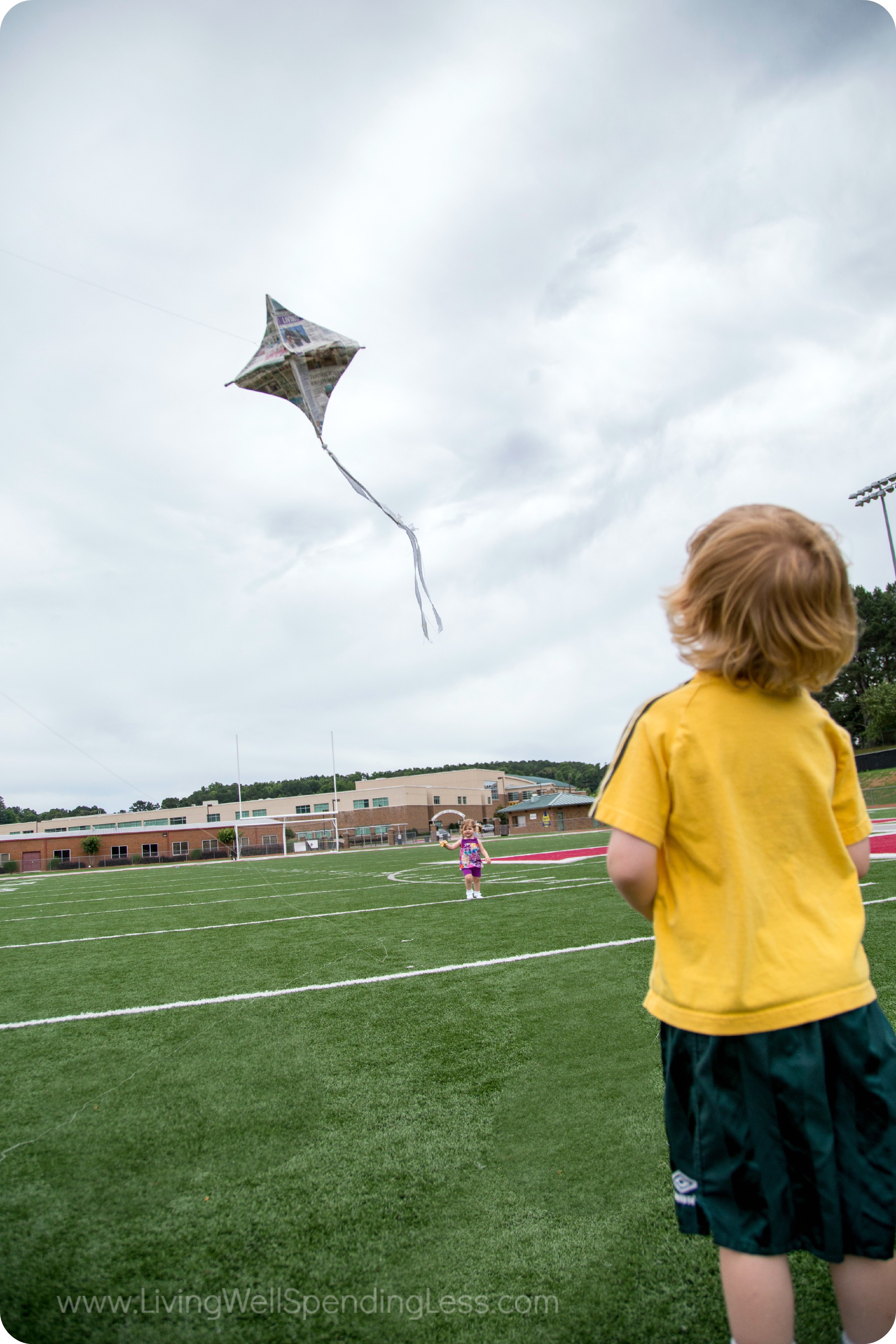 Step 6: Pick a windy day, pack a picnic and make an afternoon of it! We headed to our local high school football field and had lots of fun running around flying the kite, playing, and getting ALL THAT ENERGY OUT before nap-time. (Can I get an amen, mamas?!)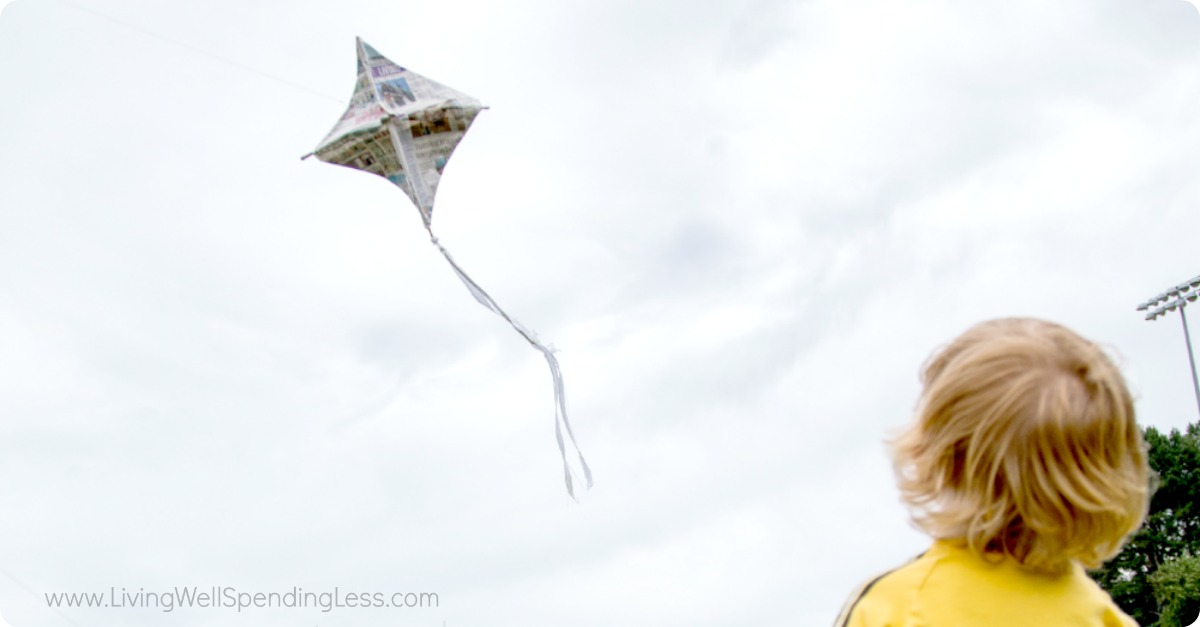 A few tips for best success:
Use the largest sheet of newspaper you can find so your whole kite is as large as possible. Ours was a little on the small side, so it flew but it didn't SOAR like it could've otherwise.
Our kite was a little bit square, and you'd probably do better to make yours more of a diamond.
On kite-flying day, make sure you bring extra fabric for the tail. If your kite isn't staying upright when you try to fly it, you can just add on another tail or a longer tail. The weight of the tail keeps the kite right-side-up.
Bring a few extra materials in case your toddler tears the newspaper when you're just getting started. (Ask me how I know!).
This is definitely a one-time use kite, but in my experience, so are the ones you buy at the dollar store, and half the fun is making something anyway! When we flew ours, it was lightly sprinkling, so the kite even got a little damp and still flew like a champ.
But best of all: the kids thought it was super fun! You can use this project to teach older kids about physics and weather — or just use it to keep 'em entertained and running around for an afternoon!
Have you ever made a kite? What's your favorite summertime outdoor activity?
Want more DIY Projects? Check these out!
PIN FOR LATER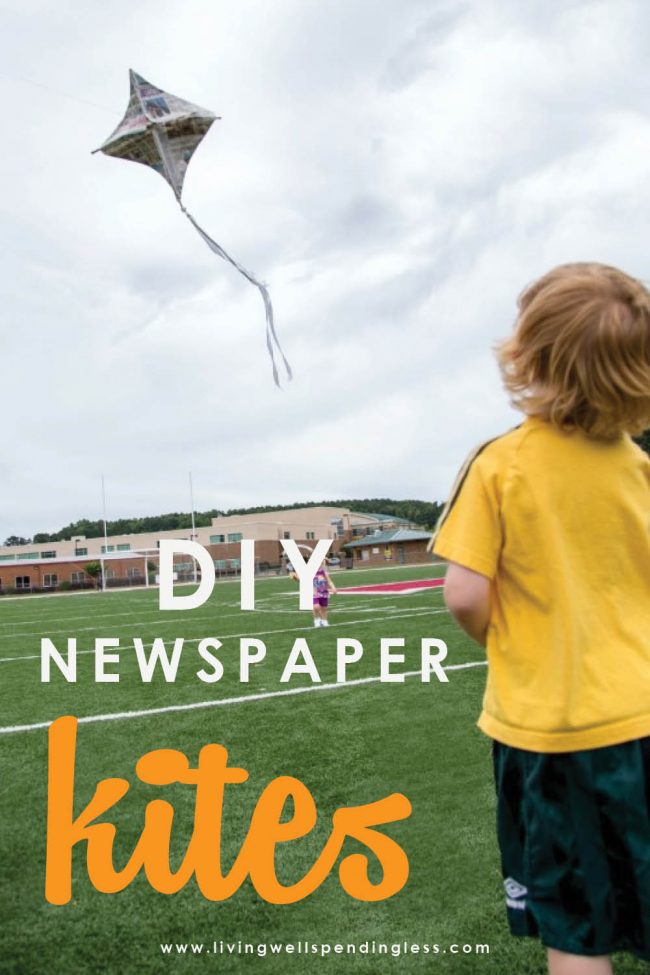 TAKE BACK CONTROL OF YOUR HOME LIFE
---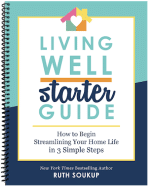 Ever feel like you just can't keep up? Our Living Well Starter Guide will show you how to start streamlining your life in just 3 simple steps. It's a game changer--get it free for a limited time!
If you love this resource, be sure to check out our digital library of helpful tools and resources for cleaning faster, taking control of your budget, organizing your schedule, and getting food on the table easier than ever before.