Are you looking for a fun and pretty decor project for your home? These beautiful Dollar Store DIY ombre vases are easy to make and budget friendly!
Happy April! Is it just me or does this spring seem to be flying by before our eyes? Maybe it is just this getting older thing that makes time seem to speed up. In any case, I hope you all had a wonderful Easter!
I am excited to share my little Easter Brunch birthday party, but since I've still got a few photos left to edit, today I thought I'd share this quick & easy ombre vase project that I used as my table centerpiece. Any project that costs less than $7 in supplies (for all 3 vases), takes less than 30 minutes to complete gets high marks in my book. Frankly, I am in LOVE with how these turned out!
Most of the supplies you probably already have on hand, but for the paint I highly recommend the Martha Stewart brand high-gloss acrylic paint. Unlike regular acrylic paint, this brand works on all surfaces, including glass. It is found by the other acrylic paints and runs about $2 a bottle.
Dollar Store Ombre Vases
Here is what you need:
dollar store glass vase (or any vase you have on hand) Martha Stewart brand high gloss acrylic paint in white and green (or any other color you prefer) plate or mixing tray paint mixer or popsicle stick 1/2-3/4″ flat, soft bristle paint brush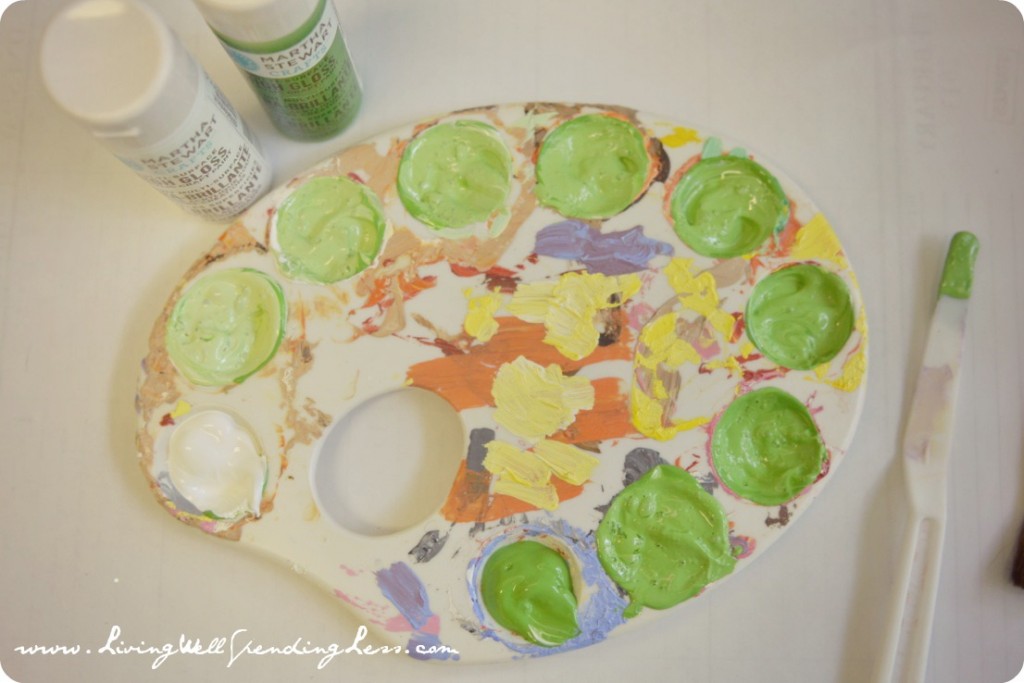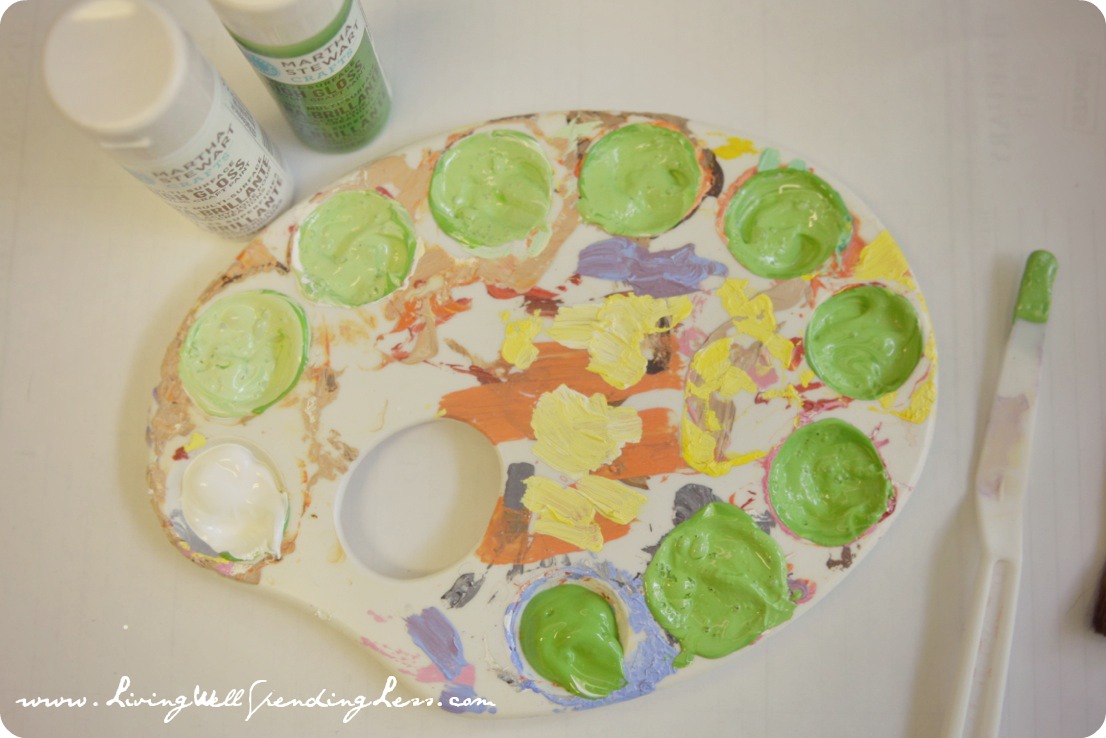 Step One: Blend your paints in variegated shades of green from light to dark as shown.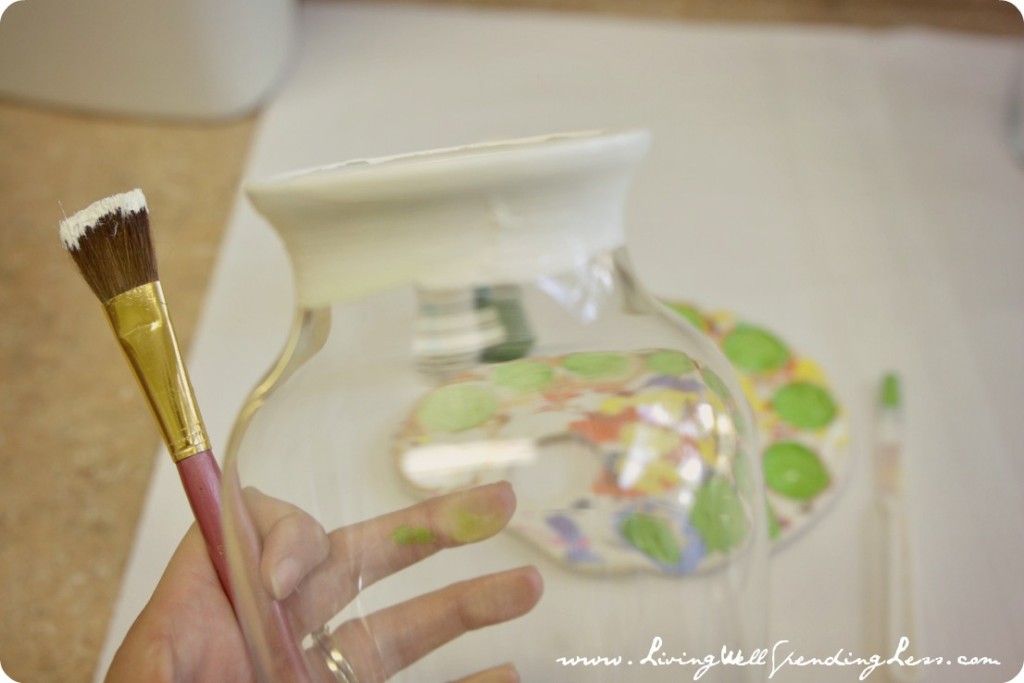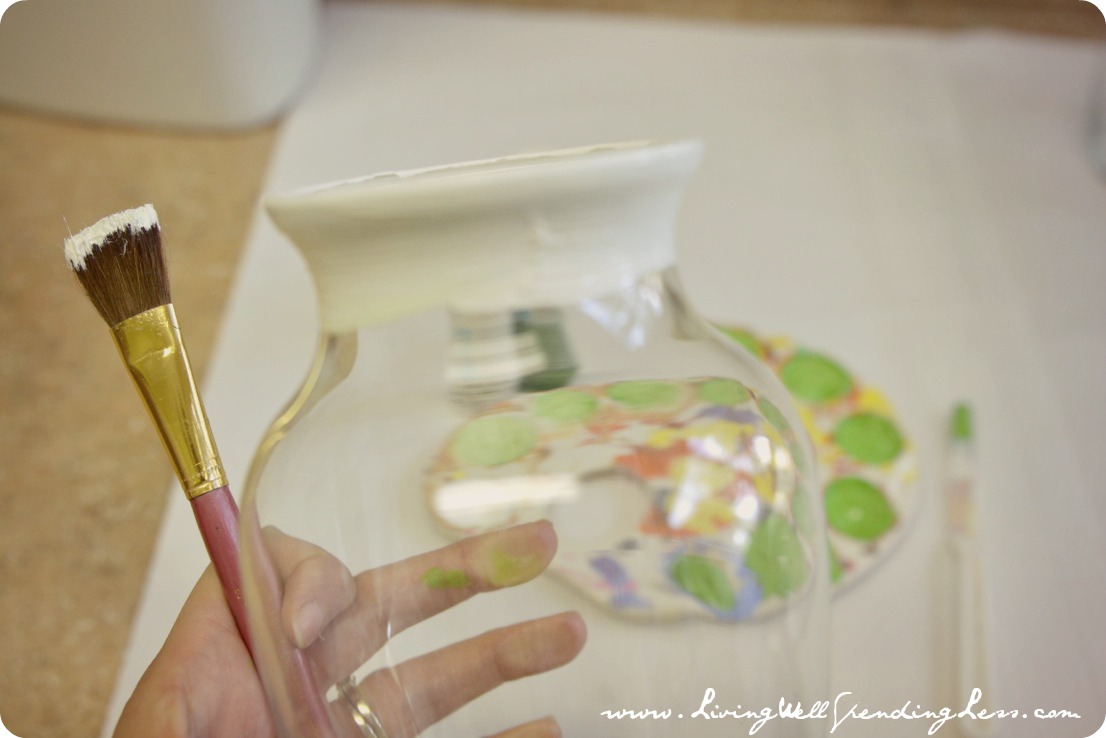 Step Two: Start by painting the top rim and top 1″ of the vase with white paint. Try to keep the line as straight as possible.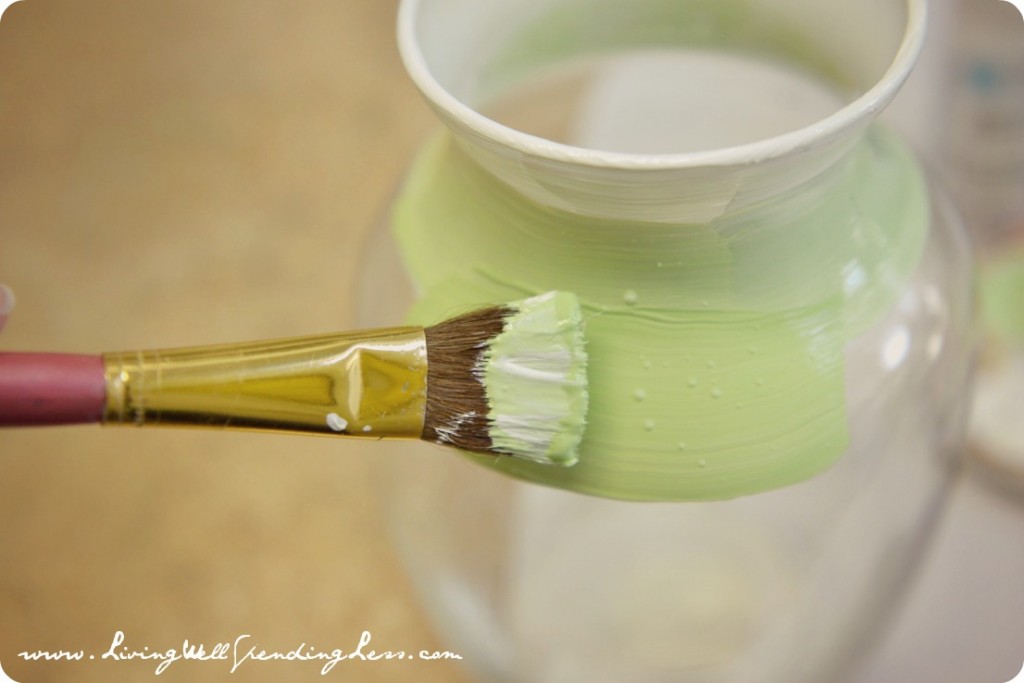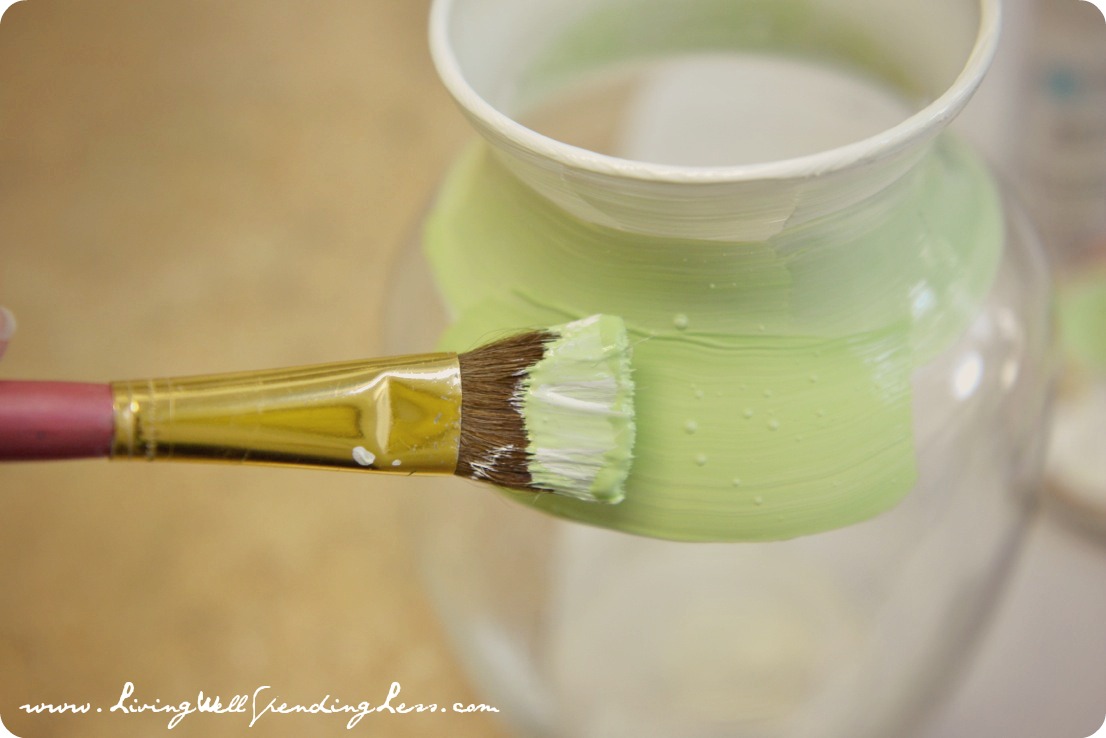 Step Three: While paint is still wet, dip brush into second shade and create a new stripe, slightly overlapping with the first stripe.

Step Four: Continue making darker and darker stripes all the way to the bottom of the vase. If you are doing more than one vase at a time, be sure to do each color stripe at the same time. Let dry completely.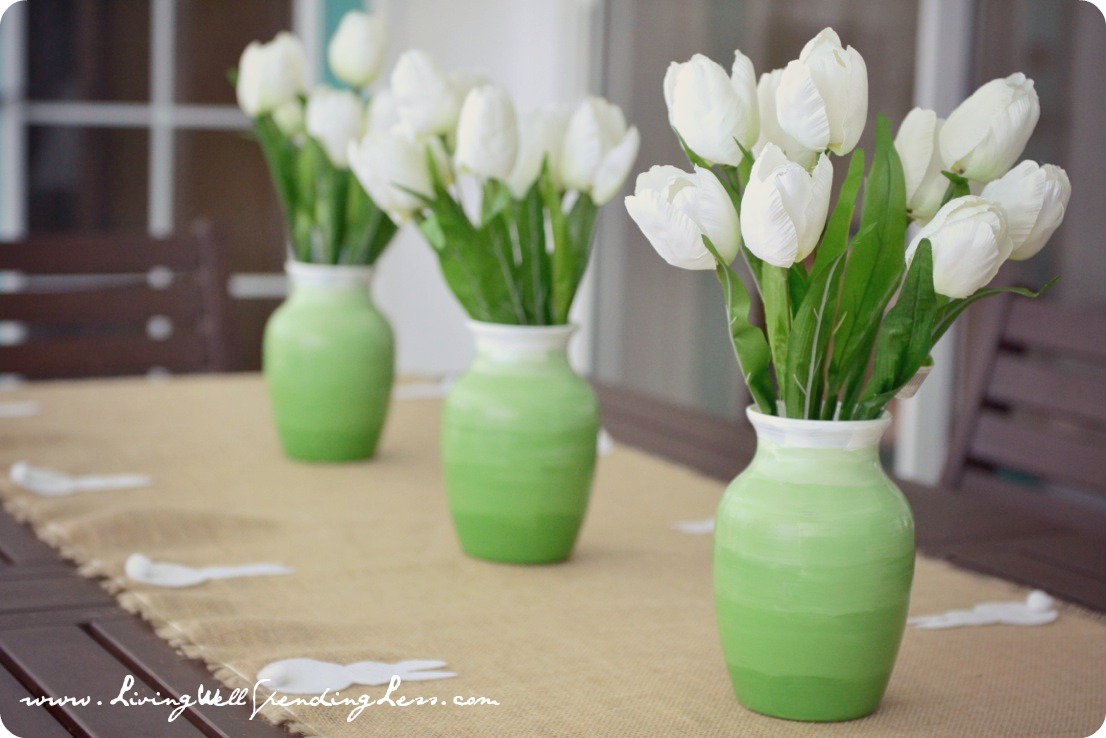 See, I told you they were easy! And fast! And cheap! And CUTE! It's DIY perfection right there. 🙂
Other DIY projects you'll love:
PIN FOR LATER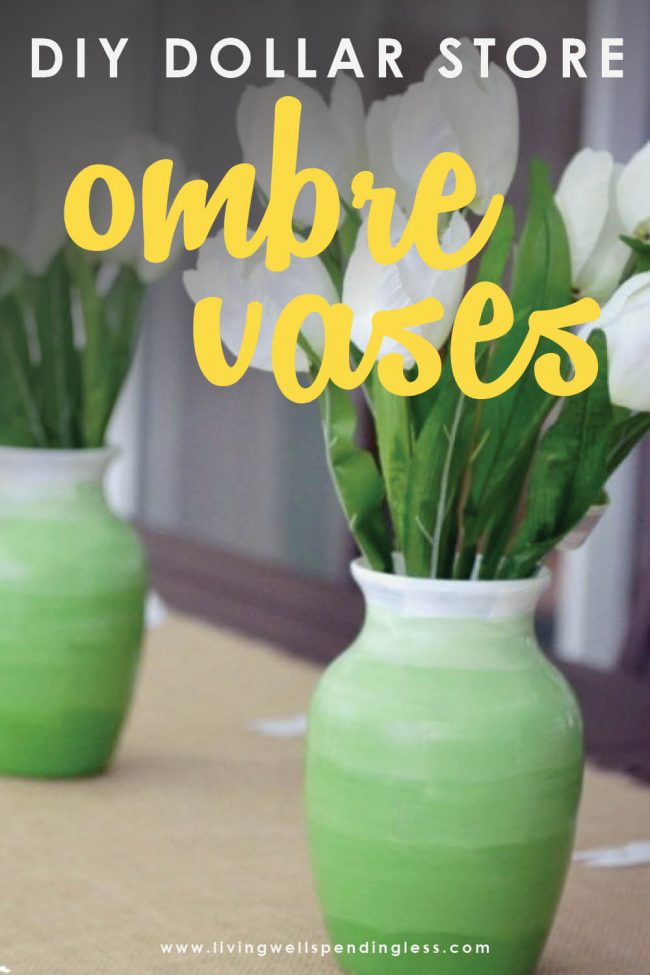 What is your main craft project criteria? Cost? Simplicity? Final result?
TAKE BACK CONTROL OF YOUR HOME LIFE
---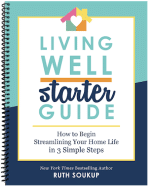 Ever feel like you just can't keep up? Our Living Well Starter Guide will show you how to start streamlining your life in just 3 simple steps. It's a game changer--get it free for a limited time!
If you love this resource, be sure to check out our digital library of helpful tools and resources for cleaning faster, taking control of your budget, organizing your schedule, and getting food on the table easier than ever before.