This Easter, why not try a simple brunch menu that will please the pickiest of eaters? This breakfast or brunch board packs the perfect wow factor (for a low price) for Easter, Mother's Day, baby showers and more.
We're fans of simple, semi-homemade and even store bought, and this easy brunch board comes with almost no prep. For this board, all we prepared were deviled eggs (see our recipe here!) and cooked bacon. That's it!
These ingredients were purchased for less than $100 at Publix (and we had leftovers we didn't use on the board!). You can mix, match and substitute your favorite fruits, muffins, bagels, spreads and more.
Also, if you don't have a wooden board, it's really no big deal. Spread white or brown kraft paper on your table and assemble as usual.
Here's the step-by-step process of our easy brunch board assembly!
Brunch Boards for Easy Entertaining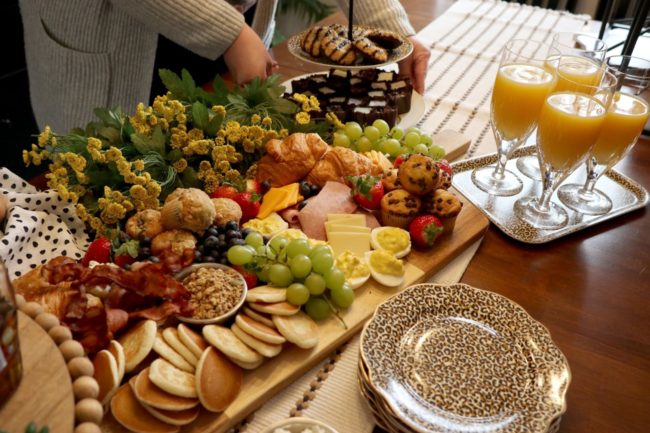 Here is what you need:
1 cup granola
1 8 oz. bottle pure maple syrup
½ cup jam
1 can of spray whipped cream
1 6 o.z tub of whipped cream cheese
1 bag or box of frozen mini pancakes
1 bag or box of frozen mini bagels
1 package of bakery mini croissants
1 package of bakery or boxed mini muffins
1 carton of fresh strawberries
1 carton of fresh blueberries
1 package of seedless green grapes
1 avocado
6-12 slices of ham
6-12 slices of bacon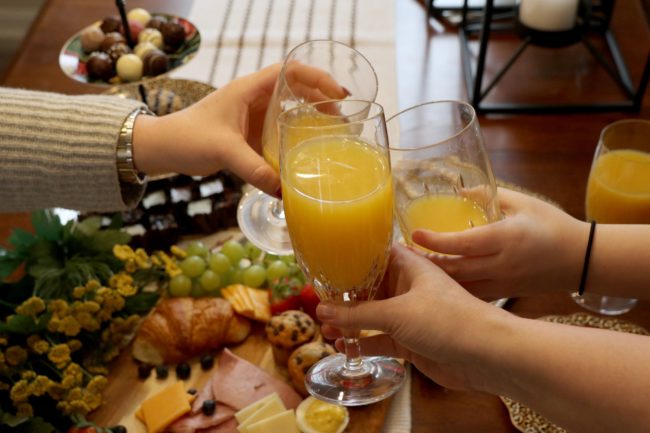 The following are optional to include:
Mimosas: pulp-free orange juice and champagne (just orange juice for the little ones, of course!)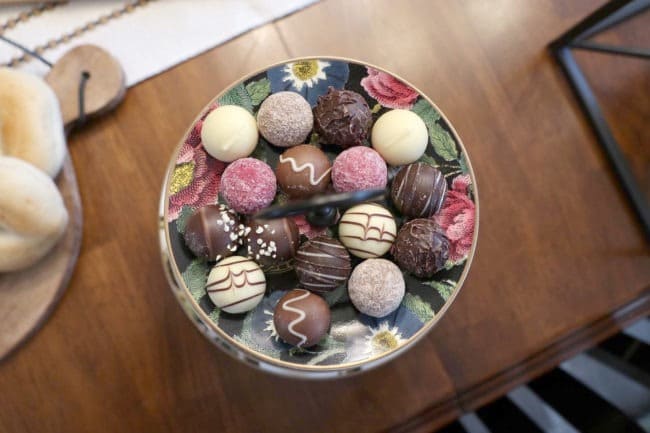 Tower of treats (all Aldi products) includes:
Moser Roth Luxurious European Chocolate Truffles
Benton's Chocolatey Coconut Macaroons
24 ct. Belmont Mini Cheesecake Bites
Step 1: Prepare your board and start grouping your largest items first: pancakes, muffins and croissants. Remember the rule of "thirds" in design. Group items in odd numbers for the best visual appeal.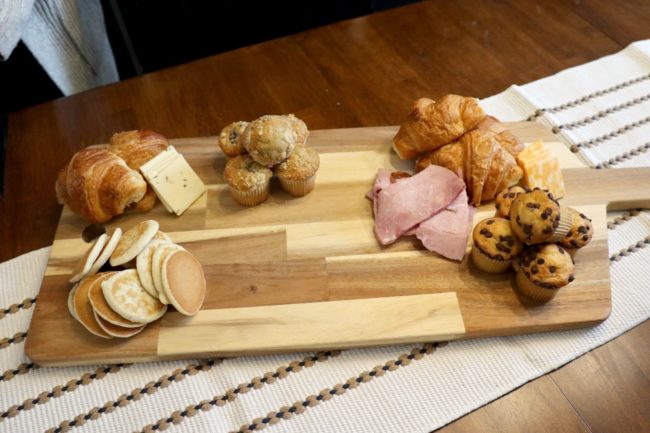 Step 2: Next, add your meats, cheeses and deviled eggs. Remember, you don't have to group everything together. You can create little groupings and spread them throughout the board.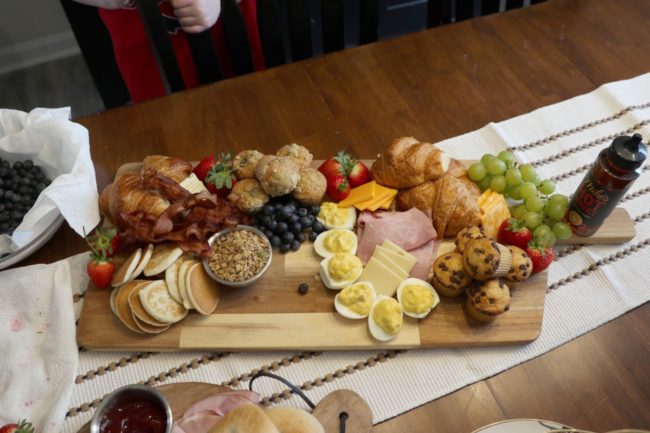 Step 3: Begin to fill in your board with fruit. Add a second board if you have one to group the bagels and spreads together. Add a ramekin or small bowl of granola to the board. Go for height where you can. For example, stack the muffins, or turn them sideways for a visual difference. It adds variety and makes the board feel lush and full.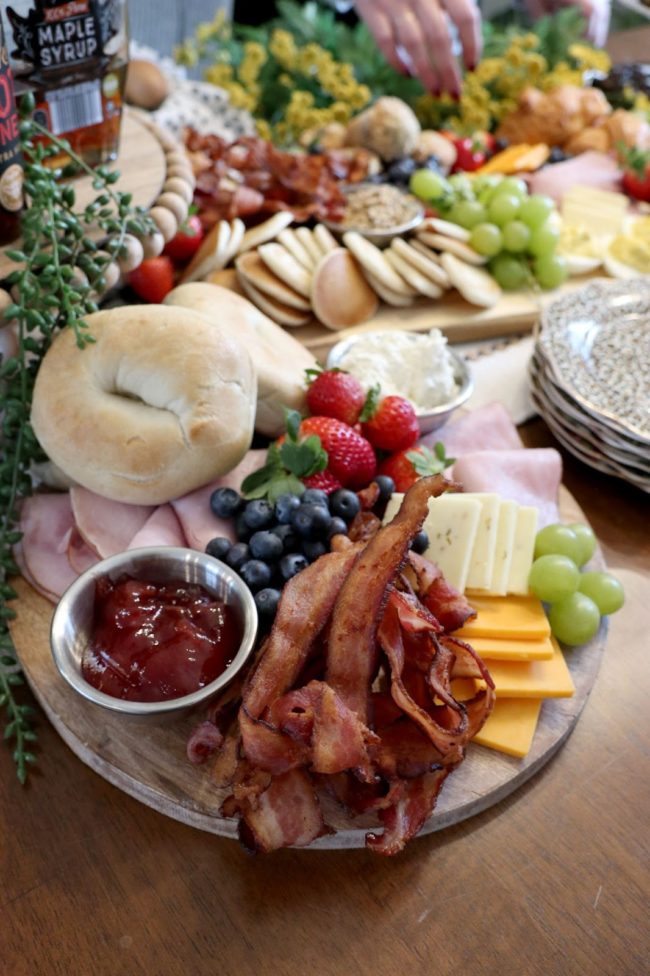 Step 4: Finally, look for space on the board and fill in with the smallest items, alternating color, texture and size. Fruit is the easiest to do this with.
When setting up your display, look for ways you can elevate points of interest in the spread. We used a cake stand to add our syrup, hot honey and whipped cream and some pretty spring decorations. We also grabbed some faux flowers to provide a pretty backdrop. Fresh flowers would be even better!
Add your plates, cutlery, drinks and encourage everyone to dig in. The board is meant to get messy and disheveled. Your family or guests will love the casual feel of munching on food from the board, and it encourages interaction and conversation.
Once you do it, you'll be hooked!
You may also want to check out:
PIN FOR LATER: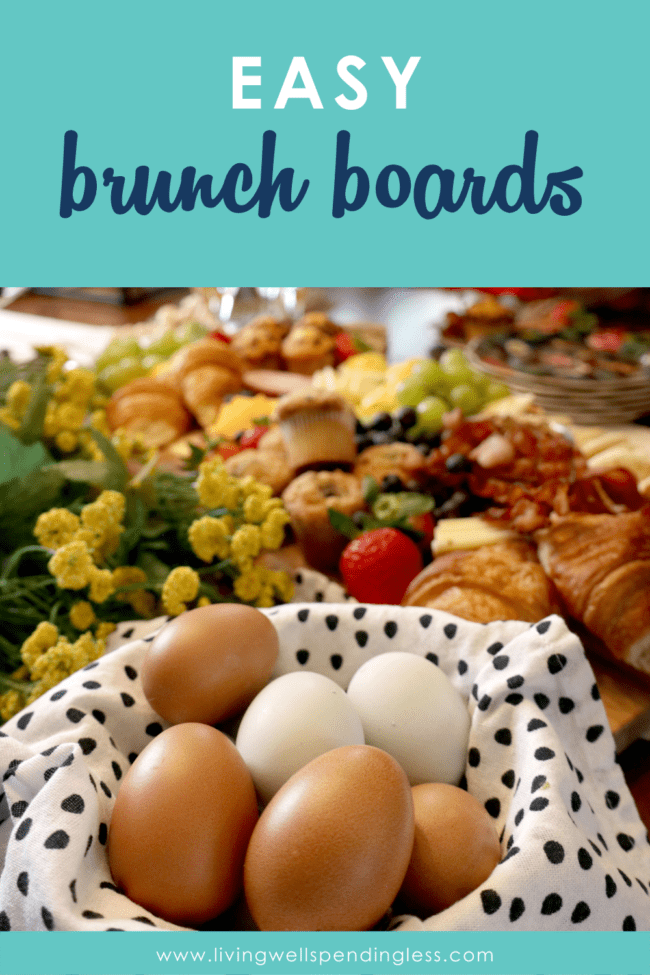 TAKE BACK CONTROL OF YOUR HOME LIFE
---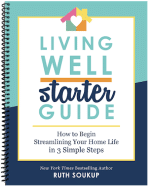 Ever feel like you just can't keep up? Our Living Well Starter Guide will show you how to start streamlining your life in just 3 simple steps. It's a game changer--get it free for a limited time!
If you love this resource, be sure to check out our digital library of helpful tools and resources for cleaning faster, taking control of your budget, organizing your schedule, and getting food on the table easier than ever before.