I love to entertain. If I could, I would probably have people over every single day. Luckily for me, my husband shares my love of entertaining. If anything, he's the social one! We usually have friends over at least once a week, if not more, and our guest room gets an awful lot of use. Heck, we even threw a "birthing party" (complete with baby-themed cocktails and custom party favors) for  Trouble's home birth!
Now that I am on a budget, I am much more conscious of just how expensive entertaining can be. Budgeting books would probably tell me to cut it out completely, as it is not an "essential need." Well, maybe if you're some boring and stuffy old fuddy-duddy who writes financial books for a living, throwing parties and entertaining friends isn't an "essential need." But for me, the need to entertain, to throw parties, to decorate and make things pretty is such a integral part of my core being that I think I would actually shrivel up and die without it. Okay, maybe not literally, but metaphorically for sure.
So I can't give it up, but I can make it cheaper. And hopefully I can do it without sacrificing any style or taste. (I'd say my guests would never be the wiser, but my friends are all painfully [because I can't stop talking about it] aware of my new budget-conscious lifestyle.)
Last night, for instance, we invited a few of C.'s work colleagues over for dessert & Scotch: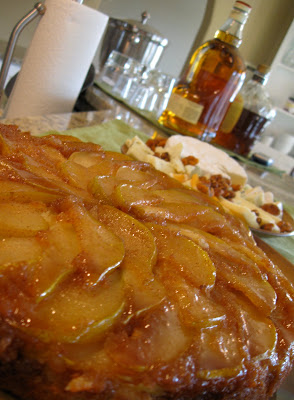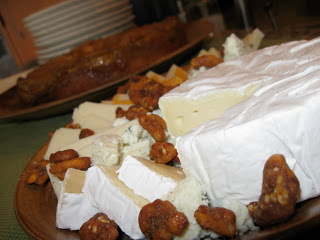 We served a Caramelized Pear Upside Down Cake along with a platter of assorted cheese, which was  the perfect accompaniment. For drinks we offered Dewer's & Crown Royal (on the rocks), as well as white and red wine.
What I spent:
1.75 l. bottle of Dewer's-$32.00 (will last a LONG time!)
Round of Brie-$6.50
3 small pears-$1.50 (on sale at Publix)
1 bottle Bella Sera Pinot Grigio-$5.99 (on sale at Publix)
Total:
$45.99
The main expense was obviously the Scotch, but that will last for many more gatherings. We already had the Crown Royal on hand. Except for the pears, the cake was made from pantry staples, and I used some of the cheese from my big Kraft cheese score along with some blue cheese and glazed walnuts that I keep on hand from Sam's club for the cheese platter.
A few weeks ago we had several families on a over on a Sunday afternoon for a "Ice Cream Sundae Splash." Again the concept was simple, though this time a bit more family-friendly–ice cream sundaes and an afternoon in the pool (what better way to beat the Florida heat?)  We provided the (homemade) ice-cream, fresh-baked brownies, and beverages & everyone brought a topping to share.
Everyone had a blast, the ice-cream was delicious (homemade ice cream? how could it not be?), and the cost was minimal.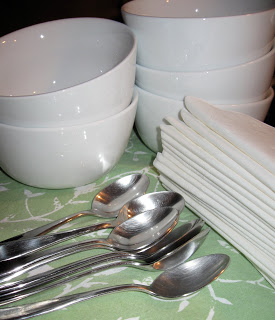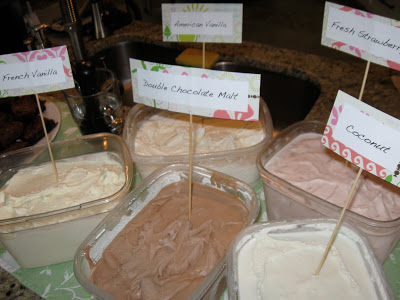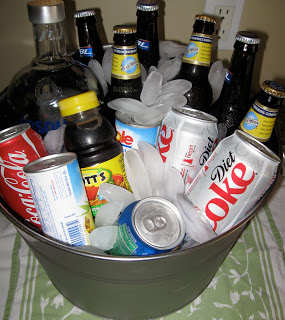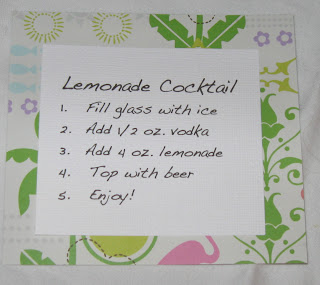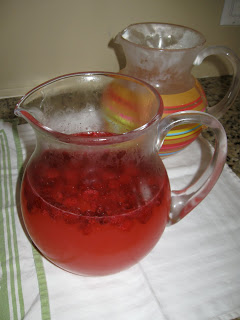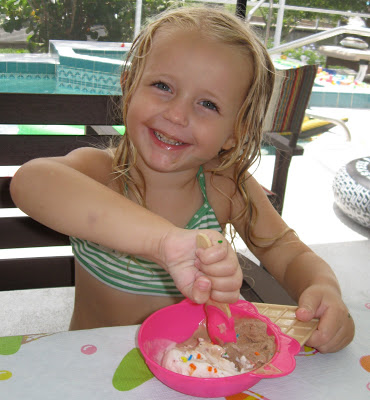 What I spent:
Heavy Cream (for ice-cream)-$8
Half & Half (for ice-cream)-$8
18 pack of LandShark Lager (found on clearance at Target)-$8.98
Total spent:
$24.98


Once again, everything else came from pantry staples, drinks, and liquor I already had on hand. I set up a drink station for adults to create their own tasty beverages, and one of the guests found those adorable ice-cream cone shaped bowls at the dollar store a few months ago, so she brought them over to use for the party. I realized at the last minute that we needed some sort of labels for the different kinds of ice-cream, so I got creative with some leftover scrapbook paper and bamboo skewers.
The pre-budget me would undoubtedly have spent a lot more money executing both of these little gatherings. And for what? The drinks flowed as they always do, the food was delicious, and a good time was had by all. A little creativity goes a long way!