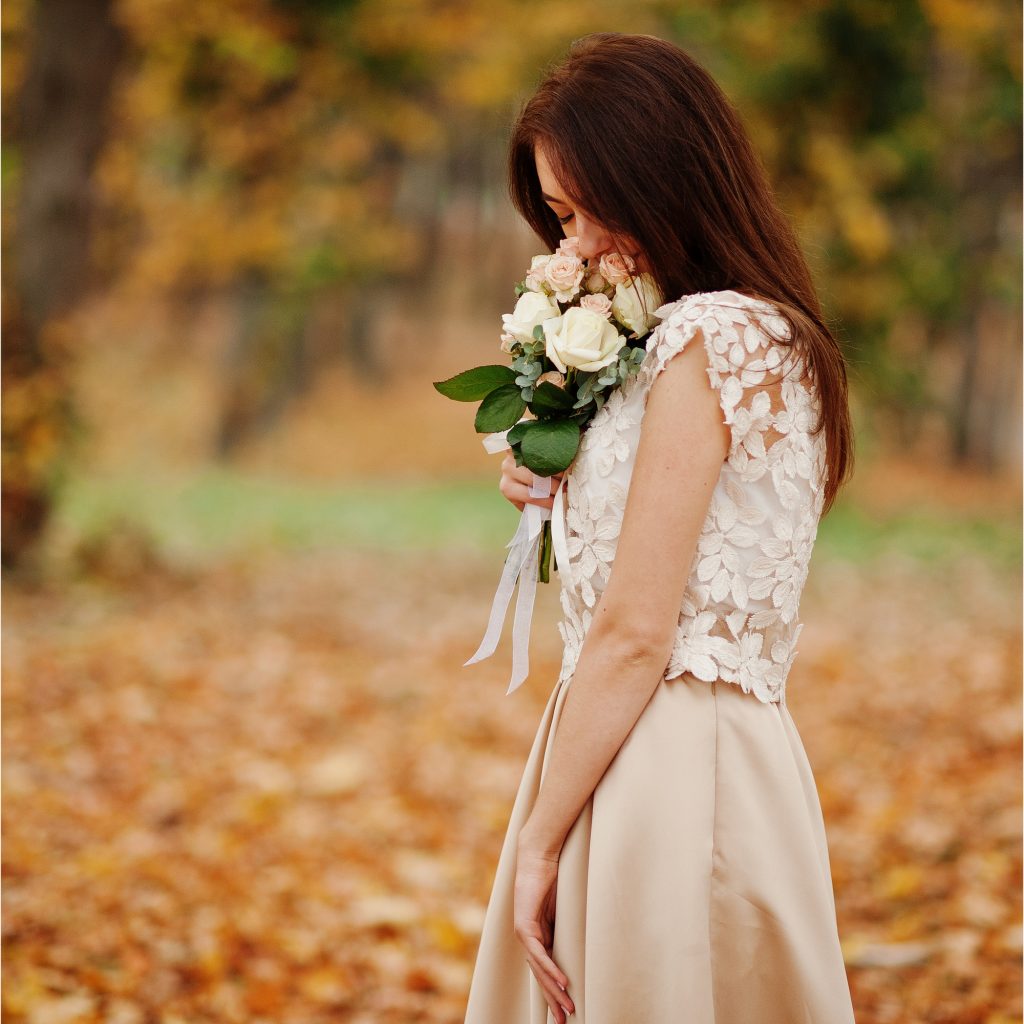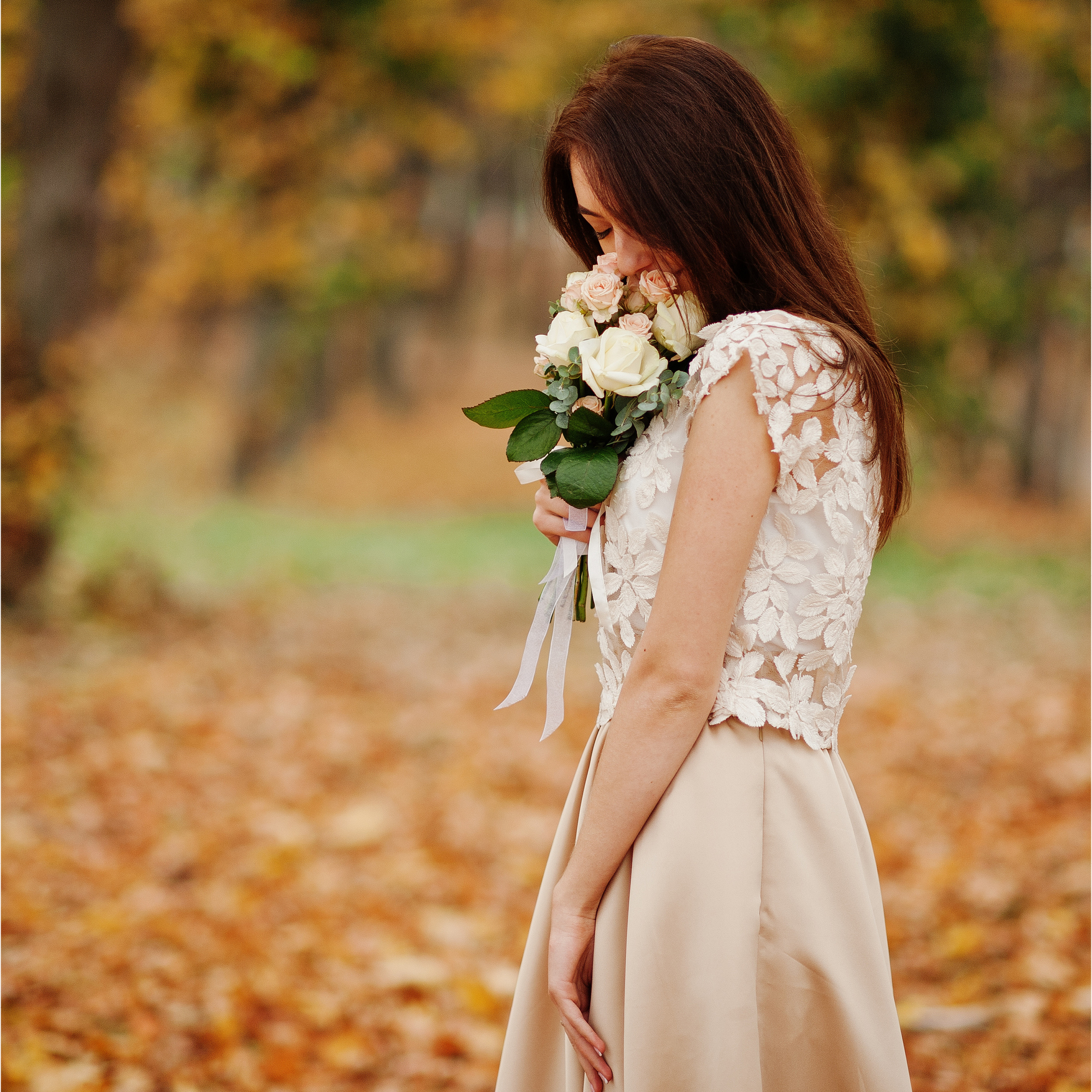 I had the friend of a friend contact me this week for some wedding planning advice. She is getting married on 10/10/10 (as in, a month from yesterday!) and was hoping I could send her some ideas for a fun & stylish wedding on a budget. She told me it is a second wedding for both of them, and they wanted a small at-home ceremony with just their children and close family members, followed by an at-home reception a little later in the day.
I had to work quickly, since she is on such a time crunch, but this was the inspiration board I created for her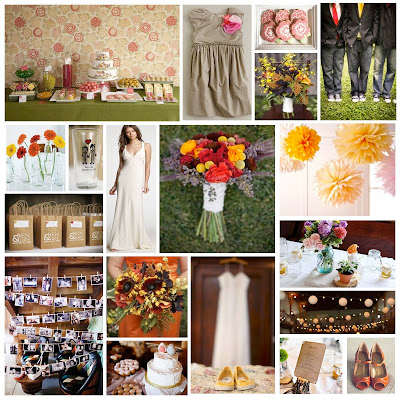 (Photo Credits: marthastewartliving.com, thebridescafe.com, realsimple.com, thesweetestoccasion.com, amyatlasdesigns.com, greenweddingshoes.com, jcrew.com)
These were the ideas I had:
Wedding Apparel: J. Crew has some really cute girls' dresses on clearance right now that would be perfect for her daughter and step-daughter to wear for the ceremony. They also have some very pretty simple white wedding gowns that are reasonably priced. I recommended that she pair some bright funky shoes with her classic white dress. For the guys, dark jeans paired with chuck taylors, dark blazers, white shirts, and color-coordinated ties.
Flowers: Grab up as many seasonal flowers as possible a day in advance from a wholesale florist, farmers market, etc. For a more designer look (for cheap), wrap bunches of the flowers together with ribbon wrap and then place in mason jars. Make as many of these as possible, and then put them everywhere the guest will be. Additionally, gather a lot of small pretty clear glass bottles (like rinsed and clean Starbucks Frappucino bottles) and bunch them together with one or two flowers in each. This would be especially pretty in the windows.
Food: I recommended keeping her main dish simple, easy, filling, & cost-effective–she was thinking either a salmon bbq or pulled pork sandwiches, both good choices (just make sure it is tasty and that there is plenty of food. Hungry guests are unhappy guests!)–and then focusing most of her energy and food budget on creating a really amazing dessert table. Dessert tables are becoming very popular because they can create such a huge impact with little details. (For instructions on making decorated sugar cookies, check out my tutorial.)
Decorations: Tissue paper puff balls are really easy to make and look stunning for a party. To keep it elegant, I recommended sticking to only 2 or 3 main colors and grouping them together for maximum impact. (To make, check out my tutorial here.)  For after-dark ambiance, criss-cross old-fashioned outdoor christmas light strings with all white bulbs. (These could probably be borrowed from family & friends.)  Personal photographs are a great way to make the day all about the bride and groom and the family they are creating. I love the idea of printing a bunch of black & white photographs & then stringing them on clothespins.
Favors & Programs: Brown kraft paper is cost effective and casually elegant, and really nice for fall. These stamped favor bags would be really easy to make, and brown kraft card stock would be nice for the programs and for labeling the dessert table and buffet as well.
Entertainment: The bride and groom love jazz and would love to have their favorite band play, but aren't sure they can swing the cost. Alternatively, I suggested putting together a great ipod playlist of their favorite songs to set the mood. The best advice for a great wedding is to figure out a way to treat your guests to a fun time. Step outside the box to make it an event everyone will remember, whether it be Karaoke or setting up a game room, or, if the weather allows, croquet or lawn darts outside. A timeline is VERY important, even if the day is casual. I suggested designating a very outgoing friend to be the emcee and "director" of the day, letting people know what is going to happen next and telling people where to go.
The best weddings are not the most expensive ones; rather,  they are the weddings that are a personal reflection of the bride and groom. These days, there are no "rules." So be original & creative, and make it about you.
Happy planning!