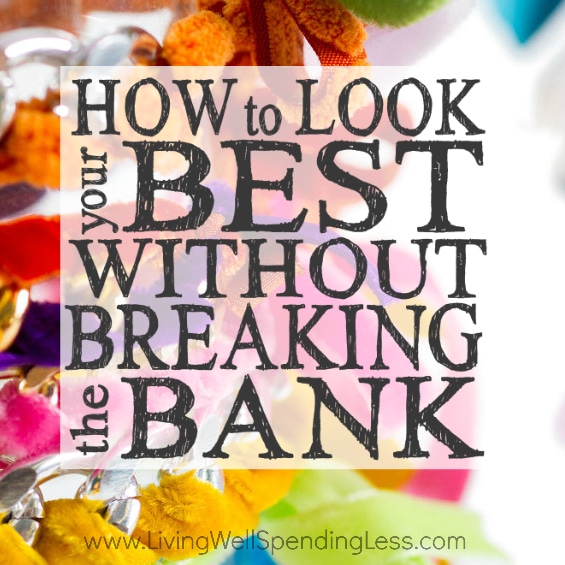 Do you ever feel like you are on a never-ending quest for that perfect piece of clothing? You know the one–the super flattering dress that will instantly make you look 10 pounds slimmer, or the ultra-cute top that makes your eyes sparkle, or the to-die-for boots that make perfect strangers stop just to tell you how great they are.
My problem is usually that I'll like something for a while and then suddenly I'll hate it and have nothing to wear. Again.
There was a time in the not-so-distant past where I spent way too much money on clothes, only to hate them all a short time later. These days, I'm much more conscious of what I'm spending, and as a result, I am also much better at picking out things I'll like for the long haul.

(Top: Aryn K.; Jeans: Vigold; Boots: Miz Mooz
)
A cheap shirt is not a bargain if you'll only wear it once
A few weeks ago, when I cleaned out my closet, I spent some time sorting what to keep and what to give away, and when I looked it all over afterwards, I noticed a trend. The vast majority of items in the Goodwill pile were lower-end mass retailer pieces I had picked up for super cheap–usually less then $5–that I had only worn once or twice.
There was nothing really wrong with them, I just didn't like them anymore, whether it was the way they fit after they were washed, or the feel of the fabric. I realized that even though all those items were pretty cheap, the pile still added up to a lot of wasted money. I would have been far better off spending more on 1 or 2 high quality pieces.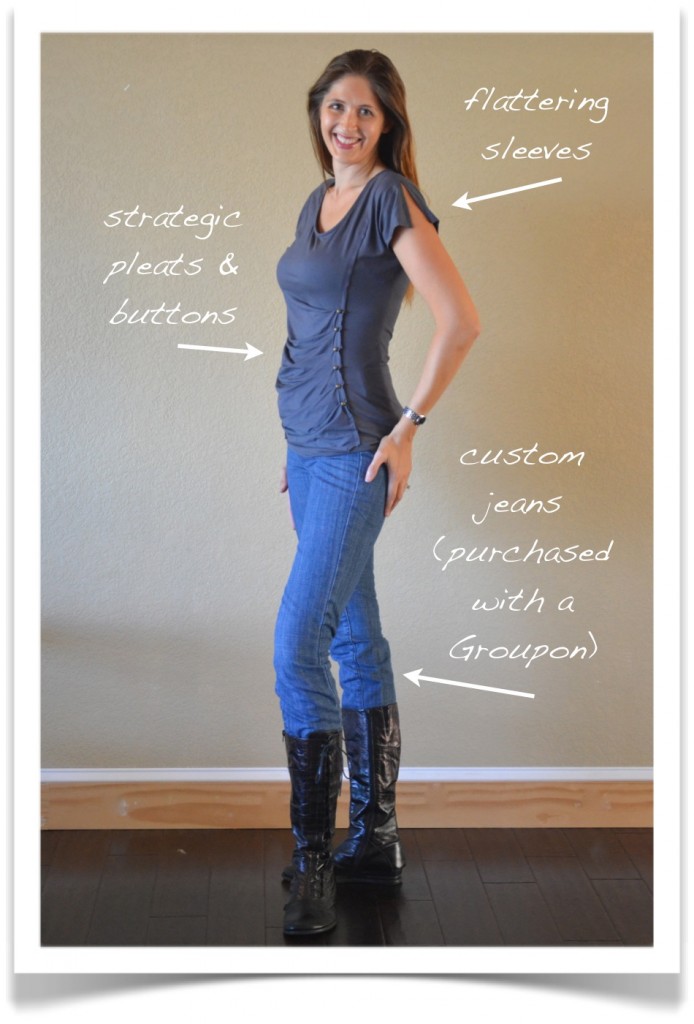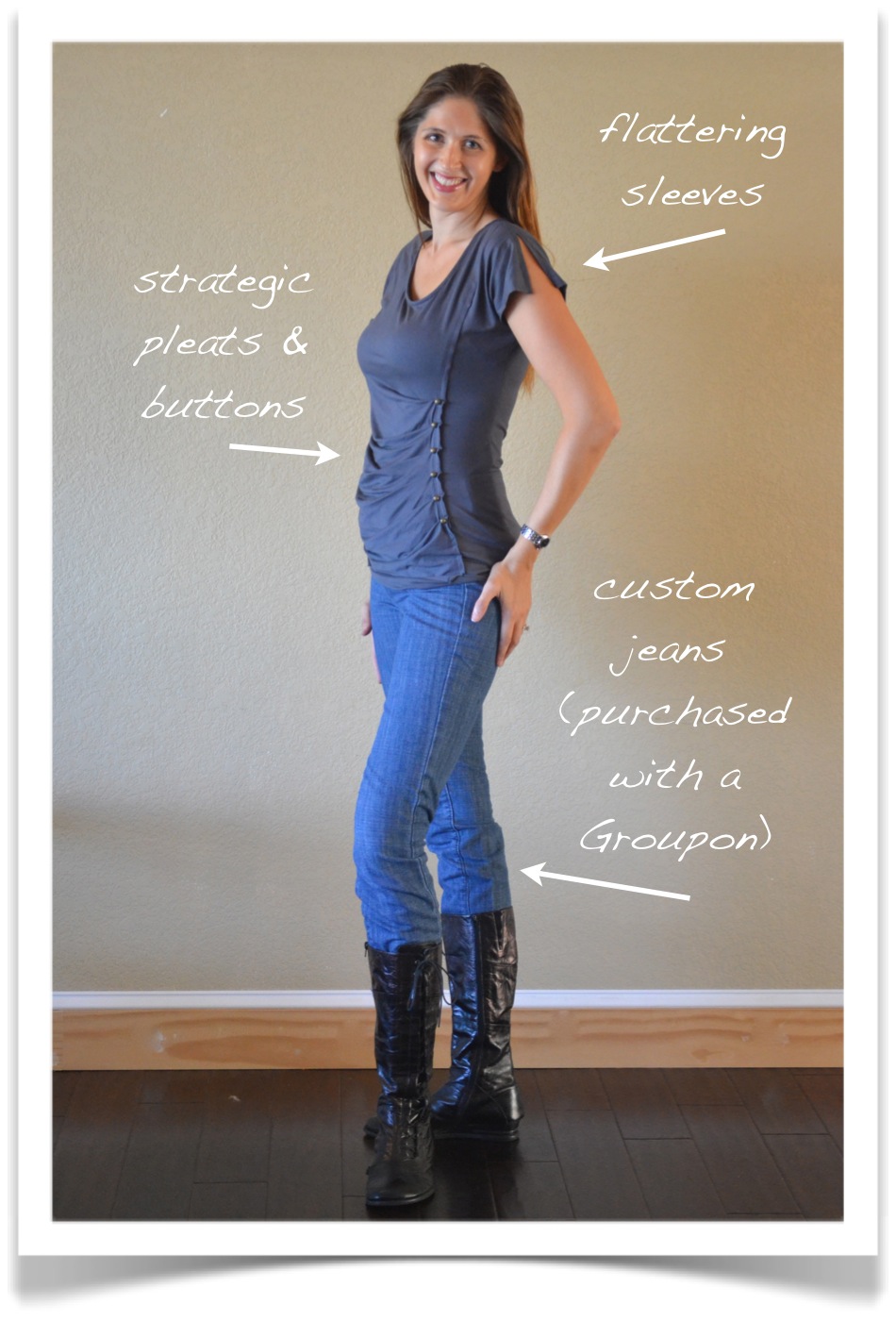 (Top: Three Dots
; Jeans: Indi via Groupon; Boots: Miz Mooz)
Stick to brands & stores you know you like–then search for bargains!
High quality doesn't mean full price! Even the most expensive stores & labels put things on clearance. Everything goes on sale eventually–you just have to be willing to wait. I have had some of the most success finding new clothes I really love by specifically searching for bargains on brands of clothes I already have.
Know what works (and what doesn't) for your body type
Go to your closet, pick out your favorite shirt or dress and try it on. What do you like about it? Chances are it's your favorite because it fits well, it's flattering, & shows off the right assets while hiding your flaws. When you know what necklines, colors, &  shapes look best on you, and you will start to like the way you look in your clothes a lot more.
Be honest with yourself about "problem areas" too. This doesn't mean pick yourself apart–no one is perfect–but it does mean be aware of what areas you may want to conceal a little more. My own problem area is my belly & love handles, so I usually focus on finding tops or dresses that don't cling to that area. I am also a big fan of strategic pleats and ruffles that offer a little extra camouflage.
Buy things that fit
As a girl who loves a bargain, I have been guilty of this more times than I'd like to admit. I'll find a gorgeous dress on some hot clearance rack in a size too small and buy it anyway. It was such a good deal, I'll tell myself, and besides it will be motivation to finally lose those last 10 pounds. And what happens? The dress inevitably just sits there in my closet, collecting dust, because it doesn't fit. It is money down the drain!
Don't be afraid to take a risk
Look for interesting details or lines or bold colors & patterns. Sometimes "basic" is just another word for blah, which often means boring. You don't have to suddenly go from wearing all black to neon floral, but a statement belt, bright yellow purse, or super cool pair of red shoes could be just the "pop" you need. Just be sure it fits well & looks good, and rock it!
When in doubt, ask for a friend's opinion.
If you're really not sure whether something looks good, ask a friend for an honest assessment. (Unless you're looking to start a fight, I wouldn't recommend asking your husband.)  Sometimes a second opinion can make a big difference.
And speaking of opinions….
I need yours!
Next week I am headed to NYC (for the first time EVER). I need to pick a dress to wear at a red carpet event & I honestly can't choose!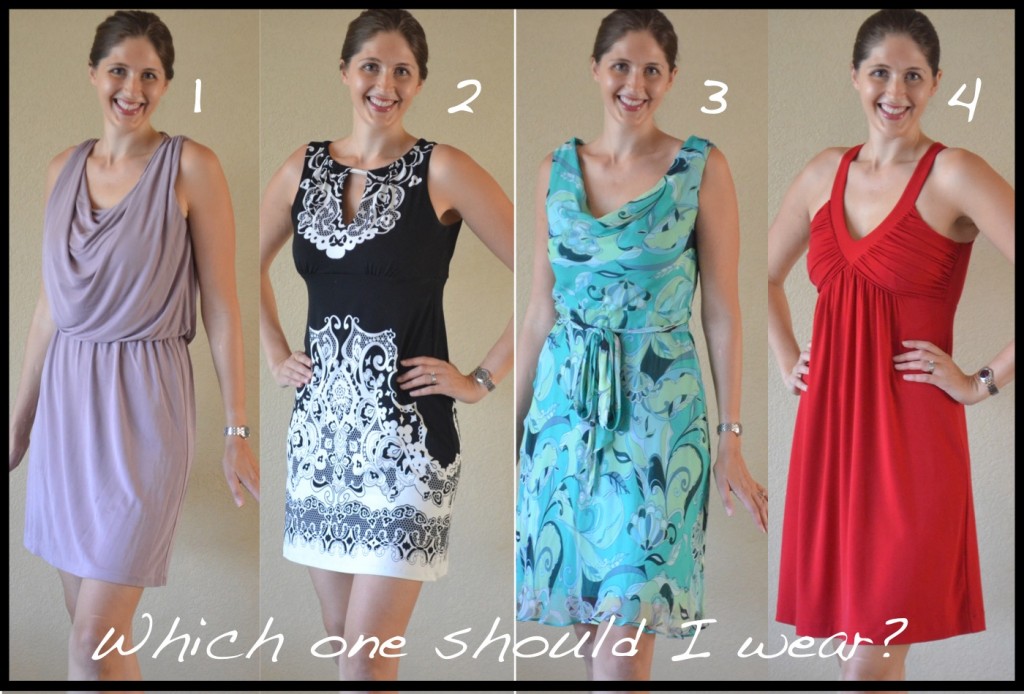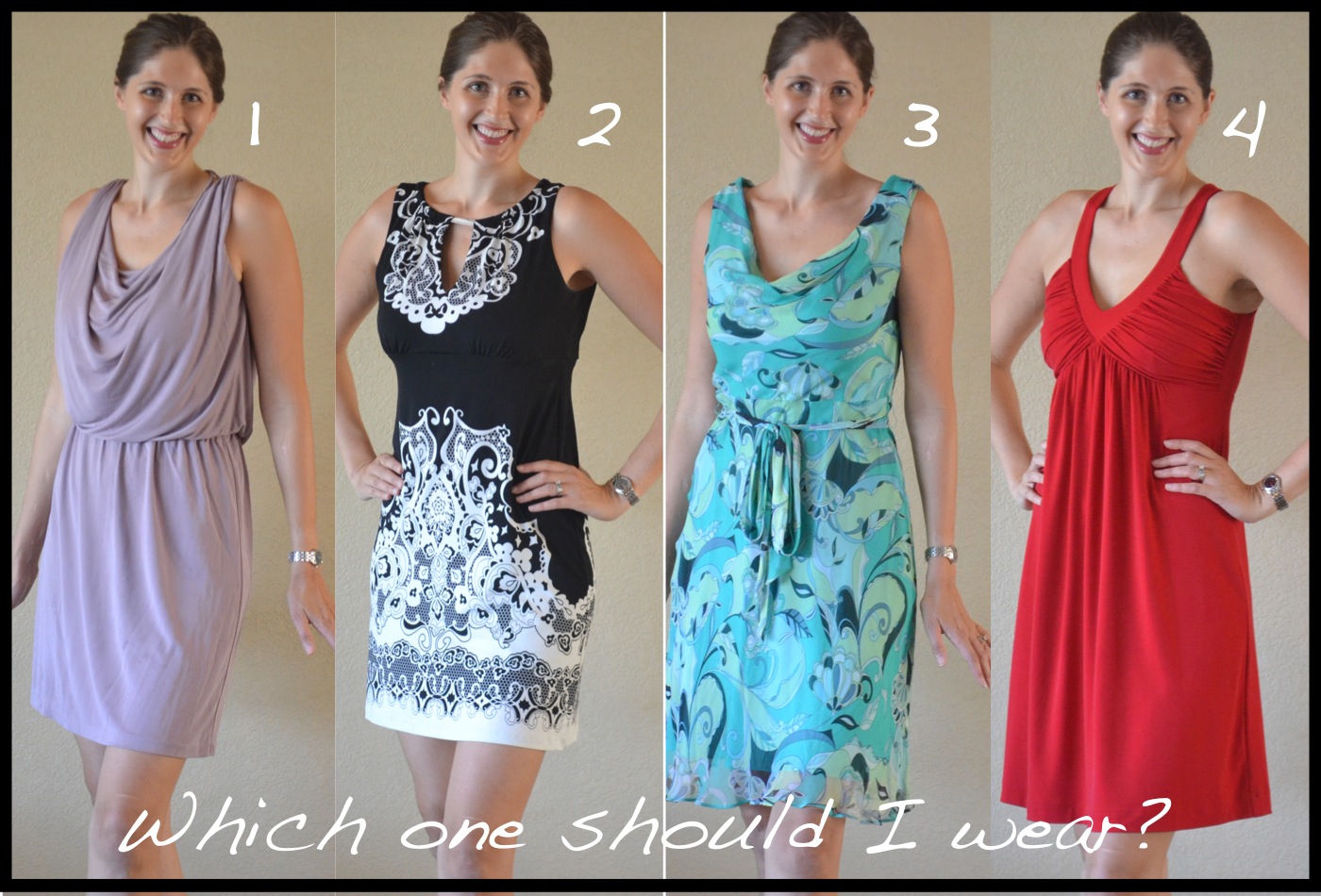 1. Halston Heritage Front Cowl Dress
 ($70–75% off at Amazon 2 months ago)
2. ECI Black & White Dress ($35–50% off at Nordstrom 6 months ago)
3. Green Swirl Dress ($9.99–95% off at Macy's 7 years ago)
4. Calvin Klein Red Dress ($10–90% off at Dillards 3 months ago)
And just in case it impacts your decision, here are the shoes: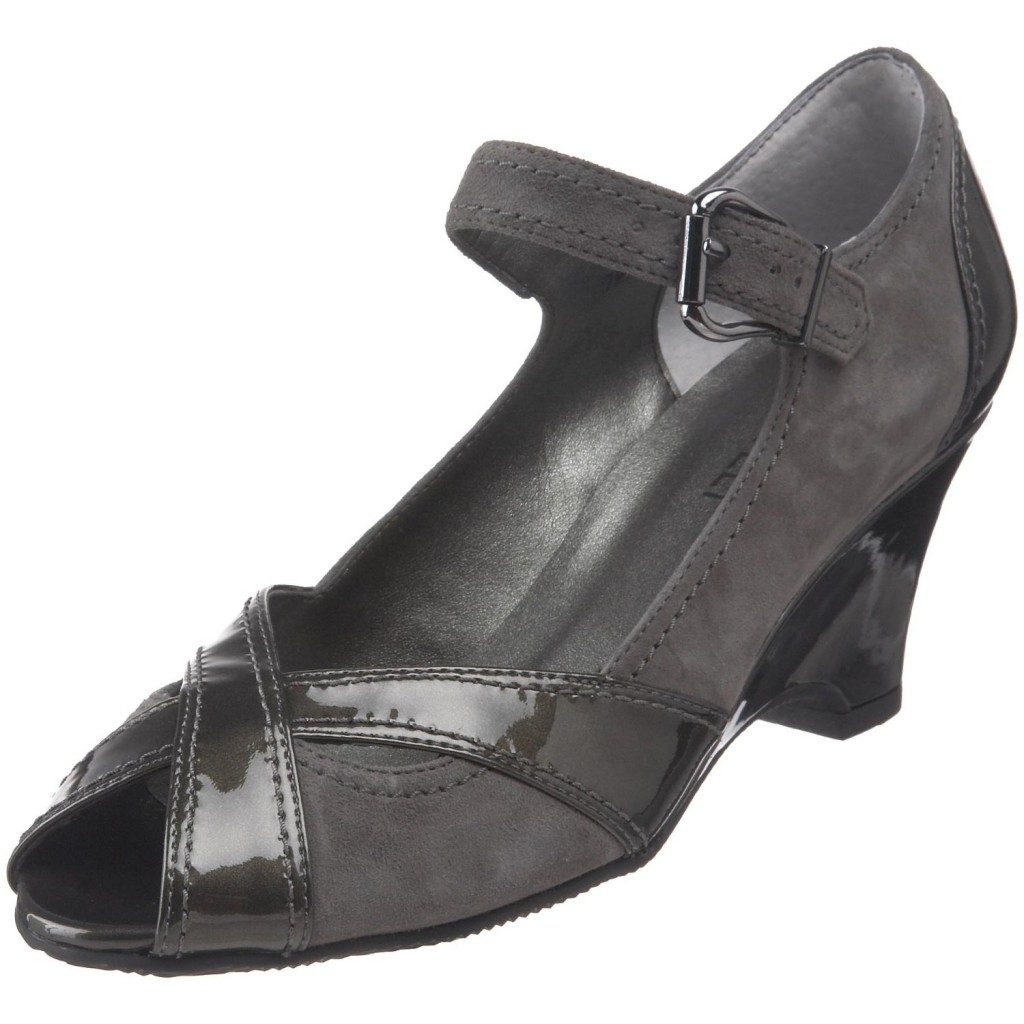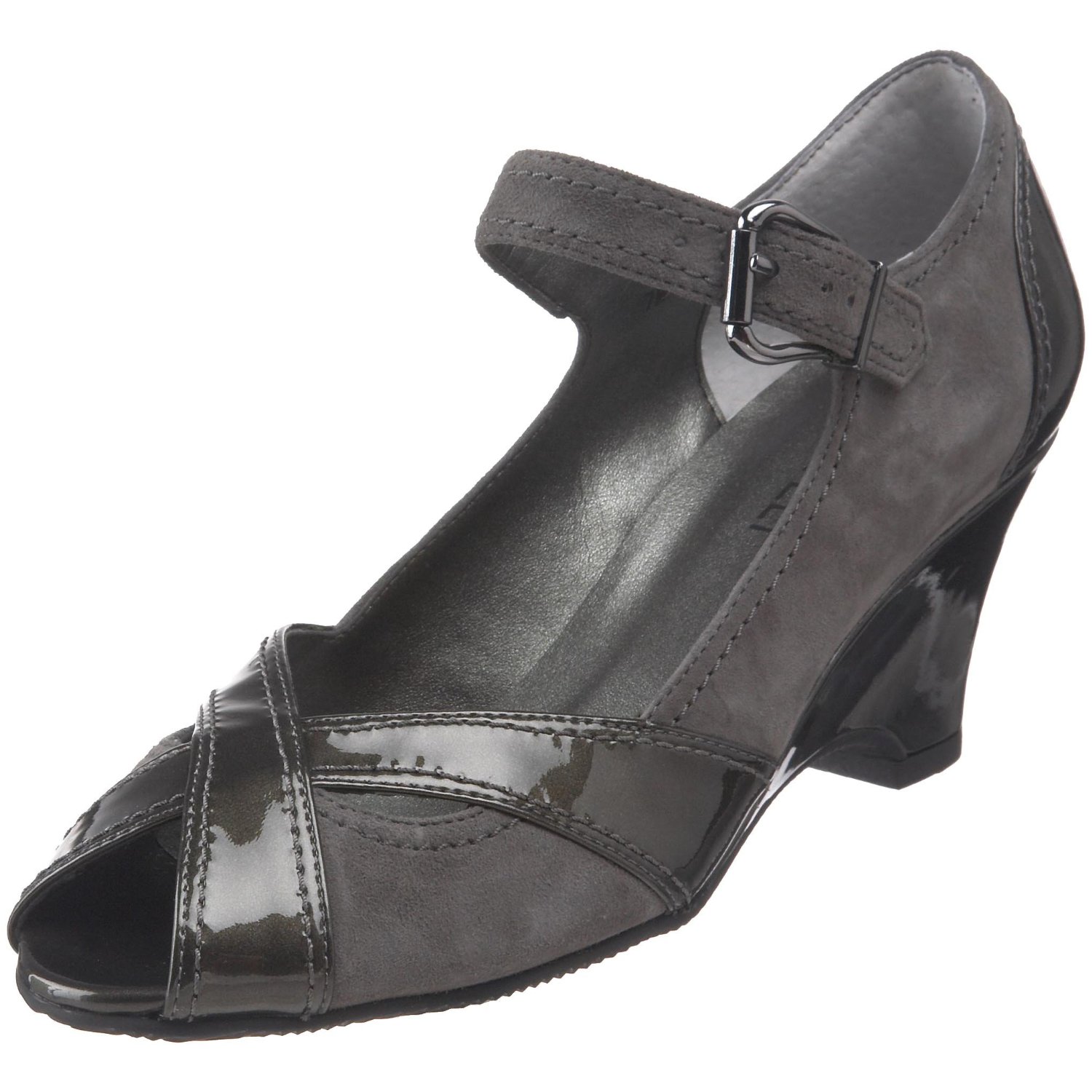 (VANELi Birgitta Open-Toe Pump
 Aren't they pretty? Yay for Swagbucks!)
UPDATE:  This afternoon Maggie decided she didn't like any of my choices and convinced me, in only the way a 5 year old girly-girl can do, that we should make quick run to the mall before dance class. Here is what we found: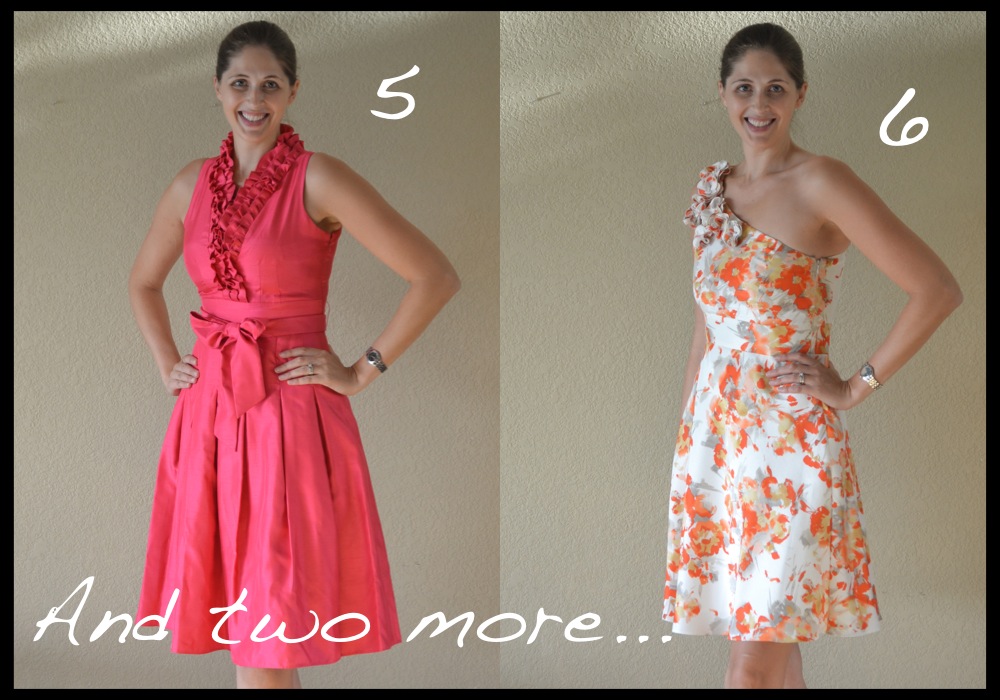 So NOW which one do you like?