This is a guest post by Stephanie @ SweepstakesFanatics.com
We've all seen the Publisher's Clearinghouse commercials where the Prize Patrol surprises an unsuspecting winner with a larger-than-life check. I would watch these ads and think that there was no way that anyone could really win a prize like that. However, after entering online sweepstakes and giveaways myself, I actually have won my fair share of prizes – a $2,000 shopping spree at a local mall, grocery gift cards, movie tickets, books, DVD's, and too many t-shirts to count!
Entering sweepstakes can be a fun and easy way to bring in some extra cash and stretch that budget. There are hundreds of contests and giveaways out there, some of which give out thousands of small prizes. It only takes a few minutes a day to submit entries, especially since you don't have to mail them in. Simply by entering, I have also received high-value coupon booklets from manufacturers. These types of prizes have helped me reduce costs for groceries and household expenses. With some organization and persistence, you can do it too!
Sweepstakes are a great way for companies to promote their products and websites, and they actually set aside a section of their budgets to award prizes. For example, a company will decide that it wants a bigger audience for a new product. What better way is there to draw people in than to offer them a prize? In the past, you would have to mail in an entry on an index card, but with the popularity and ease of the internet, now you only have to fill out your information on a company's website and you are entered to win!
This can be a double-edged sword, however, because unscrupulous people are also using sweepstakes to get people to visit their websites and give them their information, such as their name and email address. These people have no intention of awarding a prize; instead, they just want your information so they can sell it to spammers.
Here are some tips to finding legitimate sweepstakes and to keep your information safe while doing so.
Start a separate email account
It is important to set up an extra email account with a free service such as Hotmail or Yahoo, just for your sweepstakes entries. You can use any name plus a word like "sweeps" or "contest" tacked on to the end of it as an email address. That way, any junk mail that might result from those entries won't affect your regular inbox. Be sure that your spam filters are set low for that email account – you wouldn't want to overlook a "congratulations" email!
Another way to reduce the amount of email you receive is to uncheck the box on the sweepstakes entry that allows the sponsoring company to send you promotional information. This won't affect the actual sweepstakes entry. This is also a great way to organize your email, because I can read about a company's promotions at my leisure, and it keeps my personal inbox from getting too cluttered at any given time.
Stick with established sweepstakes sponsors
There are multitudes of giveaways on the internet these days, but how do you know if they are legitimate sweepstakes or just another way to get your email onto a spammer's list? Start out by entering contests sponsored by companies you know, such as Proctor & Gamble, General Mills, and Kraft. There are many websites, such as www.sweepstakesfanatics.com, that will point you in the right direction by listing these premium sweepstakes, so you don't have to go to each company's website to enter. Many of these companies do giveaways on their Facebook pages as well, which will limit your competition, since not everyone is on Facebook.
Spend a few minutes a day, every day
It is easy to spend hours of your day entering sweepstakes and giveaways, due to their sheer numbers, but spending just a few minutes a day can net you some great rewards. Put aside about 15 minutes during your day to entering contests, whether that time is during your morning coffee break or after the kids have gone to sleep in the evening. In the early-internet days, the only way to enter sweepstakes was to mail in a postcard or entry form, which took time and money for postage. A lot of major manufacturers still have a mail-in entry option, but I have not mailed in an entry in years.I normally do my online entries when I have some down time after my kids have been tucked in for the night or while I'm watching television. In fact, the TLC channel has a sweepstakes going on this summer that involves watching Cake Boss and answering a trivia question that appears during the show. How's that for multi-tasking? A little persistence goes a long way.
Don't get discouraged
If you think of sweepstakes as a way to make a living, you are setting yourself up for failure. You will be much happier if you keep your expectations at a reasonable level and appreciate the small prizes that come your way. I can go for weeks without a win, and then bam! A gift card or t-shirt will show up on my doorstep. I'm even thrilled when I receive a coupon booklet, because every little bit helps!
If you choose to receive promotional emails from a sweepstakes sponsor, you will normally also get on their coupon list. I have found that these coupons are much higher in value than the ones that are available in the newspaper. I really like receiving small prizes like movie tickets or CD's as prizes, because they are great for holiday gift-giving. Oftentimes, a major company will have a sweepstakes where they are offering thousands of non-grand prizes, which you have a much better odds of winning. So don't ignore a sweepstakes just because you think you could never win – someone has to! If entering sweepstakes is no longer worth the time you spending doing it, take a break. You should be having fun with your entries, not obsessing about them.
Thank you Stefanie! Stefanie Hamilton blogs at www.sweepstakesfanatics.com and can be found entering premium contests and blog giveaways after her husband and two kids have turned in for the night.
* * *
What do you think? Do sweepstakes sound like a fun way to earn some extra dough or too much work for no guarantees? Do you enter sweepstakes on a regular basis?
TAKE BACK CONTROL OF YOUR HOME LIFE
---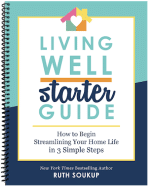 Ever feel like you just can't keep up? Our Living Well Starter Guide will show you how to start streamlining your life in just 3 simple steps. It's a game changer--get it free for a limited time!
If you love this resource, be sure to check out our digital library of helpful tools and resources for cleaning faster, taking control of your budget, organizing your schedule, and getting food on the table easier than ever before.