There is something just intrinsically right about seasonal produce. After all, there's nothing quite like a ripe juicy peach or bright red tomato in the summertime. Likewise, in the winter, it's a comfort to cozy up to a beautiful butternut squash soup or a caramel apple pie with warm cinnamon, or to sip a hot pumpkin spice latte. Most of us don't crave strawberries in December or pumpkins in May.
Even so, our modern, global society offers us year-round accessibility to produce, which can make it easy to lose sight of the real reason we associate certain foods with certain seasons. We're so accustomed to getting whatever we want whenever we want that we forget the intrinsic benefits of eating seasonally.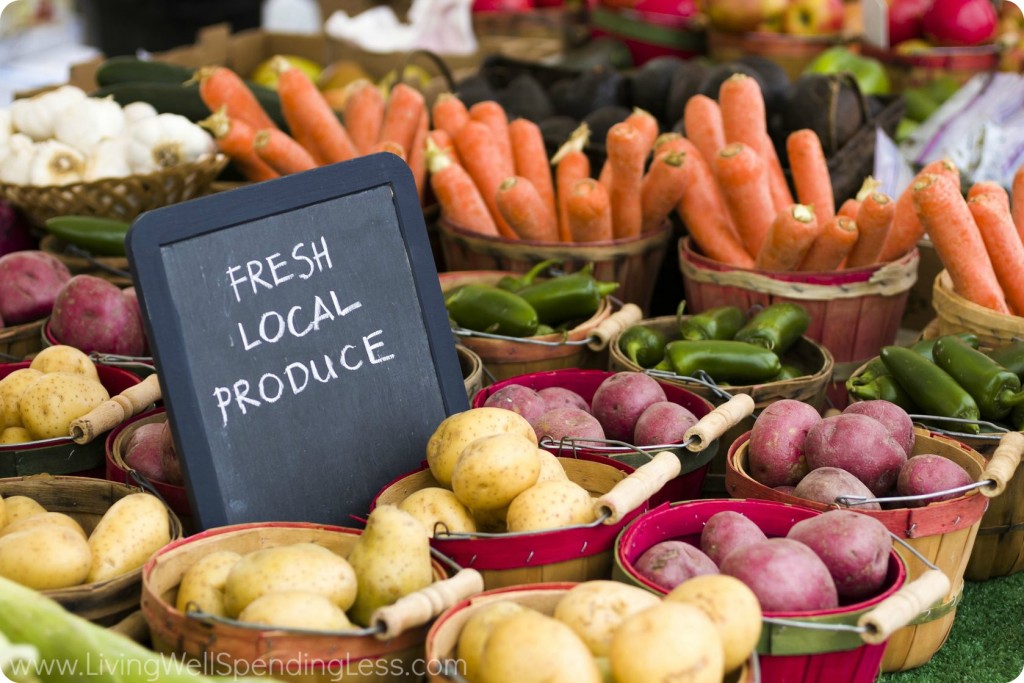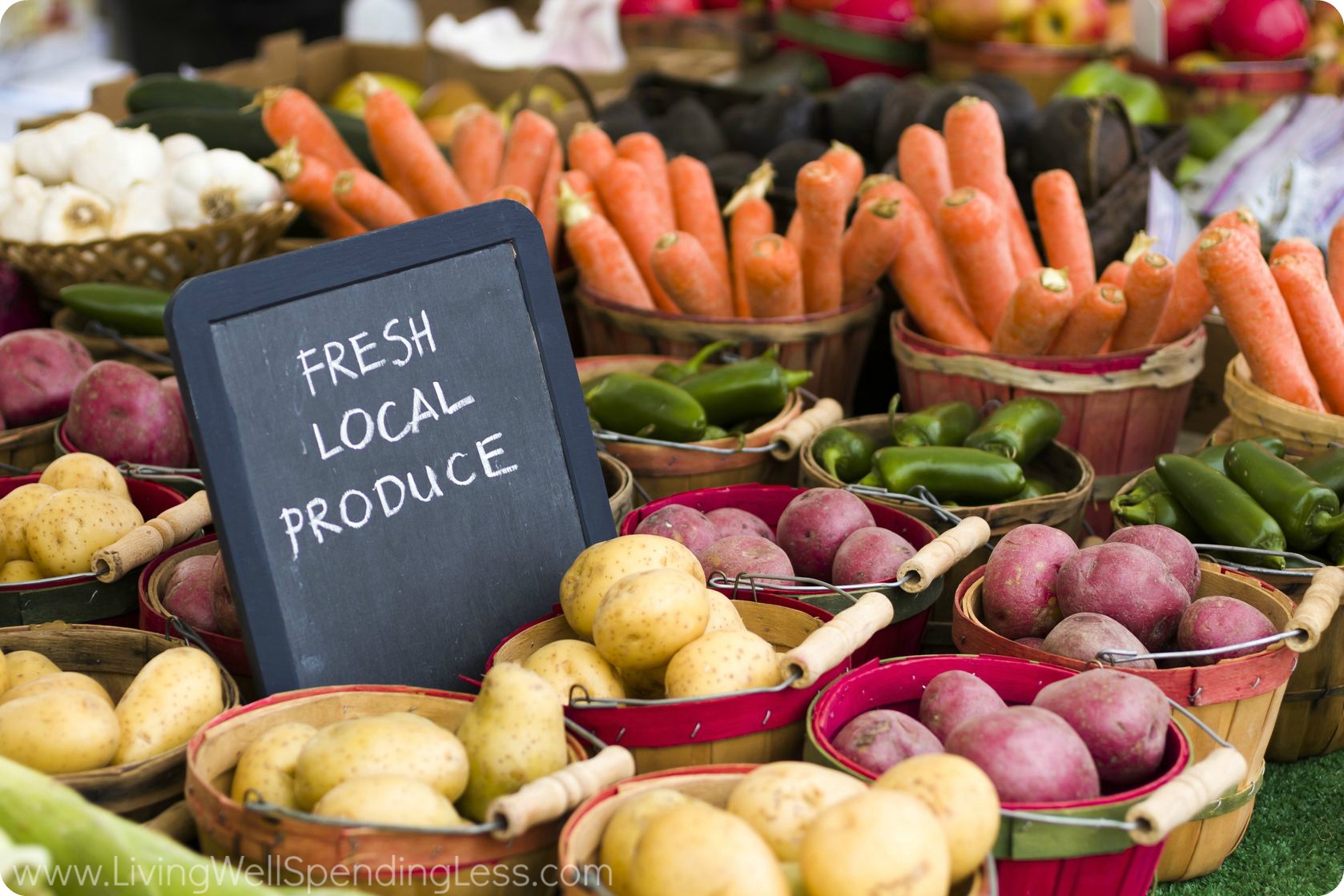 Save Money
Eating what's in season has a big impact on your wallet. Grocery stores typically feature rock bottom prices on seasonal produce—root veggies, dark greens and squash in the fall and winter, leafy greens and sprouts in the spring, and of course, those tomatoes, peaches, eggplant and zucchini in the heart of summer. You can also find great deals if you shop farmers markets and local produce stands—and, of course, growing your own produce is a huge money-saver.
Protect the Environment
Eating local in-season produce drastically reduces the amount of gas and energy required to get things to your plate . One reason in-season produce prices are lower? There's no need to ship it in from other states or countries—it's grown right in your region. This farm-to-table approach makes a huge difference on the environmental impact of your food. There is less water, fuel and energy used to grow food in season. Not only is the "green" passed on to you in cash form, but you also get to save the environment.
Eat Healthier
Local food is also more nutritious. During the picking, packaging and shipping process, food can lose nutrients. Produce is often picked before it's fully ripe because it's firmer and easier to ship without risk of damage. Unfortunately, produce is quite often selected for aesthetics, rather than for nutrition and taste. Have you ever cut into a big, beautiful out-of-season strawberry only to find that it's tasteless and watery? Or have you shied away from the "ugly" bumpy heirloom tomatoes in favor of a beautiful, perfectly-round and red one that barely offers any flavor? Farm-fresh produce may not always be quite as pretty, but it more than makes up for it in flavor and nutrients.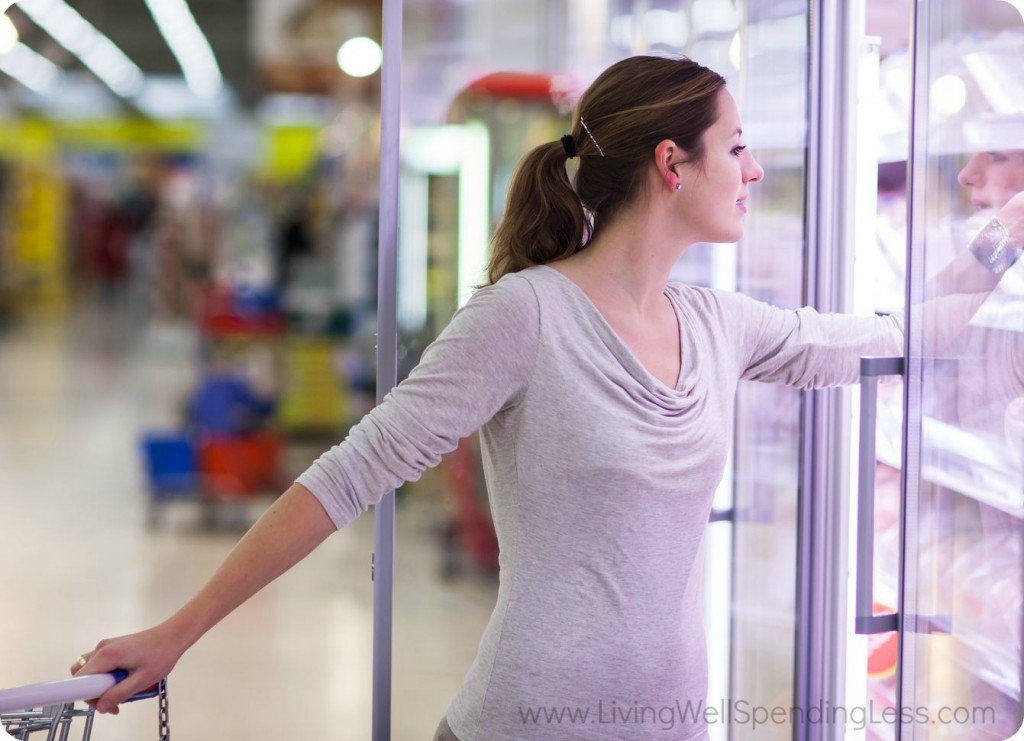 Also, be aware that purchasing frozen produce isn't such a bad idea. Frozen food is often flash frozen right at the time of harvest, preserving the nutrients—a healthy choice, even out of season.
Organic or Not?
As a general rule, organic produce–even what's in season–will be more expensive than its non-organic counterpart. But is does paying more equate to better health benefits or safer food? The answer is sometimes, but not always. Whether or not to buy organic really depends on the food itself, as some fruits and vegetables get hit with a lot more pesticides than others. This "Clean 15" and "Dirty Dozen" list is a great place to start.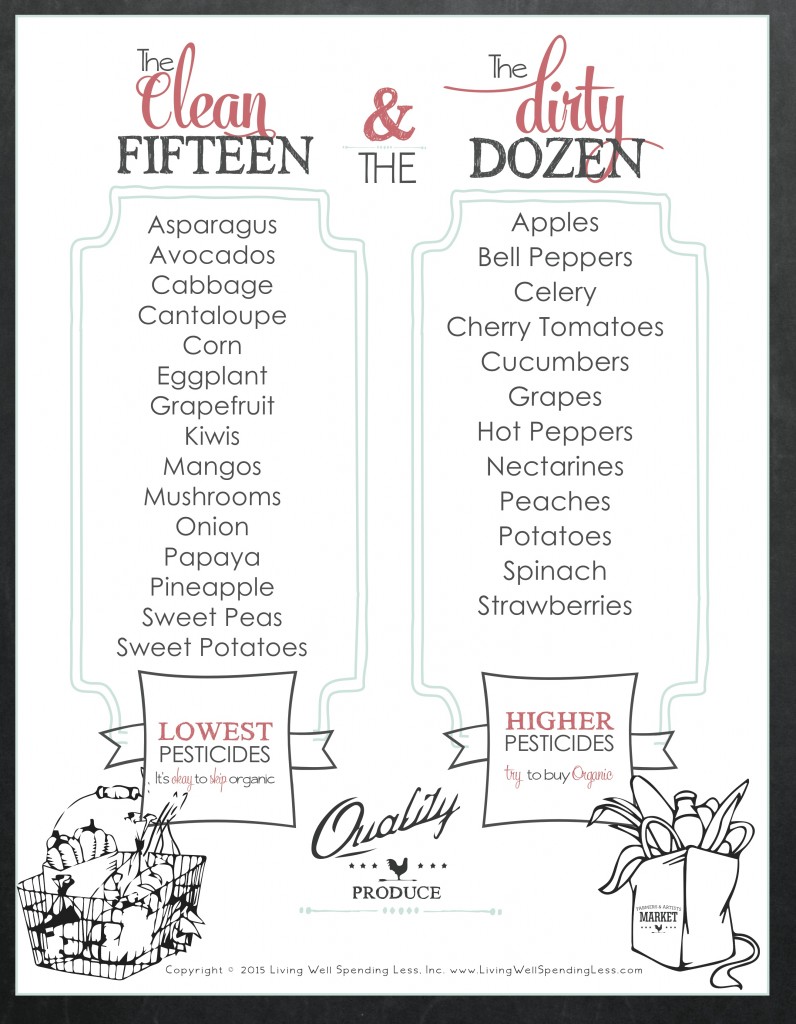 Get the printable download for this "Clean Fifteen and Dirty Dozen" list HERE.
Dirty Dozen (try to buy organic):
Apples
Bell Peppers
Celery
Cherry Tomatoes
Cucumbers
Grapes
Hot Peppers
Nectarines
Peaches
Potatoes
Spinach
Strawberries
Clean Fifteen (okay to skip organic):
Asparagus
Avocados
Cabbage
Cantaloupe
Corn
Eggplant
Grapefruit
Kiwis
Mangos
Mushrooms
Onion
Papaya
Pineapple
Sweet Peas
Sweet Potatoes
Watch your farmers markets, produce stands and local grocer for great deals on organics or consider joining a CSA (Community Supported Agriculture). Come harvest time, you can expect a bushel or so of fresh, local organic produce every week. It's a great way to get your family to try new items, especially when they're freshest and most flavorful!
Buy in Season
Each region and state has their own growing season, so what's readily available here in Florida, such as oranges and avocado, may not be quite as accessible in Minnesota. Still, by following the basic seasons and knowing what's at its peak, you can make smart choices at the store and offer your family produce that's less expensive, more nutritious and easier to find.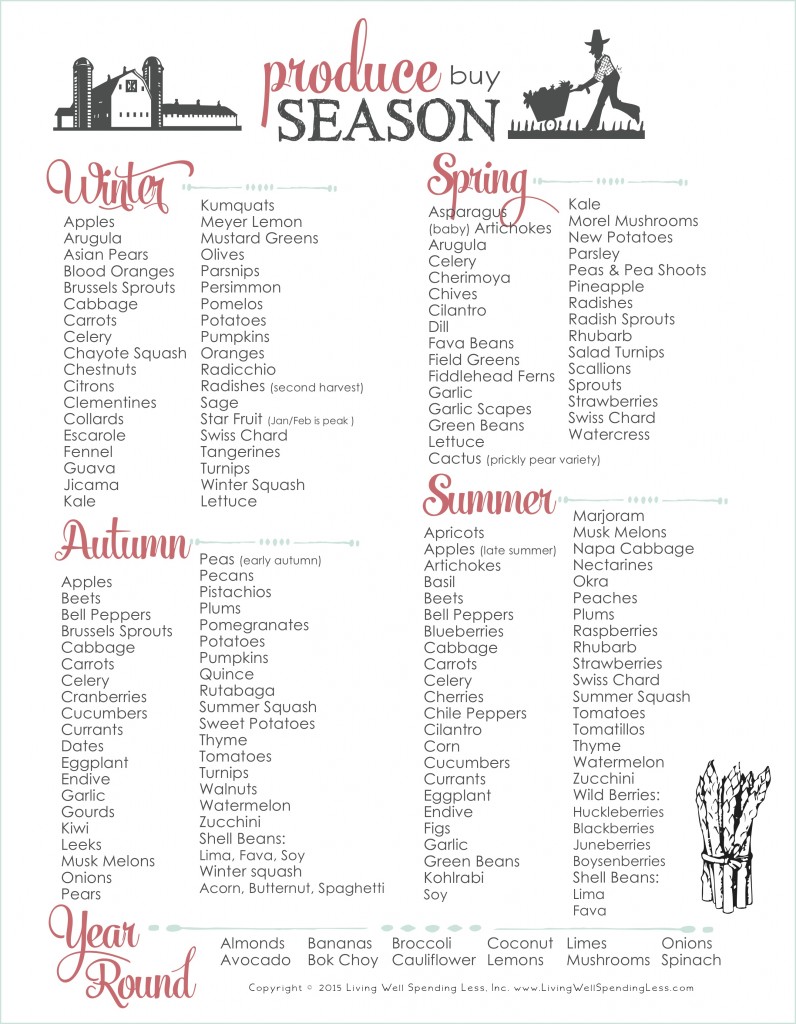 Get your printable complete guide to Seasonal Produce HERE
SPRING
Spring produce is often light, refreshing and crisp. There are a lot of "green" flavors in spring produce, so it's a great time for salads and bright, fresh flavors. Just as the world awakens from a winter slumber, so should your palate!
Asparagus
Artichokes (baby)
Arugula
Cactus (prickly pear variety)
Celery
Cherimoya
Chives
Cilantro
Dill
Fava Beans
Field Greens
Fiddlehead Ferns
Garlic & Garlic Scapes
Green Beans
Lettuce
Kale
Morel Mushrooms
New Potatoes
Parsley
Peas & Pea Shoots
Pineapple
Radishes & Radish Sprouts
Rhubarb
Salad Turnips
Scallions
Sprouts
Strawberries
Swiss Chard
Watercress
SUMMER
Summer produce is full of color and vibrant flavors. It's easy to eat a rainbow of foods in the summer, from purple eggplant to blueberries to beets to zucchini. Many summer fruits and veggies grill up well and make great warm-weather meals with salads, cold soups and simple flavors. These fruits and vegetables come flavor- and nutrition-packed, so there's no need for a lot of embellishment. Depending on your region and area, you can find summer produce as early as May and through late September. Warmer areas may even enjoy some items nearly year round! Make the most of these delicious summer treats.
Apricots
Apples (late summer)
Artichokes
Basil
Beets
Bell Peppers
Blueberries
Cabbage
Carrots
Celery
Cherries
Chile Peppers
Cilantro
Corn
Cucumbers
Currants
Eggplant
Endive
Figs
Garlic
Green Beans
Kohlrabi
Marjoram
Musk Melons
Napa Cabbage
Nectarines
Okra
Peaches
Plums
Raspberries
Rhubarb
Shell Beans (Lima, Fava, Soy)
Strawberries
Swiss Chard
Summer Squash
Tomatoes
Tomatillos
Thyme
Watermelon
Wild Berries (Huckleberries, Blackberries, Juneberries, Boysenberries)
Zucchini
AUTUMN
The flavors of autumn are spicy, sweet and comforting. Think apples, pumpkins, squash and cinnamon. The greens are heartier—like kale and mustard greens, sweet from the first kiss of frost and cold weather. Many root vegetables are reaching their peak after growing all summer. We tend to think of the harvest as a fall event, along with back to school, crisp days and cooler weather, beautiful colors and comforting foods of the season. You will see some of the same players from summer, but as the season goes on we add thicker-skinned produce, citrus fruits and pears.
Apples
Beets
Bell Peppers
Brussels Sprouts
Cabbage
Carrots
Celery
Cranberries
Cucumbers
Currants
Dates
Eggplant
Endive
Garlic
Gourds
Kiwi
Leeks
Musk Melons
Onions
Pears
Peas (early autumn)
Pecans
Pistachios
Plums
Pomegranates
Potatoes
Pumpkins
Quince
Rutabaga
Shell Beans (Lima, Fava, Soy)
Summer Squash
Sweet Potatoes
Thyme
Tomatoes
Turnips
Walnuts
Watermelon
Winter squash (acorn, butternut, spaghetti)
Zucchini
WINTER
Yes, winter can be sparse in terms of produce options, but there's still plenty of foods you can enjoy during the colder months. Brussels sprouts and cabbages are still available, plus carrots and hearty winter greens. Pumpkins, squash and potatoes are just begging to be made into a delicious hot bowl of soup. Winter is certainly not a time to give up on produce or to rely only on frozen items. Citrus fruits are in season and we all remember getting that Christmas orange in our stocking!
Apples
Arugula
Asian Pears
Blood Oranges
Brussels Sprouts
Cabbage
Carrots
Celery
Chayote Squash
Chestnuts
Citrons
Clementines
Collards
Escarole
Fennel
Guava
Jicama
Kale
Kumquats
Lettuce
Meyer Lemon
Mustard Greens
Olives
Parsnips
Persimmon
Pomelos
Potatoes
Pumpkins
Oranges
Radicchio
Radishes (second harvest)
Sage
Star Fruit (available throughout the year, but Jan/Feb is peak season)
Swiss Chard
Tangerines
Turnips
Winter Squash
YEAR ROUND
A few delicious options are available all year round due to the growing conditions and the regions where they're available, or because they're grown indoors (like mushrooms). Keep your eye on sales all year for avocados, bananas and mushrooms. Spinach is also widely available and culinary staples, including lemons, limes and onions can be found all the time.
Almonds
Avocado
Bananas
Bok Choy
Broccoli
Cauliflower
Coconut
Lemons
Limes
Mushrooms
Onions
Spinach
Whatever the time of year, incorporating an abundance of produce into your family's diet assures that everyone gets a full range of nutrients. Stock up on items when they're available, then look for creative recipes or try your hand at freezing, canning, dehydrating and other preservation methods.
Don't be afraid of produce just because you haven't had it before or because you didn't like it as a kid. Many of us were raised on apples, oranges and over-cooked brownish-green vegetables. Try your hand at oven roasting to really bring out sweet flavors in almost any veggie. Fruits can become sweeter and more delicious on the grill—also a great option for most veggies as well.
Choosing seasonal produce and produce grown in your area can really help you feel in touch with the environment and the cycle of the year. Connect with farms and talk to local growers (or try your hand at a few backyard crops) to get a feel for the origins of food and our relationship with what we eat. Fruits and veggies are delicious and great for you—enjoy!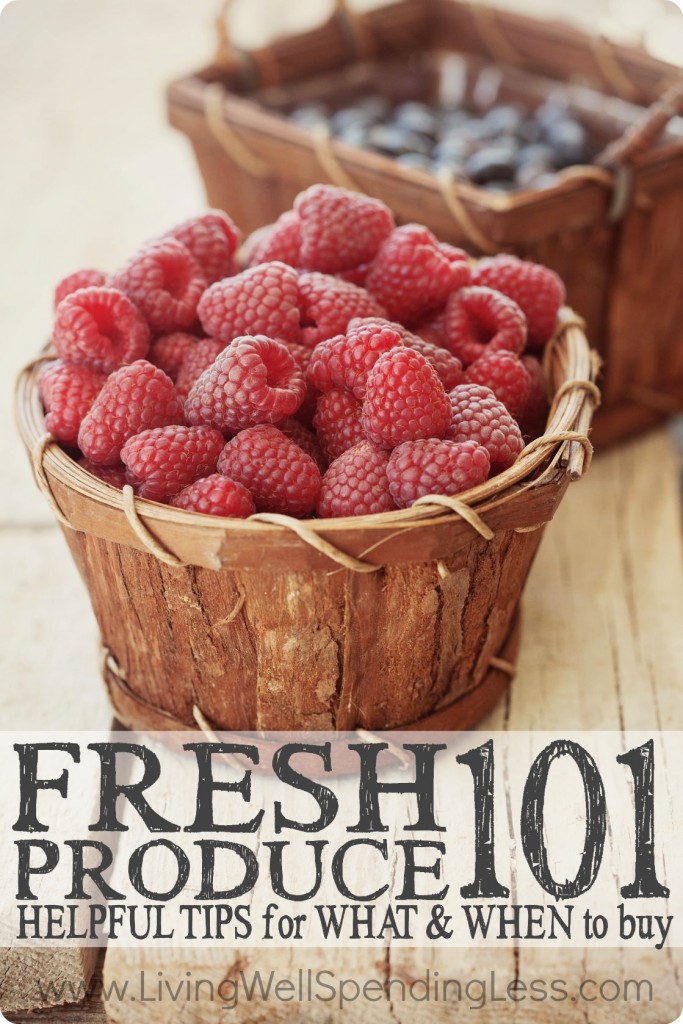 TAKE BACK CONTROL OF YOUR HOME LIFE
---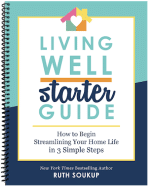 Ever feel like you just can't keep up? Our Living Well Starter Guide will show you how to start streamlining your life in just 3 simple steps. It's a game changer--get it free for a limited time!
If you love this resource, be sure to check out our digital library of helpful tools and resources for cleaning faster, taking control of your budget, organizing your schedule, and getting food on the table easier than ever before.