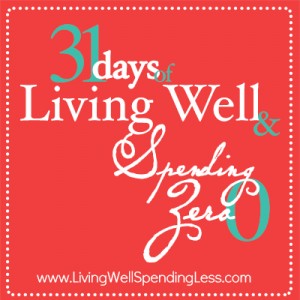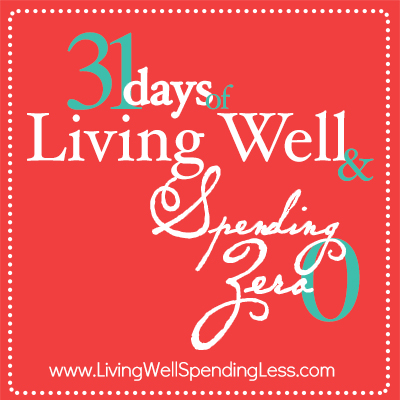 This is the twenty-third day of my 31 Days of Living Well & Spending Zero challenge. To read all the posts in order, start with Day One or visit the Overview Page.
 *   *   *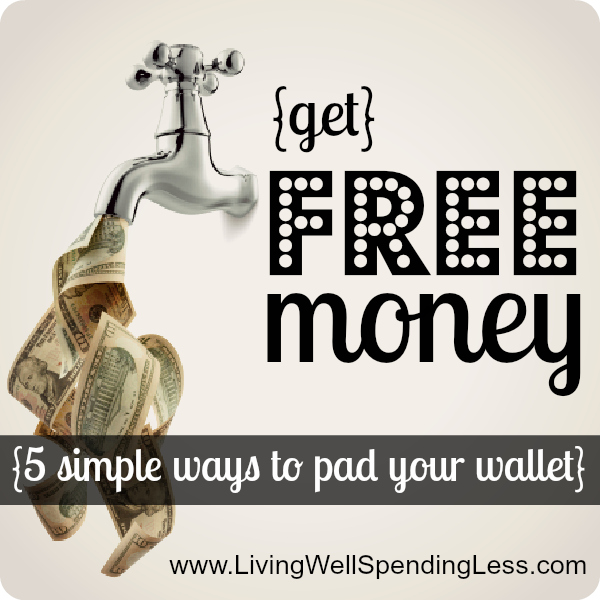 Have you ever gotten to the end of the month and thought to yourself, "where the heck did all my money go?'  (If not then you are clearly a much better money manager than me!)  Life can get hectic sometimes and it is easy to lose track sometimes, but chances are you've got at least a little money hidden out there somewhere, or you are missing an opportunity to make some. Today we're going to find it!
1. Loose Change
Okay, this one might seem obvious, but how many dollars do we have stuffed between couch cushions, lost in our car consoles, hidden in forgotten pockets of the purses we're no longer using or the jeans that haven't fit for the past year? Grab your kids and go on a money hunt. Here are some great places to hunt for loose change:
Couch cushions
Washing machine & Dryer
In your car–under seats, ashtrays, glove compartment, center console.
Coat pockets
Pants pockets
Old Purses & Wallets
Desk & junk drawers
Suitcase Pockets
Under the radiators
Old piggy banks
In the clothing hamper
Once you've rounded up all that loose change you can either take the time to put it all in rolls & take it to the bank, or you can use one of those convenient Coinstar machines at the grocery store. (Tip: Redeem your change for a grocery store gift card instead of cash and you won't have to pay a commission.)
2. Forgotten Gift Cards & Online Credits
It happens. We see a great deal on Groupon, buy it, and then forget about it. Someone sends us a Gift Card and we are too busy to use it, so it sits forgotten and unused until we no longer even remember it is there. We win a prize from an online contest and it remains unclaimed. Or maybe that's just me.
In any case, when I looked through my old purses and my desk drawer I found 3 unused gift cards–1 for Starbucks, 1 for Applebees, and 1 for Shell–and a store credit to Express. I also found a gift certificate for a free pedicure! Yay! I then searched through my old emails and found 4 e-Gift cards I had purchased on a hot deal from Paper Coterie, along with a $50 Amazon e-gift card I had won in an online drawing a few months back. I also found 2 Groupons that I had purchased and never used,  a nice referral credit from Vitacost, and enough points at both Swagbucks and Recyclebank to earn a gift card of my choice. Score!
While I'm sure most of you aren't nearly as forgetful as me, it never hurts to double check! Here are some places you might want to check for forgotten gift cards & credits:
Old purses & wallets for unused gift cards or store credits
Old birthday & thank you cards
Your email–search for "gift card" "credit" "refund" or "e card"
Any daily deal sites you use frequently, such as Groupon, Eversave, Plum District, etc.
Even if you haven't already been earning credits via Swagbucks, there is no reason not to start now. Repeat after me:  FREE money! Seriously, what is better then earning credit for searching the web or printing coupons, something you were going to do anyway?
The easiest way that I have found to earn bucks was to download the free search box for my toolbar, and then to do all my search engine searches via Swagbucks. (Instead of, say, Google or Yahoo.)  You can also earn for printing coupons or participating in other offers. A $5 Amazon.com giftcard costs 450 Swagbucks, and on average it takes me about a week of heavy search engine use (20-30 searches a day) to earn that amount.
4. Recyclebank
At Recyclebank you can earn points for taking quizzes & playing games (all related to green living), which can then be redeemed for prizes like magazine subscriptions, gift cards, or high value coupons. It is fun and easy to earn points, and many of the prize "prices" start low so you don't have to participate for long to start redeeming your points.
I definitely saved the best for last! Jingit is pretty much the coolest thing I have ever seen–a company that lets you earn CASH (not credits) for watching video ads & taking short surveys–up to $15 per week! Did I mention it is AWESOME?!
The videos are short and the surveys are even shorter, and as soon as you've earned $3 you can apply for the Jingit VISA debit card which will then load your earnings right onto the card so that you can use it just like you would cash. You can earn the most money by logging in more than once per day because many of the videos will reset and let you watch them again, and you can increase your weekly earning limit from $10 to $15 by sharing with friends via Facebook & Twitter.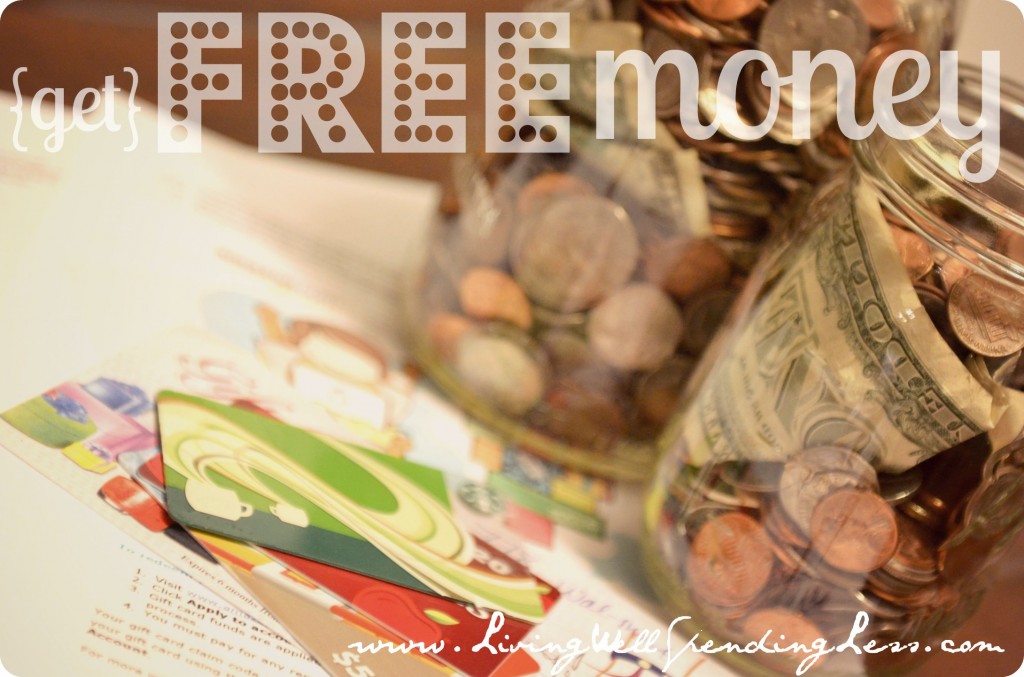 Your assignment today is to round up all the lost money you've forgotten about, and to sign up for Swagbucks, Recyclebank, & Jingit right away so that you can start earning more (if you haven't already!)  Then don't forget to use them!
*   *   *
Can you think of any money, gift cards, or credits you've forgotten about? Can you think of any other places to find free money?