Today we are welcoming Cindy from Skip to My Lou, who is sharing a fun and easy way to make gigantic homemade bubbles.
Hi everyone! My name is Cindy and I blog at Skip to My Lou. I blog about simple crafts, sewing, crochet and recipes. Be sure to come visit my site if you are looking for more fun crafts and activities!
Right now we are having a blast at our house with these giant homemade bubbles. They are super easy to make! You probably have all the supplies in your kitchen right now! Be patient with this mix though…the more you play the better it gets!

Here is what you need for the bubble mix:
3 cups water 1/2 cup Dawn dish-washing liquid
1/4 cup corn starch
1 tablespoon baking powder
1 tablespoon corn syrup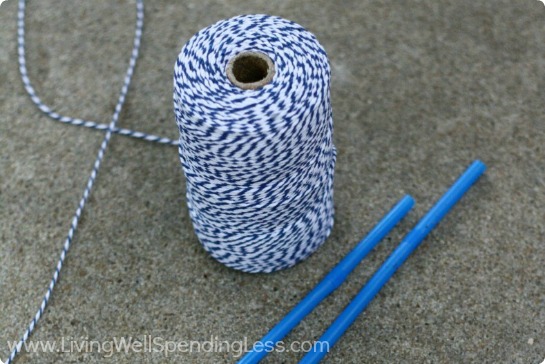 Here is what you need for the homemade bubble wand:
some string(
Bakers twine
) straws
bendable straws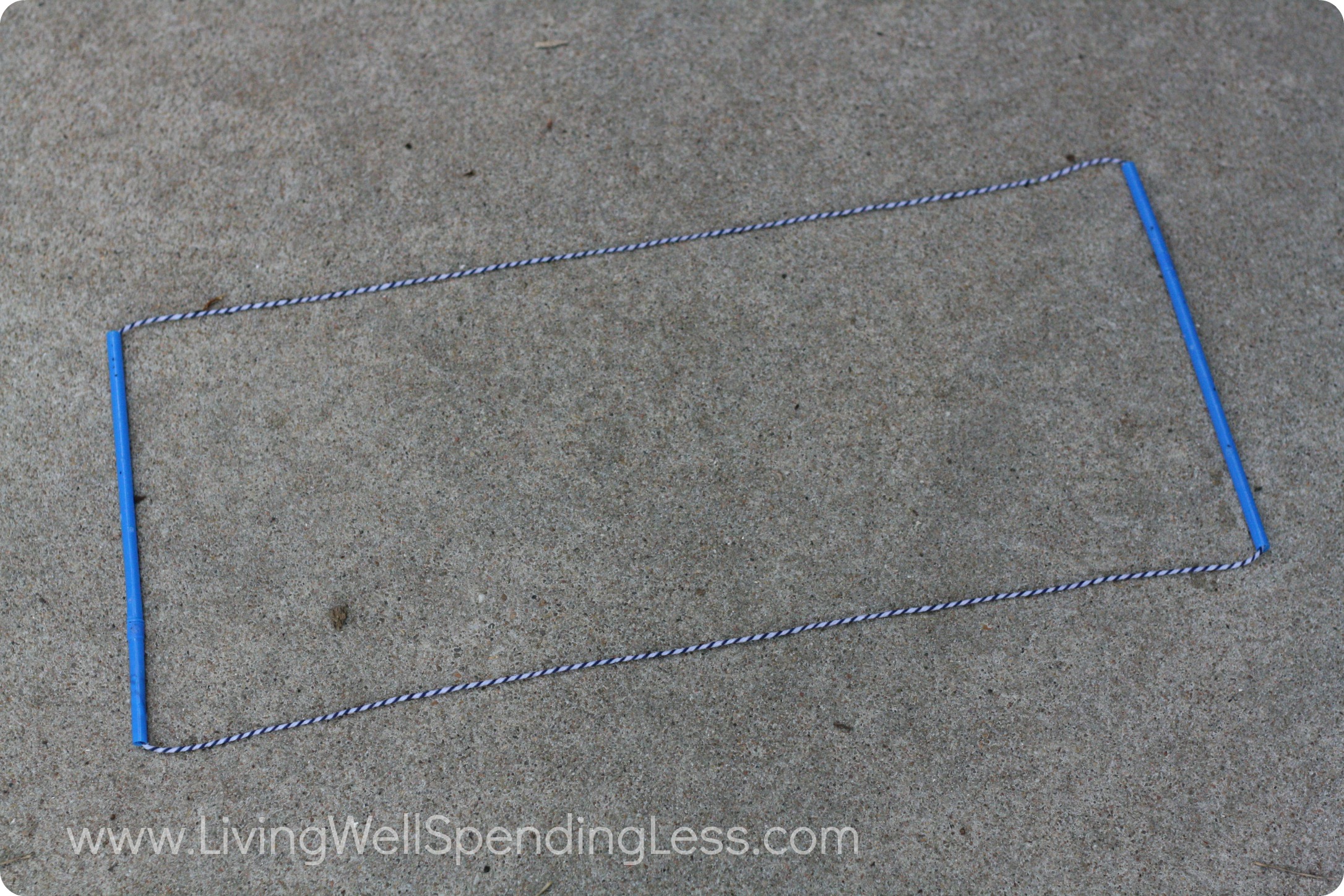 Step 1: Cut about two yards of string or baker's twine. Thread the straws onto the string and fasten the ends of the string with a knot. Move the knot around until it is hidden inside one of the straws.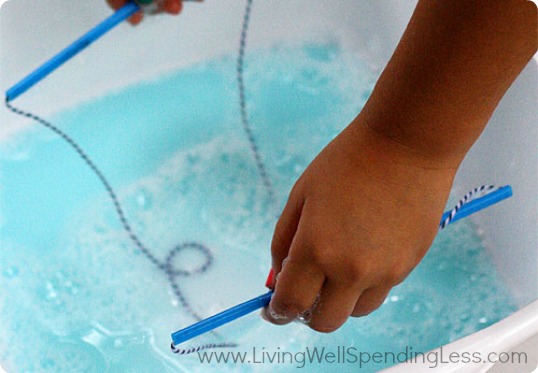 Step 2: Mix together water, Dawn liquid detergent, corn starch, baking powder and corn syrup. Place bubble mixture in a container large enough for the straws to fit inside. We used a dish tub.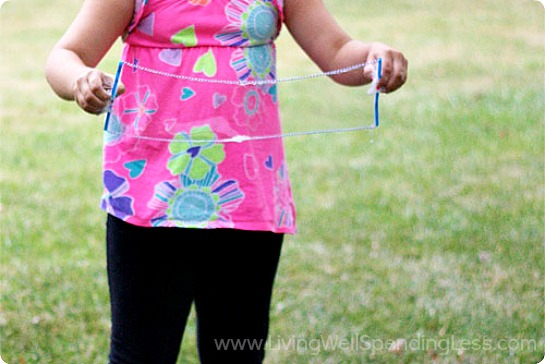 Step 3: Dip the bubble wand into the solution and gently bring it out of the solution one side at a time. It will take quite a few tries until the mixture will start making bubbles. Be patient, it will be worth it. Slowly pull the string apart, allowing the bubble solution to stretch across the string.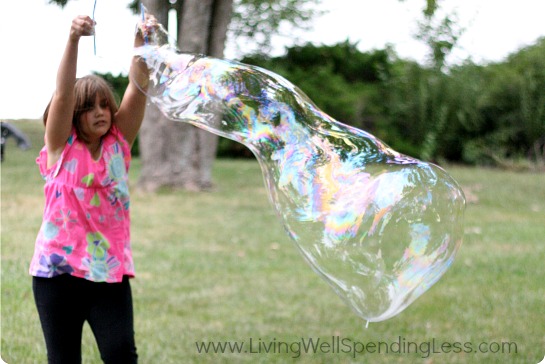 Step 4: Slowly walk backwards allowing giant bubbles to form. SO FUN! Look at these giant bubbles!
We found it took some time to get the bubbles to work. The motion of our hands in the solution seemed to make it better and better. Once it started working it was amazing. Although,we found a few days later the solution didn't work well.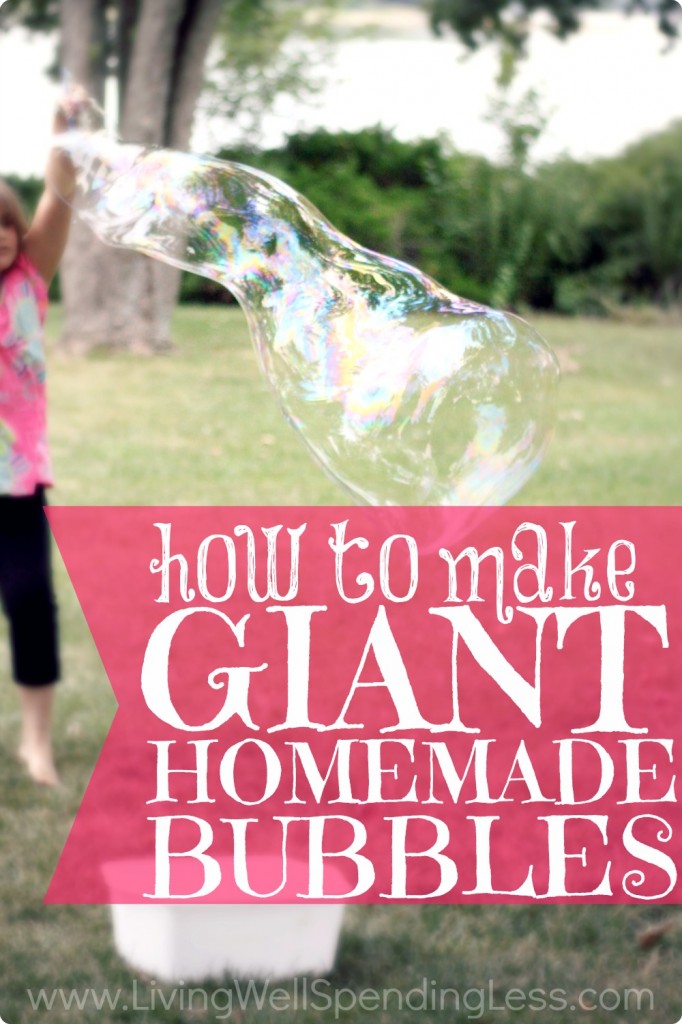 Have you ever tried making homemade bubbles? If so, how did they turn out? If not, why not?
TAKE BACK CONTROL OF YOUR HOME LIFE
---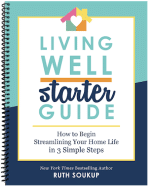 Ever feel like you just can't keep up? Our Living Well Starter Guide will show you how to start streamlining your life in just 3 simple steps. It's a game changer--get it free for a limited time!
If you love this resource, be sure to check out our digital library of helpful tools and resources for cleaning faster, taking control of your budget, organizing your schedule, and getting food on the table easier than ever before.