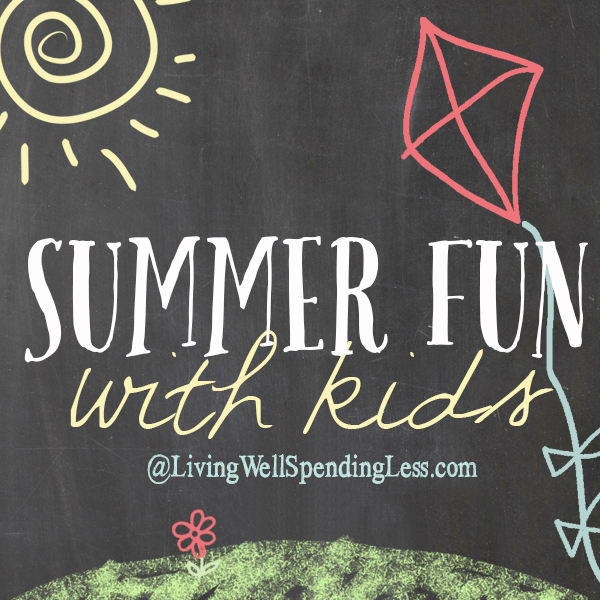 This is Week 2 of our 12-week Summer Fun with Kids series here at LWSL! Today we are welcoming Cindy from Skip to My Lou, who is sharing a fun and easy way to make gigantic homemade bubbles. For more summer fun, check out the overview page.
*   *   *
Hi everyone! My name is Cindy and I blog at Skip to My Lou. I blog about simple crafts, sewing, crochet and recipes. Be sure to come visit my site if you are looking for more fun crafts and activities!
Right now we are having a blast at our house with these giant homemade bubbles. They are super easy to make! You probably have all the supplies in your kitchen right now! Be patient with this mix though…the more you play the better it gets!

Here is what you need for the bubble mix:
3 cups water 1/2 cup Dawn dish-washing liquid
1/4 cup corn starch
1 tablespoon baking powder
1 tablespoon corn syrup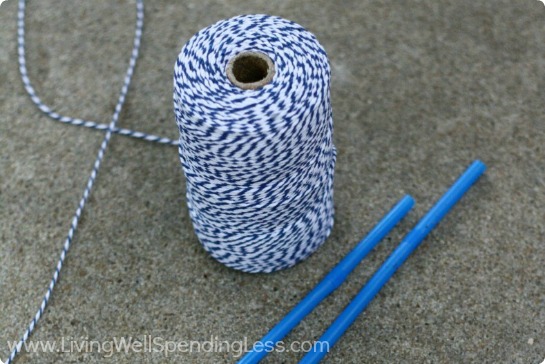 Here is what you  need for the homemade bubble wand:
 some string(
Bakers twine
) straws
bendable straws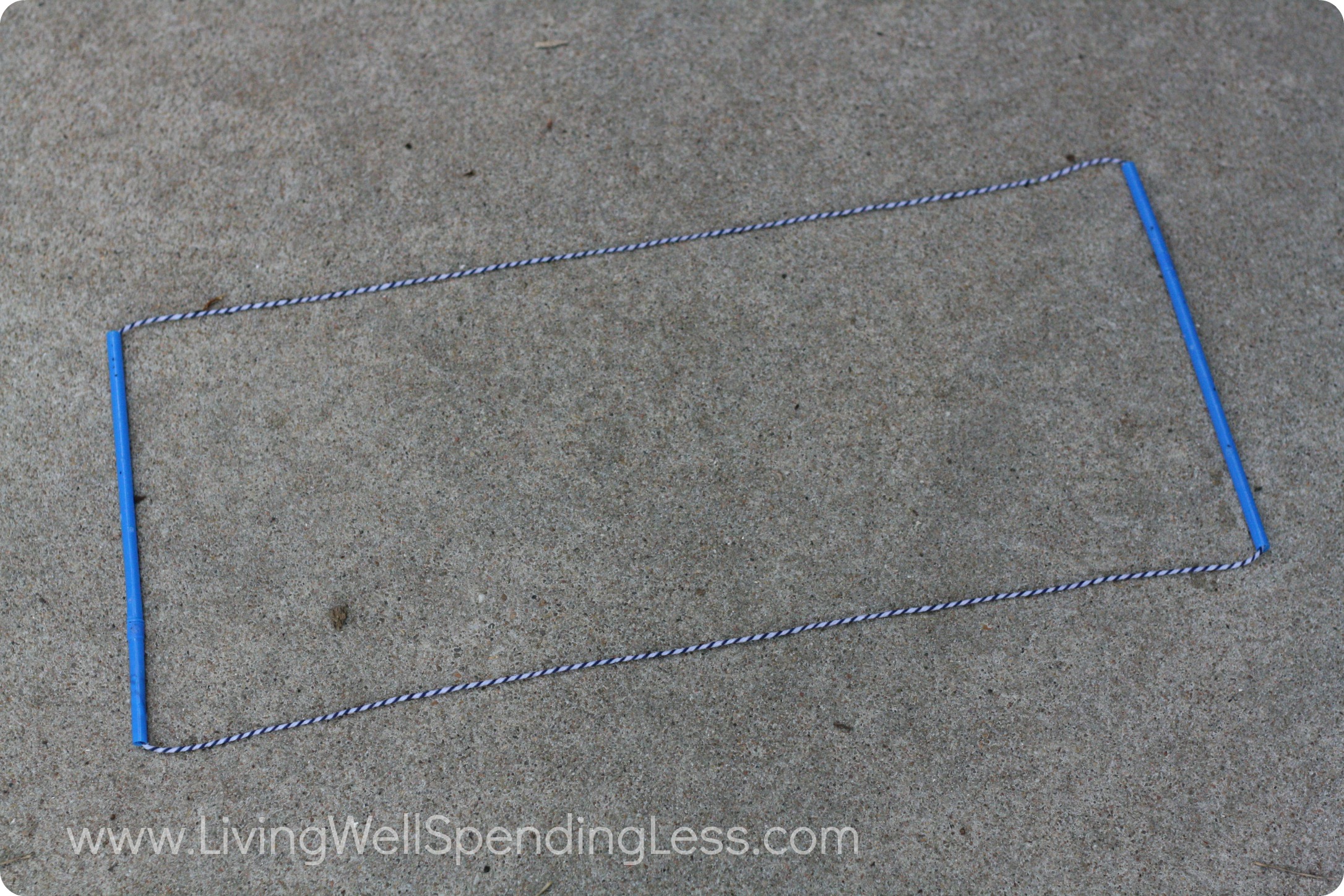 Step 1:  Cut about two yards of string or baker's twine. Thread the straws onto the string and fasten the ends of the string with a knot. Move the knot around until it is hidden inside one of the straws.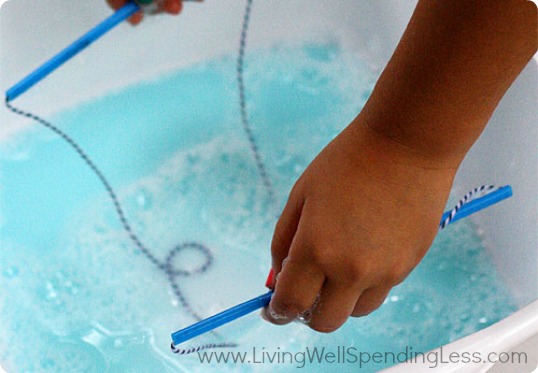 Step 2: Mix together water, Dawn liquid detergent, corn starch, baking powder and corn syrup. Place bubble mixture in a container large enough for the straws to fit inside. We used a dish tub.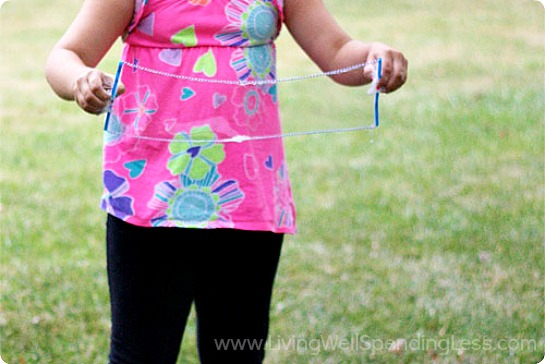 Step 3: Dip the bubble wand into the solution and gently bring it out of the solution one side at a time. It will take quite a few tries until the mixture will start making bubbles. Be patient, it will be worth it. Slowly pull the string apart, allowing the bubble solution to stretch across the string.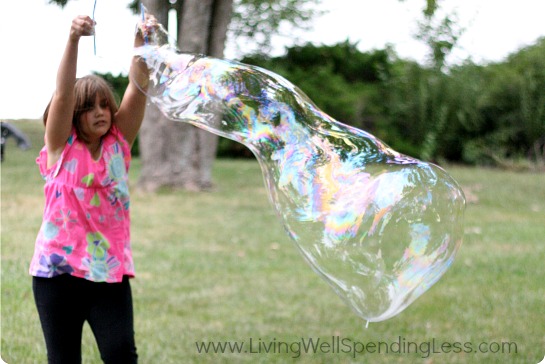 Step 4: Slowly walk backwards allowing giant bubbles to form. SO FUN! Look at these giant bubbles!
We found it took some time to get the bubbles to work. The motion of our hands in the solution seemed to make it better and better. Once it started working it was amazing. Although,we found a few days later the solution didn't work well.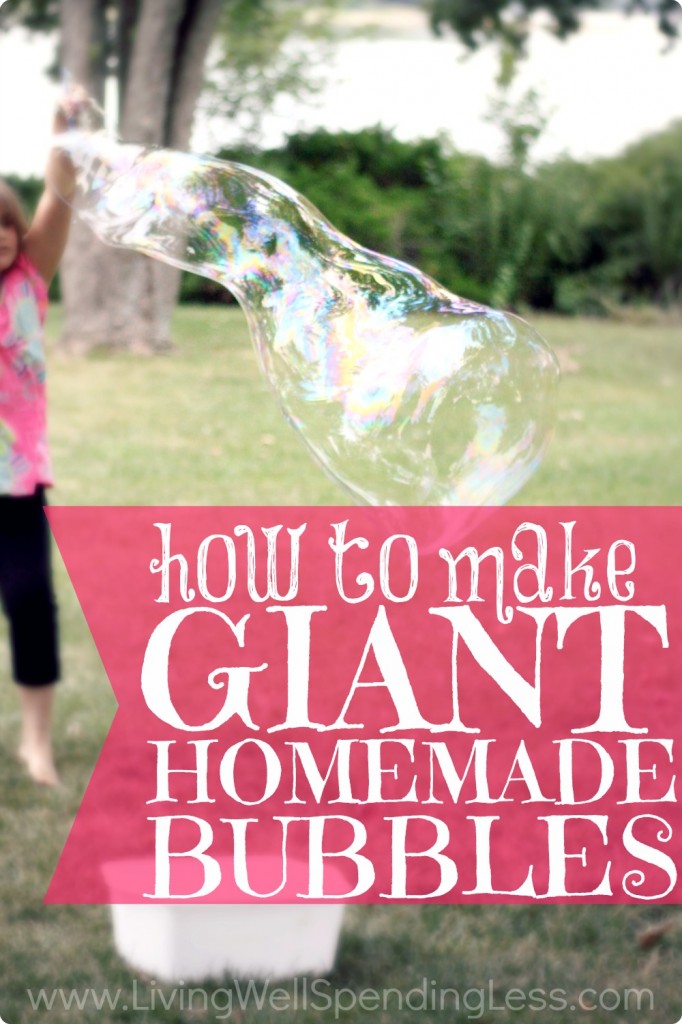 And now it is time for another fun giveaway! Since this week's project handily uses materials you probably already have on hand, we thought we'd give away something EVERYONE can use–a $100 Amazon Gift Card! To enter, just follow the instructions in the box below.
THIS GIVE AWAY HAS ENDED
Can't see the box above? Click here.
Cindy Hopper is a crafter, DIY-er and blogger. Her blog, Skip to My Lou, is full of free patterns, downloads and plenty of inspiration. She uses her arts education background as well as her practical experience as a mother to three children ages 21,17 and 9. Cindy hopes to share ideas that allow her followers to create memories with their friends and family.    
*   *   *
Have you ever tried making homemade bubbles? If so, how did they turn out? If not, why not?