Feeling overwhelmed by too much clutter? Why not give experiences instead of stuff? Keeping clutter at bay can often feel like a losing battle, especially around the holidays, when more keeps coming in the door.
Let's face it–keeping clutter at bay can often feel like a losing battle. No matter how hard we work at getting "unstuffed," there are always more things coming back through the door–especially when it comes to kids!
The reality is that we can get rid of things all day long, but without a solid plan for the next holiday or birthday, we'll be soon faced with another pile of STUFF.
The worst part is that there are often so many gifts and toys and trinkets that our kids become overwhelmed, eventually even forgetting about some of the most awesome new toys they received. All in all, you're left with more clutter. After just one holiday, gifts are filling up your closets, taking over the toy room, and clogging up the space under your bed.
Discussing the gift situation with relatives and loved ones can be particularly delicate. After all, 99% of the time, their heart is in the right place. They took the time to think of your child, plus, they spent time and money at the store picking out something they feel is special. It's truly an act of love, one none of us wants to take for granted.
So is there some way to strike a balance? A way to keep the thought without adding more STUFF?
I'd like to think so.
Because in the end, what really matters are the memories—those special things you did with your loved ones. Maybe it was making gingerbread houses with Grandma every Christmas and getting your fingers sticky from licking so much of the candy. Maybe you remember building something with your Dad or helping your Mom work in the garden. Perhaps you can recall a memory of sightseeing with cousins or siblings and being amazed by dinosaurs in a museum or giant roadside attractions on a car trip.
Our memories are made up of experiences and people. They're rarely made up of "stuff." Yet we hold on to stuff hoping it will bring us back to our happy memories.
That's exactly why giving experiences rather than gifts can be so much more meaningful. Take photos and share the photos with the gift-giver after the activity, along with a card letting them know how meaningful and enriching their gift was to your kids and family. And as you shift your philosophy from "stuff" to activities, you might be surprised by how many of your loved ones truly enjoy the switch.
Give Experiences Instead of Stuff: 10 Ideas to Try
If you're scratching your head wondering what sorts of special activities you can give (especially those that don't cost a ton of money), here are a few ideas to get you started: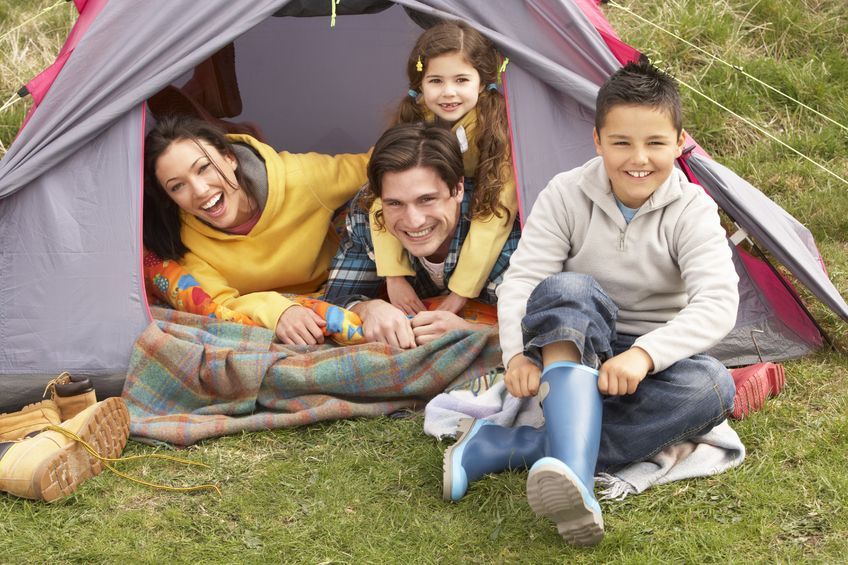 1. Plan a Special Movie Night
Going to the movies can be a lot of fun—and even with the price of movie tickets these days, it's still cheaper than another videogame or Lego set. Think outside the box and beyond the theater to make your movie night experience even more fun and less expensive.
You can have an outdoor movie night, which can be as elaborate or as minimal as you like. Set up blankets in the backyard and rent a projector, or try a DIY projector hack. Offer treats and enjoy a movie under the stars.
Another easy idea is to simply host your special movie night at a relative's or friend's house. Make it a "movie-a-thon" and show a double feature. Have everyone bring a blanket or sleeping bag. Serve milkshakes and popcorn. How much fun would your kids have watching a favorite movie with their aunt and uncle or their grandparents? It's all about making it a special and unique event rather than just "popping in a DVD."
2. Hold Game Day at the Park
Grab a football, Frisbee, beanbag toss or croquet set and head to your local park where everyone can play! Bring your own fixings for subs, chips, veggies and fruit and set up a blanket or picnic table. In the winter, game day can turn into building a snowman, ice skating or sledding together as a family or with friends. Follow it up with a warm treat like hot chocolate or cider.
Most city parks are free and accessible to all. Maybe you're even fortunate enough to live close to one of our beautiful National Parks. Perhaps Grandpa has some kite flying skills he'd like to share or your cousin loves geocaching. Encourage them to share their knowledge with your kids and add another layer of discovery to the experience.
For younger kids, simply swinging, digging together in the sand, or playing a game of catch can be more meaningful than any number of toys. Bring a game of checkers, Jenga, or another board game you can enjoy on the picnic table together as a family!
3. Become a Local Tourist
Try some urban exploring and find out what your town is really all about. We've seen all these fans of Pokémon Go searching out the corners of their town for different creatures. Go old school and mark up a map with various landmarks and sites. Arm your kids with cameras and send them on a hunt to find the features around town.
Check your local paper and visitors' bureau to see what sort of free activities are offered in your town. You may be surprised by the number of free concerts, local museum and zoo discounts, and other activities offered to residents. If there's a festival, a fair or a band playing, head out to get involved!
So often we explore new towns when we go on vacations, but when it comes to our home city, we overlook many of the cool features. Find out what your town is truly famous for and spend a day or two making the most of it! Relatives and friends can go along and treat the kids to local cuisine, show them their favorite feature in town, or enjoy a festival together!
4. Get to the Beach
Even if you don't live on a coast, chances are there's a river, lake or pond in your area. Time to hit the beach! Grab your flip-flops, sunscreen and water gear and jump (or wade) in!
Spending time at the beach is often refreshing and restful. It offers friends and relatives a chance to really spend quality time with your kiddos and do something together you can all enjoy. Bring along some snacks and stroll along the boardwalk. Ride a Ferris wheel or build a sandcastle. If there's a tour of a local lighthouse or ship, take it!
Bring a camera along and see if you can take some fun beach pictures of your family. Play with perspective with your kids. See if they can "hold up" the sun or point out a tiny boat in the distance. If you have a fisherman or woman in your family, they can teach your kids how to cast and bait a hook. Your kids will have a memorable day that everyone will enjoy. There's just something about a beach no one can resist.
5. Go Camping
If your friends and family members are outdoorsy types, why not take everyone on a camping trip for a day or two or plan some outdoor activities? Campgrounds are often very inexpensive to rent and there's nothing like cooking over a fire, hanging out in a tent, and exploring the wilderness to really bond with your loved ones.
Even if your family isn't big on roughing it, ask relatives if they'd spend a day with you at a local nature preserve, watching the changing leaves in a nearby forest or even simply taking your kids on a nature walk or scenic drive.
Renting a kayak or canoe can be relatively inexpensive and a lot of family fun. Hike local trails and learn to use a map and compass (the original GPS). Turn off technology and spend time visiting and enjoying the beautiful earth we're so blessed to live on.
6. Volunteer
Particularly during the holidays, volunteer opportunities abound. Relatives can accompany your family to a local soup kitchen or food pantry to serve those who need some extra help, especially if the weather is cold.
Does your aunt know how to sew or can your friend knit? Have them walk your kids through some simple projects. Make cage comforters for the local humane society, sew dresses from pillowcases for girls in Africa, or create knit hats to donate to a NICU or children's hospital. Not only will your friend be passing on a talent and skill to your kids, but you'll also be helping make the world a brighter and better place.
Consider adopting a project as a family. Can you play Secret Santa to a military family or host a coat drive through the Salvation Army? Is there a 5K you'd like to run (or train for) together? In lieu of gifts, ask family members and friends to contribute to your cause and see how much money you can raise. It can be truly heartwarming to see kids get excited about gifts for others rather than wanting more things for themselves.
7. Grow Some Flowers
Know someone with a green thumb? Ask him or her to share their skills with your kids. Instead of a gift, say, "You know, Olivia has been asking me if she could plant a garden. Would you help show her how to get started?" If your child loves butterflies, ask for help selecting the best plants to attract pollinators.
If your kids have an interest in building and you have a pal who's good with construction, ask him or her to show them how to build a birdhouse, a shelter for mason bees, or a planter box for their yard.
Even in the winter, you can grow a gourmet herb garden, lettuce, or cute succulents in a window. Set up a fairy village from found and handmade items or create a terrarium together—one for your house and one for your friend. They can compare their growth, swap pictures, and keep up on their gardens throughout the year.
8. Throw an Art Party
I don't know about your kids but mine LOVE those paint-your-own pottery shops. They're always begging to visit, but the items there can be quite pricey. Host your own "Art Party" or have a friend give an art session as a gift and share their talent with your kids.
Use a Sharpie marker to "paint" mugs from Goodwill or other recycled ceramics. Try a simple canvas with watercolor, chalk or tempera paints. Try some felting and create cute creatures together or use clay to make jewelry and figurines.
Keep it simple but be sure everyone gets to leave with a creation and goes home feeling accomplished. It's all about letting your artistic side shine!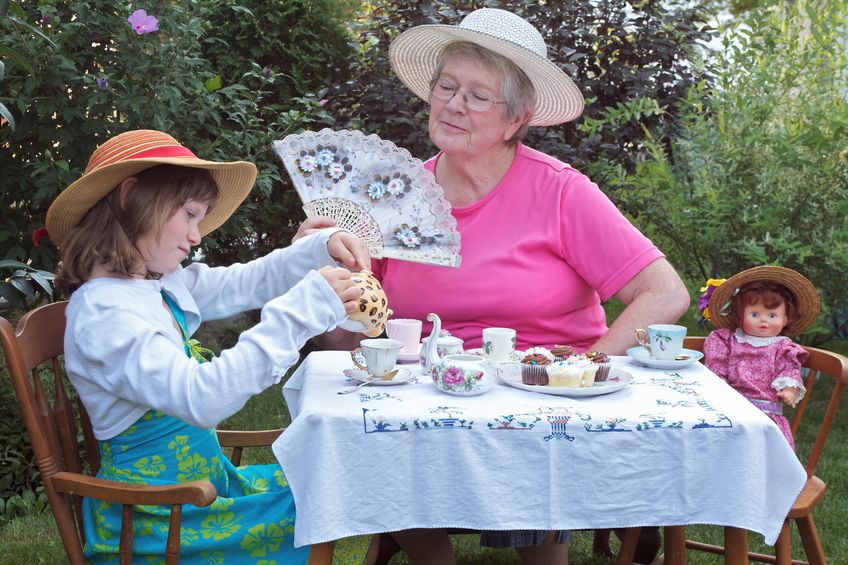 9. Get Theatrical
Kids love to imagine and act out. Quite honestly, most children would be thrilled to have an afternoon playmate—if Grandpa, Grandma, Auntie or Uncle would just have a tea party or act out a story with them.
To make it truly special, consider letting your kids host a circus, talent show or play. Ask each person to contribute a talent, rather than give a gift for the event. For Halloween, Christmas or Easter, you can try a seasonally appropriate story or theme. For other times of the year, anything goes. You can find scripts online or suggest your kids perform scenes from their favorite movie. (Mary Poppins, Wizard of Oz, or Peter Pan can be great!)
Give out tickets and ask family members to help with costumes, makeup or programs (if they aren't so into acting). In lieu of gifts, they could also host a refreshment stand and share a favorite treat with the audience. Even an enthusiastic reading of some favorite stories can be a great theatrical treat that almost anyone can get behind.
10. Show Off Your Chef Skills
Host your own version of "Chopped" or fire up a cooking challenge! Use a mystery ingredient and make a meal together or come up with a creative recipe. If your friend or relative loves baking, ask them to decorate some cookies with your kids.
Try a seasonal recipe or favorite dish. Host a potluck party or let family members know that instead of giving gifts, we'd love to have a DIY pizza and game night together. Have everyone bring their favorite toppings and a game.
Food is something almost everyone can enjoy and get behind. If you have a relative who says they'd really like to give a gift, ask them to make a birthday cake or teach a cooking lesson.
When giving experiences rather than gifts, consider your own area of interest, expertise and enjoyment, as well as who you are giving to. Think of a talent you'd love to share, or one they would, or something you really enjoy doing together. Or if, you're asking other family members to give experiences to your kids, try to think of something they'd enjoy. The idea is to do something special together and share in memories rather than things!
To recap,here are ways on how to Give Experiences Instead of Stuff: 10 Ideas to Try
1. Plan a Special Movie Night
2. Hold Game Day at the Park
3. Become a Local Tourist
4. Get to the Beach
5. Go Camping
6. Volunteer
7. Grow Some Flowers
8. Throw an Art Party
9. Get Theatrical
10. Show Off Your Chef Skills
Other helpful resources:
PIN FOR LATER: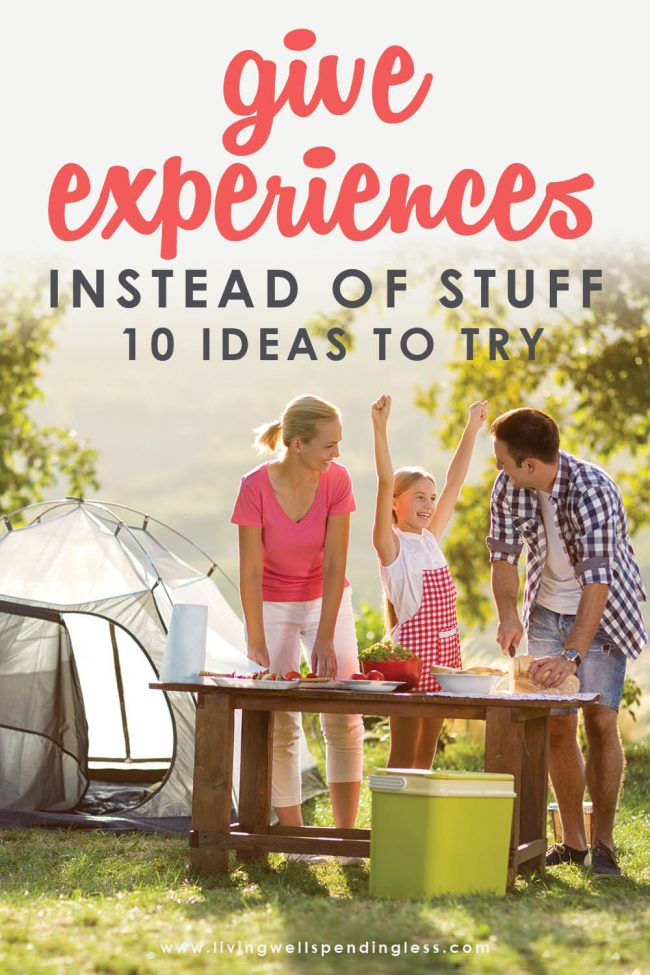 TAKE BACK CONTROL OF YOUR HOME LIFE
---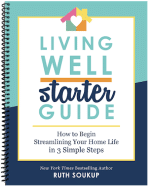 Ever feel like you just can't keep up? Our Living Well Starter Guide will show you how to start streamlining your life in just 3 simple steps. It's a game changer--get it free for a limited time!
If you love this resource, be sure to check out our digital library of helpful tools and resources for cleaning faster, taking control of your budget, organizing your schedule, and getting food on the table easier than ever before.