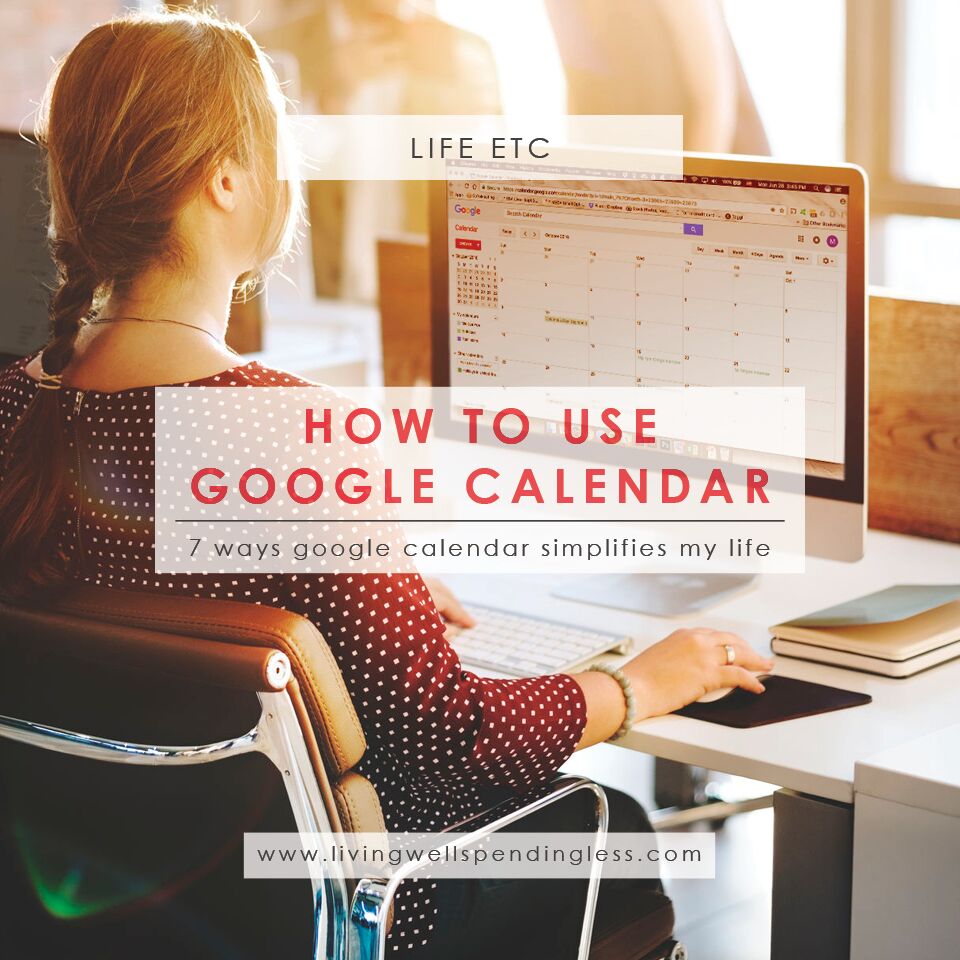 I couldn't be happier to introduce you all to my dear friend Crystal Paine of Money Saving Mom. Crystal is one of those people who I just "clicked" with the instant that we met. Every time we talk I feel both challenged to do better and encouraged that I can actually do it. If you've ever read her amazing blog, you know that is just the way she is! Her new book, Say Goodbye to Survival Mode, launches tomorrow, January 21st, and I can't say enough good things about it! It is jam-packed full of practical tips and wisdom for learning how to THRIVE in your life, instead of just survive! She is also giving away an amazing packet of over 40 free life-organizing printables just for sharing the news about her book on social media, so be sure to first order the book here, then pop over to her site to get your printable packet!
This is a guest post from Crystal of MoneySavingMom.com
For years, I was an ardent pen and paper gal. I wrote lists. I checked things off the lists. And I prided myself on how I stayed so organized without the aid of any new-fangled techie tools.
Because isn't old-fashioned better, right? Well, that's what I had convinced myself was true.
But then, my business grew and my kids grew and our calendar started filling up with more appointments and activities. Needless to say, the pen and paper method wasn't working so well.
I kept trying to make the paper system work… I was determined and committed. But I often didn't have my paper with me when I needed to write something down. So then I'd scratch it down on any paper that was nearby — and then often lose that paper.
DIG DEEPER
---
Do you feel like you run out of time to accomplish your to-do list every day? Apply these 10 Tips to Get More Done Every Day Cheat Sheet to get more done, each and every day. Simply opt-in below to have the Cheat Sheet sent straight to your inbox!

In addition, my brain felt constantly cluttered up by to-do's and to-remembers. I didn't have a streamlined way to post paper reminders of something I needed to remember in 7 weeks and 3 days from now, so I just kept it in my head, kept reminding myself that I couldn't forget it, and then kept worrying that I wouldn't remember to remind myself about it.
Yes, I was fighting a losing battle!
My husband — always one to jump on anything techie — strong encouraged me to try Google Calendar. "That's online." I protested. "You know that online calendars won't work for me." But he persisted and I finally relented.
And I am so very glad I did, because using Google Calendar has revolutionized my life and my productivity. In fact, in spite of the fact that I'm usually the non-techie person, I continually catch myself championing Google Calendar to my friends and family!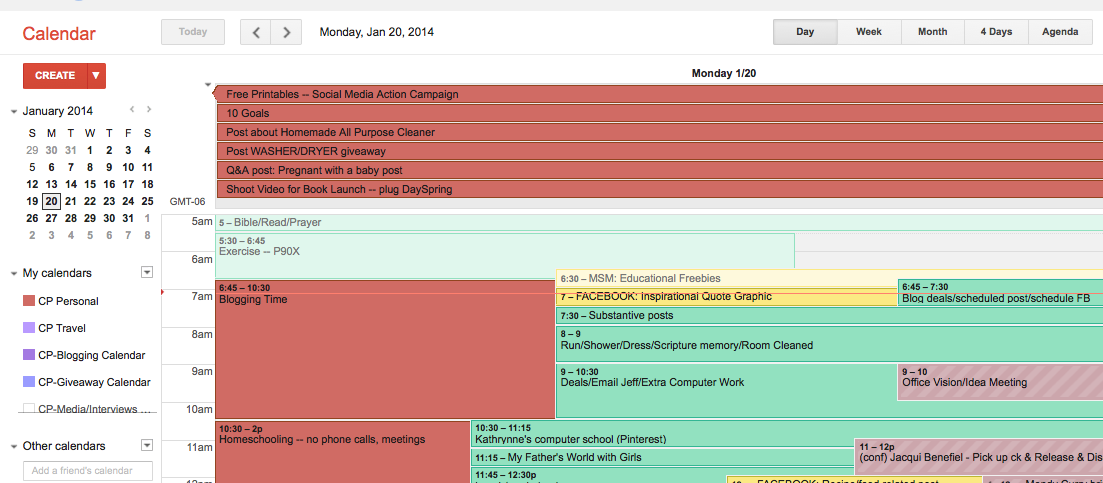 Here are seven ways Google Calendar simplifies my life:
1. It Gives Me a Place to Brain Dump
You know all those little things you're constantly thinking you need to remember? I love that I no longer have to carry them around in my brain. Instead, I can quickly and easily add a note about something on an upcoming day my Google Calendar.
Truly, when I stopped having to keep track of such a myriad of information, it felt as if a weight lifted off my shoulders! And it cleared up a lot of space in my brain for other projects to percolate.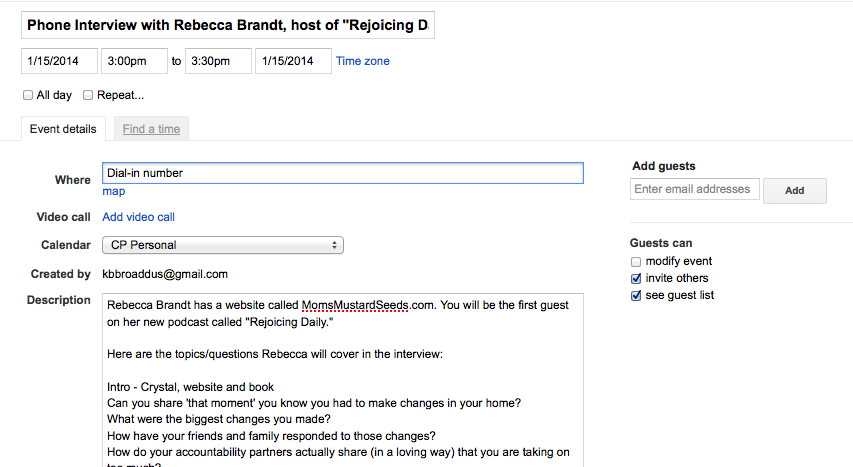 2. It Allows Me to Have All Event Details in One Place
When I add an appointment to my calendar, I use the Description section on Google Calendar to add all pertinent details: time, place, any information I need to remember or bring, directions to the location, and/or a phone number for who I'm meeting with.
Putting all these details into one place saves me so much time and headache. Instead of having to scour through my phone or email inbox to retrieve these details if something comes up, everything I could need for an event or appointment is in one central location.
3. It Sends Me Reminders
If you're anything like me, you have the best intentions, but then life happens and you sometimes forget that you had a phone meeting scheduled or needed to take your child to the eye doctor. This is why the reminder feature on Google Calendar is so handy!
I set up reminders based upon the likelihood of my forgetting about something. Sometimes, I might just set up one reminder to pop up on my phone ten minutes before. Other times, I set up five reminders via email and my phone… just in case!
I can't tell you how many times these reminders have prevented me from completely missing something I was suppose to do or somewhere I was supposed to go! And knowing they are set up helps me breathe easy instead of feeling anxious that I'll forget something important.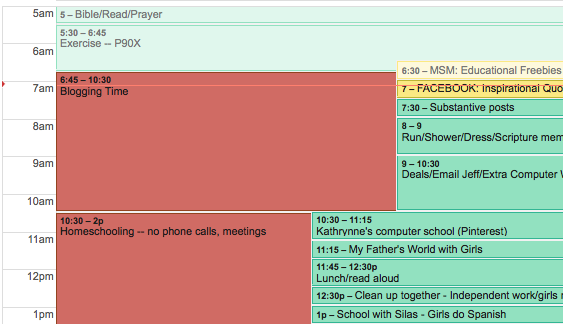 4. It Allows Me to Easily Re-Assign Tasks
The biggest downfall of pen and paper is that you have to re-write your list when life throws you a curveball. Not so with Google Calendar.
If you end up having a busier day than expected and you don't have time to get to four things assigned on your Calendar for today, you can just effortlessly drag and drop them to another day.
No more re-writing to-do lists or feeling guilty that you couldn't get everything done in a day!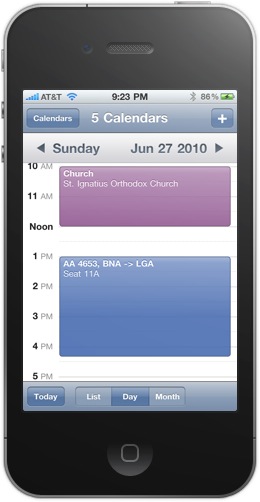 5. It Syncs With My Phone
Pen and paper gets really bulky to lug around and have at all times. On the other hand, the beauty of Google Calendar is that you can check your schedule and appointments on your calendar right from your phone. There's no longer any need to have a big planner with your entire calendar on it with you at all times or to mess with opening up your laptop to check on your schedule.
You can even have Siri update your calendar with new to-do's and reminders while you're driving home from the grocery store! It's like you have a personal assistant right at your fingertips — and all for not a penny more than what you're paying for your smartphone plan!
6. It Organizes My Travel
I use TripIt to keep all of my travel details together and I adore the fact that TripIt and Google Calendar can be synced together. Now that my accounts are synced, whatever I add to TripIt automatically shows up on my Google Calendar on my phone. This saves me lots of time and hassle shuffling through travel confirmations and also guarantees that I know where I'm supposed to be and when.
7. It Improves My Marriage
Did this last point catch you by surprise? Well, it's true!
I love the option Google Calendar has that allows you to share calendars with others. We use this in my business to keep track of other people's schedules and responsibilities and for deadlines and details on projects we're collaborating on.
But I don't just use it for sharing calendars with people I work with professionally, my husband and I share our calendars with each other so that we can know what the other has going on each day. This is helpful for logistic purposes, but it goes much deeper than that.
You see, when I look at what all my husband has scheduled for his day, it helps me to know better how to pray for him, it helps me to be able to ask questions about what he has going on, and reminds me to express gratitude to him for all he's doing as part of his job.
If I didn't know what he had going on throughout the day, I wouldn't be able to be as involved in his life and I certainly wouldn't have the level of appreciation I do for him. And it's these things that help make our marriage stronger… thanks to Google Calendar!
Crystal Paine is a wife, mom of three, and founder of MoneySavingMom.com, one of the most popular personal finance blogs on the web, where she writes about intentional living within her finances, family, and business. Her second book, Say Goodbye to Survival Mode, releases January 21, 2014.
*   *   *
Do you use Google Calendar? What other ideas do you have for keeping track of your schedule and your life?