I had the best of intentions for my Halloween decorations this year. The World Wide Web (does anyone even call it that anymore?) was teeming with adorable craft projects and ideas that I was just dying to try. In fact, you may remember this inspiration board I created for myself last month: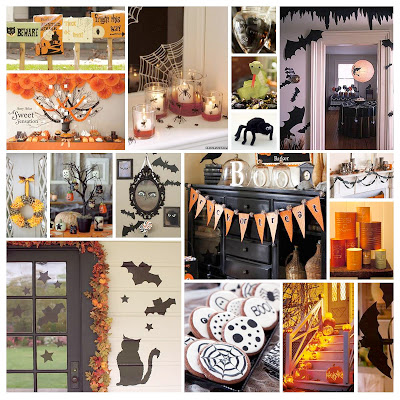 (Photo credits:  potterybarn.com, potterybarnkids.com, goodhousekeeping.com, marthastewartliving.com, freekidscrafts.org, twigandthistle.com, amyatlas.com)
I've been collecting tin cans for a month to make those cute jack o' lantern luminaries and even managed to buy most of the other necessary craft supplies needed to put it all together. But now there is less than 2 weeks left until Halloween, and I have to face the sad reality of the situation:  I am out of time.
This weekend I finally admitted to myself that there just aren't enough hours in the day to accomplish all the projects I want to do. I reluctantly decided to put away my halloween craft supplies until next year, and climb into the attic to dig out some of our old fall decorations. To be perfectly honest, I wasn't even sure what was up there, since the past five autumns have been spent in rentals in other cities. There wasn't much, but I did find some autumn leaf garlands & a few autumn floral arrangements. Combined with the free halloween decorations I
scored from CVS
a few weeks ago and a few other sale finds from Jo-Ann's yesterday, I had at least a few things to work with.
And I have to say, even if it wasn't the grand crafty plan I had envisioned, it does look very festive: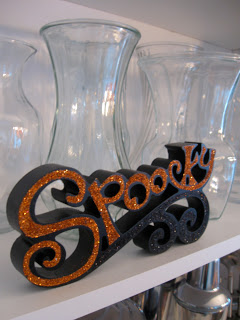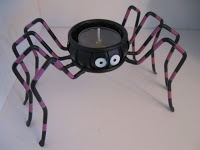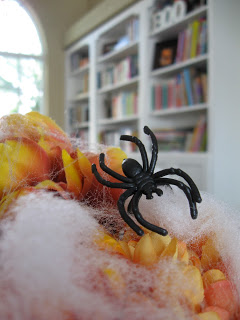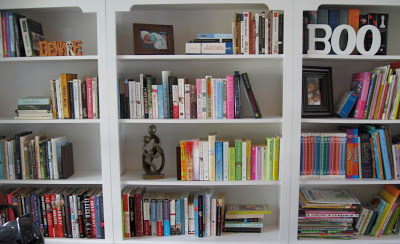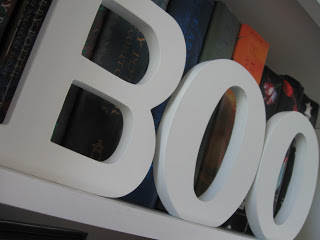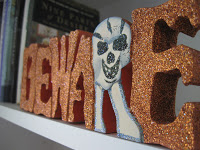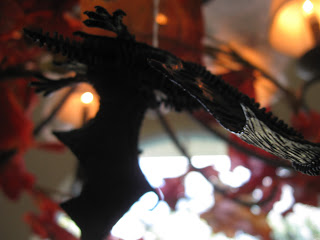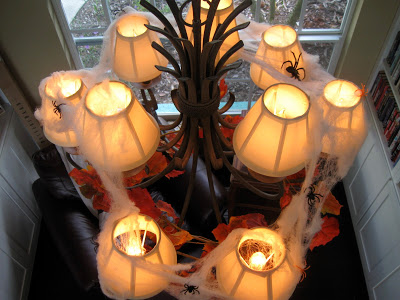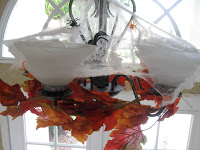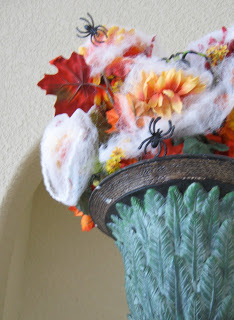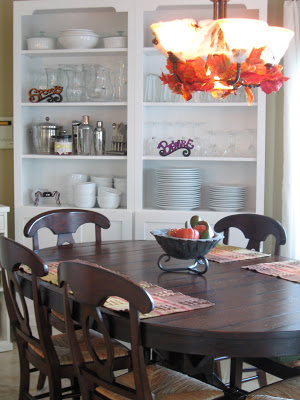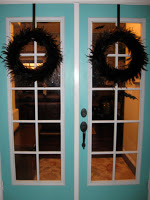 Supplies Used:
Fake spiderwebs, spiders, & bats (free from CVS)
"BOO" wooden letters ($1.29 each on sale at A.C. Moore)
"Spooky" & "Beware" wooden signs (free from CVS)
metal spider tea light holder (free from CVS)
Autumn leaf garlands, floral arrangements, & fake gourds (found in attic–purchased on sale at Michael's approximately 5 years ago)
Feather wreaths (on sale 2 for $24 at Jo-Ann's)
Martha Stewart Crafts bat window clings (on sale for $4.41 at Jo-Ann's)
Total Spent (this year): $28.41