Today was my oldest daughter's fourth birthday. Her carefully planned party is not until Saturday, but I wanted today to be a fun day for her, too. In true mommy fashion, however, I think I may have tried to cram a few too many things in, and (to me) the day ended up feeling a little chaotic, exactly the scenario I was trying to avoid! But amazingly enough, Maggie seemed to have a lot of fun, which is all that really matters, and this evening after cake, my very thoughtful little girl even said, "Mommy, you made this a really fun day." It brought tears to my eyes.
Here was our day: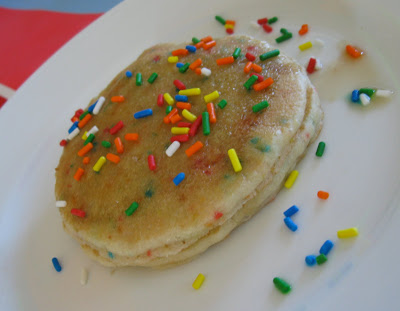 After getting up early to drive Daddy to work, we came home for some special birthday confetti pancakes with rainbow sprinkles.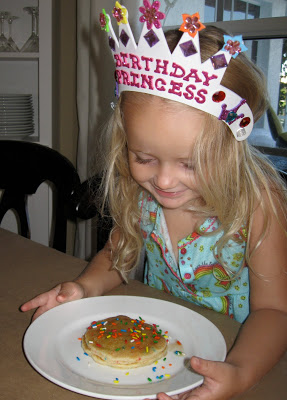 Maggie was VERY excited about the sprinkles. After picking them all off, she asked for more. She eventually did eat the pancakes too. Only on her birthday! After breakfast, she got to open a few presents, including her beautiful birthday dress from Auntie Linda, which she (of course) wanted to put on immediately.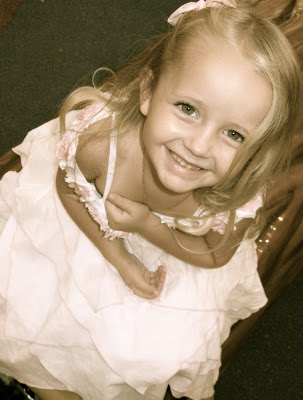 We then drove to Sarasota, which is about an hour away. The plan was to swing by JCPenney for a quick birthday photo (I received a coupon in the mail!), then swing by Gymboree (at the other Sarasota mall),  then spend an hour or so feeding the Flamingos at Jungle Garden (where we have an annual pass), then swing by McDonalds for lunch (M's request), then head home in time to bake and decorate her cake and make dinner before I had to pick up Grandma from her assisted living facility and then go pick up my husband from work by 5:15. Even as I write this, I see how that plan may have been slightly overly optimistic.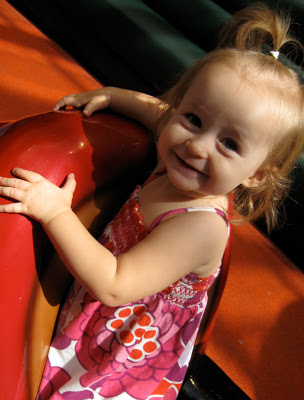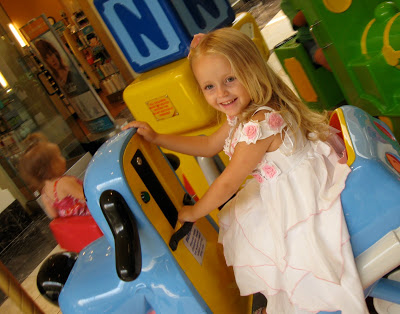 JCPenney was, inexplicably, completely booked for the entire morning. So we went to Sears, which was completely empty, but I had forgotten my Sears coupon. (Always have a backup!)  Thankfully, the very accommodating photographer agreed to take the pictures and let me call later with the coupon code. The pictures went without a hitch, and then Maggie asked if they could play at the mall playground. (In my estimation, a poor substitute for Jungle Gardens, but it was her birthday after all!)  They had a blast and were none the wiser, and the little coin-operated merry-go-round was just an added bonus.
We did make it to Gymboree (more on that later), which Maggie loves because of the little tv and kid chairs they have in the corner. She happily sat there the entire time, totally engrossed by Yo Gabba Gabba and Sid the Science Kid. Unfortunately by then, Annabelle was in full meltdown mode and it was time to head home!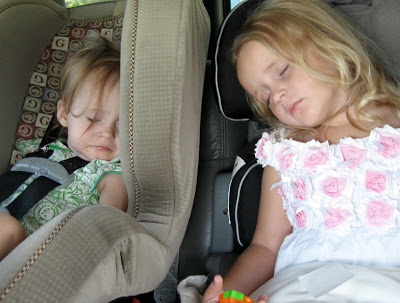 Annie actually fell asleep mid-cheesburger, and Maggie wasn't far behind.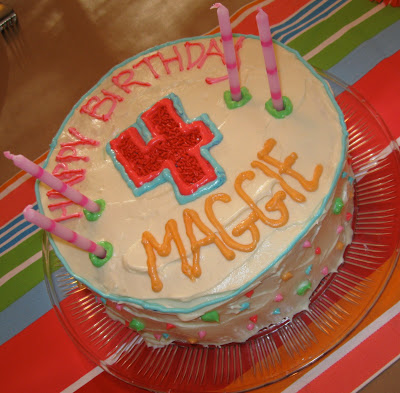 When we finally made it home, I spent the rest of the afternoon working on the cake and birthday dinner while Annie slept and Maggie watched her new It's the Great Pumpkin, Charlie Brown DVD. (She is obsessed with holidays and Charlie Brown!)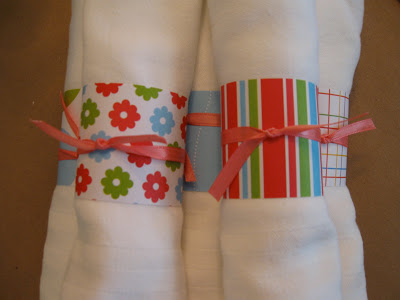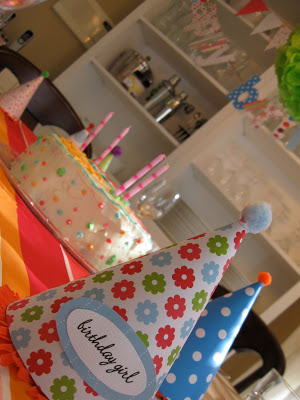 Without a moment to spare, Annie finally woke up from her nap and it was time to rush to pick up my husband and his mom.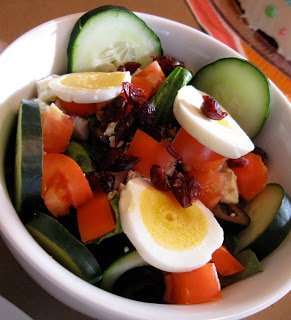 Chuck was a HUGE help when it came to getting dinner ready. He made the yummy salads!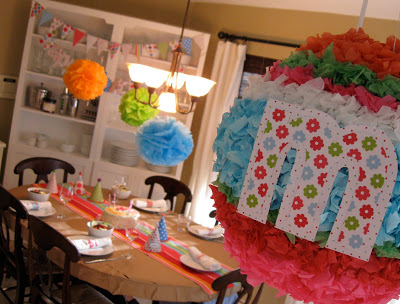 This is just a sneak preview of some of the decorations for the real party on Saturday.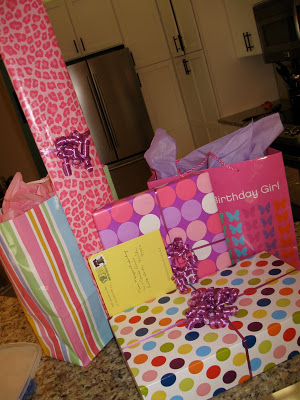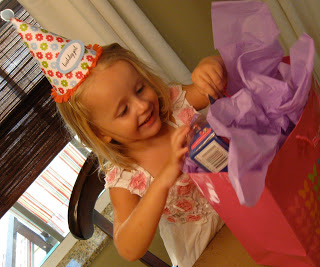 After dinner (and Annie's bedtime), it was time for gifts. We are trying to make a conscious attempt to not go overboard on presents for our kids because we would rather make birthdays be about enjoying a special day than getting lots of stuff. Her presents from us this year included a kite, 2 Littlest Pet Shop (her favorite toys right now), a Cinderella book with wedding dress up accessories, Charlie Brown DVD, & some clothing. Pretty much everything I got was on clearance, and I actually purchased several other things as well that we decided to save for special prizes or for Christmas.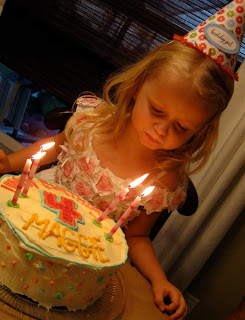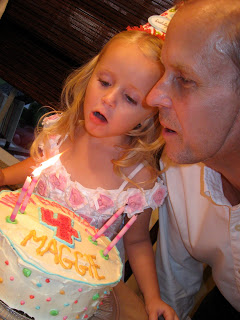 She's still working on figuring out how to blow out candles. Maybe next year!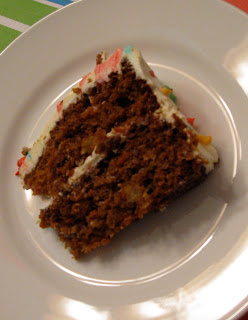 Nothing beats homemade carrot cake with cream cheese frosting! Definitely worth the effort.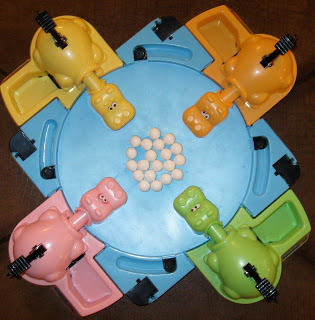 We finished the day with a few rousing rounds of Hungry Hungry Hippos, Maggie's all-time favorite game. I could tell she's growing up because for the first time ever, she chose to be yellow instead of pink. And we only had to let her win once.
Happy Birthday Maggie!