Christmas is coming! Are you excited? Counting down the days? Or are you just a teensy, tiny bit stressed?
It's the "most wonderful time of the year," right? For many of us, it can also feel like the most overwhelming time of the year.
There's so much to do—gifts to buy, presents to wrap, food to cook, a tree to decorate. There are events and party invitations left and right. There are Christmas pageants at church and sing-alongs at school. There are treats to bake, gingerbread houses to adorn, cards to address.
It's no secret many of us put pressure on ourselves to create the "perfect holiday." Our expectations are high. We want to create a memorable event for family and friends. It comes from a good place: we want to care for others and show them what they mean to us. It's certainly not "wrong" to want Christmas to be special.
But all this pressure and hustle and bustle often leaves us feeling a little flat. Time seems to speed by at a lightning pace. It's easy to feel really disappointed when something doesn't turn out according to our plan or to feel as though we need to micromanage everything so it will turn out perfectly.
Some years, I've even caught myself wishing Christmas could just be over, even though it's my favorite time of year. It's so much stress.
So, this year, let's put the joy and merry back into the holiday season. Friends, let's make this year special!
How to Get into the Christmas Spirit
What can we do to get our house, mind and heart into the spirit of Christmas? How can we recapture the magic, wonder and happiness of the holiday season (and spread the cheer to our loved ones)? Let's explore ways to make your season merry and bright this year!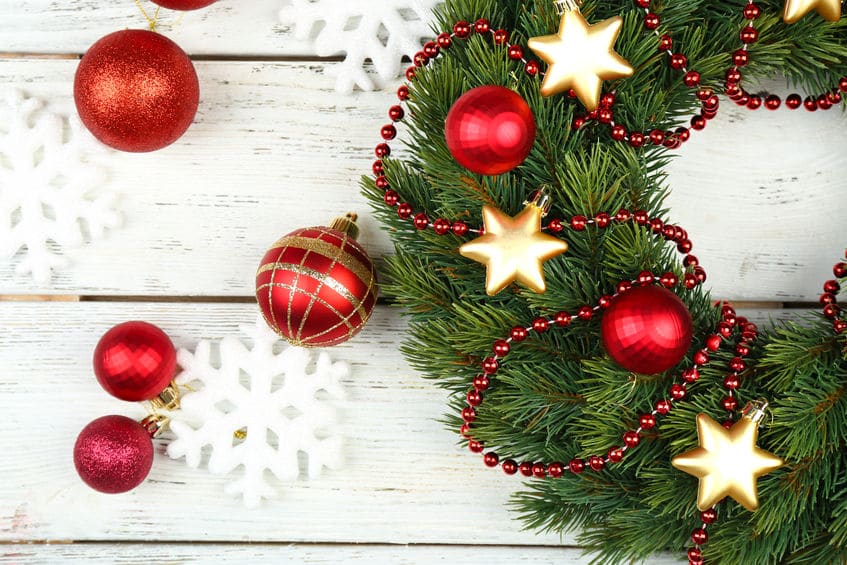 Getting Our Homes into the Spirit of the Season
There's no place like home, especially during the holidays. We all love making our home feel "Christmassy" and special. The big secret is, it doesn't require as much effort as we might think. All you need is an organized approach and an action plan. Download our Holiday Planner to help you manage your holidays step by step.
Declutter Your Decorations
Start by decluttering your decorations. As you unpack your holiday ornaments and décor, look at the items that are truly special and meaningful to your family.
Do you collect an ornament each year when you travel? Do you have a special nativity scene or an heirloom nutcracker handed down from family generations? These special, meaningful items should become the focal point of your holiday décor. Pare down to the items you truly love, so they really stand out.
As for the other items, donate them to a charity, tie ornaments to gift packages to add a little whimsy or simply toss out the items that are broken or in rough shape. Keep your holiday ornaments reduced to only those that are important to your family, so the meaningful decorations shine.
Go Simple
We've all seen the cute holiday displays at retail stores this time of year. It can be so tempting to buy a whole new "theme" to deck out your Christmas tree. Maybe you want to decorate an "owl tree" or a "retro tree" or a Star Wars themed tree.
While it's fun to go all out (and yes, those theme trees look great), it also gets expensive and more about show, less about meaning. Sometimes the simple ornaments you've had since your kids were infants or your husband gave you in your first apartment are so special. It's really all you need.
Don't underestimate the power of paper decorations—DIY snowflakes, bright red ribbons and festive banners and crepe paper. You can transform your whole house with a few paper lanterns and help from your kids. Paper decorations are inexpensive, look great and allow everyone to have a hand in the holiday fun.
Embrace the Little Things
Little lights, small touches here and there, decorations and tiny ornaments are sweet, meaningful and easy to put up and take down. Remember the Charlie Brown Christmas tree? Sometimes it's not the biggest most over-the-top tree that matters. It's the little love and extra touches you put into your home that make all the difference.
You don't need to go all out. A few simple bows tied here and there, a sprig of evergreen, the scent of cinnamon sticks simmering on the stove and sugar cookies in the oven—these simple touches evoke our Christmas feelings much stronger than bells and whistles.
Read a Christmas story with your kids or watch a holiday movie in your jammies on the couch. Decorate gingerbread houses made of graham crackers or frost Christmas trees out of upside-down sugar cones. Play holiday music and watch as your house transforms into a warm, cozy, holiday haven.
Give Fewer Gifts
It sounds strange, right? Wouldn't more gifts help us feel MORE of the Christmas spirit? Christmas is all about giving, so shouldn't we go all out?
When we focus on giving "stuff" we miss out on the real meaning of the season. Yes, Christmas is about giving, but it's also about connecting with our loved ones and showing them how much they mean to us. Christmas really isn't about the gifts.
To quote Dr. Seuss, "And the Grinch, with his Grinch-feet ice cold in the snow, stood puzzling and puzzling, how could it be so? It came without ribbons. It came without tags. It came without packages, boxes or bags. And he puzzled and puzzled 'till his puzzler was sore. Then the Grinch thought of something he hadn't before. What if Christmas, he thought, doesn't come from a store? What if Christmas, perhaps, means a little bit more."
Focus instead on spending time with your family. How can you create memories and give experiences instead of gifts this year?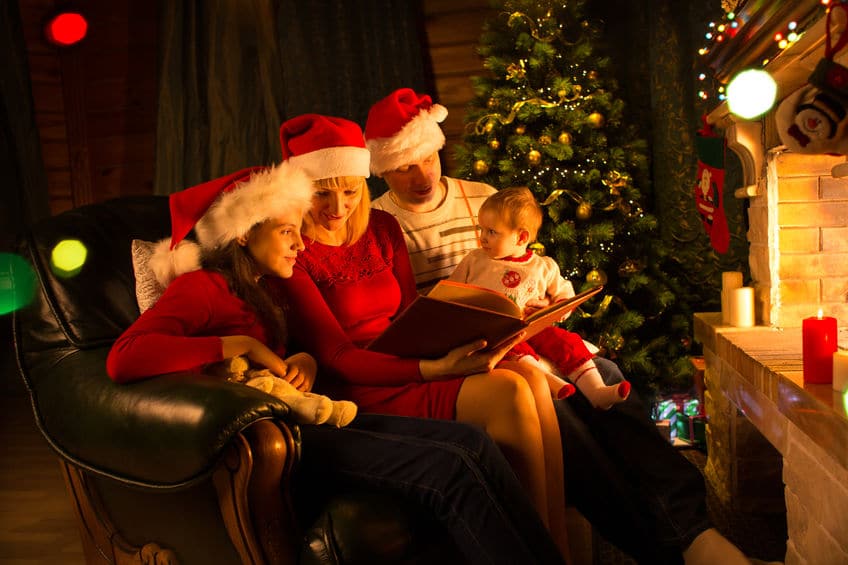 Clearing our Minds for Christmas
Once your home has started to evoke the Christmas feeling, it's easier to get your mind into the right place to celebrate the season. Again, create an action plan, organize your to do list and break it down into manageable. Don't focus on doing it all, focus on doing what matters.
Read Holiday Stories
If you want to get your mind into Christmas-mode, read books and stories about the holiday season. There are many short stories from O. Henry's the Gift of the Magi to Barbara Robinson's The Best Christmas Pageant Ever.
Pick a holiday story or two to read by yourself or with your kids as a family. Consider creating a reading list including a kids' Christmas story each night before bed. This little ritual will help your whole family get into the spirit of the season. The list of kids' Christmas books is endless from the Grinch to The Polar Express, to 'Twas the Night Before Christmas.
When you create your holiday reading list, set aside time to read Luke and Matthew and appreciate the original story of Jesus' birth.
Listen to Christmas Music
When it comes to feeling the holiday spirit, nothing works for me quite as well as Christmas music! For many of us, classic songs—Bing Crosby, Frank Sinatra and Louis Armstrong get us in the Christmas mindset.
I know some people cringe when Christmas music seems to start in October, but don't underestimate the power of song. Put on a few Christmas tunes while you decorate the tree, hang the stockings or while you're spending some family time at home.
You'll be surprised at how quickly Christmas music gets you into Christmas-mode.
Remember To Be Thankful
Having a hard time feeling the Christmas vibe? Embrace an attitude of gratitude, if you need a shift.
Thanksgiving is such a perfect precursor to the Christmas holiday. It gets us thinking about all the blessings we enjoy and reminds us of how much gratitude lifts and brightens our mood. If you started a "thankfulness challenge" in November, keep it going throughout the month of December too.
If November flew by and you didn't remember to count all your blessings, it's a great time to start. Each night jot down three thankful thoughts. This might be something that happened during the day you're grateful for, or an aspect of your life you appreciate. When we practice gratitude, we lift our whole mood.
Slow Down
If the Christmas mindset isn't happening for you, take a step back and slow down. Go on a walk through the snow or admire the Christmas lights in your neighborhood. Sip a cup of hot chocolate on your porch while you're wrapped in a cozy blanket.
When we're in a rush, packing every to-do list item in our schedule, time flies by…and yet, we often feel empty and wonder what happened. Being mindful and taking time for appreciation and relaxation helps us stay aware and present.
So if you can't believe how quickly the days are flying by, it may be time to take time off from your jam-packed agenda. Spend the afternoon playing a game with your kids. Bake a holiday treat or sit by the fire and admire your Christmas tree.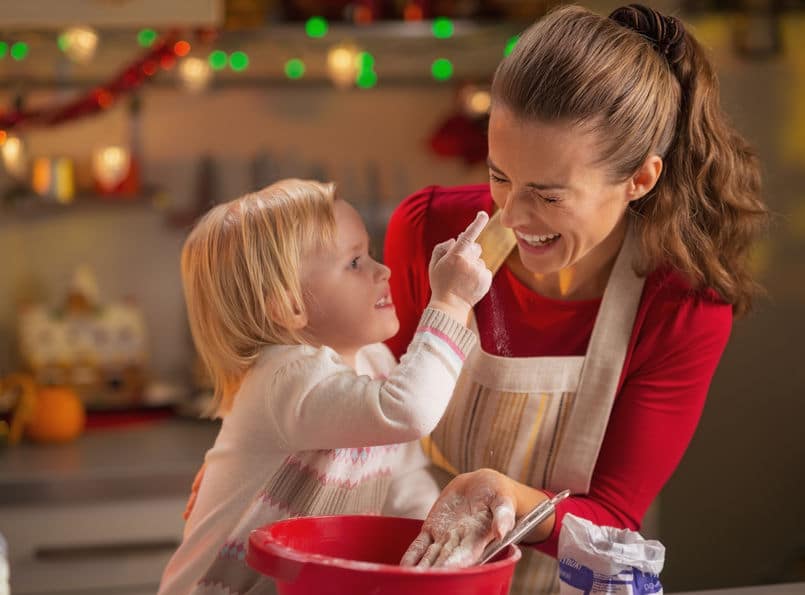 Creating a Heartwarming Holiday
There's nowhere you feel the spirit of Christmas more than in your heart. When we visit a holiday service at church, tear up watching It's a Wonderful Life (even for the 50th time) or feel warm-fuzzies as you read a card from a far-off friend, Christmas is in our hearts. Want to keep the heartwarming Christmas spirit going?
Give To Others
'Tis the season of giving. But it's not about giving the big gifts and huge presents to our kids and family. Consider giving a gift to someone who's truly in need.
Volunteer your time at a local soup kitchen or shelter. Take holiday treats to a senior citizens center and spend an afternoon with your kids reading stories to residents. Drop off treats or small blankets at your local animal shelter. Give to the Red Cross, the Salvation Army or another charity.
Look for Secret Santa opportunities to adopt a family or give a gift to a child in need. Buy a cup of coffee for the person behind you at Starbucks. Perform a random act of kindness by surprising a neighbor with a holiday goodie. Watch how much giving to others gives you!
Give Yourself Permission to Be Imperfect
You don't need to be the perfect hostess. You don't need to decorate the perfect tree. You don't even need to decorate a tree at all! Give yourself grace and permission to take a break from perfection.
If you look at others' photos on Instagram and Facebook and wonder why your family photos aren't measuring up or feel like your house isn't as fancy as your friend's, take a break. Don't let FOMO (fear of missing out) and comparison to others, steal your energy and joy.
Everyone is on their own journey. On social media we often display only our best, most curated photos. We put on a filter and show our best angle. Don't compare yourself to anyone else this holiday season. You do you.
Practice Self-Care
If you start to feel burnt out, exhausted, deflated or stressed, take a break! Winter season is tough for many reasons—cold weather, shorter days, cold and flu season is upon us. It's easy to run ourselves down.
Take time to care for yourself. Exercise, eat healthy, drink water, get plenty of rest. Minimize your stress. Know when you need to take a break and go for it!
We often feel we need to care for everyone else during the holidays, but we forget to give ourselves the same level of comfort and kindness. Be your own friend and keep your body nourished and healthy—your spirit will flourish as well!
Share Your Love
As you shift your heart into "holiday mode," keep those feelings all year long simply by resolving to be a more loving, kind and open person.
Tell your loved ones what they mean to you. When you go home for the holidays, express your appreciation to your parents, siblings and family members. Write a heartfelt love letter to your husband and tell him how much you appreciate him. Give extra hugs and kisses to your kids.
Christmas is about love and kindness. It's the season of warmth, giving and caring for others. If you want to keep Christmas in your heart, it's easy—all you need is love.
Focus on seeing others for who they are and empathize with their struggles. Make an effort this month to share positive stories online and let the comments of others roll off your back. Remind yourself everyone is fighting their own battle.
If we can take the lessons of the holiday season and apply them all year long, we're guaranteed not just a Merry Christmas, but a very Happy New Year!
Other similar articles:
PIN FOR LATER:

TAKE BACK CONTROL OF YOUR HOME LIFE
---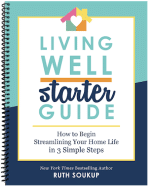 Ever feel like you just can't keep up? Our Living Well Starter Guide will show you how to start streamlining your life in just 3 simple steps. It's a game changer--get it free for a limited time!
If you love this resource, be sure to check out our digital library of helpful tools and resources for cleaning faster, taking control of your budget, organizing your schedule, and getting food on the table easier than ever before.