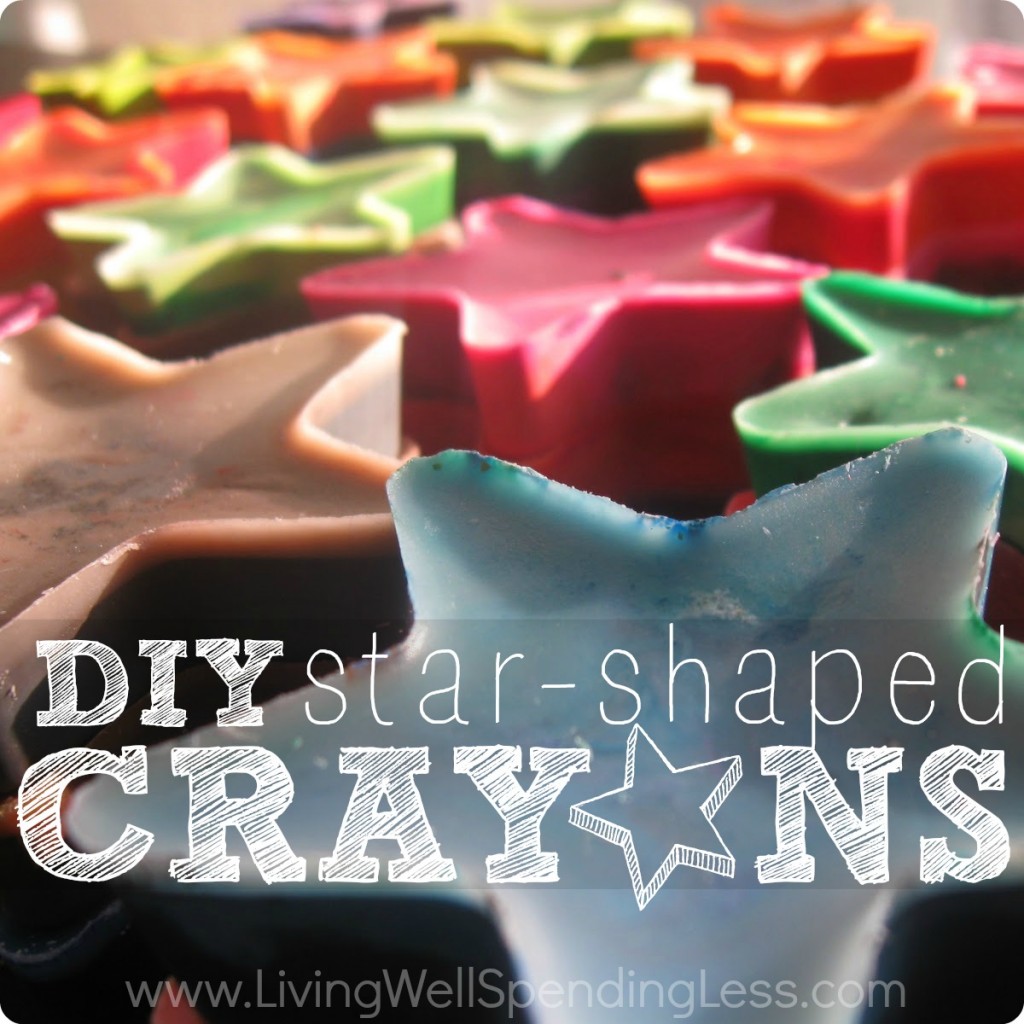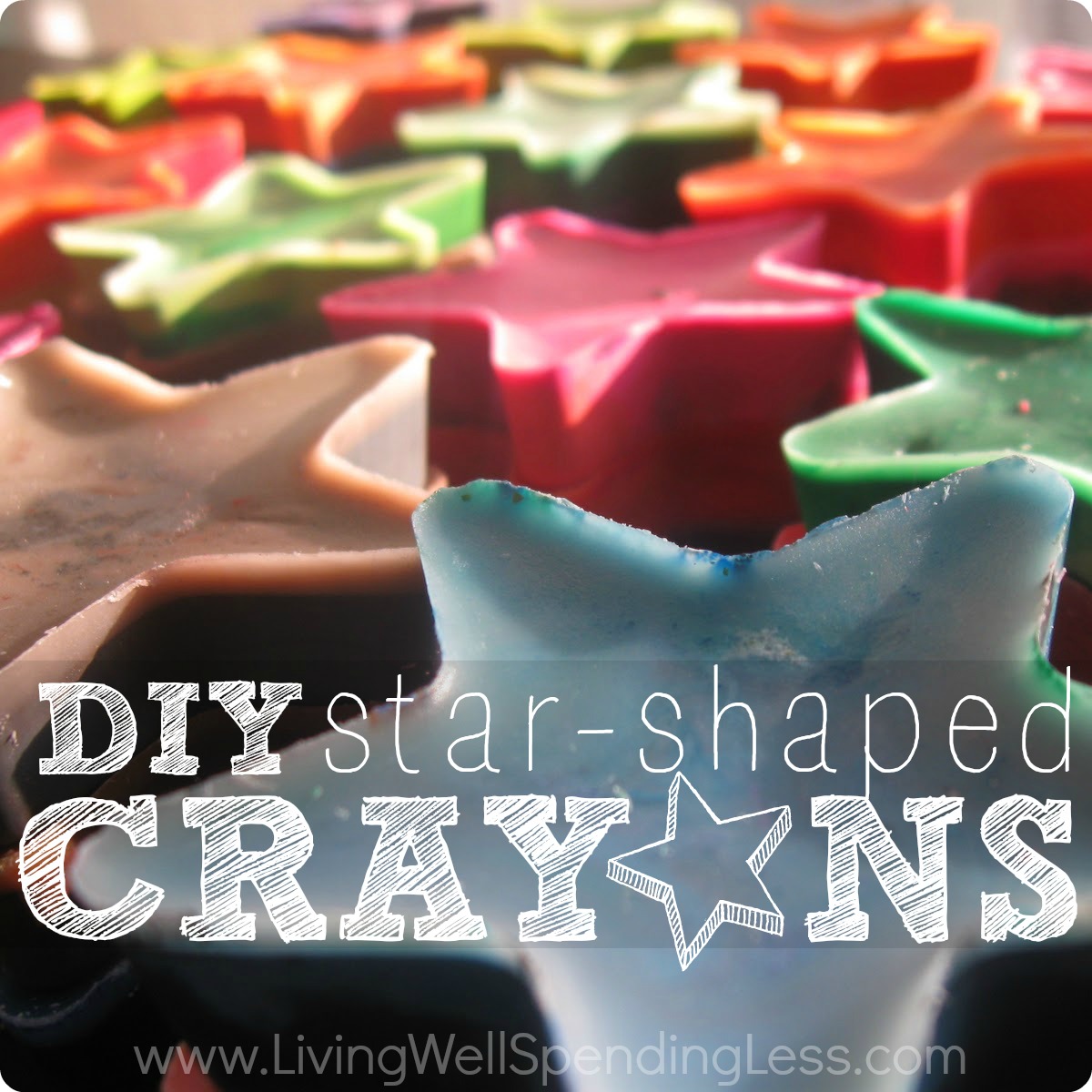 I love giving gifts. Much to my husband's chagrin, my generous spirit has often outweighed my budget. A long time ago, long before I was married and had kids of my own, I started giving gifts to all the children in my life. It started with just my nieces and nephews, and then, as a few of my friends started having children, the tradition started to spread. Before I knew it, the list was very, very long. This year I finally had to face the hard truth: it is simply too expensive to buy and send gifts to 30+ kids each year.
But I couldn't bear the thought of doing nothing.
I decided to get crafty.
And happily for me I a.) had a giant bucket of crayons and b.) just happened to have a star-shaped silicone mold leftover from a baby shower I threw 4 years ago. Because the only thing better than really awesome crafts are really awesome crafts that don't require a trip to the craft store!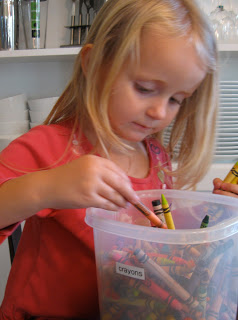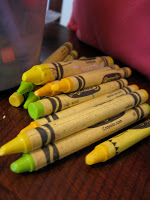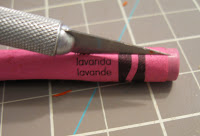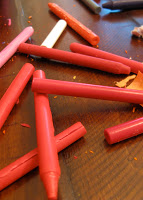 This was a great project to do with my four year old daughter Maggie. She loved sorting the colors while I sliced each wrapper with an Exacto knive. She would then peel off the papers.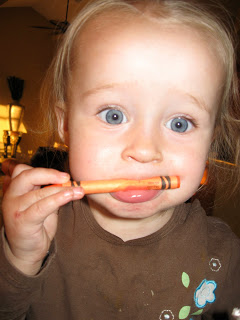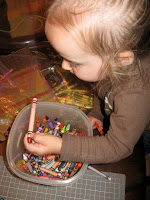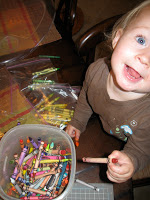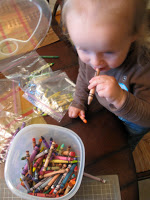 This was not, unfortunately, a good project to attempt with one year old Annie around. She did nothing but try to eat the crayons. All of them. Repeatedly. If you look closely, you'll notice that in every picture she is holding (and trying to eat) a different color. At the risk of sharing way too much information, she had some very colorful diapers for a few days. Good thing they're non-toxic.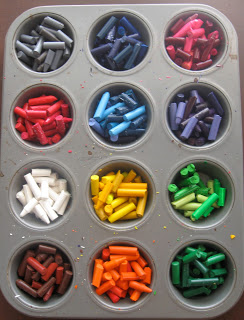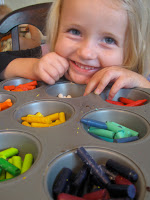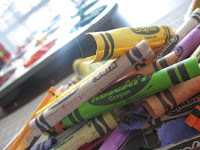 After peeling all the crayons, we then broke them into small pieces and sorted them by color in muffin tins.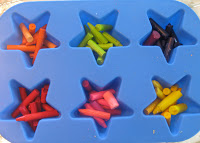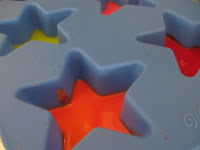 From there, we put them in the silicone mold and baked for about 20 minutes in a 250 degree oven, until all the wax was melted. We then let it cool for about an hour (until hardened) before removing the new star-shaped crayons and repeating the process.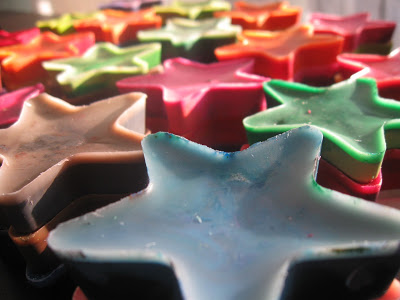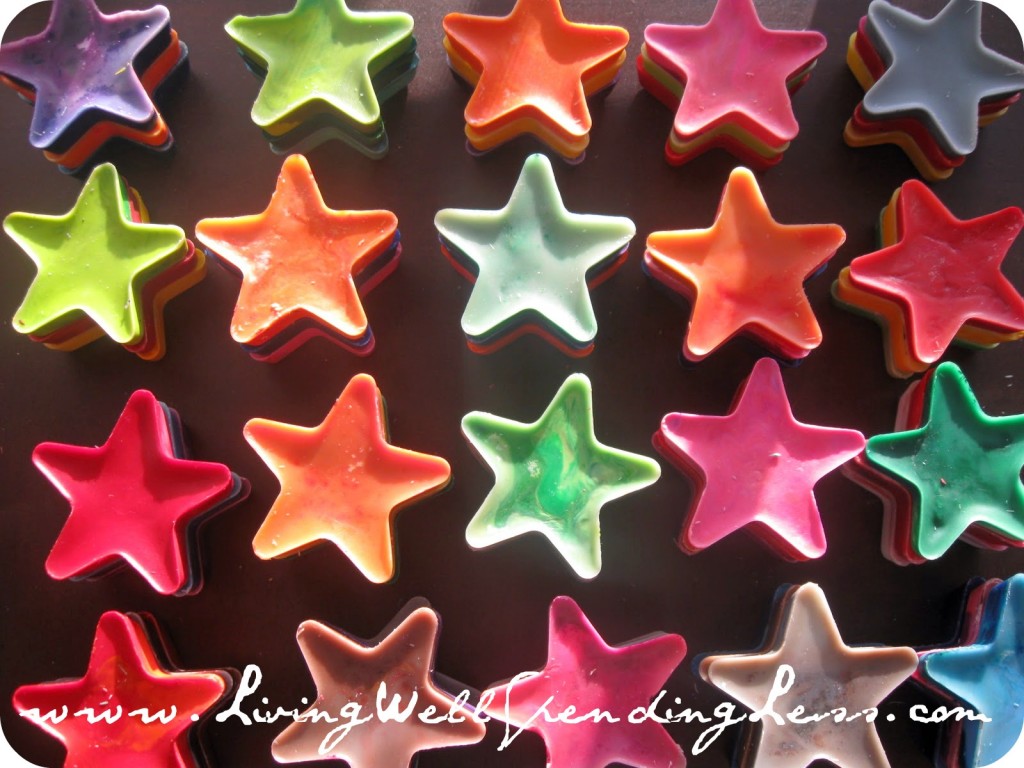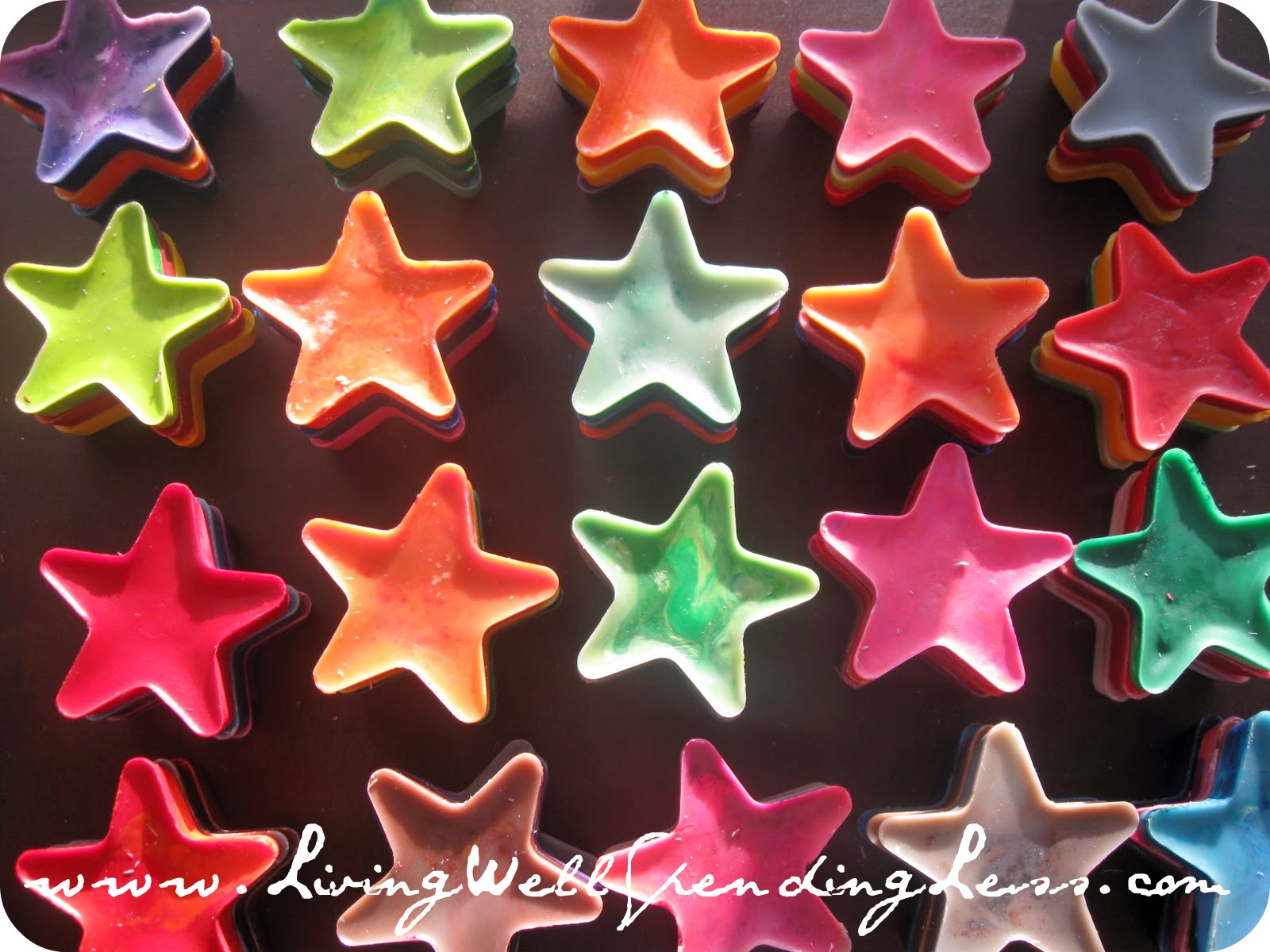 We only had one mold, so we repeated the process many, many times over several days.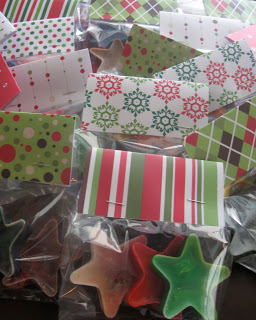 When all the crayons were complete, we sorted them into sets of three and sealed them in cellophane bags, stapling them shut with 4×4″ squares of scrapbook paper (folded in half over the cellophane).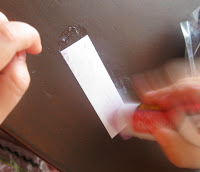 I printed & cut labels, and then Princess glued them on.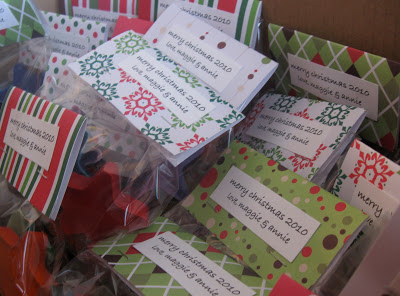 I then decided the crayon packets by themselves was kind of dull, so we made little coloring books to send along with them. I make these little blank books for Maggie when I need to entertain her quietly for a while. She loves drawing pictures on each page to make her own "story."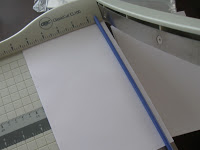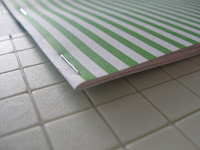 Since I will be mailing most of them in small USPS flat rate boxes, I made the coloring books half-size. I grabbed 6-8 sheets of 8 1/2 x 11″ paper, cut it in half (making each half 8 1/2 x 5 1/2″), then folded each stack in half to make 2 books. I then cut a piece of scrapbook paper into two 8 1/2 x 5 1/2″ pieces to make the cover and stapled it all together.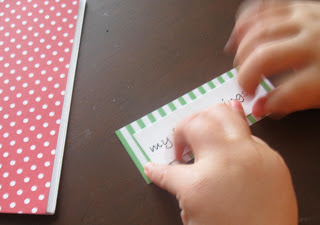 We used the leftover pieces of scrapbook paper to make cute little labels, and Maggie again got busy gluing it all together.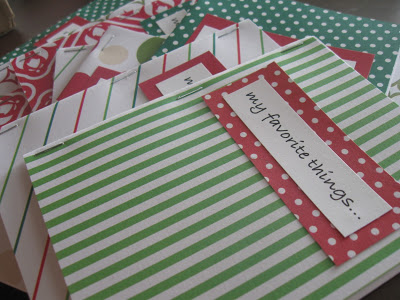 A little time-consuming, as far as projects go, but probably only because we made so many. It was a lot of fun having Maggie help with everything and the crayons turned out so cute. I hope they're a hit!
TAKE BACK CONTROL OF YOUR HOME LIFE
---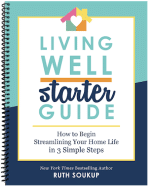 Ever feel like you just can't keep up? Our Living Well Starter Guide will show you how to start streamlining your life in just 3 simple steps. It's a game changer--get it free for a limited time!
If you love this resource, be sure to check out our digital library of helpful tools and resources for cleaning faster, taking control of your budget, organizing your schedule, and getting food on the table easier than ever before.