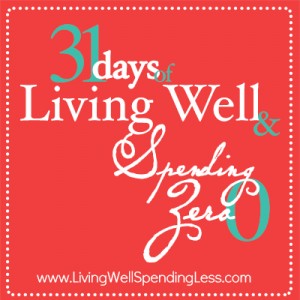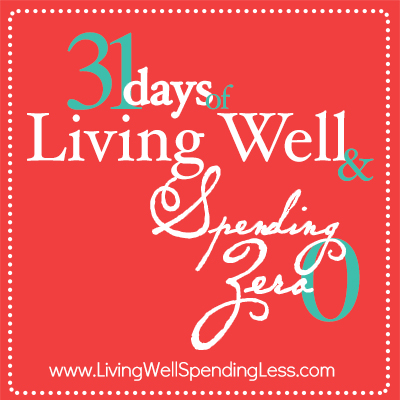 This is the nineteenth day of my 31 Days of Living Well & Spending Zero challenge. To read all the posts in order, start with Day One or visit the Overview Page.
 *   *   *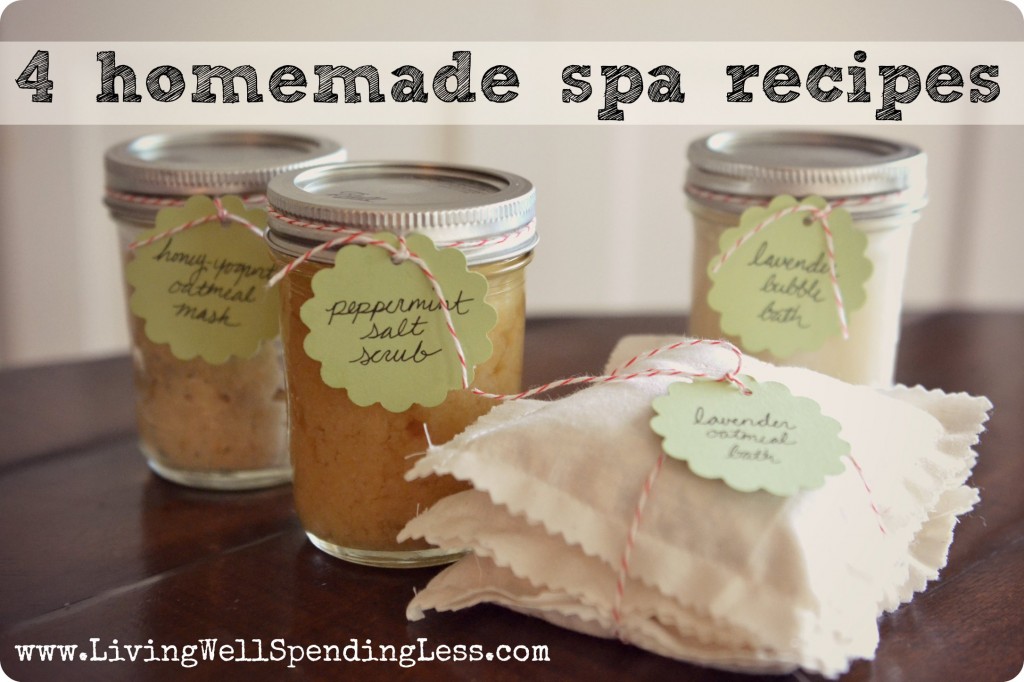 I am such a spa girl! It seems like a million years ago now, but once upon a time I was the director of a day spa in the Seattle area. Part of my actual job description included receiving spa treatments on a regular basis for "quality control" and during that time I had more massages, facials, pedicures, manicures, body scrubs, body wraps, & hair treatments than most people will ever have in a lifetime. Sometimes I really miss that job!
These days my trips the spa are far and few between–practically nonexistent, really–and the handful of times I have gotten a pedicure or my hair done, it has been paid for with a Groupon. The rest of the time I usually find a way to treat myself at home, for free, and while it's not quite the same, it is still pretty darn nice.
Today I thought I'd share a few of my favorite homemade spa treatment recipes so that you can treat yourself to a little spa day this weekend. (Don't worry, tomorrow I'll give you more instructions on how to use them!)  All of them were made at home using common ingredients that most people probably keep on hand–olive oil, honey, oatmeal, yogurt, salt, soap, & shampoo.
The one thing you might not keep around is essential oil, which means you can either skip it, (in which case your treatments will be unscented but still just as effective), or purchase some. My favorite place for purchasing essential oils is through Vitacost, which sells natural & organic products at a great discount. If you've never ordered from Vitacost before you can use this link to get a $10 credit which will then allow you to pick up 2-3 small bottles of essential oil (depending on which scents you choose) for only the $4.99 shipping cost. (Get more information about how to use your Vitacost credit here.)
All of these treatments would make great homemade Christmas gifts, but it should be noted that the yogurt mask must stay refrigerated and will only last about a week or two.
1. Oatmeal Bath Sachets
These cute little oatmeal bath sachets can also be used in the shower! Oatmeal is great for soothing sensitive skin and helps add much needed moisture during the winter months.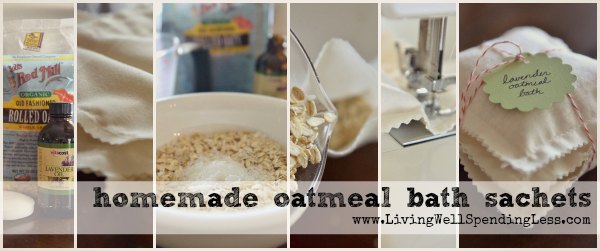 Instructions:
Gather your ingredients–old fashioned oats, a bar of soap, & the essential oil of your choice. I used lavender but eucalyptus, vanilla, lemon, peppermint, or cinnamon would all be nice as well.
Use a pinking shears to cut 6 small rectangles of thin fabric (approximately 4×6″)   I used a plain muslin but you could also use a pretty pattern. Placing 2 of the rectangles together, quickly sew around three sides to make a little cloth bag. Repeat for the other 2 bags. (Alternatively you could use small organza party favor bags found in the wedding section at the craft store.)
Measure 1 1/2 cups oatmeal into a bowl; use a knife to shave approximately 1 tablespoon of soap into oatmeal, then add 15-20 drops of your favorite essential oil. Mix well.
Carefully pour into prepared bags.
Sew shut the open side of each bag, then trim the excess to make a square shape.
2. Homemade Bubble Bath
I love taking bubble baths–the more bubbles the better–but I can't stand artificial scents of most commercial bubble baths that are available. This super easy recipe uses a shampoo base. Try lavender for a relaxing bath (great for bedtime baths for your kids, too!) or eucalyptus for a soothing bath when you are sick.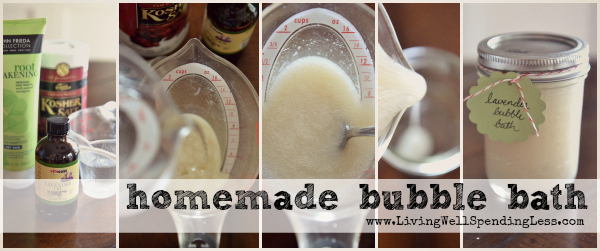 Instructions:
Gather your ingredients–unscented shampoo, 1/2 cup water, salt, & essential oil(s).
Measure 1/3 cup shampoo into large measuring cup or bowl; add water & mix well.
Add 1 teaspoon salt and mix well until mixture thickens; add 15 drops of essential oil.
Pour into 8oz jar or bottle; use 2 tablespoons per bath.
3. Honey Salt Scrub
This luxurious scrub is both exfoliating AND moisturizing, a perfect combination for the dry winter months. I love it with peppermint or eucalyptus essential oils, but lemon or bergamot is also very refreshing.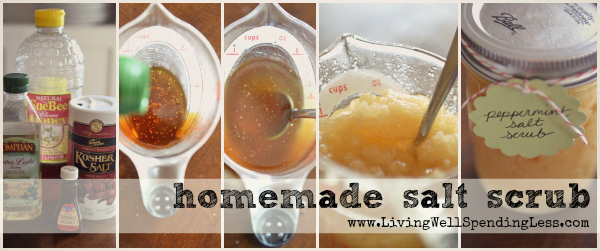 Instructions:
Gather ingredients–olive oil, honey, salt, & essential oil of your choice.
Measure 1/3 cup honey into a measuring cup; add 1/2 cup olive oil; mix well
Add approximately 3/4 cup salt, a little at a time, mixing well until mixture reaches a thick-but-scoopable consistency. Add essential oil & mix well again.
Transfer to jar or other airtight container.
4. Honey Yogurt Oatmeal Mask
This exfoliating mask is great for most skin types. It uses only 3 ingredients, but must be kept refrigerated, as it contains fresh yogurt. It should keep refrigerated for approximately 1 week.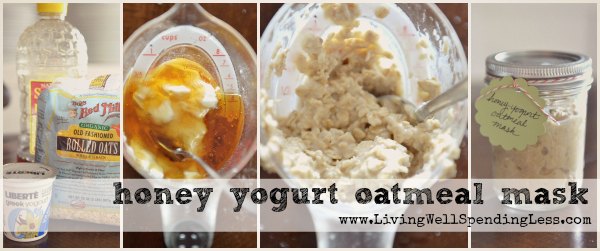 Instructions:
Gather ingredients–oatmeal, plain yogurt, & honey. (Note: for a less "lumpy" mask you can grind up your oatmeal in a blender or food processor before using.)
Mix 1/3 cup honey with 1/3 cup yogurt; blend well.
Add in approximately 1/2 – 3/4 cup oatmeal until mixture makes a thick paste.
Transfer to jar or other airtight container. Will keep 1 week. To use, spread over face & let dry for 15 minutes. Rinse with warm water.
And there you have it! 4 super easy homemade spa treatment recipes that will turn your bathroom into a 5 star resort (or give you some great options for homemade Christmas gifts!)
Your assignment today is to prep for a spa day tomorrow.    Whip up a few of these recipes, or, if you already have your own scrubs, masks, & bath supplies, simply gather them up to use tomorrow. If you haven't yet organized your bathroom, be sure to get that done too–it's much easier to relax in a clean and organized space!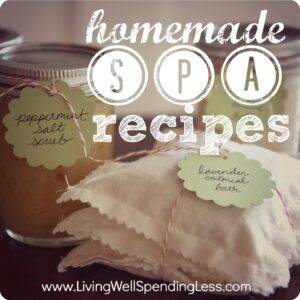 *   *   *
Do you consider yourself a "spa girl?" What's your favorite way to pamper yourself at home?
*   *   *