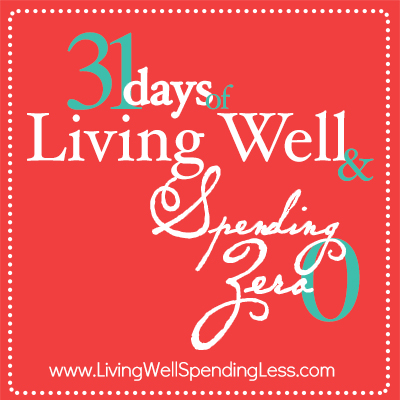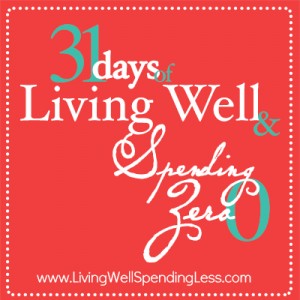 This is the twenty-fifth day of my 31 Days of Living Well & Spending Zero challenge. To read all the posts in order, start with Day One or visit the Overview Page.
 *   *   *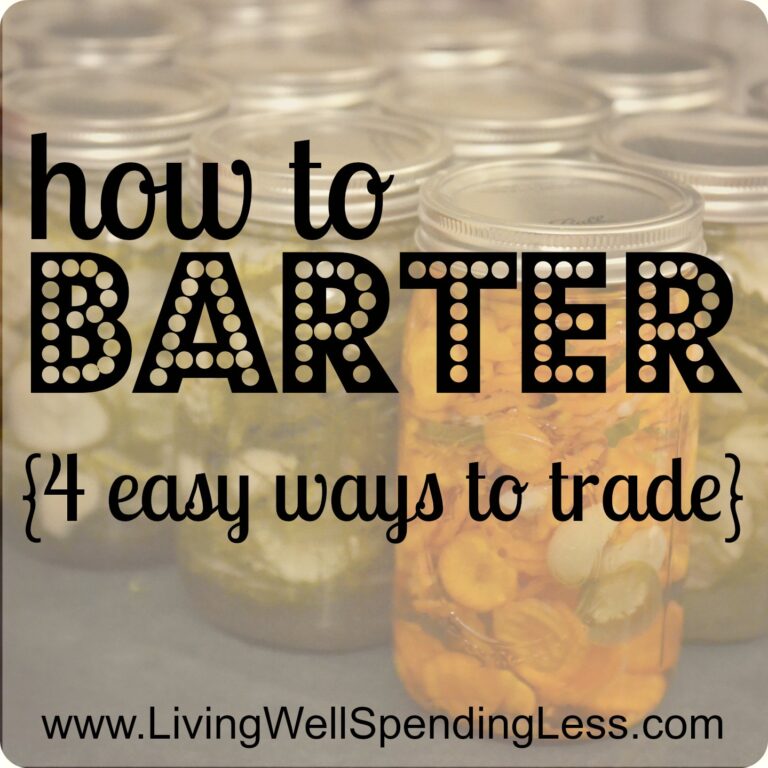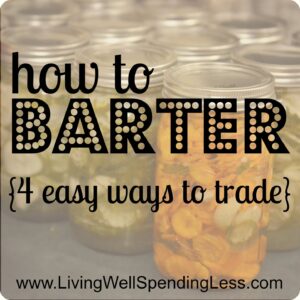 Twenty-five days into this crazy (as in, crazy awesome!) spending freeze, you might be starting to miss one or two things. Or ten. Or fifty. Just a little bit. Or a lot. Perhaps even desperately.
And that's okay. It's normal. If you don't miss anything you either a.) are cheating b.) had way too much stuff to begin with & should probably keep your spending freeze going until you start to feel the pain or c.) are one of those people who could happily subsist on nothing, in which case you probably didn't need to go on a spending freeze in the the first place.
But if you are anything like me, you are, for the most part, enjoying this challenge of seeing just how much you can do without. It is forcing you to view your approach to money and stuff in a slightly different way, and while it might not always be sunshine and roses, you can see the benefit, feel the benefit, and the sacrifice is worth it.
Until, of course, there is something you really, really, really, really want (but don't necessarily need), like a night away from the kids or a Starbucks latte or a bite of chocolate or just. one. beer.
Yesterday we talked about how to get something for nothing. Today we are going to get something for something. Today we are going to try bartering.
 If that sounds scary, take heart. You do NOT have to be a swap meet pro to barter! It can be as painless as a simple trade with a friend. The key is to figure out what you have to offer that someone else would want.  Believe me, everyone has something! Is there a particular thing you're good at, or something you cook or bake that everyone loves? Do you love to clean or would you babysit for the afternoon? Do you have a talent or skill you could share, such as photography or sewing or knitting? Do you have extra food or toothpaste or razor blades in your stockpile or too many jars of homemade jam in your pantry? Do you have any gently used books or electronics or clothing you're ready to pass to a good home? Are you willing to run errands or paint or be a handyman for an afternoon? Think hard. You've got something.
Once you've figured out what you have to offer, here are a few ideas to try:
1. Facebook
Last weekend I got a little desperate and posted this on my personal Facebook page: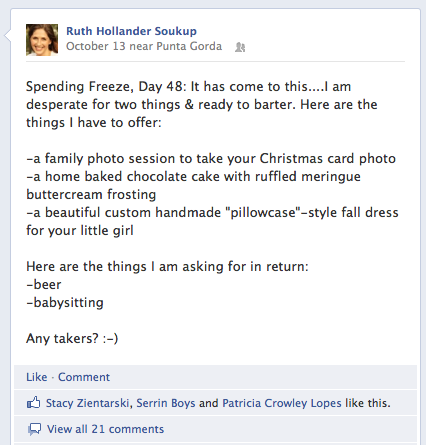 Most of my friends got a good chuckle out of it, and even though I had to swallow a little pride, I ended up with multiple offers for both beer and babysitting which will make for at least one very hot date. 😉  (Yes, Husband is very happy. And he should be!)
But all laughs aside, Facebook is pretty much perfect for setting up a bartering agreement with friends. It honestly doesn't get any easier–just post what you've got to offer and what you're hoping to get in return, and then wait to see who bites.
2. Garage Sales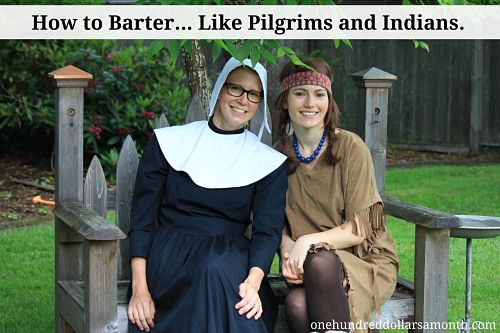 photo credit: onehundreddollarsamonth.com
A few months ago I read an awesome post by my friend Amber of Coupon Connections about her bartering adventure with another blogger friend, Mavis (of One Hundred Dollars a Month)  They decided to try making the rounds to a few garage sales with no money, just a few items from their stockpiles, and see if they could find anyone to trade with them. I especially love that they decided to do it while wearing pilgrim & indian costumes, but all laughs aside, it is a great idea. It would be a fun Saturday morning adventure for your whole family to try, or grab a few brave girlfriends and see what you can do.
3. Craigslist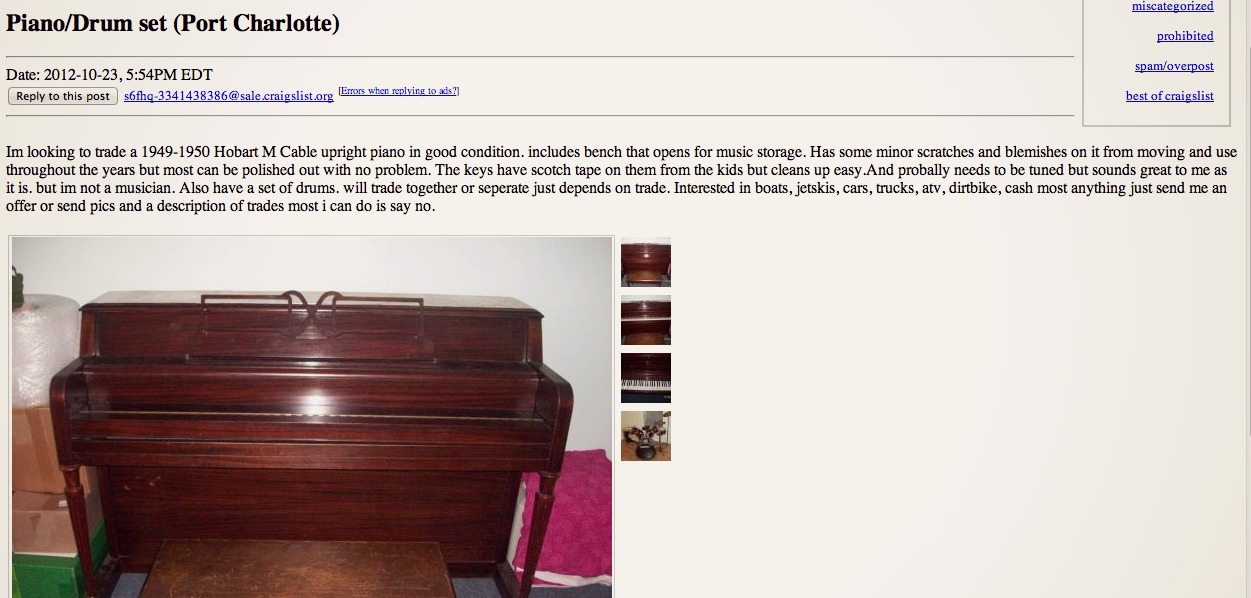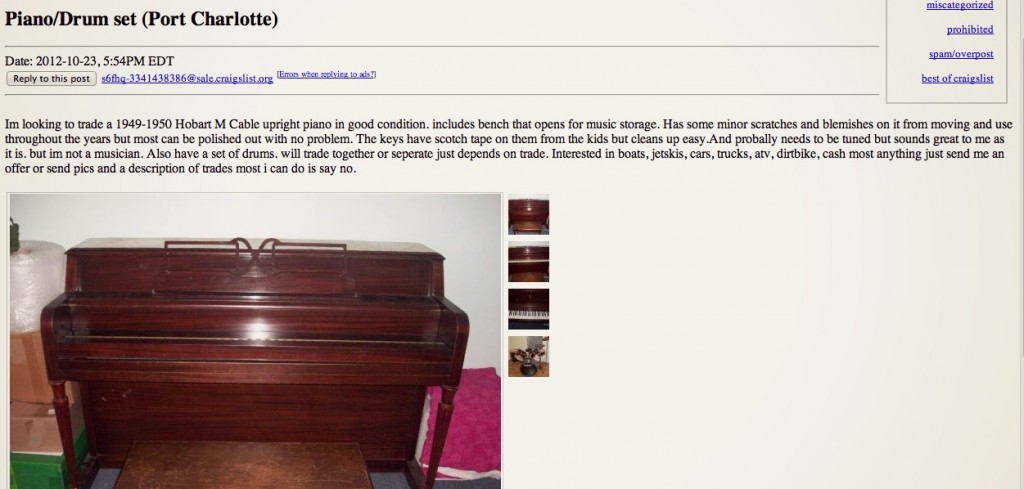 Yesterday we explored the free section on Craigslist, but there is also a very active bartering section. It looked to me like most of the items were big ticket items–cars, boats, musical instruments, computers, athletic equipment, etc.–but this might be a good option if you have something bigger you'd like to get rid of and haven't been able to sell outright. You can respond to an existing ad or post one of your own with a list of the items you are willing to accept in trade.
4. Community Food Swaps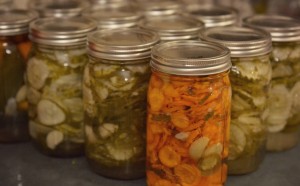 Community food swaps where people meet with with the sole intention of trading homemade food items and other handmade goods are becoming more and more popular. You can check out FoodSwapNetwork.com to find & register for a local swap. Most of them work on a 1-to-1 trade ratio, where you trade one of your items for another item. This means you should bring as many items as you hope to return with. Some of the swaps allow both food and handmade craft items; others allow only food.
If you can't find a swap in your area, you might want to consider starting one of your own–Food Swap Network  has information on how to host a swap as well.
Your assignment for today is to barter for something that you want or need. Figure out what you have to offer, then find someone who is willing to make the trade. Be sure to come back and share your experience with the rest of us!
*   *   *
Have you ever tried bartering for anything? How did you go about it? What was the end result?