July is one of the best months of the year! It's the heart of summer, the sun's out, and there's plenty of fresh air and family fun.
Even though we may feel a little crazy because our regular school-time schedules are disrupted and we're carting the kids around to all kinds of summer activities, it's a great month to focus on togetherness—while saving big.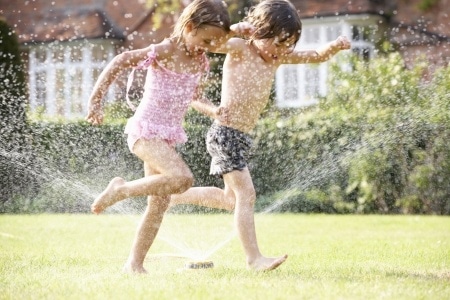 July: The Heart of Summer
July is such a wonderful month to save! There's plenty of free fun to be had outdoors—whether it's exploring local activities in your neighborhood or just running through the sprinkler in the backyard with the kids.
Just because you're sticking to a financial plan doesn't mean you have to skimp on fun! July is the perfect time to enjoy more meals at home—who doesn't love simple grilled meals on the porch with the kids? It's also a great time to entertain family and friends. Why not host a super-budget-friendly summer party?
This month, we'll tackle three simple ways you can stick to your financial goals mid-year—and still enjoy all kinds of summer fun!
Action Items for July:
Eat at Home More Often
Host a Backyard Party (for Less!)
Boost Your Emergency Fun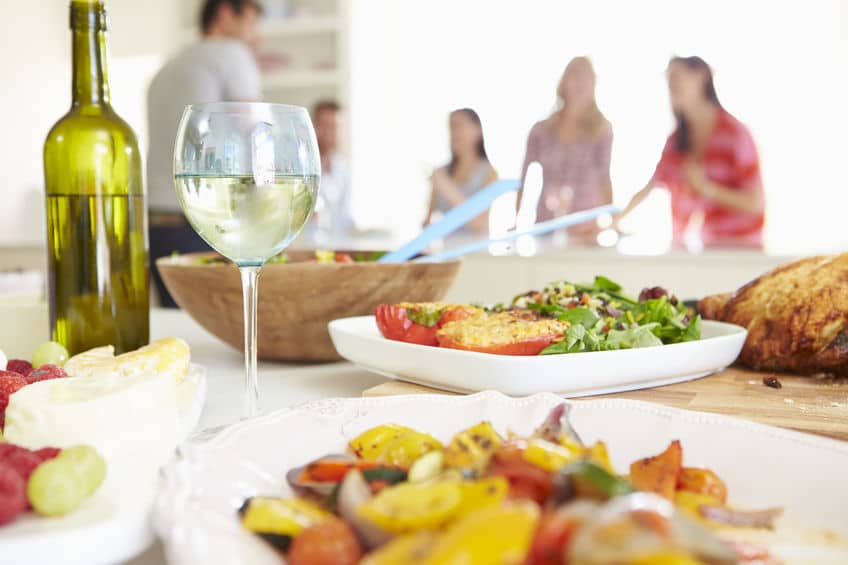 1. Eat at Home More Often
If you'd like to try eating at home more often, July is a great month to start! Most of us don't feel like tucking into a huge comfort-food meal or sitting down in a crowded, hot restaurant. Home-cooked, easy, outdoor summer meals make for much better memories.
Summer meals are naturally lighter and filled with seasonal produce. A simple grilled chicken breast or yummy marinated steak on the grill can be wonderful with a veggie-stocked salad. Simple salads, soups, and slow-cooker summer dishes like easy slow-cooker ribs or pulled pork create perfectly easy summer meals.
Doing the math can help us see what an impact eating out has on our budget. For a family of four eating out a few times a week, it typically costs upwards of $100-$200 per week for a few restaurant meals, including tip. This spending really adds up fast, blowing our summer budgets.
One of the best ways to ensure you eat at home more often is to plan meals ahead of time. If you're not familiar with meal planning, it's a super-simple way to organize your cooking before you have to answer the "Mom, what's for dinner?" conundrum. Use this simple printable family meal plan to plan meals ahead for your whole week or month. Write down your favorites, plus a few easy-to-prepare dishes, plus a few meals you know your family loves. This will help you get off to a great start and keep you motivated to stick to your meal plan.
My best meal planning tip? Embrace freezer cooking! With freezer cooking, I can prep meals for an entire week (or sometimes almost for an entire month!) in just one hour on a Sunday! Check out this 10 meals in an hour freezer meal planning series. A freezer stocked with ready-to-go meals can be a real game changer when it comes to eating at home more often. You don't even have to think about chopping veggies or dealing with meat every night…or having to come up with new dinner ideas on the fly. Instead, you just dump your freezer meal in a slow cooker or casserole dish, heat, and serve. It's that easy!
It can also help to have some easy go-to pantry meals on hand for nights when you don't want to cook at all. Tuna salad with crackers, cold pasta dishes, sandwiches, or simple spaghetti or tacos paired with frozen veggies are always options to help you stick to your goal of eating at home more often.
Embrace the bounty of the summer by planning vegetable-rich meals. Soups and salads are simple to create in the summer and can help you make the most of your garden. Watch for deals on produce that you can enjoy right from the vine, like fresh cherries or tomatoes for Caprese salad.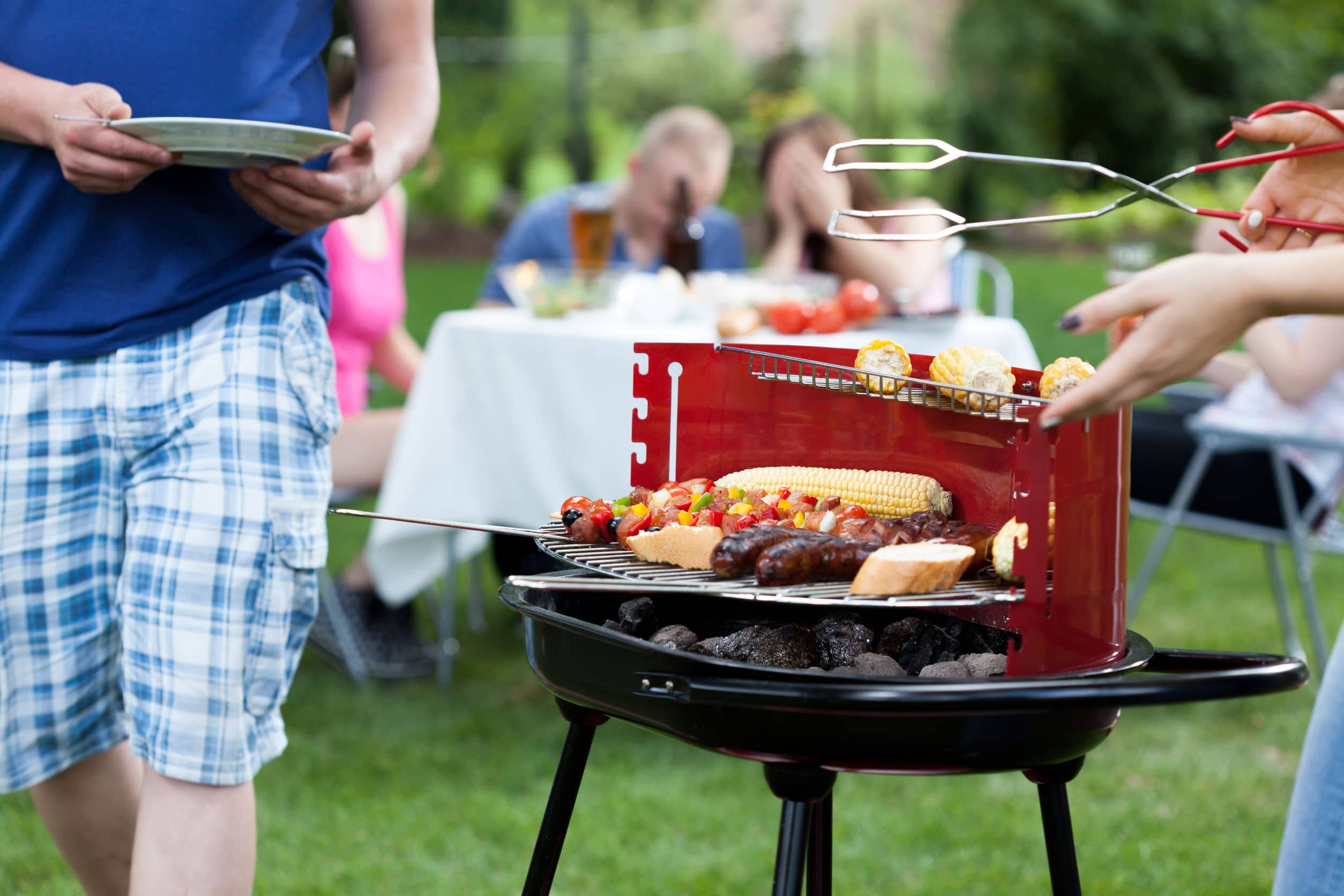 2. Host a Backyard Party (for Less!)
Summer is great time to have fun with friends and family! It's a festive time and everyone seems a little more relaxed. Plus, it's just so much easier to host parties outside where decorations are at a minimum and activities and games don't require a lot of planning or extra expenses.
Even if your house is small for entertaining, you can still host a great backyard party. No yard? Go to a local park!
Don't worry if your yard isn't perfect or the event seems too casual. Parties are all about spending time with friends and enjoying the beautiful summer weather. Keep it simple, light and entertaining.
Food: Summer food is delightfully simple. A few green salads, a cold pasta dish, and grillable meats and veggies are all you really need to have a great time at a summer party. To really save, ask guests to bring a dish to pass or assign them something easy (a salad, a dessert, etc.).
Watch for sales on meat and other barbecue favorites and plan your menu around the deals you find. Try grilled favorites with a twist like coconut lime chicken or honey lemon garlic chicken. Check out your local farmers market or fruit and vegetable stand for great deals on corn on the cob, fresh tomatoes, and other summer favorites. When produce is fresh, you hardly have to do a thing to prepare!
Keep dessert simple—a sorbet, fresh fruit, or grilled peaches with mascarpone. Fruit on the grill is super sweet and delish!
Invitations: Keep your summer party simple and informal by sending out e-vites or even simply texting your invitations.
Theme: There are so many great summer party themes—sailing, pool party, mermaids, camping, baseball, and more. Pick a festive theme to help guide your party planning. For a simple time, just focus on outdoor games—croquet, bocce ball, or bag toss.
Decorations: One of the greatest things about entertaining outdoors is that it lends itself to really simple décor. If you have flowers in your garden, you're already there. Just spread out a floral tablecloth and mismatched dishes, then put some bouquets on the table for a pretty summer fête.
Picnic with blankets spread on the grass for a boho vibe and hang lanterns or lights around in the trees. Decorations don't have to cost a lot or require tons of time and effort. Lights and a little ambiance and you've got it!
Entertainment: Don't forget to turn up the summer tunes for your backyard party. Offer a couple of games to keep people entertained and plan for your audience. For kids, plan on a water balloon fight, or a game of tag or Frisbee. Adults may prefer trivia or something a little more low-key. When the heat is on, not everyone will be in the mood for an active round of volleyball (but some might, so plan accordingly).
With food, drinks and conversation, entertainment just happens automatically. You don't need to force it—embrace a laid back, summer attitude to match your chill summer party!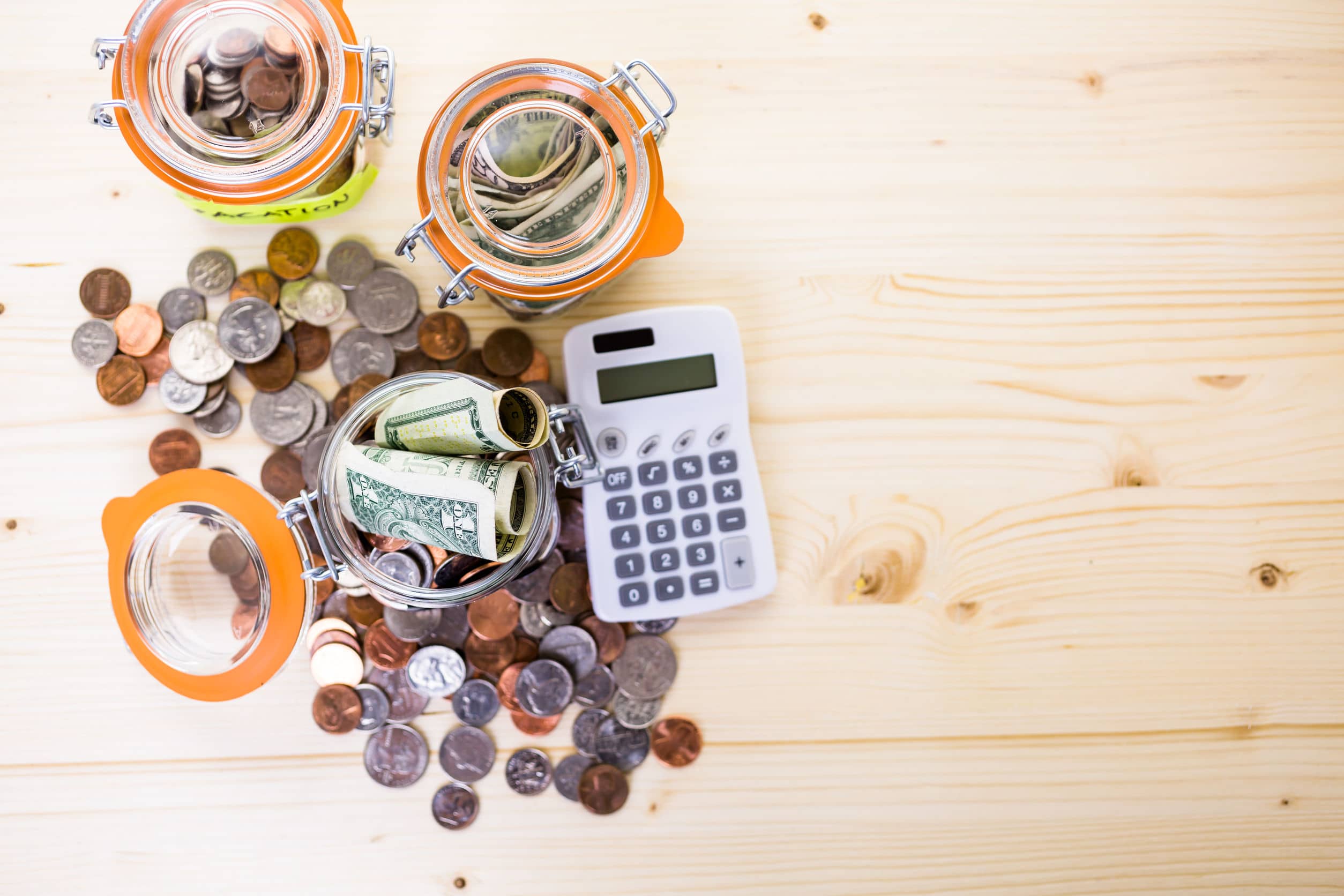 3.Boost Your Emergency Fund
July is a good time to do a check on your emergency fund. If you're steadily putting money away, but not seeing as much progress as you like, it might be time to pick up a few summer jobs to help you stretch your income.
Summer offers wonderful chances to take on extra tasks. Offer to help neighbors with yardwork or summer babysitting for fellow moms who work (and need some help with kids who are out of school). It can be a good time to look into dog walking, delivery opportunities, and other jobs you'd like to explore. You can even look for part-time retail jobs or ways to help local businesses that hit their busy-time during summer festivals, fairs, and activities. Second to the holiday season, summer is one of the best temp-job times of the year!
If you have a talent or hobby, see if you can offer lessons as a summer activity option for kids. It can be a lot of fun to teach art classes or run a theater group. It might not even feel like work—but you can earn extra cash to help build up your emergency fund or make progress on your debt. You can also sell your creations on Etsy or eBay!
Summer's also a great time to focus on any online moneymaking endeavors you've been considering. Try your hand at blogging or become a virtual assistant. Consider freelance writing, offering consulting services, photography (wedding and summer vacation season can be a wonderful chance to build a portfolio), graphic design, and more.
Don't let summer work opportunities pass you by, especially if you're looking for ways to earn some extra cash. You can even consider renting out your boat, RV, car, or space while you aren't using it in the summer months.
There are plenty of smart ways to earn money over the summer months. Get creative and boost your emergency fund (or start making real progress on paying off debt)!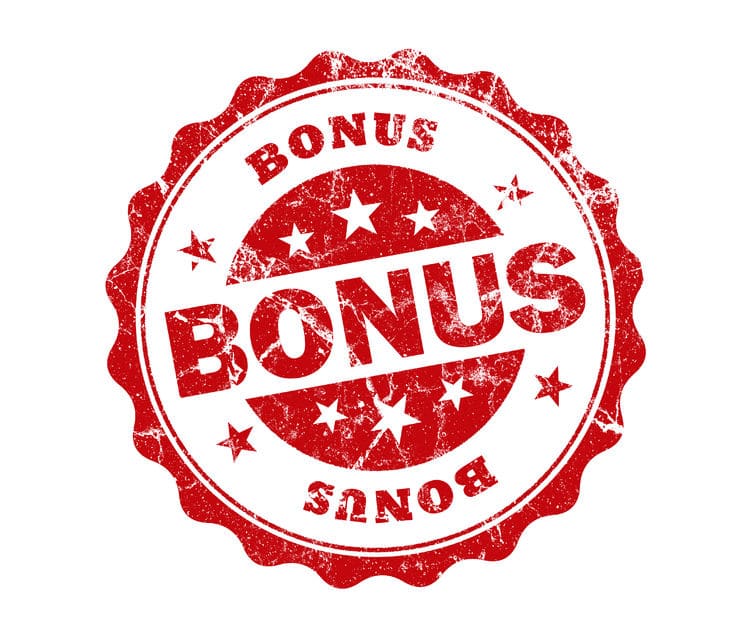 Bonus: Best Purchases in July
There are a lot of July sales, but use caution—often these "Christmas in July" deals are just to get you in the door, so you won't save as much as you could other times of the year.
One thing you should watch for in July is clearance deals. It's a slow month for retail. Even though back to school clothes and items will be hitting the racks and shelves soon, watch for better deals on clearance spring and summer inventory, which is often on extreme discount to make way for the new.
Summer produce is also on sale, plus you can find good deals on grill items (like burgers) and condiments. Everyone is in "picnic mode," so stores offer deals on chips, salsa, summer foods and drinks, and packaged meats like hotdogs.
July is also a good month to score last-minute travel deals. If you've waited until this late in the season to book a vacation (and you aren't feeling picky about where you go), you can find some awesome vacation opportunities.
Watch for tools and yard items on sale as well, as they are now past their prime selling time. You can also score deals on furniture because most new designs are released in August. Dishes and wedding gifts start to clear out in July as well, so you can often find nice sales on summer wedding presents.
Make the most of July! It's a wonderful month for savings and fun! Throw a party, eat outdoors, and find new ways to earn money while you're stretching your summer! Don't forget to enjoy your summer!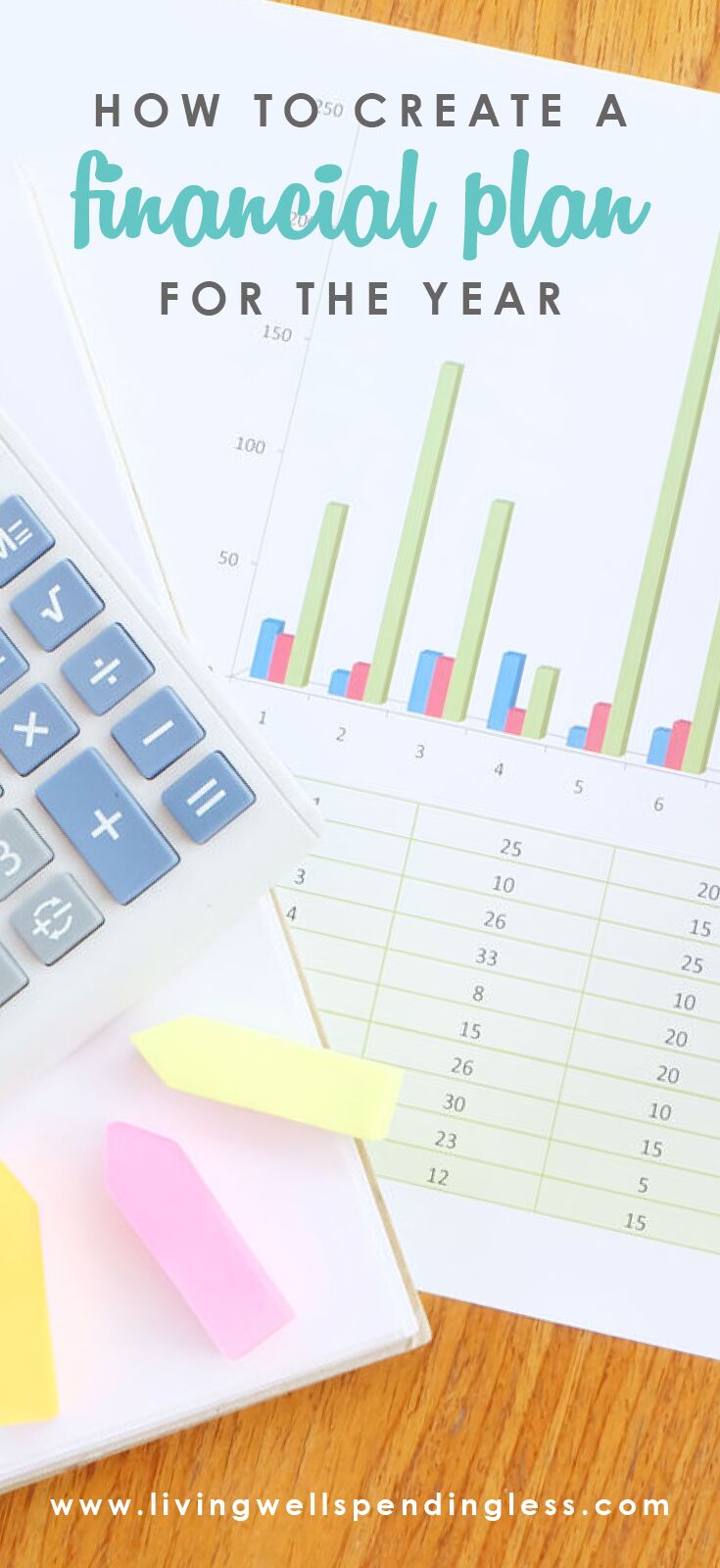 TAKE BACK CONTROL OF YOUR HOME LIFE
---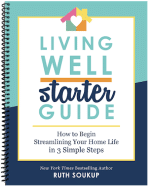 Ever feel like you just can't keep up? Our Living Well Starter Guide will show you how to start streamlining your life in just 3 simple steps. It's a game changer--get it free for a limited time!
If you love this resource, be sure to check out our digital library of helpful tools and resources for cleaning faster, taking control of your budget, organizing your schedule, and getting food on the table easier than ever before.