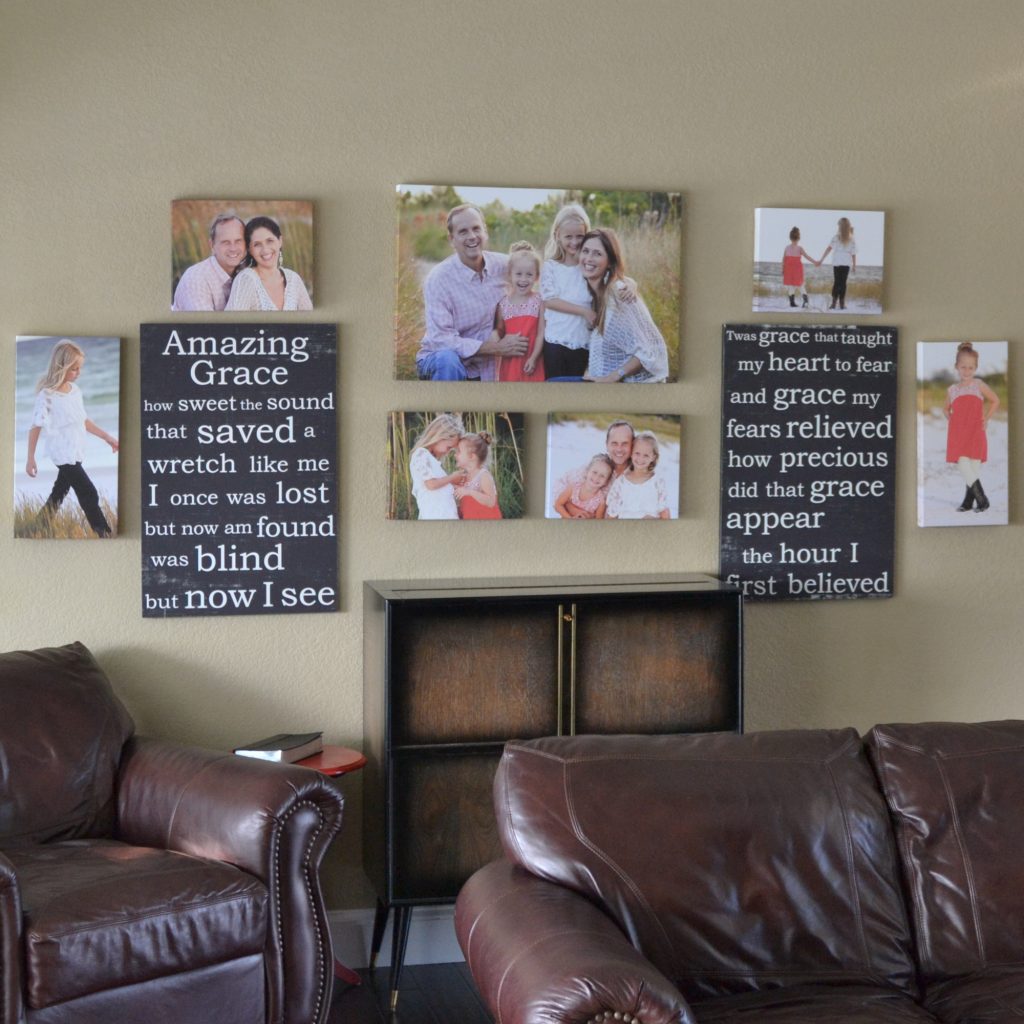 Several years ago I wrote this post about the big giant (12' wide by 16' tall in the center—in other words, HUGE) wall, the focal point of our great room. For nearly eleven years now, this space has overwhelmed me with its sheer big-ness. And so, for most of the time we've lived here, I have just left it empty and unfinished.
Even so, I had big dreams.
In my mind I envisioned a gallery wall of family pictures on canvases. When we had pictures taken last year at the beach, I knew the resulting images were exactly the look and color I was going for. Even so, the process of figuring out exactly what would work in this oversized space was slightly overwhelming.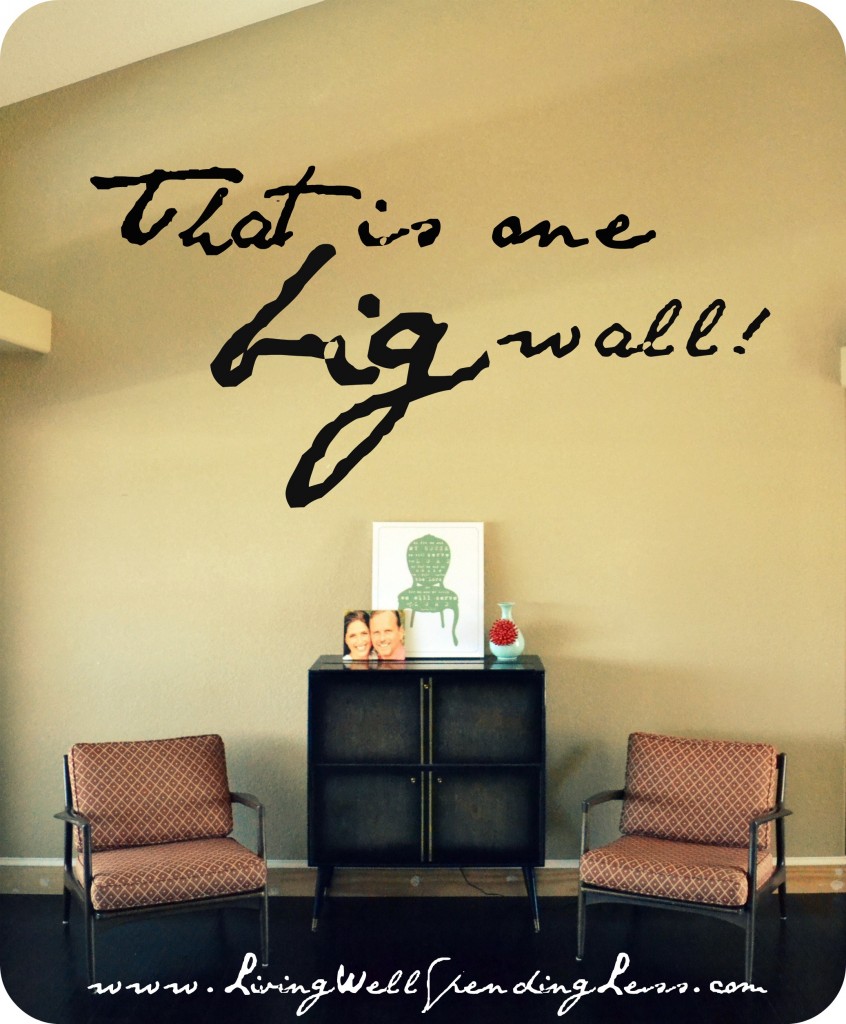 And then, in October 2013, I met the amazing Dee from Red Letter Words while at the Allume Conference. I explained my conundrum and how my fear of doing the wrong thing in this huge space had completely paralyzed me. She assured me that helping people figure out how to configure their wall space was one of her very favorite things to do, and she promised to help.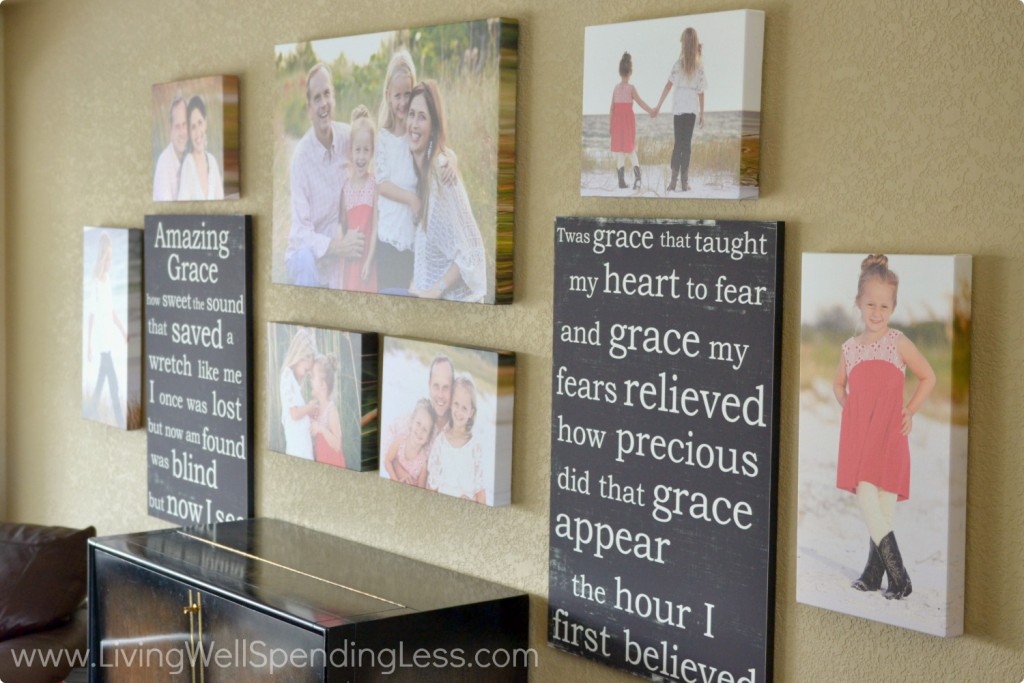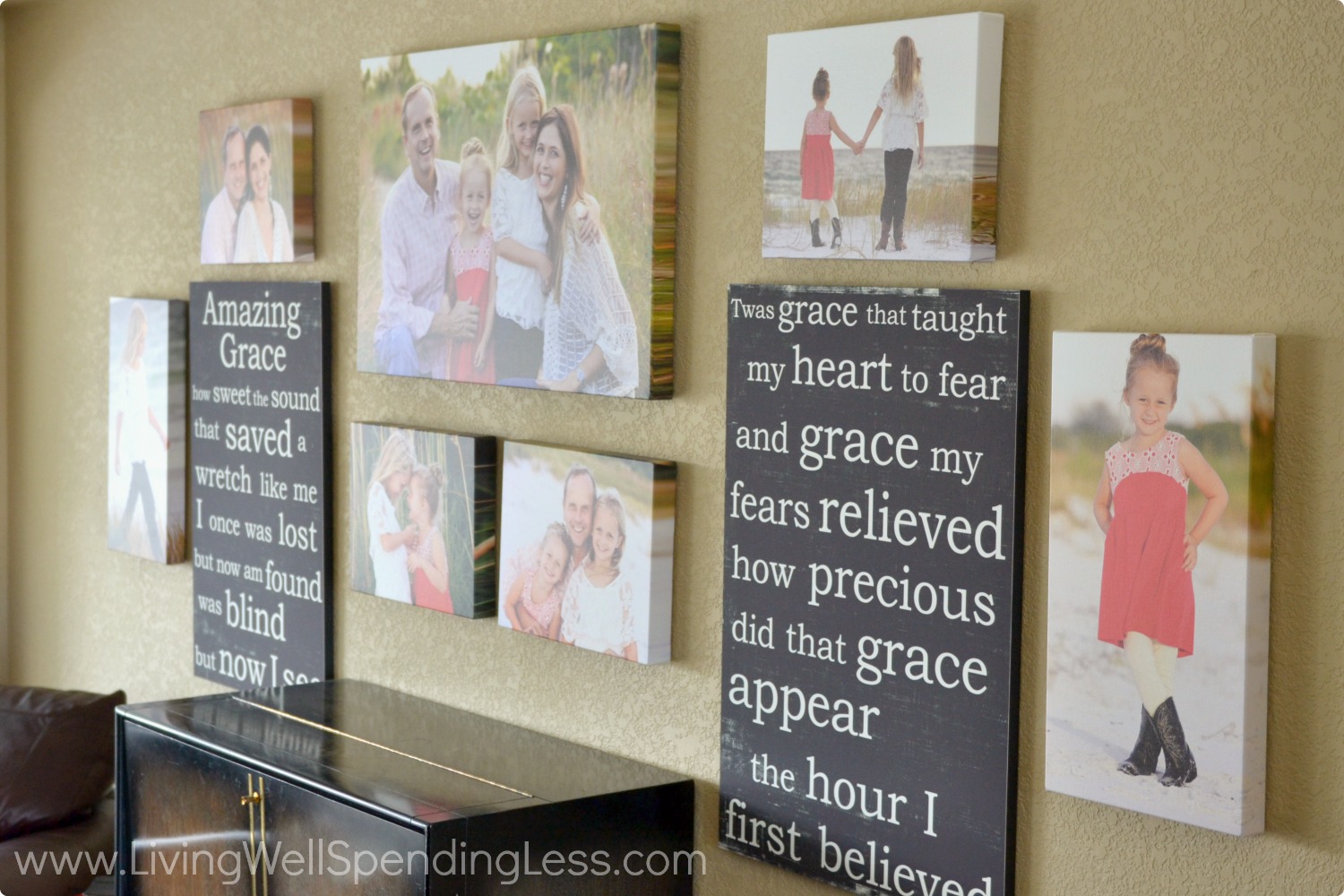 Well. It still took me another year to finally make a decision, but Dee was true to her word. She helped pick out the pictures to use, and connected me to her husband's company, Unit Prints, to have them printed larger than life. She also helped me decide on the scale (big) and suggested the Amazing Grace art to go along with the pictures, since it ties in so perfectly to my own Amazing Grace story.
It all arrived on Christmas Eve, which was pretty much the best Christmas present I have ever received! The gallery wall has completely transformed the entire room, and I couldn't possibly love it any more. It was SO worth the wait!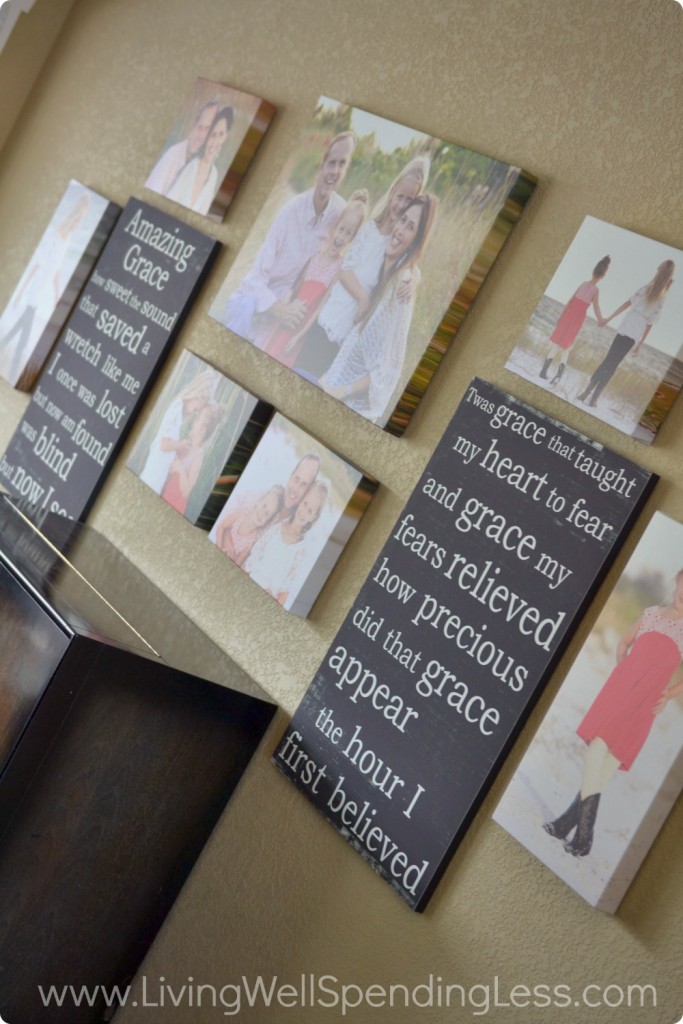 If you've been thinking about creating a gallery wall somewhere in your home, but aren't quite sure where to begin, I would definitely recommend working with Dee. She has a great eye and can suggest solutions that you might never come to on your own! Of course, you will still have to do at least some of the legwork on your own!
Here are six simple steps for creating a gallery wall in your home:
1. Get Inspired
If you're not even sure what you're looking for, getting inspired by other people's brilliant ideas is a great place to start. I made this inspiration board many years ago, and would look at it often as I was trying to decide exactly what I wanted for my own space. You might try looking at decorating magazines, or searching on Pinterest.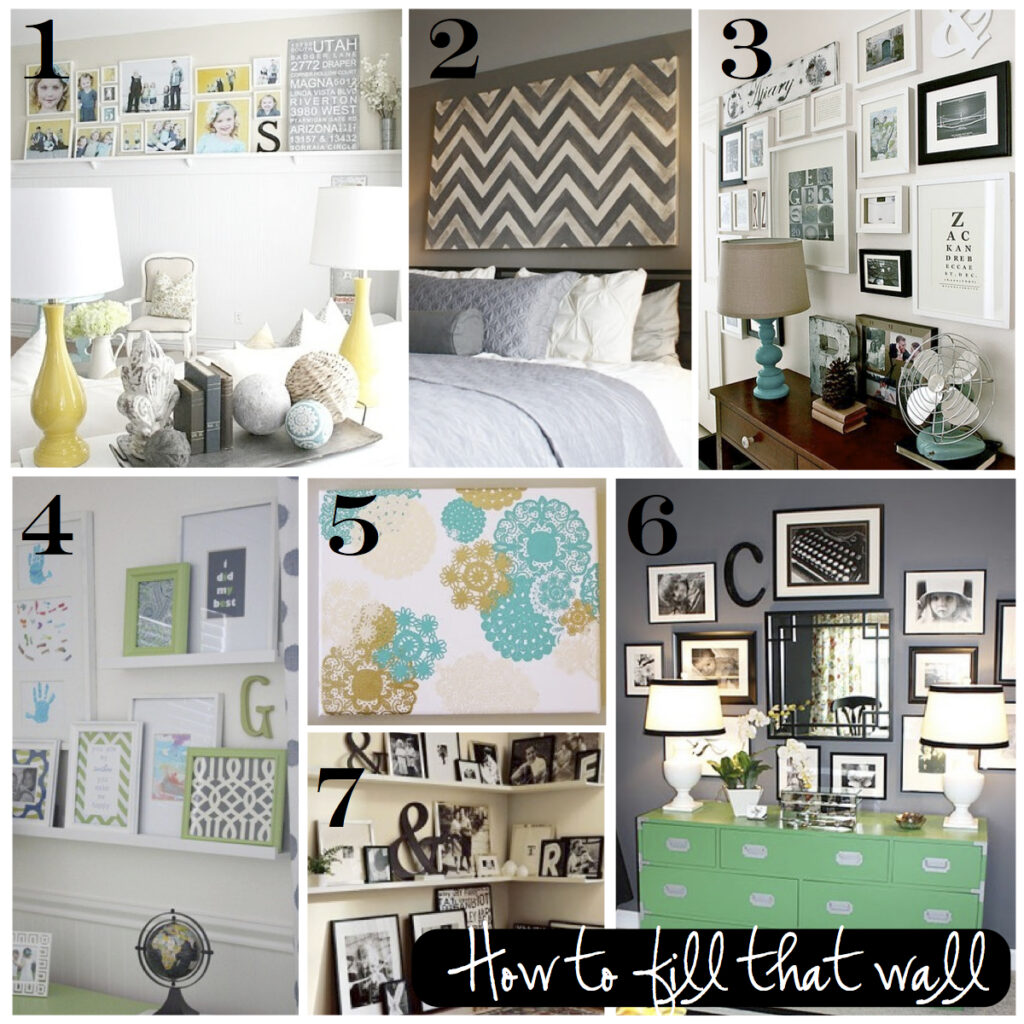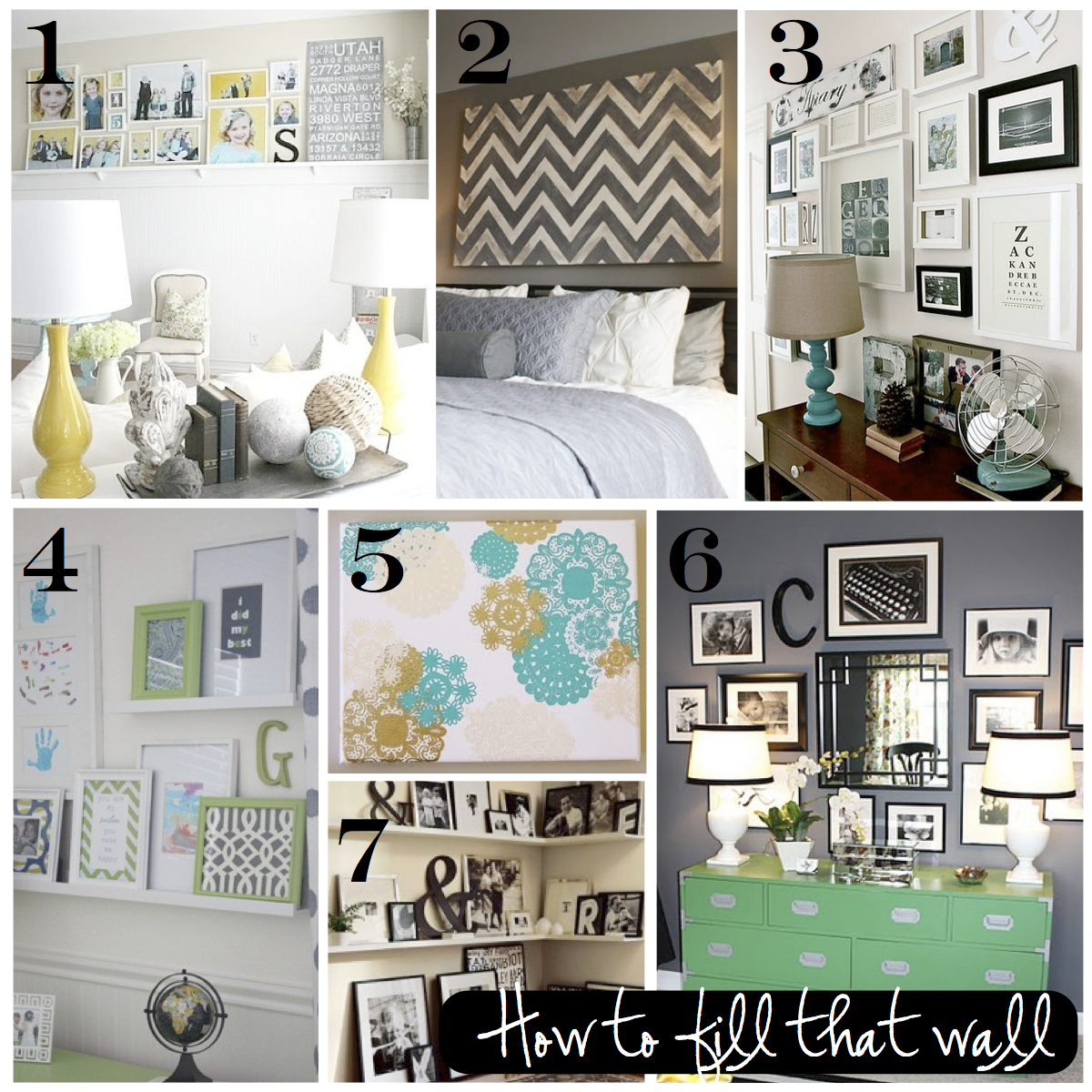 2. Pick Your Wall Space
Before you can create the perfect gallery wall in your home, you need to know exactly where it is going! Will you be filling a long narrow hallway? The wall along a staircase? The main focal wall of your living room? The kids' room or playroom? The function of the room and the size of the wall will make a big difference in what you decide to do. Take note of the size and scale of the wall, as well as the general décor of the rest of the room.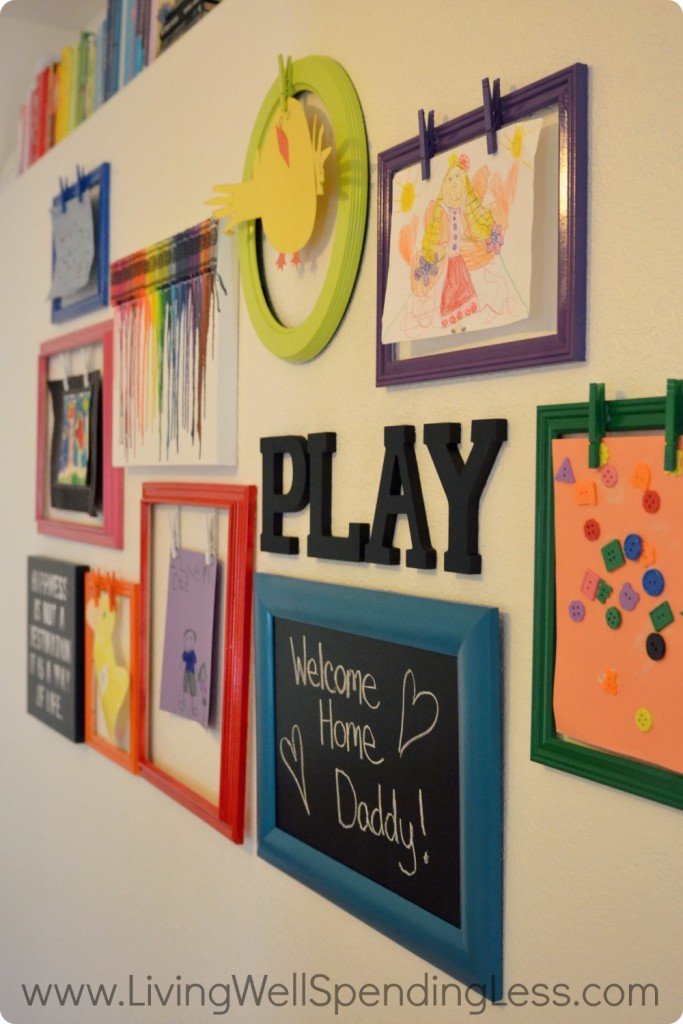 3. Decide on a Theme
Once you know where your gallery wall will be placed, it is time to narrow down the specific look you are going for. Do you want to showcase family pictures or do you want to show off a collection of artwork? Do you want a simple, monochromatic look or are you interested in something more eclectic, like my friend Edie's wall below? Do you want all frames, all canvases, or a combination of both? What colors do you want to use?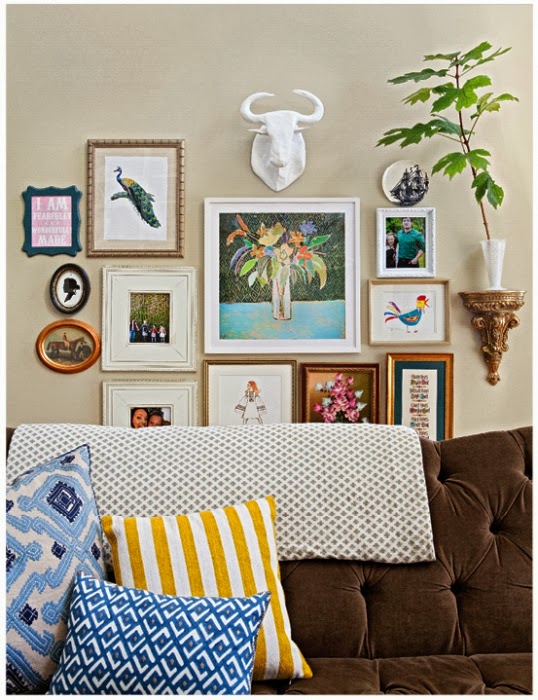 Collect Your Art, Pictures, & Frames
This is the fun part! As soon as you've decided on the theme or look you are going for, you can start pulling together the appropriate art, pictures, or frames to include in your gallery. This may mean having pictures printed on canvas or purchasing custom art from a shop like Red Letter Words, like I did in my living room. (As an aside, UnitPrints.com did an amazing job with our canvas prints! The quality is superb and their prices are very reasonable.) It may also mean simply "shopping" your home to find pieces that you already have on hand, and then just pulling them together in a new and creative way.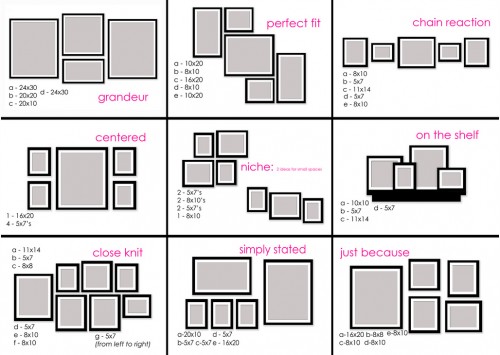 Figure Out Your Arrangement
This is the tricky part—figuring out how to arrange your art in a way that is visually appealing. The easiest way to do this is to lay everything out on the floor before you hang a single piece. Move things around until you come up with a layout that is well balanced and easy on the eyes. Start with your largest pieces as your anchors, then fill in gaps with the smaller pictures.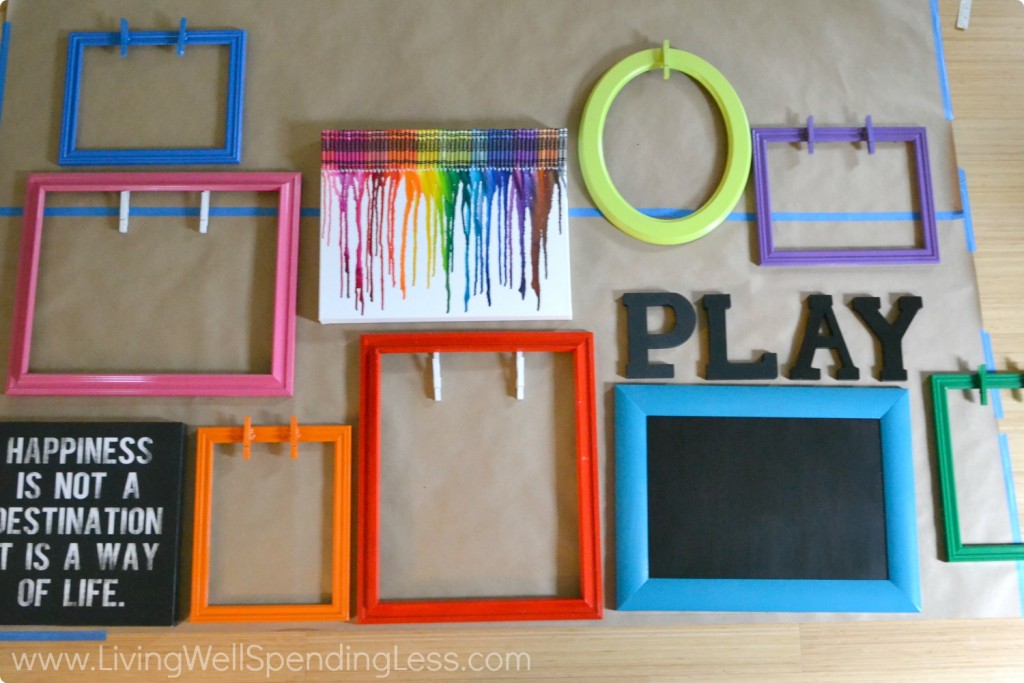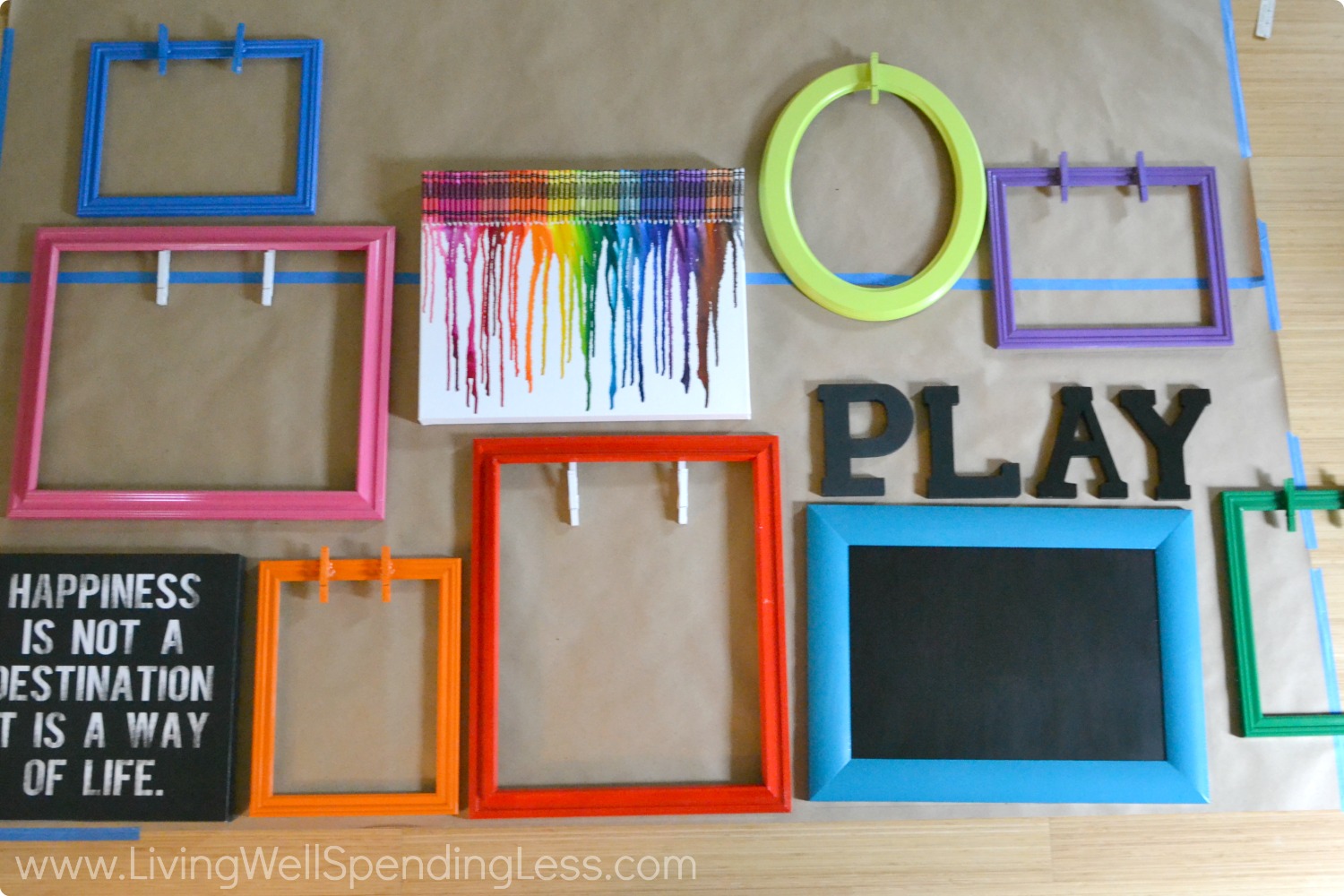 Hang Your Pictures
My engineer husband would tell you that in order to hang your pictures the right way, you will need picture hangers, a measuring tape, a level, a stud finder, and possibly some screws with drywall anchors. I'll be honest and tell you that I hung the pictures in our living room by moving thumbtacks around until they looked about right, and they have held up just fine thus far. You can also check out this tutorial for hanging a gallery wall, which I used for the kid's artwork display wall in our rainbow family room a few years ago. It worked great.
However nit-picky you decide to get with your hanging, don't let a fear of getting it wrong prevent you from trying! You can always change it if you find it doesn't look right–there are much worse things than a few extra holes in the wall. (And they are easy to fix!)
* * *
A gallery wall is a fun and relatively inexpensive way way transform any room in your home. All it takes is a little inspiration, a collection of pictures or artwork, and the patience to get it arranged and hung!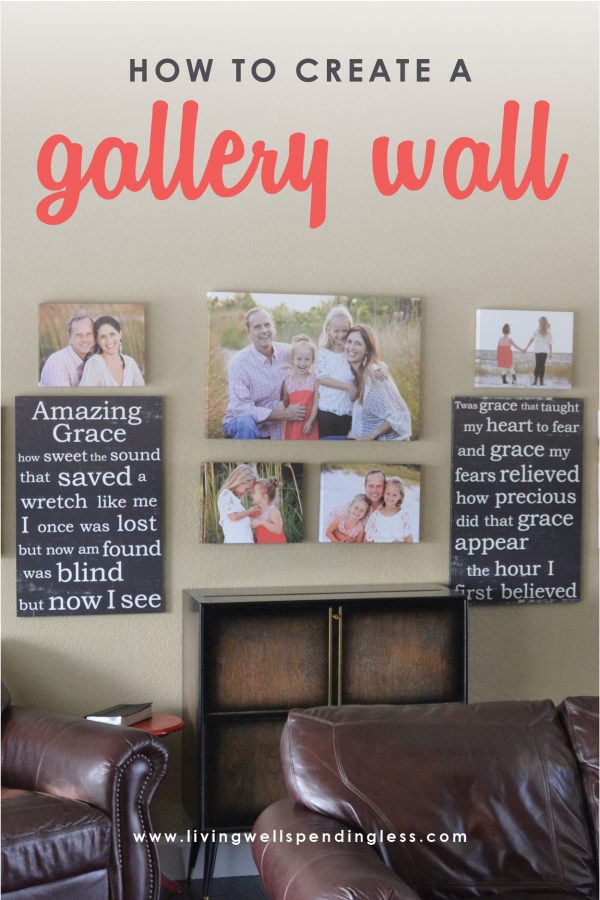 TAKE BACK CONTROL OF YOUR HOME LIFE
---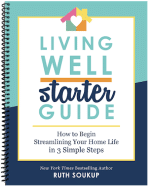 Ever feel like you just can't keep up? Our Living Well Starter Guide will show you how to start streamlining your life in just 3 simple steps. It's a game changer--get it free for a limited time!
If you love this resource, be sure to check out our digital library of helpful tools and resources for cleaning faster, taking control of your budget, organizing your schedule, and getting food on the table easier than ever before.