There is a wall in my house that is haunting me.
It is a big, giant wall, 16 feet high by 12 feet wide and I honestly have no idea how to fill it.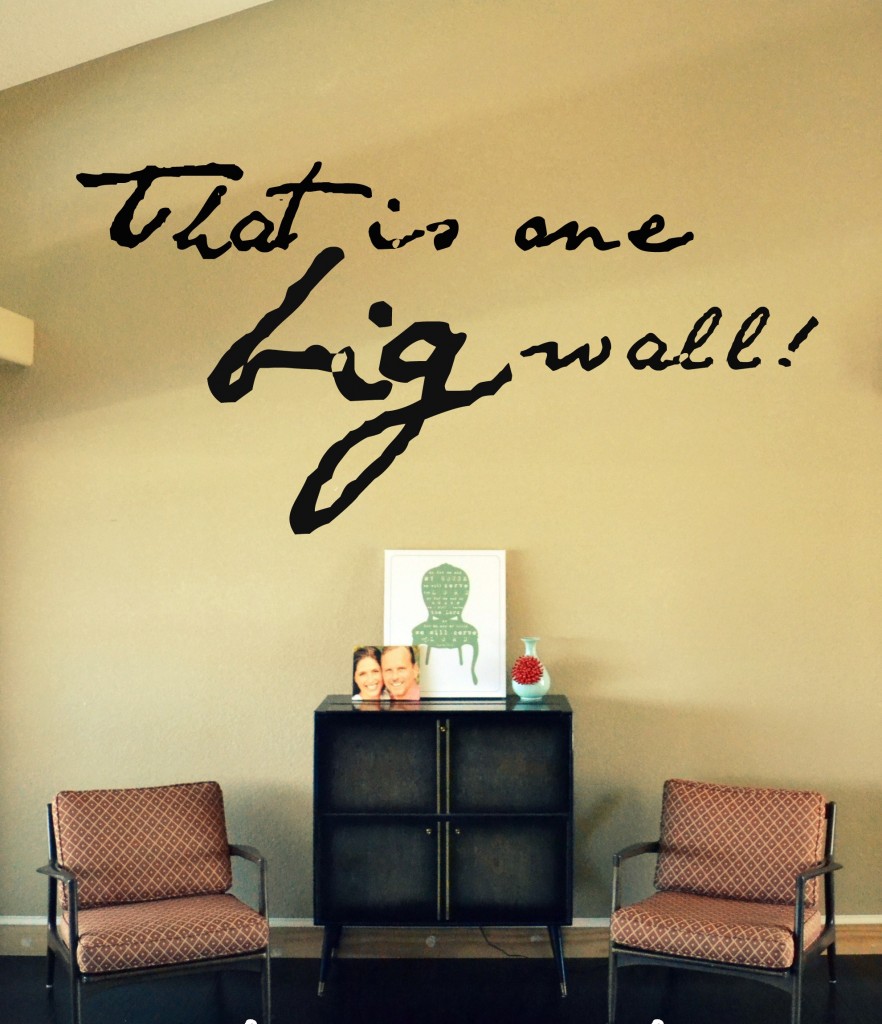 It is the main focal point of our entire house and it just stands there, blank, mocking me every single day.
I am overwhelmed by that wall.
Do you have any spaces in your house like that?
Last October, when my mother-in-law died, we inherited a few pieces from her house, including a retro bar from the 1950's and 2 gorgeous mid-century modern solid-wood hand carved Swedish chairs. Our house is not even remotely retro or mid-century modern, and until now has not even been very eclectic, but I love the bar because it is oh-so-very Mad Men, and I love those chairs because they remind me of Marie.
So now the bars and the chairs are lined up against that very big, very blank, very scary wall.
And every day I look at it and think "I really should do something about that wall."
I've been pinning ideas for months now.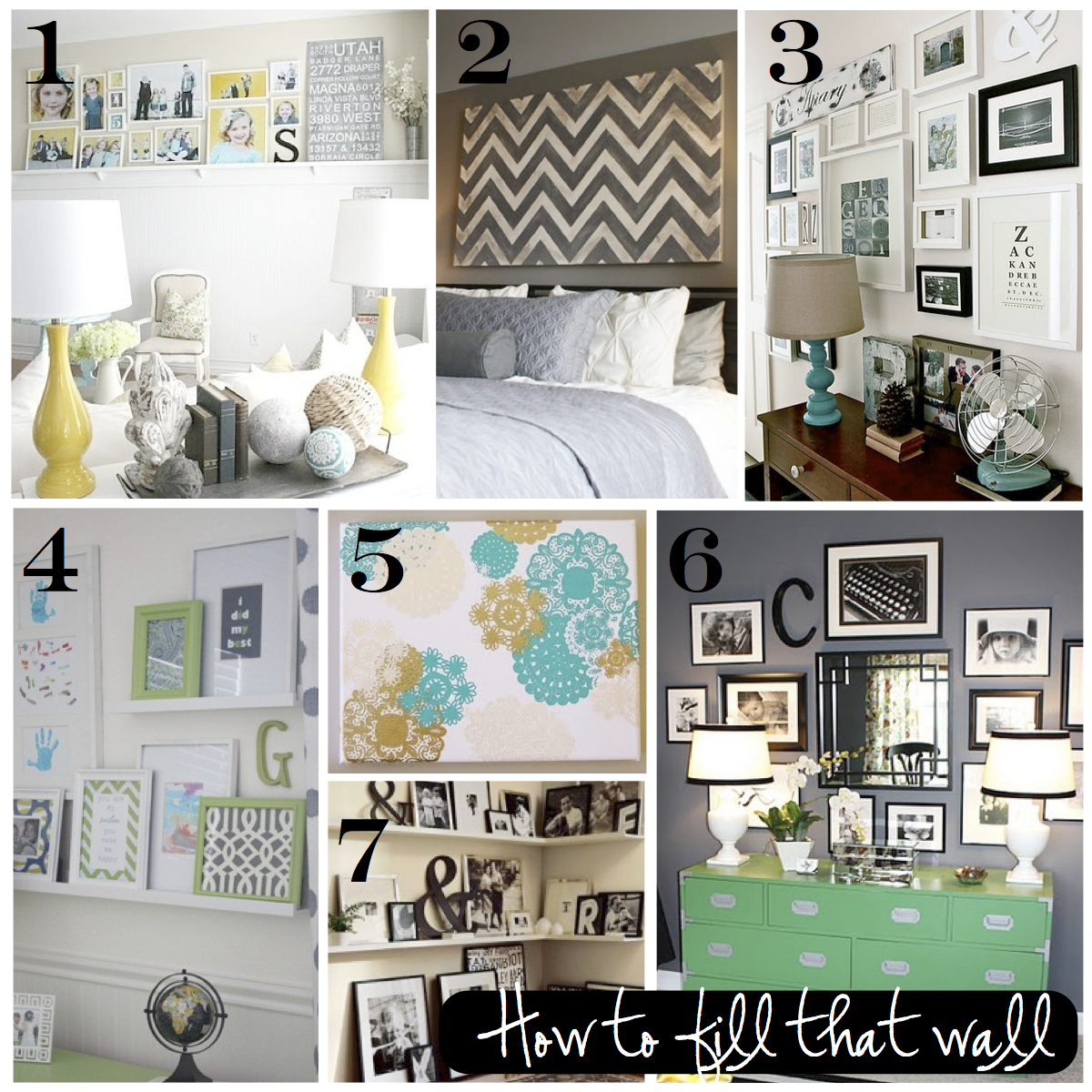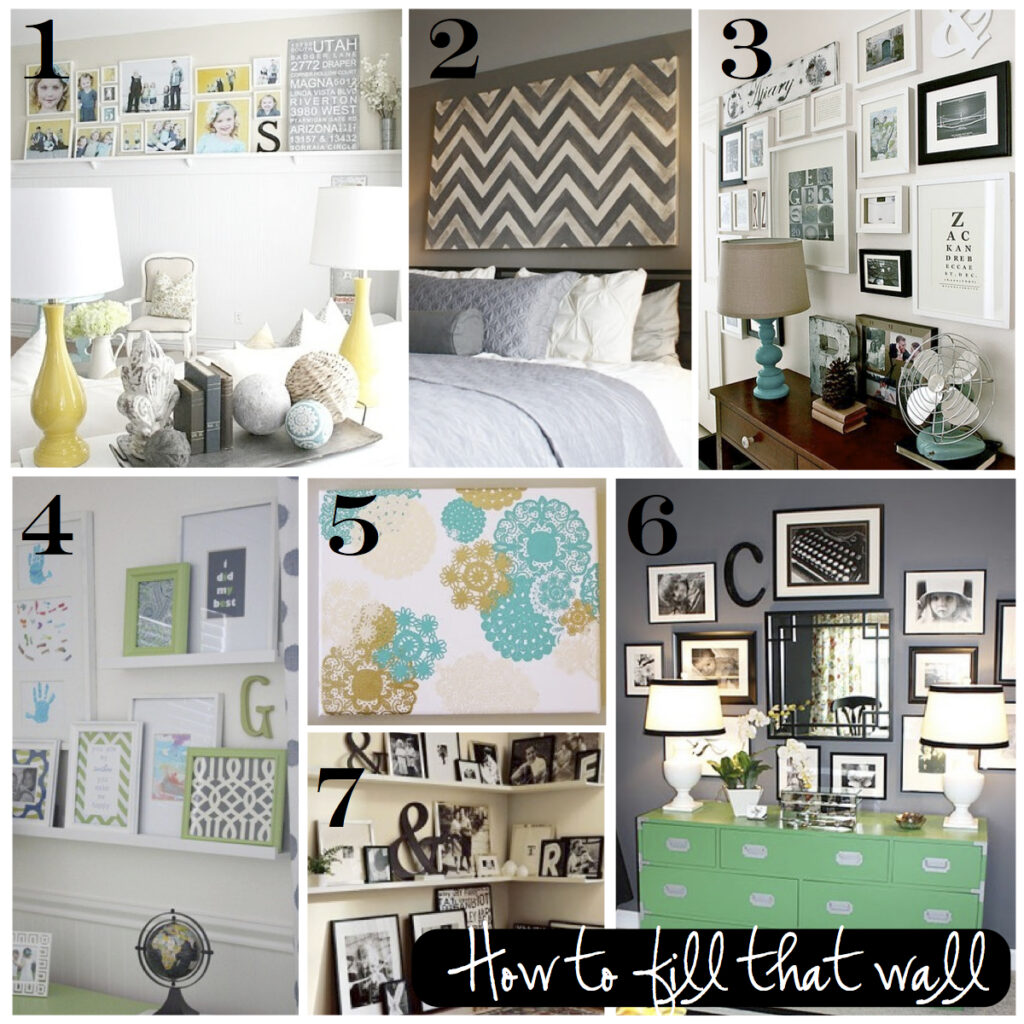 1. Color-coordinated photo gallery wall from The House of Smiths
I love, love, LOVE how this looks clean but interesting & uses the colors from the photographs to set the color scheme for the room. Also love the subway art of all the street names. This website has some great tips for creating a gallery wall!
2. Chevron canvas wall art from Apartment Therapy
I love this idea for creating a statement piece for that wall. 3.
Monochromatic gallery wall from Gardners 2 Bergers
  This post includes some great ideas for how to hang the pictures, as well as some cool thrifty art ideas. I love the look of the black and white with just a few pops of color.
4. Photo ledge gallery wall from A Thoughtful Place
Great idea for incorporating color into the gallery wall–paint the frames! I also love the use of ledges instead of hanging directly onto the wall.
5. Doily DiY Canvas Art from Blush & Bashful
Another super cute idea for DiY artwork.
6. Green console gallery wall from Right at Home
Another monochromatic gallery wall with a big pop of color! I especially love the look of the black & white pictures against the dark gray wall.
7. Gallery shelves or ledges from Pottery Barn 
I definitely want to use ledges or shelves to hold the pictures rather than hanging them directly on the wall.
I guess at this point I think I have at least a rough idea of what I'd like to see on that wall….now it is just a matter of deciding on a color scheme and getting it done. The first step is always the hardest…..
What would you do with that wall?