Wish your home had a prettier backyard? These tips on how to have a beautiful yard on a budget will help you create the outdoor space you've always wanted!
I have very few irrational fears. I've done all kinds of crazy things in 39 years of life. I've bungee jumped twice. I've flown across the country by myself. I've ridden my bike 160 miles in one day – for fun, more than once. But there is one thing that creep me out in 15 seconds flat – a lawn ornament. It doesn't matter if it's children merrily playing in a fountain or a Victorian gazing ball. I'm not a big fan of ceramic painted or unpainted lawn ornaments.
Except for gnomes.
Arguably the most unsettling of all, the short bearded men with red pointy hats make me smile every single time I see them. And so I have started a small collection of gnomes (Read: two, one of which I just got for Mother's Day). I love sitting them in the front yard so I see them every time I pull into the drive. Seriously, I have no idea why they delight me so, especially given my irrational fears of any of their distant ornamental cousins. But hey, we all have our thing.
While my gnomes are small and weren't very expensive, I still love the way they enhance my yard. Our family lives an acre and a half of property. It can be challenging during the summer months to keep up with all of the work required to keep our lawn looking lovely. The sweat equity, coupled with the price of maintaining the yard means that there is very little wiggle room left for us to purchase new lawn furniture or scads of flowers or fancy landscaping extras. However, with a few simple tips and tricks, we've been able to cultivate a lovely yard on a budget price tag.
How to Have a Beautiful Yard on a Budget
Begin With the Clean Up
Every Saturday morning, you'll find a host of weekend warriors at the local Supercenter or Home Improvement chain snapping up every flower, tool, and picnic table kit in sight. From early spring through late fall, our brilliant marketing friends convince us that we need all of the things and we need them NOW.
Instead of falling into this expensive rut, begin by cleaning up your yard first. Only after you pick up all of the sticks, mow the yard, rake the clippings, and pull the weeds can you hit the store. After you put in a few long hours, you will more than likely have a more realistic grasp on what you really need and what might be more of a chore to keep up. Plus, you'll be too tired to overspend and overextend yourself.
Make the Most of Mulch
Does your city have a limb removal service? While not available in all municipalities, some city crews regularly remove limbs if you simply place them near the curb. Ever wonder what they do with those? Again, while it's not the case in every municipality, some turn those unwanted limbs into mulch and you may qualify to obtain that treasured landscaping essential for absolutely free. Head your city's website to see if such a service exists in your area. Typically, the sanitation department takes care of both the removal and the mulch-ifying. More than likely you'll need a way to transport the mulch and proof of residency (a utility bill usually does the trick) to retrieve it.
Even if your city doesn't provide such an awesome opportunity, you can still save money on mulch. Consider purchasing a bulk amount and having it delivered. You might even be able to convince your neighbors to share the cost and get a better price per cubic yard. Don't forget to ask the company you're ordering from if there are any discounts or coupon codes available.
Finally, many home improvement stores clearance out mulch at the end of the season. If you can wait until later in the summer to purchase your mulch or buy simply a bag or two for a top layer, you could stock up when prices are greatly reduced.
A Little Spray Paint Goes a Long Way
Sometimes all your lawn furniture needs is a little love and a can of spray paint. You can take a piece you've owned forever from "meh" to "wow" for less than $10. Metal chairs and tables, flowerpots, and more can find a whole new life with a new tint.
Metal lawn furniture is also a great yard sale or Craigslist find, too. Or if you're very lucky, you may even find a piece or two someone has dragged out on trash day. Before painting, you may need to use steel wool to smooth out rusty patches. Did you know you can even spray paint faded outdoor cushions?
Breathe new life into those items you've owned forever. Pick out a shade you love (perhaps bright red to match your favorite gnome) and get to spraying.
Consider The Value of Your Time
I once heard author and pastor Andy Stanley quip, "Only do what only you can do." This fantastic leadership lesson even applies to your lovely lawn. When taking on a new project – like a flowerbed or a garden patch – you need to calculate the amount of time planting and upkeep will require of you. Unless it's a life passion for you, you may want to consider skipping the project all together or perhaps hiring a capable local teenager to take care the grunt work. If lawn work is restorative and a hobby for you, by all means put in the work yourself. However, if you know you'll be sore and not at your best for work on Monday you may want to consider farming the work out. It may feel counterintuitive but in a handful of cases you can save money by spending money.
Set a Cash Budget and Stick to It
If your household maintenance budget allows, you can still make updates to your lawn and patio. Just be sure you set a cash budget in advance and take only cash to the store with you. This will help you build a healthy boundary around your spending and not go ga-ga over the items you can't really afford. When it comes to flowers, consider skipping the annuals and opting for perennials that come back up for years to come. Try to avoid trendy decorating items and instead purchase items with classic elements that will ornament your yard for more than one season (I highly recommend gnomes because they never go out of style).
Be as wise about what you purchase for the outside of your home. After all, in many climates it will only be in use for a relatively short amount of time. There's no need to fear the price tag that comes with a well-manicured lawn. Stick with your budget and learn to love your outdoor space.
More helpful resources:
PIN FOR LATER: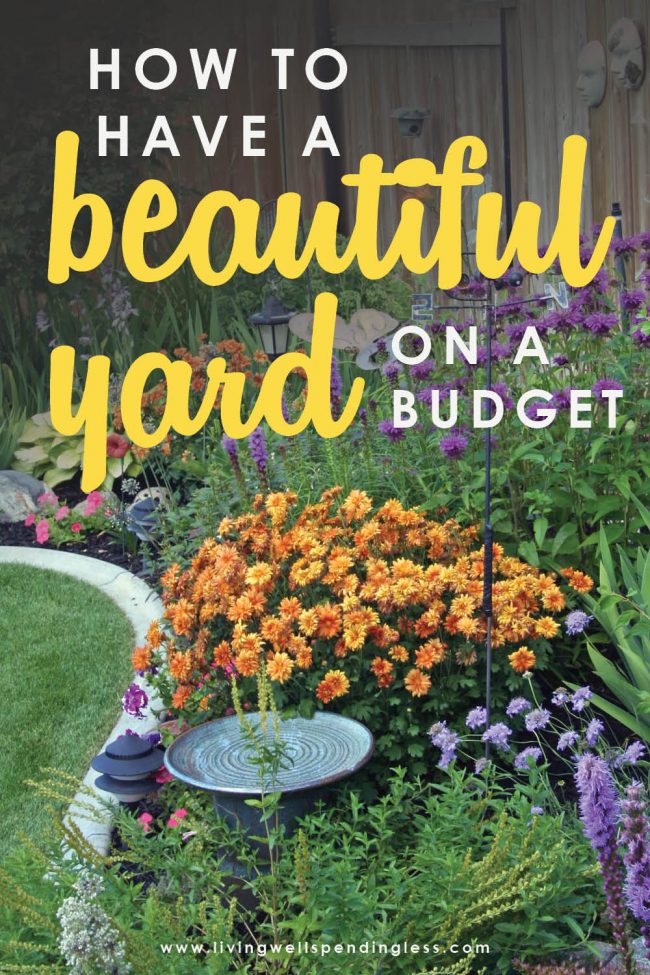 TAKE BACK CONTROL OF YOUR HOME LIFE
---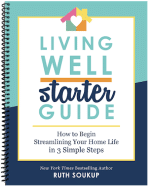 Ever feel like you just can't keep up? Our Living Well Starter Guide will show you how to start streamlining your life in just 3 simple steps. It's a game changer--get it free for a limited time!
If you love this resource, be sure to check out our digital library of helpful tools and resources for cleaning faster, taking control of your budget, organizing your schedule, and getting food on the table easier than ever before.