True confession: I'm not a big fan of television. I' ve never liked having a TV as the main focus of the room. It just gets in the way of conversation. We ditched our extended cable channels for a Roku years ago and we haven't looked back. Not being avid sports watchers (or series watchers for that matter), I usually view television as a special treat…snuggling up with the family for movie time or to watch a special show.
That said, for many households, cable is a high priority. I have plenty of friends who look forward to their favorite shows–even going so far as to schedule them in. Likewise, some families love sports. My sister and brother-in-law, for instance, have a daughter playing volleyball for the University of Washington, and have opted for a premium package that gives them access to all the college sports channels.
So how do you save money on cable? Some premium packages with DVR, a subscription to Netflix, HBO Now and Hulu Plus can run upwards of $200 per month. The average cost of cable is around $64 per household—not horrible, but not exactly cheap. There are a few things you can do to save money on your cable bill and stop paying for services you don't use.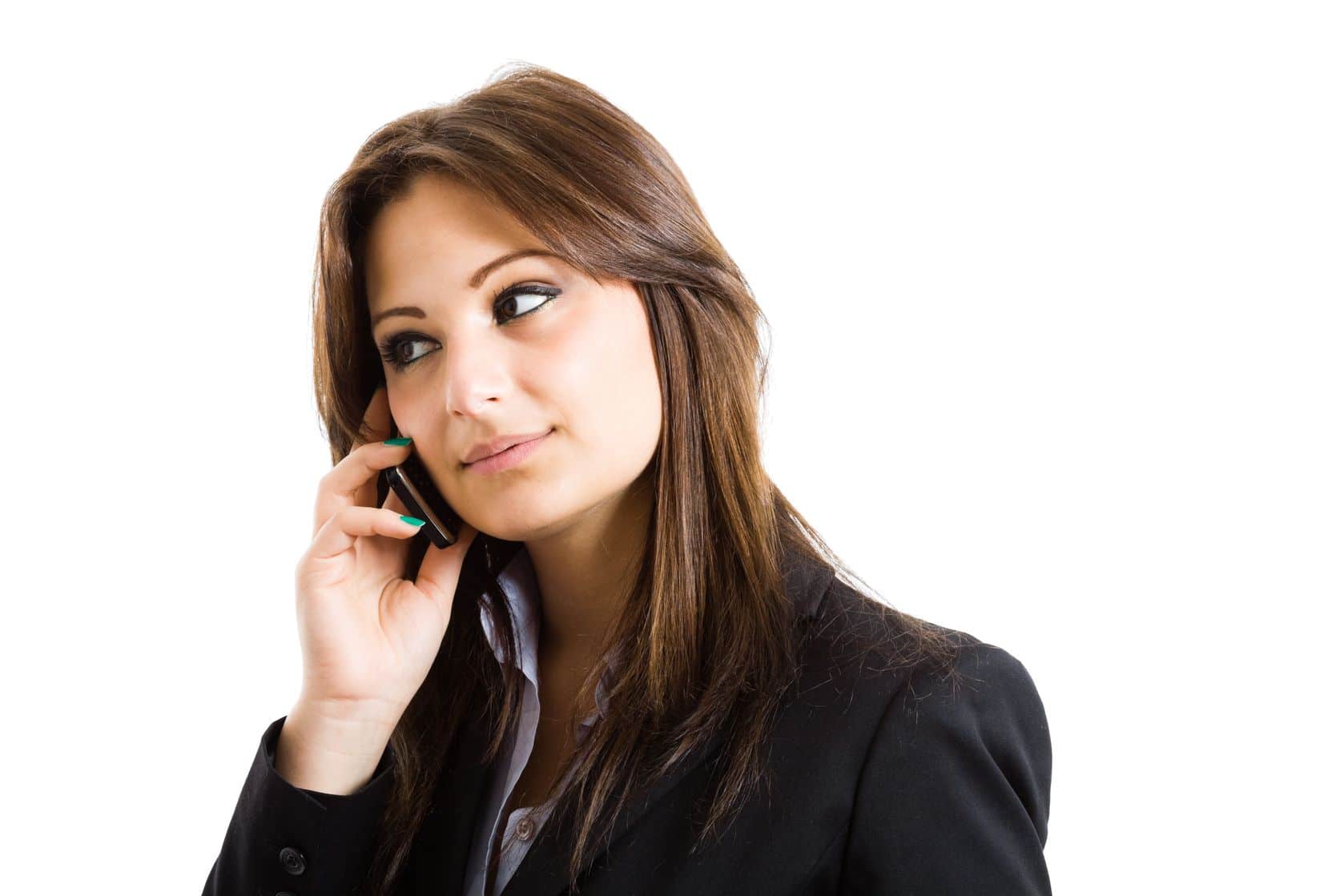 Call Your Cable Company
If you can't bear the thought of cutting out even a single service or channel, do yourself a favor and give your cable company a call. Ask to speak with their customer retention department and have a copy of your latest bill pulled up online or printed out in front of you. When you speak with the representative, explain you're looking to save money on your monthly bills, and that you wanted to check if there are any possible savings plans or deals they're currently running.
Recently, there's been a mass exodus of sorts from cable television, so cable companies are eager to hold on to customers who might ditch them in favor of alternative (and less expensive) options. If they think you might cut and leave, they may negotiate some savings or specials to keep you on.
Change Your Services
If your cable company won't work with you to cut your bill, switch to a different company. Comcast, Time Warner, Dish Network or AT&T may offer different services in your area. Working with a new vendor will help you get the best deals—usually they offer new customers incentives and extras to entice them to change providers. Yes, changing services can be a pain, but it can also save you money, at least for your first year of new service. If you haven't taken the time to shop around and consider all your options–do that now! And, remember–don't be afraid to negotiate! Each company's sales force has the ability to come down in price–never simply pay what they are asking!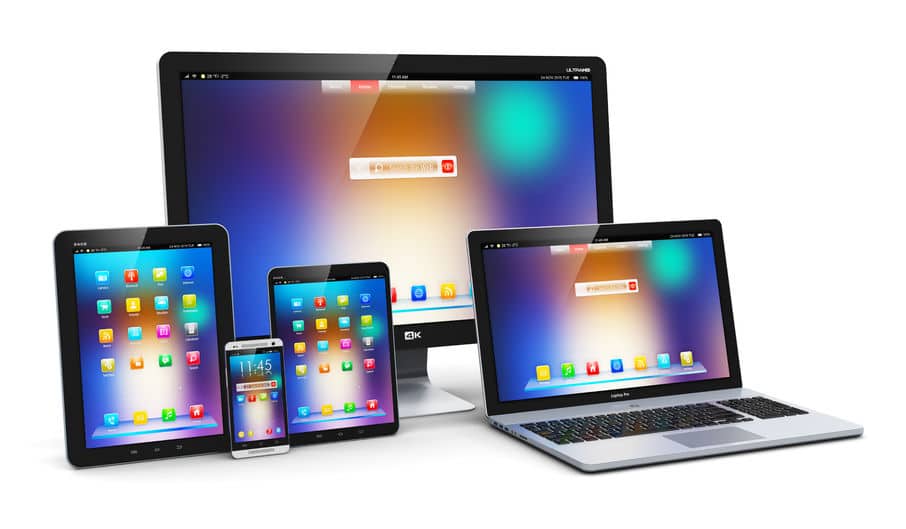 Bundle Your Services
Packaging internet, phone and cable together can also be a way to save money. Many vendors offer customers an incentive for getting all their services from one source. I realize that these days many people have given up landlines, but most of us still pay for both internet and cable services. Grouping them together can help you save.
Cut Back Your Services
Maybe your husband insists on having EVERY sports channel available or you can't imagine letting go of Showtime and other premium channels. Cutting out some extras (going for a lower tier of premium offerings, for example) will still give you access to more television than most of us can reasonably watch, I promise. If you don't mind commercials when you're casually watching, you can cut out DVR services, especially if you also subscribe to an online streaming service.
Consider lowering your bandwidth. If you only use the internet for Facebook, email and Pinterest, you may be able to cut back on some of the speed without even noticing it. Most Wi-Fi services are pretty fast for home use and you don't need to have the most expensive option.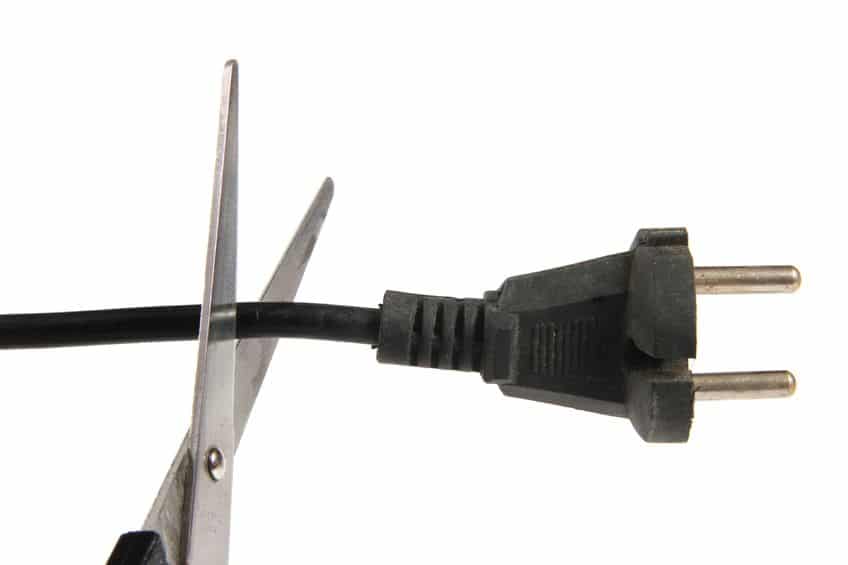 Use a Cord Cutting Calculator
The Verge offers a handy calculator to help you determine the cost of turning off cable and getting your television online instead. There are so many streaming service available now (more on those coming up), you can really get by with a subscription or two, which will give you access to your favorite shows. Check the calculator to make sure your favorite channels are still available with the new package.
Share Services
Some companies, like HBO, don't necessarily mind if you share passwords for services. Ideally, most guidelines say you should only share with members of your household, but they're pretty loose about what that entails. What about your daughter away at college? Or your mother who lives with you for a few months in the summer?
Obviously, if you have concerns about sharing passwords for HBO Now or Netflix, you should refrain. (During the Emmys last year, Andy Samberg gave out his password to the entire United States—probably frowned upon.) However, many companies, while discouraging it, don't disallow it.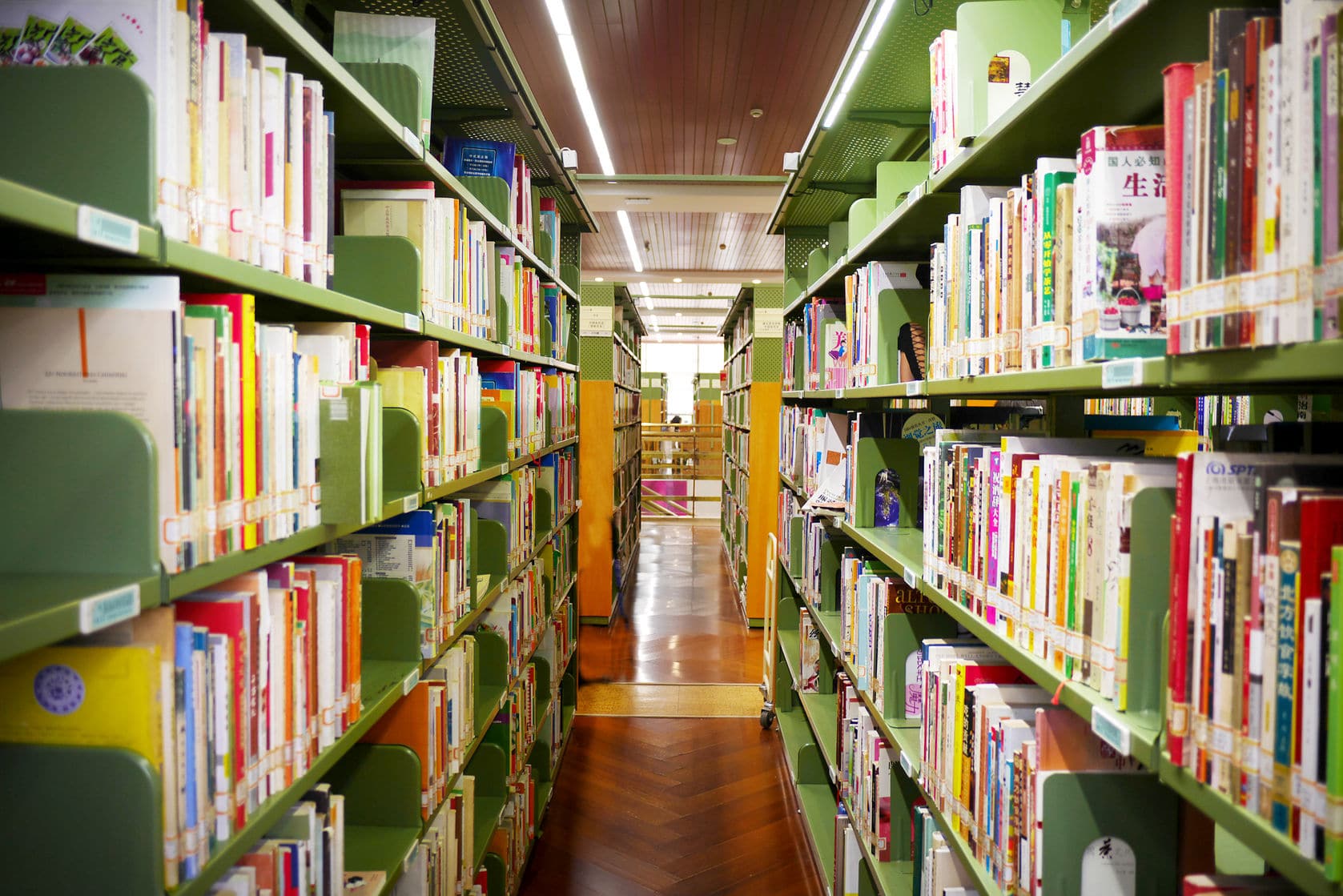 Go to the Library
Our local library has a pretty fantastic DVD selection. They have many series available, historical documentaries, children's movies, and more. Even more amazing? If there's something not available at our particular library, they can reach out to a neighboring town and get it for us within a day or two. Since Blockbuster and Hollywood Video are now relics of the past, it's nice to know there's an alternative to the limited selection of Redbox.
Get a TV Antenna
Did you know you can actually get television without cable? It seems so foreign to many of us these days, but it's true. Without cable, there are still between 15-20 channels you can get "over the air." Invest in a pair of rabbit ears, or better yet, a digital antenna (anywhere from $10-$75) and you'll have access to CBS, ABC, NBC, PBS and plenty more. PBS offers great home and garden shows and most major sporting events come through on regular ol' network television. If you're ready to "cut the cord," get an antenna and make the cut!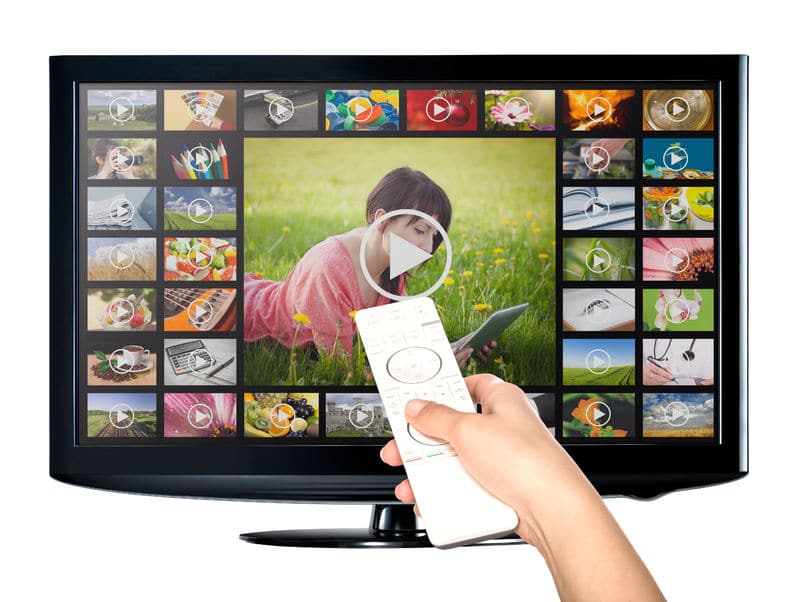 Stream to Your TV
There are many options for streaming shows and movies through your television. You can use an HDMI cable to attach a laptop or tablet to your television, you can purchase a Smart TV or an Apple TV, or you can get a Roku, which is what we have. I really like our Roku Box and it's what helped us kick cable to the curb and save on our utilities. You can stream 2000+ channels and tailor it to your family's viewing preferences, with the added bonus of NO commercials!
Other options for streaming television? Xbox, Wii, PS3 and other video game consoles also offer a streaming option. Many DVD and Blu-ray players also have streaming ability as well.
Get Netflix, Hulu Plus and/or Amazon Prime
If you've cut the cord and you have a streaming device, getting Netflix or Hulu Plus is a bit of a no-brainer—zero (or minimal) commercials and tons of access. Netflix has some extremely popular exclusive series and movies galore. Hulu Plus offers TV shows right away, so there's no waiting for your favorite series to hit. (Arrival on Netflix can take up to a year.)
Amazon Prime doesn't offer as much in terms of original series or current television shows, but it's becoming quite popular. With Amazon Prime, you pay an annual fee of $119 (which includes free 2-day shipping—a huge convenience for frequent Amazon shoppers), and with Netflix and Hulu, you pay about $7.99-11.99 per month. Even if you can't make a choice between the three services, you can get an entire year for what you would pay for just a few months of cable.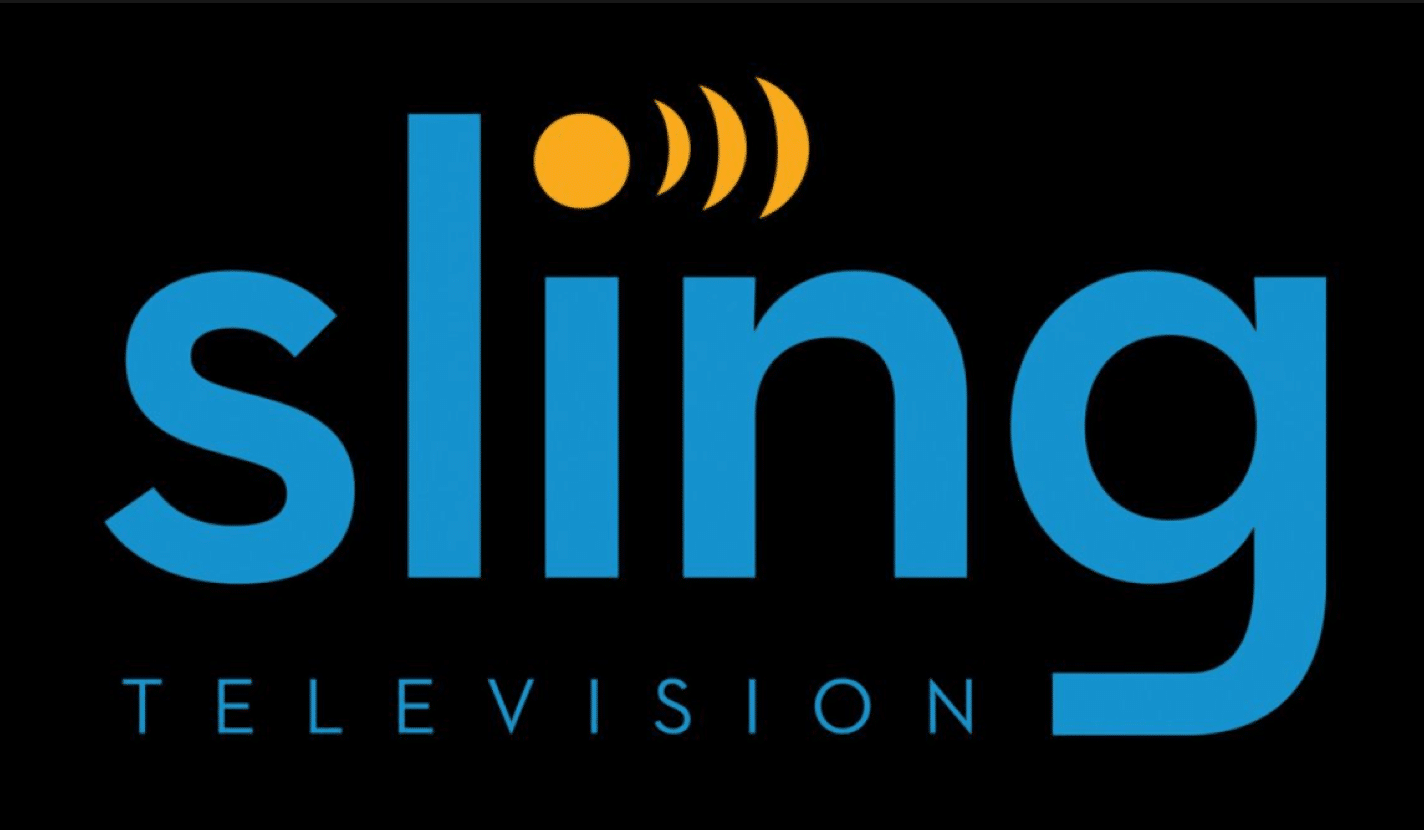 Subscribe to Sling
Sling TV is a relatively new service, offered as a response to the loss cable companies were seeing among new customers. Sling is sort of like "cable lite." For $25 per month with no contract, you can subscribe to Sling and get the 19 most popular cable channels, including CNN, A&E, History, Food Network, AMC and more. For an additional fee, you can add on other preferred sports or family channels.
Sling streams through your Roku, laptop, mobile or other device. You can only stream through one device at a time, per subscription. If you're holding onto cable because you just can't imagine life without the Food Network or the Travel Channel, this is your answer!
PlayStation Vue
Sling's main competitor is PlayStation Vue—a similar service currently available in a limited number of large cities (Chicago, New York, LA, San Francisco, Dallas, Philadelphia and more to come). More expensive than Sling (at $44/per month), it's available to stream through PlayStation devices. It's definitely geared towards the PlayStation audience (think teens through young adults) and the channels offered include Disney, ESPN and ABC Family.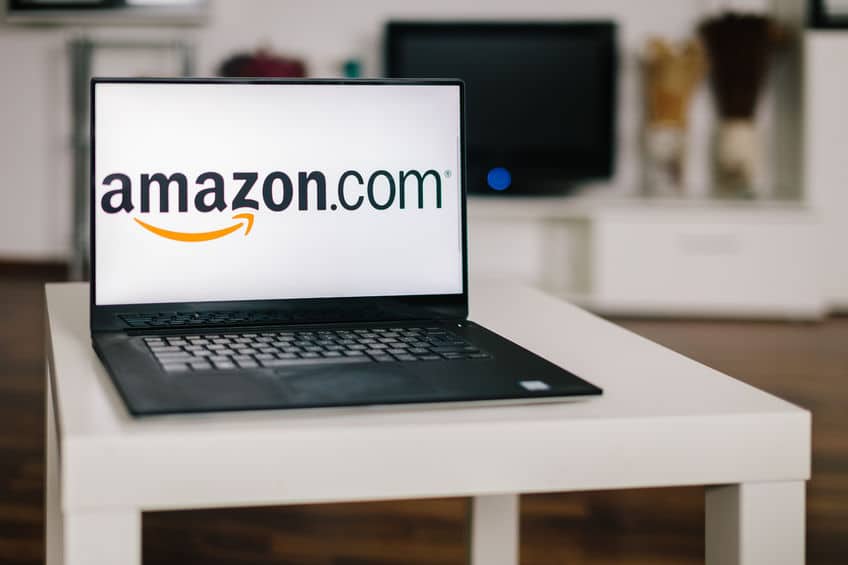 Pay-Per-View with iTunes or Amazon
If you aren't a frequent television watcher and you aren't sold on the idea of paying for a monthly subscription service, it may be worth it to simply pay-per-view through iTunes or Amazon. Most televisions can be linked to your laptop or tablet with an HDMI cable.
You can simply purchase a video for $2 each time you get the urge to have a family movie night. Even at one or two purchases per week, it may be much less expensive than subscribing to regular services, which might not offer the movie or show you're hoping for. Similarly, there are quite a few free kid's shows on YouTube you can watch for FREE, as well as tutorials and DIY clips. TED Talks and many documentaries are also available online for free.
I found when we started saying no to television, we found we had more time, and the quality of our time increased exponentially. Our family was connected and had more fun. We enjoyed playing games together, spending time together and not just "zoning out" in front of the box. However, I understand why some families enjoy television—so use these tips to save!
Share Your Tip: How do you watch television?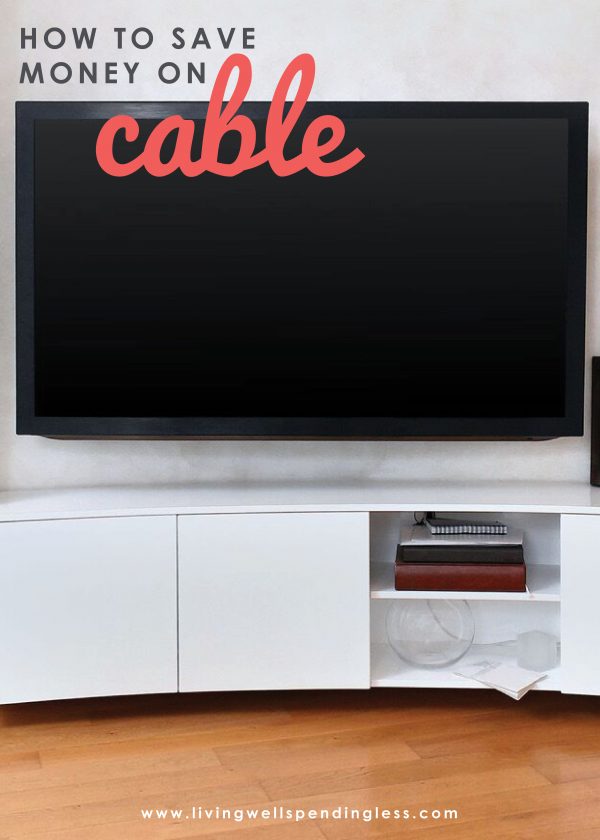 TAKE BACK CONTROL OF YOUR HOME LIFE
---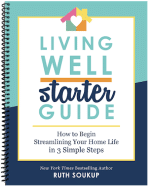 Ever feel like you just can't keep up? Our Living Well Starter Guide will show you how to start streamlining your life in just 3 simple steps. It's a game changer--get it free for a limited time!
If you love this resource, be sure to check out our digital library of helpful tools and resources for cleaning faster, taking control of your budget, organizing your schedule, and getting food on the table easier than ever before.