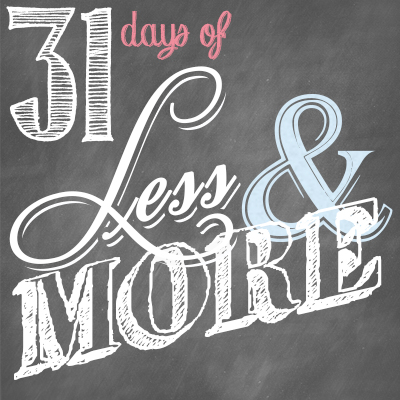 This is Day 27 of our 31 Days of Less & More challenge. To read all the posts in order, start with Day 1, then visit the Overview Page to see the entire series.  
 *   *   *
How many things are there which I do not want. — Socrates

We all have that space in our homes that invokes an overwhelming urge to shut the door and never open it again. It's that room that every time we look at it, we think what is all this stuff, and where did it come from?
For many of us it is the garage, though for others this might be a different space….perhaps a basement or attic or other storage area. This is the place where the boxes of stuff we don't know what else to do with come to die. The place where Christmas decorations get mixed up with bags of too-small clothing, the bicycle with the broken chain, the random pieces of furniture we're not using, the boxes of years-old paperwork we have yet to throw away, along with TVs and toys and tools and everything in between.
Is it any wonder that we often just ignore the problem and hope it will go away?
In my home our garage has been a work-in-progress literally for years. I normally like to tackle my organizing projects with a get-it-done-all-at-once mentality. I clear the space completely, purging the things I don't want, and finding new homes for the things that don't belong, then put back everything that remains in an orderly way. I attack with a vengeance and work until the job is done.
We haven't taken this approach with the garage. Sometimes I think we should, but the truth is that there is still just too much to try to take it all out and rearrange it. Plus, much of what needs to be organized is not mine. This means that as much as I would like to take over, I have to respect my husband's space and things and method. It is so hard for a control freak like me!
But if I look back at where we started, I know we have come a very long way from the point where so many boxes were stacked almost to the ceiling that we had given up hope of ever parking our car in the garage again. My husband's method might not fall within my timeline, but it is working. Slowly.
Here are some of the strategies we've used to clear our garage space:
Do something every day. We will often set the timer for 30-60 minutes and just try to do as much as we can in that short time frame. Sometimes it means tackling one box or one corner or one shelf. Sometimes it means just throwing stuff away. Over time, just a little each day can make a very big difference.
Define the space. It helps to have a very clear objective for how you ultimately want to use your space. Would you like it to be a utility room? A play area? A work room? Just a clean & organized space to park your car? All of the above? Creating a clear vision will provide a lot more motivation for making it happen.
Find storage solutions that work.  We've had to get creative with some of our storage solutions for the garage. When we remodeled our kitchen we repurposed the old cabinets to become a work area and then also bought some great stacked utility bins at an auction that could hold the huge variety of tools my husband has collected over the years. In other areas, sturdy shelves have been essential, while wall and ceiling hooks have helped a lot too.
Be sure to read Edie's corresponding post, More Inspiring Garages.
TODAY'S CHALLENGE: 
Take an honest look at the current state of your garage. Are you happy with how you are using the space? Do you envision something more? Is there a way you could better use this space to serve the needs of your family? Vow to tackle one section of this space today. Clear the clutter, organize, or clean that one small area, then make a plan to tackle another section soon. Take before & after pictures and share them with us on Instagram or Facebook using the hashtag #31DaysLessMore.


*   *   *
What is the state of your garage right now?