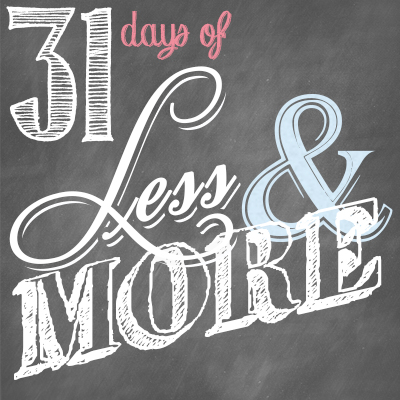 This is Day 24 of our 31 Days of Less & More challenge. To read all the posts in order, start with Day 1, then visit the Overview Page to see the entire series.  
 *   *   *
Cooking is like love; it should be entered into with abandon or not at all. — Harriet Van Horne

Keeping confusion out of the kitchen can definitely be a challenge.
First of all there is all the stuff….the fridge and pantry full of food, the collection of utensils and pots and pans and bowls, not to mention the myriad of appliances that have somehow multiplied over the years.
Next, of course, there is the actual meal planning and preparation that has to happen on a daily basis. Am I the only one who thinks life would be so much easier if we could be a little more like alligators or anacondas, eating one big meal every few weeks, then spending the rest of the time lying on a rock in the sun? Getting these people fed three times a day is just so much work.
And then finally, there is the cleanup, also required three times a day. With all the technology available, how have we still not figured out to create self-cleaning kitchens?
While I wish I could tell you I've stumbled upon a magic secret that will forever eliminate the kitchen confusion we all experience now and then (some of us more than others), there is unfortunately no quick and easy fix. That said, I have found a few strategies that can at least help simplify your space & streamline your time:
Plan your meals.  Edie has invented a pretty ingenious but elaborate Google calendar meal planning system that is really cool, especially if you are more of a "foodie." If you are looking for something a little simpler, my favorite resource for easy, cost-effective meal planning is eMeals. Just choose your menu or your store and have simple, delicious meals & a ready-made shopping list planned out for you each week. The downside is that it isn't free, but membership is pretty inexpensive, (and you can save an additional 15% when you use the promo code LWSL15OFF.)
Embrace your crockpot & freezer. Try some minimal effort freezer cooking to build up a reserve of super-easy meals that can do the work for you and eliminate that last-minute dinner confusion.
Buy less food.  This can be tough, especially for those of us who coupon and stockpile, but buying too much food inevitably means that some will go to waste or cause a big mess. Avoid filling up your fridge with new stuff before you've first emptied of any leftovers or old food.
Keep it clean.  Make every effort to keep a neat and tidy kitchen at all times. If you make a mess, clean it up. Don't let dishes pile up in the sink, and remove all clutter from the counters to keep your workspace clear. Cupboards and drawers should also be kept neat and organized. Get rid of anything that doesn't belong in the kitchen, or that is not being used. For more tips and a printable kitchen cleaning worksheet, check out this post.
Be sure to read Edie's corresponding post, More Organized Pantries.
TODAY'S CHALLENGE: 
Make a date with your pantry today. Think about what containers you need and wash them out or purchase what you need. Create or purchase labels. Take everything out, sort it by type, then put it back and make it pretty. Next, make a meal plan for the next week that uses up all the food you forgot you had on hand. For inspiration check out Edie's recipes here or my recipes here. Snap a photo of your pretty pantry and share it with us on Instagram or Facebook!  Be sure to use the hashtag #31DaysLessMore




Be sure to check out Crystal's insights on Less Paper Clutter/More Filing!
*   *   *
How do you keep confusion out of your kitchen? What is your best meal planning or kitchen organizing tip?