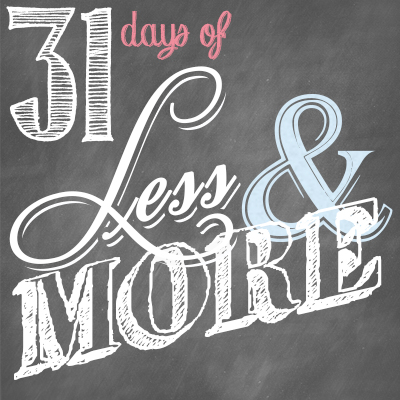 This is Day 17 of our 31 Days of Less & More challenge. To read all the posts in order, start with Day 1, then visit the Overview Page to see the entire series.  
 *   *   *
You've got to tell your money what to do or it will leave. — Dave Ramsey
I don't know how it works for you, but the busier (and hungrier) I get, the more apt I am to spend without thinking. When I get caught up in the treadmill mode, where life is moving fast and there is so much to do, my fallback mode to choose convenience over thriftiness.
One evening a few weeks ago, for example, I had to take the girls to dance class while Chuck attended a committee meeting at church. Their class ran from 5-6pm, and since we had been busy trying to get homework done beforehand, we hadn't had a moment to think about dinner. To make matters worse, we couldn't go straight home because we had to stop at the music store (located in the opposite direction, no less) to pick up the required textbook for violin class at school.
The girls were starving, and truthfully I was too. Not wanting to fill their bellies with fast food (which would've been cheaper), and knowing that Chuck wasn't at home to complain, I impulsively opted to stop at Panera Bread. Twenty-two dollars later, I was no longer hungry but I was suddenly filled with regret.
Would it really have killed me just to wait until we got home?
While I wish I could say it was an isolated incident, the truth is that moments like those still happen to me far more often than I would like to admit. Even so, I can say that I am a lot slightly less impulsive when it comes to spending than I used to be.
Here's what has helped most when it comes to curbing my mindless spending habits:
Sticking to a cash budget. Dave Ramsey, author of Total Money Makeover (a must read!), calls this telling your money where to go. I call it keeping temptation to a minimum. Regardless of what you want to call it, taking the time to actively plan your budget, then set aside specific cash amounts for your various categories forces you to really think about what you are spending. There is no getting around it:  Paying cash feels real.
Planning ahead. What's the old saying? An ounce of prevention is worth a pound of cure? One of the best ways to avoid last minute spending faux pas by anticipating your needs in advance, then having things prepared "just in case." Looking back, keeping an emergency kit of snacks, toiletries, wipes, & extra clothing in the car could've saved me $22.
Writing it down.  While some expenses simply can't be avoided, committing to keeping track of them can help temper the urge to spend more than you have to. For me, knowing that my husband can see what I've spent always makes me think twice!
Implementing the 24 hour rule. I have been a faithful Amazon Prime member for more than five years now, but there have been many times where that one-click ordering and free two day shipping is just way too convenient. I've barely thought of something I'd like to buy and it is already on its way. While I still love Amazon, these days I've forced myself to abide by a mandatory 24-hour waiting period rule. I'm pretty sure it has saved me hundreds! Sometimes all you need is a little time for the urge to pass.
Be sure to read Edie's corresponding post, More Passionate Living.
TODAY'S CHALLENGE: 
Do you ever find yourself sliding into bad habits of overspending or overindulgence? Think back to the last time it happened, and why. What are some ways you can avoid this situation in the future? If this is really a struggle, consider finding a friend or group to help hold you accountable. You can also join the dedicated LWSL No-Spending Facebook Group
Now, identify an activity or hobby you are passionate about, but that you may have given up because of time, circumstances, or money. Is there a way to incorporate that passion back into your life somehow? Start today, then inspire others by sharing your story in the comments below or 
on Facebook
!

*   *   *
Are you a mindless spender? Got any tips or advice to share?