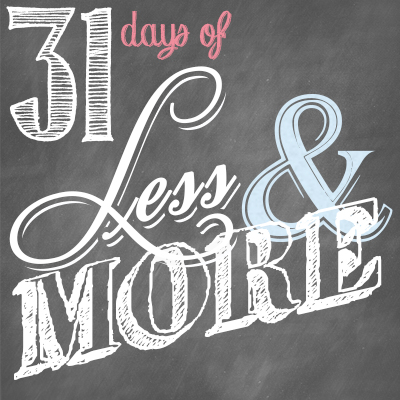 This is Day 22 of our 31 Days of Less & More challenge. To read all the posts in order, start with Day 1, then visit the Overview Page to see the entire series.  
 *   *   *
Paper clutter is nothing more than postponed decisions. — Barbara Hemphill
What is the deal with all that paper?
Between the junk mail and the non-junk mail, the endless stream of schoolwork and flyers and newsletters and Sunday school handouts, of schedules and invitations and notes and lists…..I don't know about you but sometimes I feel like we are drowning in a sea of paper.
You would think, in the year 2013, with all the electronic everything and the ever-increasing emphasis on the importance of being green that less paper wouldn't even be an issue anymore.
But in our family, paper is most definitely still a problem!
Based on the number of requests I have gotten about doing a post on how to deal with paperwork, I don't think I am alone in this struggle.
While I am always tweaking our system to try to make it work just a little bit better, we have found a few strategies that have helped greatly in taming our paper mess. This is a very brief overview, and I promise to go into more detail in another post, but our 3-part system is pretty simple. It might work for you as well:
Toss it as soon as you can.  I have found that the most helpful strategy when it comes to incoming paper is to throw away (or recycle) as much as I can, as quickly as I can. This means that junk mail goes straight to the trash from the mailbox, and that most school & church papers are quickly scanned then tossed the minute we get home.
Pile it now, sort it later.  My husband likes piles; I do not. In order to find a system that worked for both of us, we eventually agreed on contained piles for certain things, that could be piled as needed, then tossed or filed later. For the girls' school papers, for instance we have two wire baskets that we can use to pile any papers or artwork that we may need to look at later, or might want to save. We always know where to look for the information, and then once a month or so we go through and toss anything that is no longer needed. We keep similar piles for important paperwork or projects.
File, file, file. For all other paperwork we create files which are then neatly stored in file boxes. Once a year we will move current files into archived file boxes that get moved to storage.
Be sure to read Edie's corresponding post, More Filing.
TODAY'S CHALLENGE: 
Tame that paper mountain that is threatening to take over your desk or countertop right now. Give yourself an hour to tackle your piles. Ruthlessly toss anything that isn't necessary. Use your phone to take pictures of invitations or other important events, add them to your calendar, then toss the paper copy. Start a file box, if you don't have one already, for the paper items you do need to keep. Establish an inbox and outbox to replace the piles you would normally make. Share before/after photos with us on Facebook or Instagram under the hashtag #31DaysLessMore!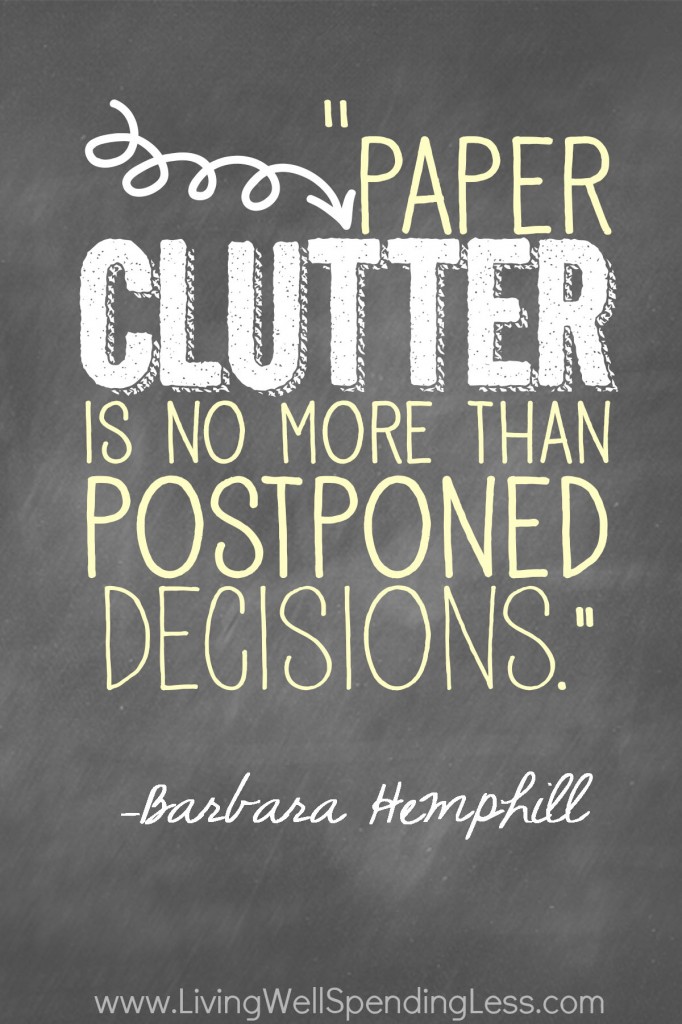 *   *   *
How do you deal with all the paper clutter in your life?