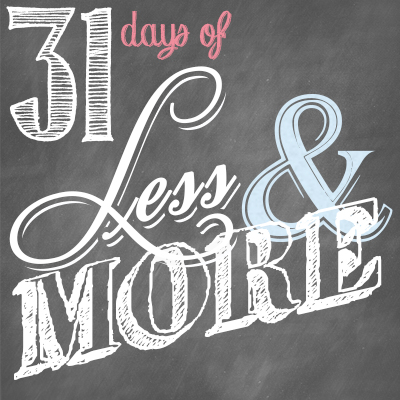 This is Day 16 of our 31 Days of Less & More challenge. To read all the posts in order, start with Day 1, then visit the Overview Page to see the entire series.  
 *   *   *
Beware the barrenness of a busy life. — Socrates
Do you ever feel like you are constantly running? Fall is here, the kids are back in school, and all of the sudden there is So. Much. To. Do. All. The. Time.
For us there is dance class and soccer and violin lessons and Kids 4 Christ, not to mention the PTO and church committee meetings and the teaching Sunday School and parent-teacher conferences. For you it might be football or cheerleading or cross-country or swimming or Girl Scouts or piano or gymnastics or all of the above.
And that doesn't even include going to work or getting groceries or cooking meals or running errands or cleaning the house or homework or keeping up on all the other things that need to happen just to keep your family going in any given week.
It's enough to make your head spin.
So what is the solution, exactly? Because I don't know about you but there are an awful lot of things that I have committed to that I can't feasibly give up right now. So how do we stop all the running around and still take care of the things that need to get done?
While I don't think I've even come close to figuring it out yet, I have made a few small changes that have helped our family maintain a very small amount of sanity. They might work for you too:
Begin & end your days well. If your mornings are hectic, take a few minutes the night before to prepare. Lay out clothes, pack lunches, make sure homework is signed. Likewise, wake up at least 20-30 minutes before the rest of the family to gear up for the day.
Work smarter, not harder. Plan your days, especially your activities & errands, to be as efficient as possible. Avoid multiple trips to the store each week by planning your meals (eMeals is an awesome resource for this–use promo code LWSL15OFF to save 15% on your order!) and take advantage of one-stop shopping.
Schedule down time. Block out days—or at the very least, hours—for uninterrupted family time. Set them in stone and guard those "appointments" like you would any other commitment or obligation.
Sit down to eat meals together.  At the very least, make a commitment to eat at least one meal together each day, and preferably two if you can. Take the time to sit down at the table together—no eating over the counter or in front of the TV—and actually talk about your day. (We love catching up with a round of "Hi/Low," where we each take time sharing our best and worst moments of the day.)
Be sure to read Edie's corresponding post, More Nesting.
TODAY'S CHALLENGE: 
Get out your calendar and make a date in the next week to spend some quality time at home. Have you been wanting to cook more? Plan a day where you cook and get your kitchen organized. Have you been wanting to redecorate–or simply declutter–a room in your house? Decide what first steps you can take in making that project happen. Missing your kids or feeling disconnected with your husband? Plan a movie or game night. Share your home date idea with us on Facebook or in the comments below!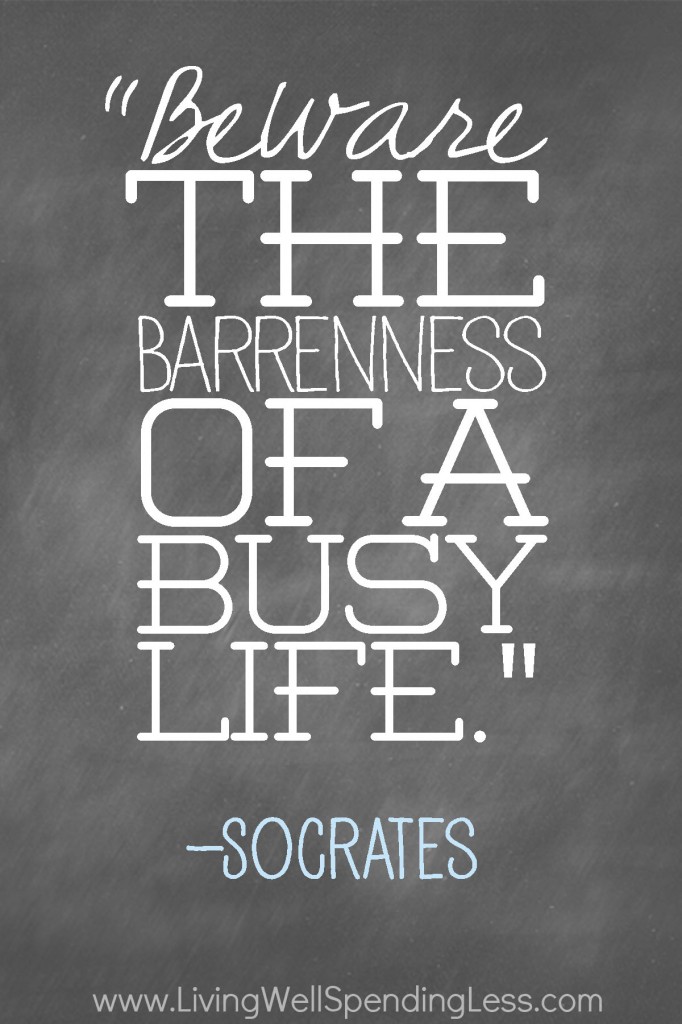 Be sure to check out Crystal's thoughts on Less Television/More Reading from yesterday's post!

*   *   *
Do you ever feel like you are constantly running around? What kind of "date" are you going to schedule with your home?