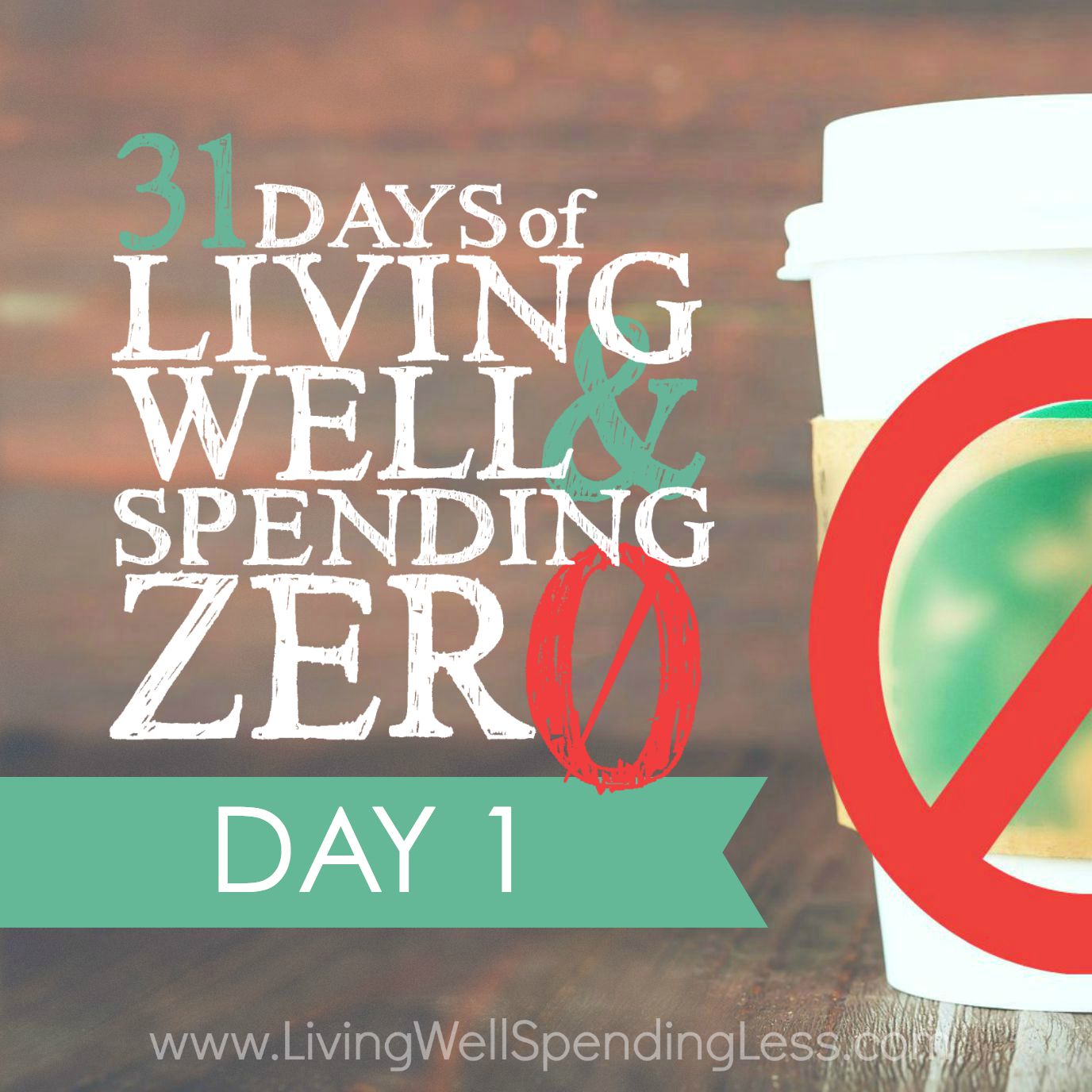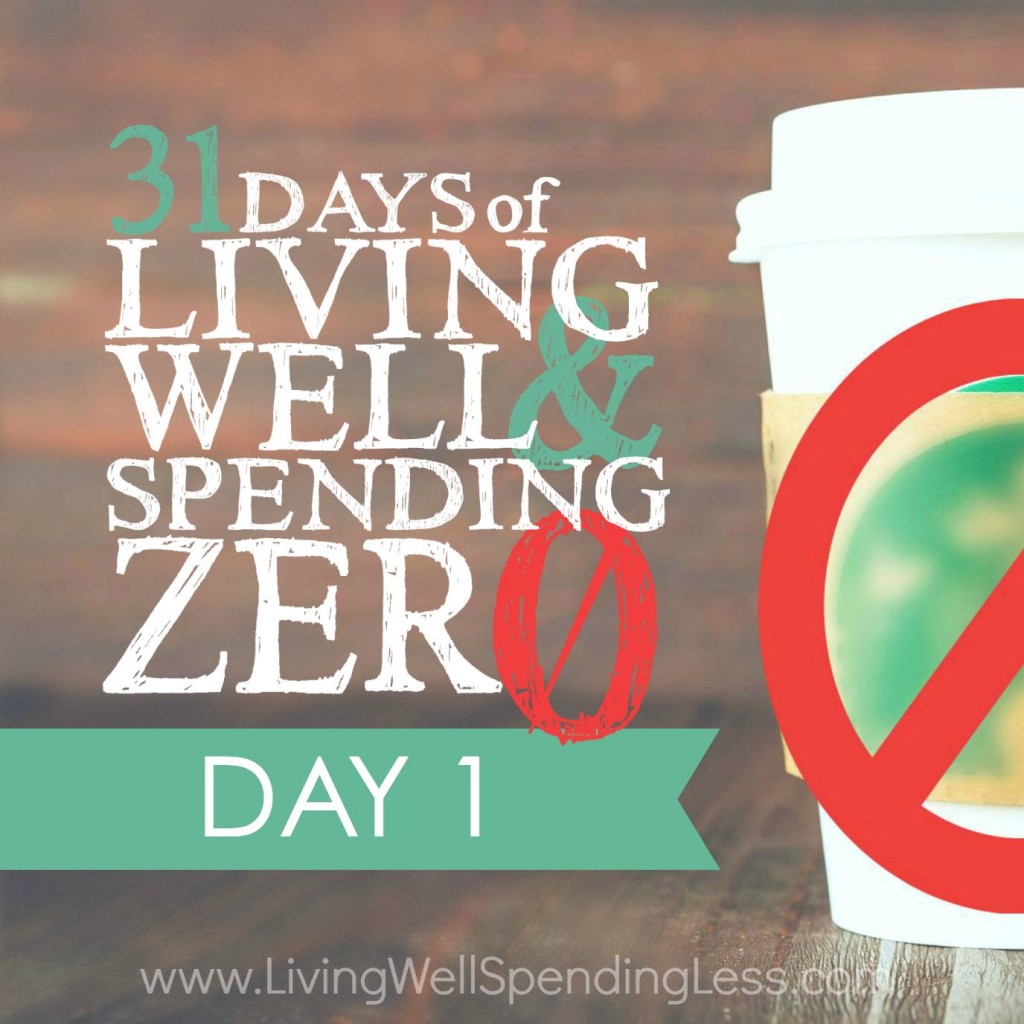 The first time my husband suggested a month of no spending, back in 2012, I thought he was crazy. After all, by that point we had been married six years, and if he knew only one thing about me, it was that I liked to shop. Like many families, we were caught in a pattern of unhealthy spending habits.
It wasn't that we were constantly out spending wildly on big-ticket items, but our little daily habits were killing us. With two small kids at home, I'd often go to Target just to get out of the house. Of course a trip to Target also meant a stop at Starbucks and lunch at Chick-Fil-A, and then, because I was tired from a day of running around, it often meant ordering pizza or grabbing Chinese takeout on the way home.
While we weren't in debt, we weren't making any headway either. Every penny that came in, we spent. Something had to give.
We decided that we would challenge ourselves to an entire month of no spending. No eating out. No Starbucks. No Amazon.com. And definitely no Target. Furthermore, we would have to eat the food we already had stored up in our pantry and freezer. After all, I was really great at grocery shopping, but not always so great at actually using the food I had on hand. We would still pay our regular bills and our mortgage, but anything we could cut out, we would. For an entire month.
It was life changing.
I would have never guessed that 31 days of no spending could make such a significant difference in the way I viewed my finances, but it did. In the years since, we have continued to commit regularly to no-spend months, usually about twice a year.
In that time, I've gathered quite a few tips and tricks along the way to make things a little easier, not only from my own experiences but also from many wonderful LWSL readers (just like you!).
Get Ready to Commit
I have discovered that once you decide to embark on a no-spend month, there is a very important first step: to commit.
This is the day we will change the way we look at spending. This is the day we will stop making excuses and stop justifying yet one more purchase. This is the day we will, for one whole month, commit to spending nothing.
Are you ready?
Right here, right now, I want you to fully commit to this month of living well and spending zero. Say the words out loud, preferably to your spouse and to your kids. Make it real.
Is it hard?
I'm not going to lie—at first it might be tough. But there is a secret to success. You have to be in—fully in, going head first and full force! (If you're married, be sure your spouse is on board too.) You can't go into this challenge half-heartedly or you will fail.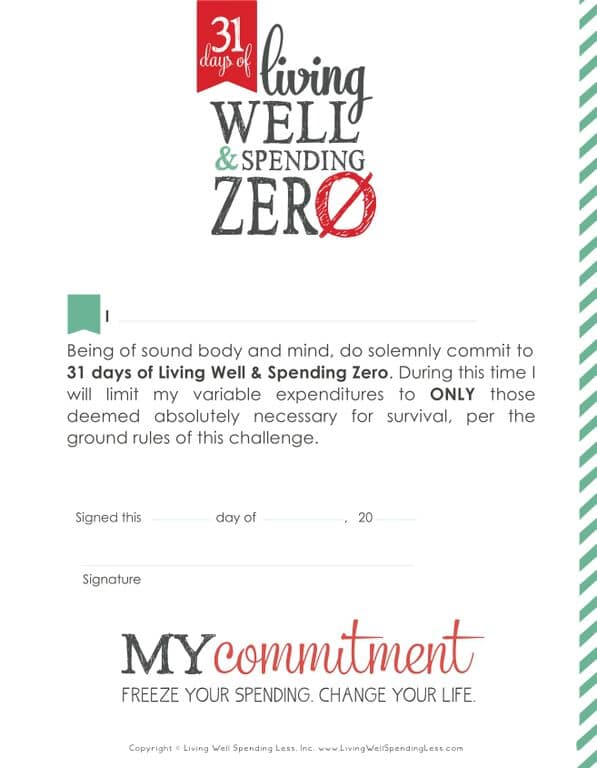 Get your printable commitment page here.
Once you've signed your commitment sheet snap a picture and tweet it or share it on Instagram with the hashtag #31daysLWSZ!
SIDEBAR:  Even if you are not an Instagrammer,  I highly, highly, highly recommend that you give it a try for the month (it's free to join!), as we will be giving away daily prizes! To participate, all you have to do is follow @RuthSoukup and use the hashtag #31daysLWSZ. Get more information about the contest HERE.
In my family's very first round of this experiment we definitely longed for a few luxury items. By the third day I really, really regretted that I didn't stock up on a few bottles of wine, and about halfway through the month I might have traded both my children for just one double -tall-one-and-a-half-pump-cinnamon-dolce latte. We ate more than a few very random—and not in a good way—meals, and we sometimes found ourselves talking longingly about all the favorite restaurants we used to frequent. My oldest daughter Maggie literally counted down the days until we could go back to the Golden Corral. (Yep, we really know how to live!)
But in the end, I was amazed to find we saved over $1,000. We found resources we had long since forgotten. We found items in the pantry we'd overlooked. We found toys that had been discarded. We certainly found creativity that we had stifled.
I did a spending freeze last year and it was fabulous! So empowering to have the ability to just say no to buying the inessentials! —Laurie
I wish I could say we didn't fight about money that whole time, but in a strange twist, we actually had a doozy of a fight when my husband wanted to spend a few dollars on something and I said no, that it wasn't "essential." (Let me tell you, having had all our previous money fights originate from my poor spending habits, it was practically like The Twilight Zone to have it go the other way.) But we lived!
And when someone asked, at the end of the month, would we do it again, our answer was an emphatic yes! In fact, we've now gone through a handful of rounds of spending zero, and every time we do it, we gain new insights and greater appreciation for everything we already have. We have a life rich with faith, family, friends, and creativity. We've learned to be secure in the idea that a life well lived has nothing to do with what we have, but instead is made of who we are and what we do with what's been given to us.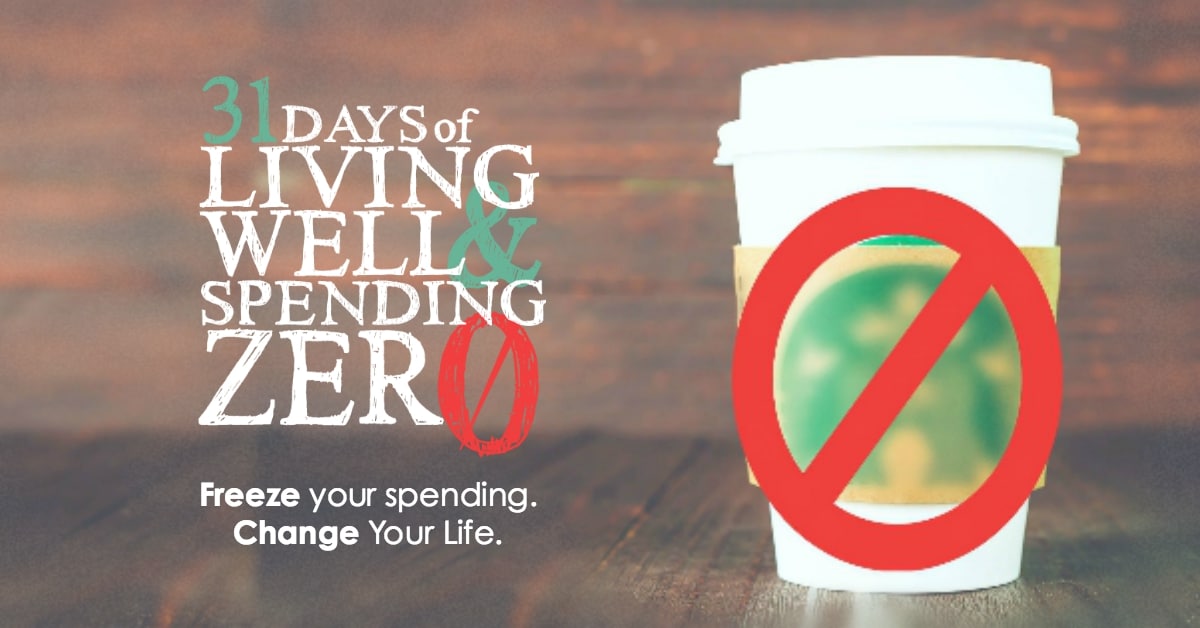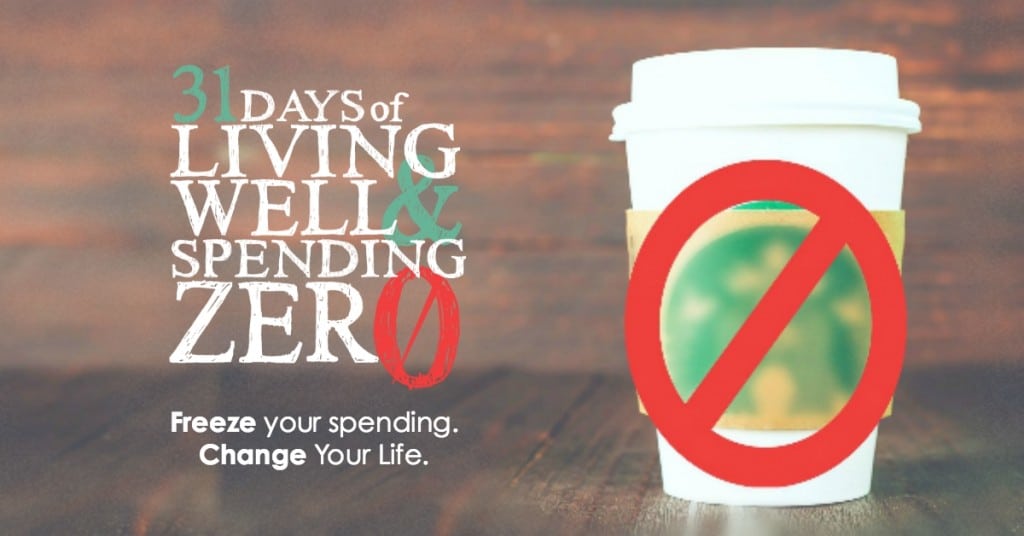 Establishing GROUND rules:
Once you've signed your commitment, it's time to set up the ground rules for your month. For us it was pretty simple: no spending on anything that wasn't absolutely essential.
For our family that meant giving money to church, paying our regular bills and utilities, and some essentials (like a can't-wait car repair). The only food we allowed ourselves to purchase over the month included bread, milk, eggs, and cheese. The rest of our food came from our pantry and freezer. (Yes, it was a challenge.)
Of course, I think one of the things that holds people back from actually committing is the fear that there is never a "good" month to make it happen. Every month, it seems, has some sort of special circumstance—a vacation, a birthday, a holiday. How do you work around those?
The key is accounting for those special circumstances and planning for them ahead of time. I've included a worksheet at the end of this chapter that can help you do just that.
For those essentials like milk, and the essential items I get weekly, I'm going to load up my grocery budget on a gift card so I won't be tempted to go over. — Kim
Some of our readers have mentioned that they have been tempted to stockpile items before starting the challenge. If you have genuine concerns about essentials (yes, you can still buy toilet paper), you can start with a very limited trip to the store or allow yourself a minimal allotment for the basics ($25 or so should keep you covered). Assess what you have on hand, and remember: even if you're spending the whole month eating mostly pasta or rice, you can make it.
Don't procrastinate and wait for the "perfect month" to begin, because there will never be a perfect month! If you have commitments like a big family event coming up, view the event as a challenge in your plan, get creative, and move on. A friend of mine made a sock monkey for a birthday gift, homemade valentines and an eggless cake, and still managed to make it through February just fine without spending a thing. The perfect month will never happen, so rather than putting it off, take the plunge!
We have a birthday (my son's) this month, but we've already bought his gift. We have a very small party planned (going to a local farm), but the money was set aside for that already. — Liz
Create your own ground rules that account for your circumstances, and find the best ways to make your no-spend month work for you and your family. If you have an empty freezer and pantry, yes, you might have to do a little shopping beforehand, but keep it frugal and plan for the month.
There are a few expenses you can definitely cut out for the month:
Eating out at restaurants
Coffee from coffee shops
Clothing
Hobbies—crafts, golf, classes, etc.
Entertainment
Toys
Cosmetics and sundries
Alcohol and other vices
Lottery tickets
Furniture and home décor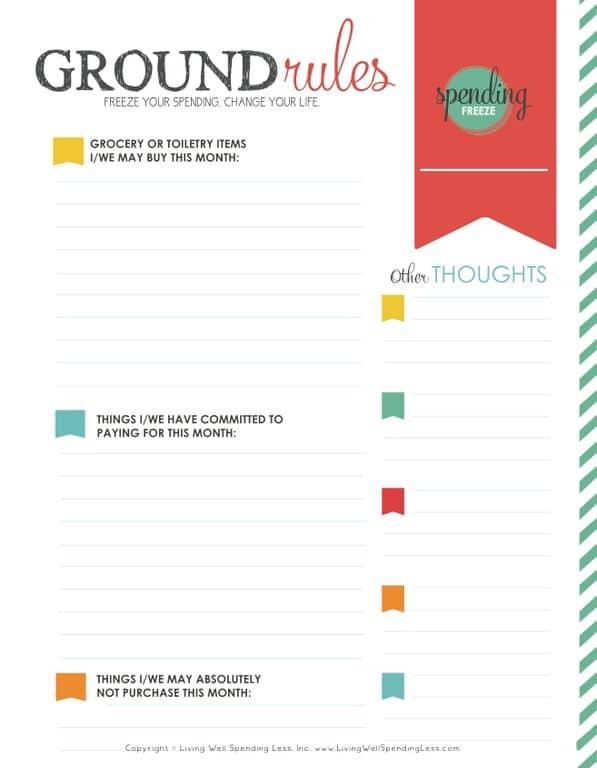 Get your printable ground rules worksheet here.
What else can you add to this list right now?
The closer it got to starting our month of no spending, the more nervous I got, but now that it is finally here, I am excited! We have gotten very careless with our spending lately and I am ready to get back on track! —Dawn
Throughout this challenge, there will be many different worksheets and printables for you to use. I suggest you print them out and organize them together in a binder or folder so you can journal as you go. Remember, I will be broadcasting LIVE each day on Periscope (usually between 10am and 11am EST). You can find and follow me at @RuthSoukup. Finally, be sure to check out our BLOG TOUR page, where you can find all sorts of additional ideas and inspiration from other bloggers who are taking the #31dayLWSZ challenge this month too!
 *   *   *
So are you ready? Let's do this!