I am so excited to show you the "after" pictures of my master bedroom remodel. I am still just waiting on one final little detail to be completed (it is out of my control–so frustrating!), and then I will do my big online reveal. To tide you over, I thought I'd share my DiY tutorial for a thrifty wall art project.
In case you've forgotten, this was my inspiration board for my "5 star Caribbean beach resort" bedroom: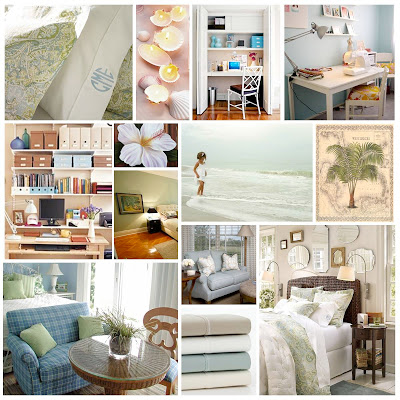 Photo credits:  potterybarn.com, housebeautiful.com, HGTV.com, kohls.com, AllPosters.com, evadesigns.com, realsimple.com, allthingslovely.typepad.com, florida-beach-photography.com
.)
Our master bedroom is gigantic, with a super-high ceiling and LOTS of wall space. And unfortunately for me, original artwork is expensive, and I need to decorate on a budget. I did find some cute frames and prints on clearance at Target & Marshall's a couple of months ago, but I still had one space left on the wall that I had to fill.
I don't really consider myself that creative or original. I am good at finding inspiration from other people and places (or the Pottery Barn catalog), and then finding a way to copy or recreate a look. But this little baby? It's all mine.
A few months ago, when we were remodeling our living room, we needed a large scale (36×48″) piece of artwork to cover a hole in the wall above our library area. I shopped around for options and quickly realized that anything I liked on that grand of a scale was going to be prohibitively expensive. Necessity, as they say, is the mother of invention, and I came up with a collage concept all on my own. I wasn't sure it would work, but I figured $50 wasted on materials would still be better than the $1000+ we would be stuck spending otherwise.
This was the result: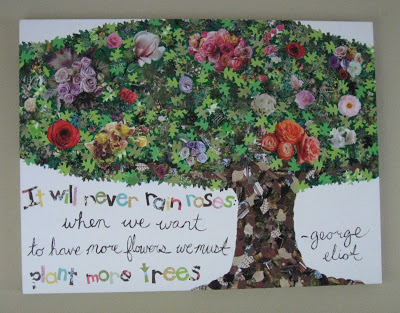 Since originality doesn't strike me very often, I decided to do a similar concept for my last piece of bedroom art.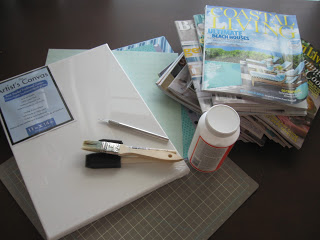 supplies:  blank canvas, cutting mat & blade, scrapbook paper, magazines, Mod-Podge, disposable brushes.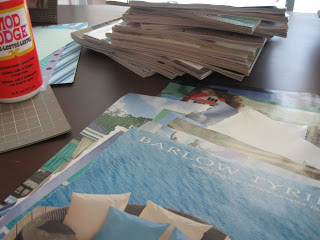 1. tear out magazine pages in the color you are looking for (in this case blue water)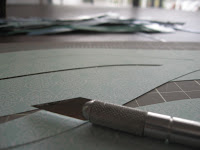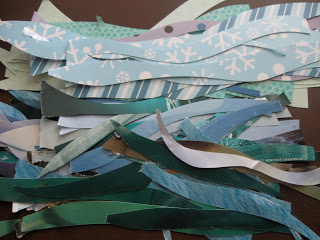 2. use blade to cut magazine pages & scrapbook paper into wavy strips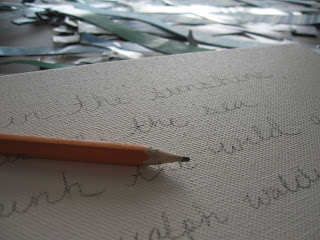 3. use pencil to hand-write a quotation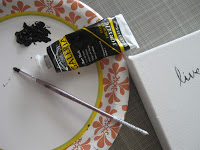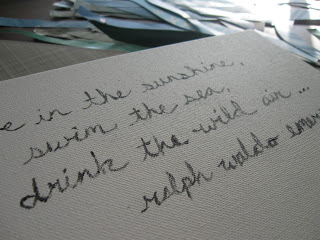 4. paint over penciled words; let dry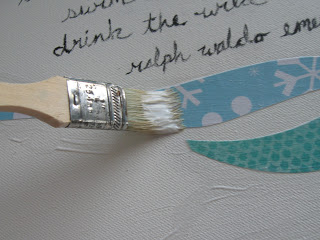 5. use disposable paintbrush to collage paper strips onto canvas with Mod-Podge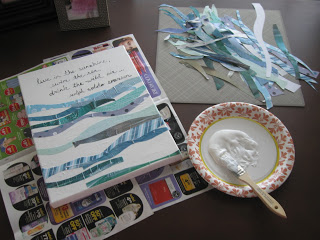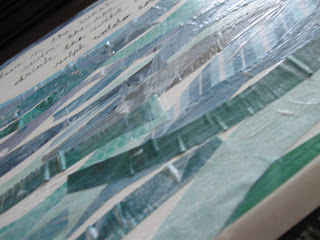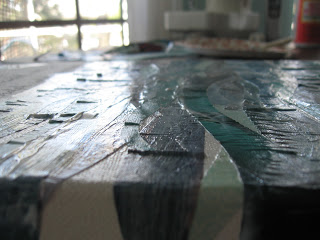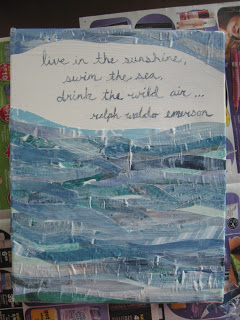 6. coat entire canvas with Mod-Podge; let dry.
Of course, to see the finished piece hanging on the wall, you're just going to have to wait a little bit longer!
Total amount spent: $0
(

Note:  I used all supplies I had laying around the house; I bought several canvases a few months ago when they were 50% off at one of the craft stores. I think that size (11×14″) was about $4 on sale.)