GET ORGANIZED THIS HOLIDAY SEASON!
---
Our game-changing Holiday Planner is back and better than ever, and FREE for a limited time. Grab it now while supplies last!
My husband bought our house two years before we met, back in his bachelor days. Needless to say, it needed a woman's touch. We have now been together for more than six years and while I've managed to do my thing in most of the house now,  our master bedroom still needs a little work. We've taken a break from any remodeling projects over the summer, but now that fall is almost here I am finally ready to turn this manly bedroom into a soothing oasis.
We are lucky enough to live on the water, and in my mind I picture our bedroom as a suite in a 5-star caribbean resort–calming blues, aquas, and greens, with crisp white bed linens, breezy white curtains, and dark furniture. Our gigantic bedroom is also my home office, but all of our home office stuff is jam-packed into the corner. It is fairly organized, but not pretty, and I want it to be both. I also want to get a second desk and create a sewing/craft area for myself. We don't watch a lot of TV, but it would be nice to have a newer & larger flat-screen TV that we could watch from our bed without having to squint. Oh, and I want all my kids' stuff OUT of my room!
This is my inspiration: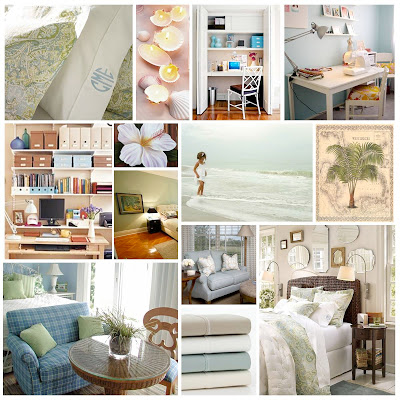 (Photo credits:  potterybarn.com, housebeautiful.com, HGTV.com, kohls.com, AllPosters.com, evadesigns.com, realsimple.com, allthingslovely.typepad.com, florida-beach-photography.com.)
This is what I'm what starting with: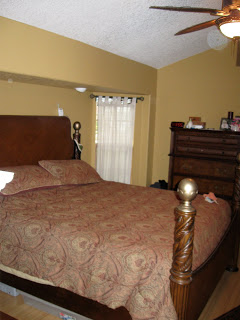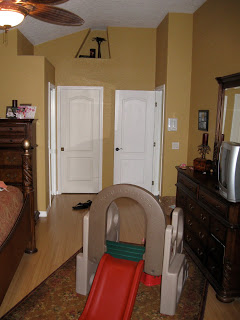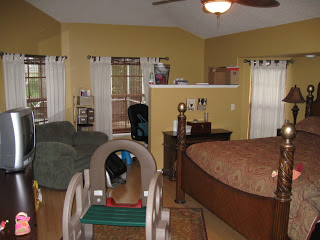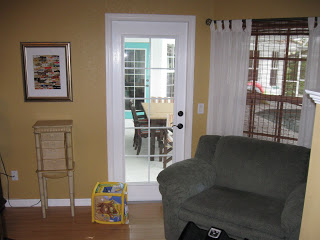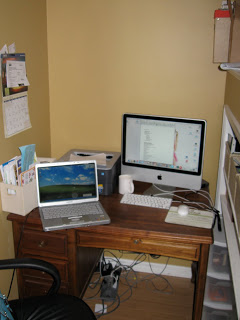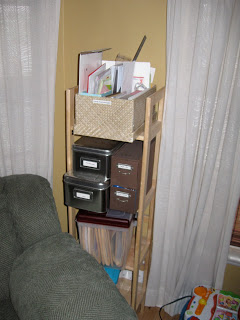 Bed Linens-$550
(will include 2 duvet covers, 1 duvet, 1 bedskirt, 2 king size shams, 3 euro size pillows, 3 euro size shams, 800 thread count monogrammed sheets)
5'x8′ Rug-$200
Flat Screen TV-$250
Sewing Desk & Chair-$100
End-of-Bed Bench-$50
New Lamp-$25
Wall Art-$75
Paint-$50
Cabinet Hardware (for bathroom)-$25
Rugs (for bathroom)-$25
Shelves for Home Office Area-$60
Organizers & File Boxes for Home Office Area-$40
Misc.-$50
TOTAL: $1500
Target completion date:  October 31st, 2010